The Newcomers
Why I moved to NYC from Illinois: My fiancé and I wanted to dive into our acting careers in a place with more opportunities
She found her furnished sublet in Prospect Lefferts Gardens on Facebook—it was the first and only place she viewed (virtually)
Her rent is now $2,200 for a one bedroom, one bath compared to $1,600 (plus utilities) for a two-bedroom house in Illinois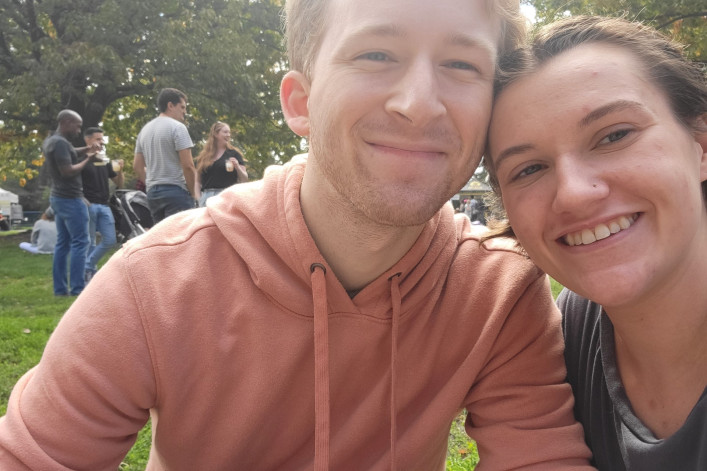 Wanting to pursue a career in entertainment, Jamie Grawitch and her fiancé decided to ditch their small Midwestern town and head to New York City. They subleased an apartment in Prospect Lefferts Garden sight unseen. Thankfully, the bold move paid off. Here's her story. 
I was born and raised in Mascoutah, Illinois, which is about 45 minutes from St. Louis, Missouri, the nearest big city. 
Most recently, I was living with my fiancé and brother in Edwardsville, IL, where we all went to college. We lived in a two-story house with two bedrooms and a finished attic bedroom and paid $1,600 a month plus all utilities. The house had a nice-sized front yard and a massive outdoor area in the back, which sadly wasn't actually ours to use. 
We liked the look of the house on the inside and the amount of space. But because the property wasn't well taken care of before we moved in, we had a lot of issues in the year we were living there. 
The house was at the end of a cul de sac, so it was very quiet, with just a few neighbors. However, there wasn't a lot to see or do in our neighborhood, and nothing was within walking distance. My fiancé and I had a car, which made life a lot easier. There was only one public bus that served the entire county. 
I juggled jobs as a nanny, private voice teacher, dance and gymnastics teacher (at studios and for a local high school), and server at a few different restaurants. My fiancé was working as a gymnastics coach and a server while finishing his undergrad degree at the Southern Illinois University Edwardsville campus, which was about 15 minutes by car. 
---
[Editor's Note: Brick Underground's series The Newcomers features first-person accounts about why a renter or buyer decided to take a chance on NYC and live here now. Have a story to share? Drop us an email. We respect all requests for anonymity.]
---
It would take 10 to 20 minutes to get anywhere in town. Thankfully, I didn't have to commute too often for my voice lessons, which I sometimes taught at home, but I would have to drive 45 minutes (each way) to a studio to teach dance classes three to four nights a week. 
Even though our town had two smaller family-owned stores, we did most of our shopping at Target, Walmart, and Aldi's. We didn't order in very often other than the occasional pizza. 
I worked at an Italian restaurant that was about a 10-minute drive, so we would eat there a lot. And if we really wanted to go out, we could drive across the river into St. Louis, but we rarely had time or saw the need to do that. If we did, it was to see shows at The Fox Theater or catch a game at Busch Stadium.
Why she moved to NYC
In January 2022, we decided to move to New York because we are both aspiring actors, and Edwardsville did not offer a lot of opportunities for us to further our goals in the entertainment industry. I am an aspiring stage actor and singer (@jamienicolegrawitch) and my fiancé does stunt work. 
We always knew we were going to move somewhere else but had been considering a few places, including Seattle (where my fiancé spent time doing stunt training), Los Angeles, and Atlanta, before settling on NYC. 
How she landed her furnished sublet
We managed to save enough money for the move. That said, after we began searching for apartments online, we had a bit of sticker shock when we discovered the 40-times-monthly-rent income requirement. We only had to make three times the rent for a house in Edwardsville, and even that (as college students) was a stretch. I don't remember needing as many documents to apply back home. I believe we just needed to fill out an application, they ran our credit scores, and that was it. There just isn't as much of a rental culture in the Midwest—it's mostly renting houses from private owners. 
We didn't really care about size or location as much as we did the price. We just needed something that was under $3,000, near the subway, and accepted pets because we have two cats. 
We found our current place—a furnished one bedroom in a private home in Prospect Lefferts Gardens—through a sublease page on Facebook, which was a risk, but we knew that would be the best way to get us out here initially. It was actually the first place we viewed (virtually) and we jumped on it since the monthly $2,200 rent was in our budget. 
We did a remote interview with the people we would be subleasing from and signed with them a month before we moved (in August), but paying that extra month was worth it. Ultimately, I think we got very lucky that we found something affordable and didn't have a bidding war.
Transitioning to big-city life 
We sold most of our belongings before moving, including our cars, then packed nine suitcases, our cats, and our backpacks and booked a one-way flight from St. Louis. We didn't realize how hard it would be to transport the cats and suitcases from LaGuardia to our new apartment! Not to mention my fiancé had never been to New York until we moved! 
Our building is a five-minute walk from Prospect Park and near two different subway stations. We have fantastic neighbors, and the building has some old charm to it. Plus, the living space is huge; we were prepared for a very small place. There is no laundry in the building, so we send our laundry out—a bonus because I hate doing my own laundry. 
We knew going from living in a house to an apartment building would take some getting used to, but we love the location and couldn't have found a better setup to help with our transition.
Loving her new nabe
Prospect Lefferts Gardens is very different from our previous town. It's livelier, with so much within walking distance, and public transportation makes everything accessible. Getting around for work or meeting friends usually takes less time than back in IL. Figuring out the subway has been fun—I once ended up on the wrong train and an hour and a half away from where I needed to be. I took an Uber back because it was quicker than the subway. 
I absolutely love Smorgasburg, which happens every Sunday from April to October. I also enjoy checking out different locally owned coffee shops, and Prospect Park is beautiful and has plenty to do.
Grocery shopping is about the same here, but having a ton more options if we want to order in with Uber Eats and Doordash is a great perk.
I recently decided to pursue real estate as a parallel career to acting and have loved learning about NYC and everything it has to offer. I am now a licensed agent at BOND New York. I try to find new coffee shops and fun little facts for wherever they may be looking to move. My fiancé is currently on tour with Jurassic World Live, so he hasn't been able to spend as much time getting to know the city.  
How her social life is going
Our family and friends back home who have visited us were surprised at how much space we have for what we are paying. And it is always fun showing people how nice the area is, especially if it's their first time in NYC. Everyone loves seeing the arch at Grand Army Plaza!
Making new friends has been slow but I did meet some wonderful people through a temp job who I consider to be family now. My fiancé and I both made some good friends through our other jobs as well. 
Moving here was an amazing decision and we are so thankful we were able to execute it quickly. We plan on staying for a long time. We really love our neighborhood and NYC in general.
Brick Underground articles occasionally include the expertise of, or information about, advertising partners when relevant to the story. We will never promote an advertiser's product without making the relationship clear to our readers.