The Newcomers
Why I moved to NYC from Washington, D.C.: I wanted to return to my happy place where I have lots of friends
Her monthly rent jumped from $2,100 for a one bedroom in D.C. to $3,300 for a two bedroom in NYC
II took almost three weeks of daily online searching—and fending off scams—to land her riverside rental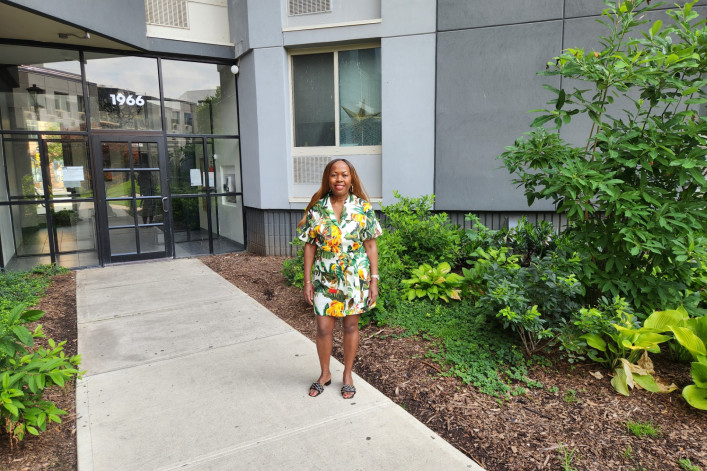 Realizing that Washington, D.C. felt too much like a small town, Debbie Peters made a New Year's resolution on a vacation in France to return to New York City. After an arduous hunt, she happily settled in East Harlem. Here's her story.
I was born and raised in Zimbabwe and moved to the U.S. in 1998 to study international business at Pepperdine University in Malibu, California. I first visited New York City as a teenager and fell in love with it, so as soon as I graduated from business school, I moved to New York and worked in finance from 2000 to 2008.
After that, I was recruited by a headhunter to work in project finance for a power company in South Africa. Then I was hired as a fund manager for a United Nations project based in Nigeria. I returned to the U.S. fulltime in 2018 and ended up settling in Washington, D.C., in 2020.
Most recently, I was living in a one-bedroom apartment on Thomas Circle, about a 15-minute walk from the White House. I was paying $2,100 per month for a 900-square-foot apartment, which even had a balcony. That was useful because I could sit out there and get some fresh air during the pandemic. The building also has a gym and swimming pool, as well as a resident's lounge where we threw parties. 
 
I loved living in Downtown D.C. Everything was within walking distance, including the restaurants at Dupont Circle, 14th Street Corridor, and Mount Vernon Square. I attended the United Methodist Church at Mount Vernon Square, which was very welcoming, inclusive, and social. I also enjoyed dining and shopping in nearby Georgetown. I didn't have a car, but the buses and Metro in D.C. are very reliable.
I was a mobile notary and real estate agent, as well as an event manager, and I always managed to get around on public transport. 
---
[Editor's Note: Brick Underground's series The Newcomers features first-person accounts about why a renter or buyer decided to take a chance on NYC and live here now. Have a story to share? Drop us an email. We respect all requests for anonymity.]
---
D.C. is full of young professionals just starting out in their careers. I was an active member of the Washington Rotary Club, which would meet for lunch every Wednesday at the University Club. I was also a member of InterNations, a group of expatriates from all over the world.
The biggest challenge with D.C. is that it is a very small town. In addition, most of the streets in Downtown are deserted, especially on weekends. Many shops and restaurants are still going out of business because the area has not recovered from the pandemic. 
Why she moved back to NYC
I was sitting on the beach in Cannes, France, on Christmas Day 2022 when I suddenly got the idea to return to NYC. As soon as I returned home from vacation, I began planning my move. I joined a real estate team in Manhattan and came to take my New York State real estate and notary exams in February 2023. I figured it would be easy to find an apartment once I was here for good.
I went back to D.C. to pack and arrived back in NYC on March 31st with a 15-foot U-Haul full of furniture—but with no place to live. U-Haul gives you a free month of storage before charging you about $250 per month, so I was determined not to get to that point.
I had booked an Airbnb in Harlem that was conveniently located near Central Park, but when I got the confirmation email, I discovered that it was a fourth-floor walk-up. I canceled because I had too many bags to carry up all those stairs. I called an old friend of mine and luckily was offered a place to stay for a week, but it ended being for over two weeks because my apartment hunt took longer than anticipated.
I searched StreetEasy for places in Harlem because I had lived there before, and it's relatively affordable. My initial budget was about $2,500 for a one-bedroom apartment, but I quickly realized this was unrealistically low for Manhattan. The other thing I considered is that we Africans always have friends and family visiting. Sure enough, around this time, a friend of mine in South Africa called to say that she was also moving to New York and was planning to stay with me for a couple of months until she found her own place, so I pivoted and started looking for a two-bedroom apartment instead.
How she landed her place
Ultimately, it took me almost three weeks to find an apartment after searching daily upon arrival. It was an epic struggle. Rents are much higher in NYC than in D.C. I kept having to adjust my budget.
My friends in Harlem had advised me to walk around the neighborhood and look for buildings with listed phone numbers or leasing offices. But the rental game has changed a lot, so there weren't many phone numbers to be found anywhere, and Manhattan has very few buildings with "Apartments for Rent" or "Leasing Office" signs.
The few buildings that did have signs with phone numbers either never answered the phone or returned my voicemails. I tried to look for building supers, and even they were hard to track down. There are plenty of small agencies where you could pay a fee and get listings for rooms, but apartments were harder to find.
One evening, I saw an African lady get off the bus with me and I ran after her to ask if she knew any place where I could find an apartment. She told me her brother had found an inexpensive three-bedroom apartment after a short wait through NY Residential Works on Lenox and 127th Street. So the following day, I was there first thing in the morning only to be told that they had a two-year waiting list! 
Meanwhile, I was still searching on StreetEasy. Most of the management companies didn't even answer the phone. At first, I did not want to pay a broker's fee, so I was looking for no-fee apartments, but I soon realized that if you want to find an apartment in Manhattan, you must be willing to pay anything to get in. I was shown several great apartments Uptown and applied for a couple, but my situation was complicated by the fact I am a self-employed contractor and my income is not as secure as a W2 employee. Eventually, I signed for lease guarantee insurance from Insurent.
Fortunately, an agent advised me to look in East Harlem because of all the new luxury developments. So I Googled apartment buildings in East Harlem, and The Crossing came up. I called the leasing office and was told that someone had just vacated an apartment, so I rushed to see it. It was a spacious two-bedroom apartment that ticked all the right boxes except for not having an in-unit washer-dryer. The rent was $3,300. I put in the application and waited anxiously in a hotel by Central Park (having had to leave my friend's place). Finally, on April 19th, I moved my stuff from the U-Haul storage into my new apartment.
Dealing with scam artists
NYC real estate is loaded with scams, the worst of which are on Facebook and Craigslist. When I posted on Facebook groups that I was looking for an apartment, a bunch of comments came out of the woodwork asking for $50 application fees. Then there are more sophisticated scams like a particular no-fee apartment on StreetEasy in East Harlem, which was listed for over six months with a couple of bad pictures. After some effort, I finally tracked down the listing agent, who showed me several newly renovated (more expensive) apartments with a broker's fee and then finally a no-fee listing, which happened to be the smallest. Even after that, he was unresponsive and never returned calls. 
The next shady character was a guy named Raymond, who I never met in person. He kept sending me on wild goose chases all over the city. The first day he sent me some addresses, assuring me the apartments were open. Turns out, it was some sort of holiday, and every single place he sent me to was locked. One of the buildings was even papered over with notices from the city! Next, he sent me to an open house on Lexington Avenue in the 80s, which was so crowded that the two apartments were rented in 10 minutes. Finally, he sent me to a two-bedroom apartment on 125th Street and Fifth Avenue that was under $3,000. The place looked great, so I paid the $20 credit application fee to the agent and was approved—and told I would have to cook on a hot plate until a problem with the gas was fixed! I moved on.
This whole experience has made me a better agent by giving me a first-hand look at the Manhattan rental market.
How she likes her new nabe
I am now a commercial agent at Keller Williams NYC, specializing in medical spaces. My door-to-door commute to the office at Grand Central is about 40 minutes. The building is a short distance from the Q train, and there are buses everywhere, so it's easy to get around. 
Overall, I love the culture in East Harlem. My favorite brunch spot is The Ricardo Steakhouse, where it's always a party. Uptown restaurants have the best brunches!
 
On Lenox Avenue in Harlem proper, I like going to happy hour at Settepani, having dinner or drinks at Red Rooster Harlem or across the street at Corner Social, and Barawine Harlem is lit until late.
 
For food shopping, there's a supermarket on Second Avenue called Cherry Hill, or I order from Amazon Fresh. 
 
I'm a social person, and there's no better place for people like me than NYC. I'm still involved with Rotary, InterNations, and my church. I also attend events through our Zimbabwean embassy and the UN. I also organize events for real estate investors. It's actually a challenge spending an evening at home. 
I've got so many friends here—NYC is my happy place. I went to a talk at Africa House at NYU and met these two ladies that I now go to brunch with. And I kept in touch with a few old friends from my earlier time here, along with a couple of exes, but I don't recycle, lol! Dating here is not easy.
 
I just had a champagne housewarming brunch this past Sunday. It's amazing how many people I managed to fit into my living room. It started at 1 p.m. and I woke the following morning to find one guest sleeping on the couch. Everyone loves my apartment. 
 
Having moved around so much, I realize there's no other place like New York City so I'm back to stay, baby!
Brick Underground articles occasionally include the expertise of, or information about, advertising partners when relevant to the story. We will never promote an advertiser's product without making the relationship clear to our readers.