The Newcomers
Why I moved to NYC from Illinois: We wanted to downsize and be close to family plus lots of art galleries
The couple traded a 3,200-square-foot house for a studio in Chelsea and a townhouse in Westchester
They paid $550,000 for a small condo in a full-service building with a pool, gym, and roof deck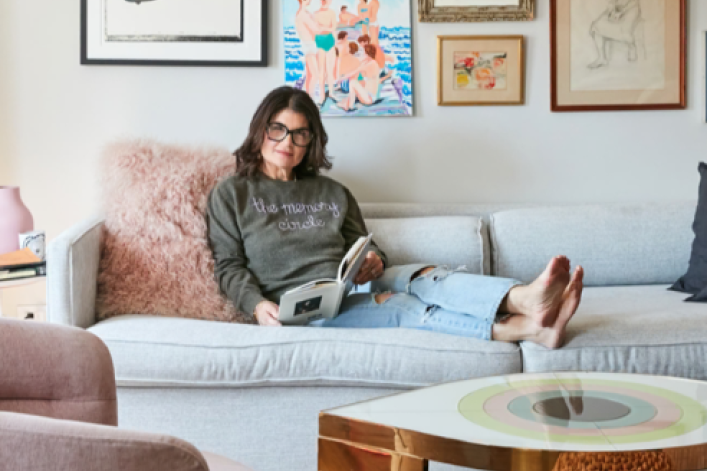 Empty-nesters Barri Grant and her spouse escaped the Midwest and headed back to New York City to be close to family. They opted to buy a small studio in Chelsea so they could also afford a place in Westchester and now get the best of both worlds. Here's her story. 
I was born in Ohio and raised in New Jersey. I lived in New York City from 1988 to 1995, when I was right out of school. My husband and I bought on the Upper East Side during that period, and we sold in 1995 because we moved to Illinois for a work opportunity.
Most recently, I lived in Lakeview, IL, with my husband, two daughters, and our pup. We owned a vintage Greystone house that is about 3,200 square feet and has three bedrooms, a two-car garage, and outdoor space. We paid $1.4 million for it in 2014. We loved it. It was our first single-family home. The outdoor space was a huge treat. 
We loved the neighborhood, where we had previously lived in two other homes. It is diverse, with lots of walkable small businesses and a great public school called Nettelhorst.
Just walking out the door afforded beautiful lakefront activities, local restaurants, and many school-related actives like a big Halloween parade. Our favorite spots included: Foursided, a great framing and gift shop; Wrigley Field concerts and Cubs games; the Music Box Theatre and Uncommon Ground for concerts; Joy's Noodles & Rice and Wakamono Sushi for food; and for exercise, lakefront walks. 
---
[Editor's Note: Brick Underground's series The Newcomers features first-person accounts about why a renter or buyer decided to take a chance on NYC and live here now. Have a story to share? Drop us an email. We respect all requests for anonymity.]
---
Food shopping was easy; we had grocery stores within walking distance, including Mariano's and Trader Joe's, as well as a farmer's market. It's also easy to order in from all over Chicago and Lincoln Park.
I was a reporter for years at The Chicago Tribune and then a photo stylist for Crate & Barrel. Today, I am a grief coach (thememorycircle.com). It was very easy to get to both jobs—just miles from my home, both in the downtown area. We had two cars, and the train and buses were blocks away. 
Why she moved to NYC 
We made the decision to downsize and move closer to East Coast family when our youngest went to college but waited until the year she was set to graduate to put our house on the market. So we listed it in April 2022 and it sold in 20 days.
To find a place in Manhattan, we enlisted the service of Erez Rose, an agent at Compass. We told Erez that we wanted a neighborhood that felt like there was lots close by. We especially wanted to be by the High Line and galleries. Our budget was around $500,000.  
We looked at about 10 to 15 properties, both in the city but also in Westchester. We were hoping to split time between the two areas as we have family nearby, including my dad, who was in a senior living residence.
The inventory in the NYC neighborhoods we looked at was much lower than in the Chicago area, and obviously you get much more space for your money in Illinois. 
Ultimately, we zeroed in on a studio in Chelsea that was priced at $550,000. It's a very small unit in a very well-kept building—you reap the benefits of larger shareholders.
We had an interview with the board, which seemed like it was going to be a difficult, nerve-wracking experience but turned out to be lovely. We chatted with two building members who were interested in why we liked the building and what kind of work we did. However, the paperwork for the building and mortgage was much more intense than in Chicago. 
Thankfully, we were approved and were excited about the building. It has a pool, gym, and roof deck, plus laundry in the building's basement. It is a clean room, but we miss having in-unit laundry.  
Our neighbors and doormen are lovely. We are by subways on West 23rd Street and also the Path train. We kept our car, but keep it outside the city because parking fees are too pricey in Manhattan. 
We ended up buying in Manhattan before we moved full-time from Illinois in August, as we had some work there ahead of the move as well as an illness in the family. 
How she likes her new neighborhood
Chelsea is bustling with galleries and restaurants and walkable to Hudson Yards, the Chelsea Hotel, Little Island, and the Whitney Museum. The Empire Diner is a favorite. I enjoy nearby yoga at Humming Puppy. The neighborhood bookshop, 192 Books, is so great as well. It was just featured in the Julia Louis Dreyfus movie, "You Hurt My Feelings."
For grocery shopping, a new Whole Foods is nearby, as are plenty of bodegas and the Saturday farmer's market. Everything is within blocks. 
At first, we were kind of bummed that we had to leave the neighborhood to eat at one of our favorite restaurants. But one day when we were walking, we saw a sign that said "Coming Soon." And we got our very own Mermaid Inn right across the street!
I used to be intimidated to go to the galleries, which are such a special part of the neighborhood, but I now go all the time. They have such fun parties, and you get to see art you cannot see in a museum. They are free and have great bookshops and book sales. They are also dog friendly and all have treats and water for our pup. 
Moving from the Midwest to NYC was major. We sold a lot of our things and placed them in storage. But we are so glad we did. Being in NYC was always part of a long-term plan, but it feels so great that it came to fruition. We have since found a small townhouse in the suburbs of Westchester that we are fixing up. Having a small spot in both places is perfect. 
Our family is pleased as well. Many of them are happy to have a place to stay in the city, especially my youngest when she is home from school. My eldest lives in Brooklyn, and she is so happy to have us nearby. We have no plans of leaving now that we are finally here. 
Brick Underground articles occasionally include the expertise of, or information about, advertising partners when relevant to the story. We will never promote an advertiser's product without making the relationship clear to our readers.