A large number of rent-burdened and priced-out New Yorkers appear to be making tracks for what's known as second-tier, or less expensive, metro areas.
A new report from RentCafé, a national apartment search website, looks at U.S. population migration, noting that around 55 percent of those who move do so for a housing-related reason, such as finding cheaper housing, a phenomenon known as affordable migration. The website found that New York City was one of the "top losers" when it came to outbound migration.
That's because it's progressively harder for people here to make the numbers work. The average rental price in Manhattan is $4,169, according to the Douglas Elliman market report for September, which means that a four-person family earning the area median income of $83,400 is paying 59 percent of their income for an apartment.
Four New York counties, which represent four New York City boroughs, were in the top 10 with the largest outbound domestic migration, with population losses of 192,000 in Brooklyn, 162,000 in Queens, 110,000 in Bronx and 100,000 in Manhattan.
To create the report, the website used the most recent U.S. Census county population data, and tracked the counties with largest inbound and outbound domestic migration in the last five years. The survey does not include international migration or population changes caused by births or deaths.
So where are people flocking to? The number one county with highest inbound migration was Maricopa, AZ, home to Phoenix. Other winners were the counties where the metropolitan areas of Las Vegas, Dallas-Fort Worth, Houston and Fort Meyers are located.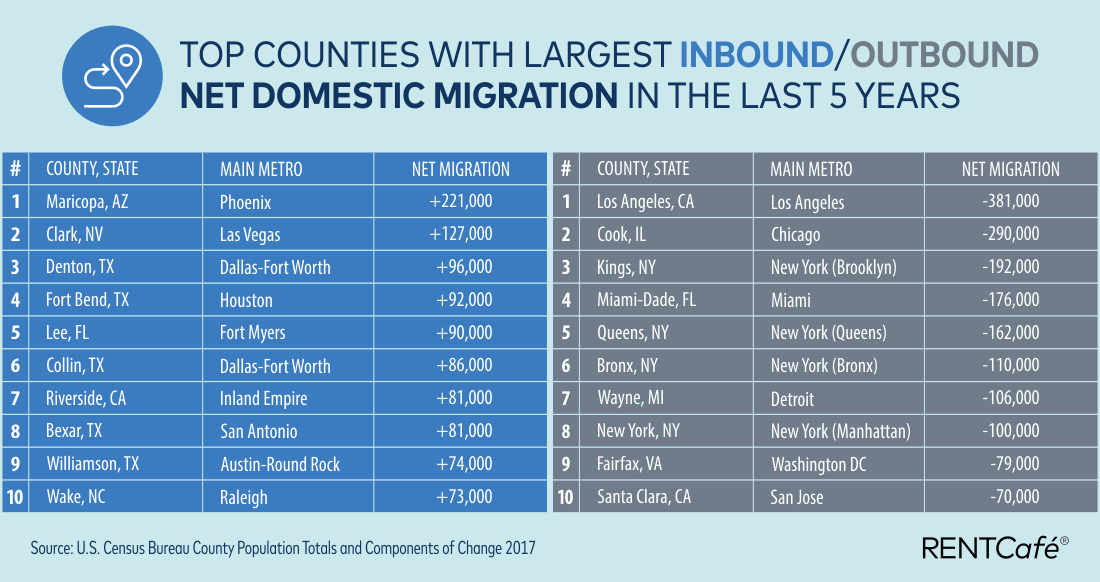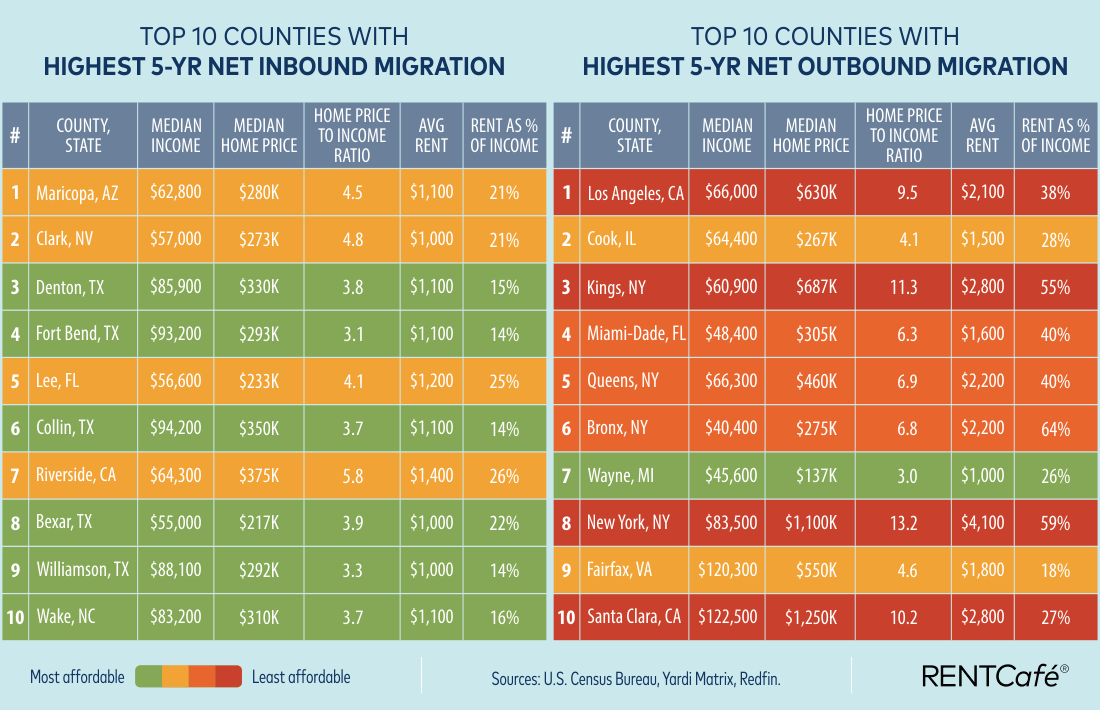 The report called Brooklyn's inclusion on the list "surprising."
"Once a popular, more affordable alternative to Manhattan, the most populous of New York's boroughs (2.6 million) may have become too popular for its own good," it says.
The site pointed to the median price for a house in the borough, $687,000, 11.3 times the annual household income ($60,900), while the rent burden is 55 percent of income, "chasing out low and middle-income residents."
In regards to Manhattan, the report said, "owning a home in the heart of the Big Apple is virtually unrealizable on an average salary."