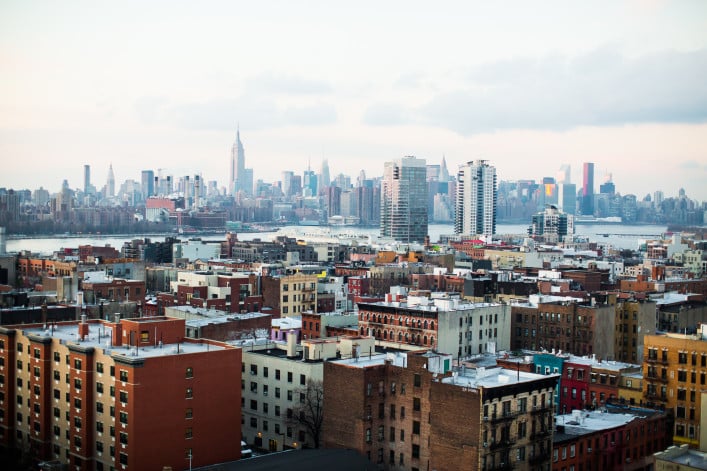 You might need a special decoder ring to understand what's going in the Brooklyn and Queens rental markets, where a flood of new development is creating an "unprecedented" shift in the mix, making it look like rents are rising, even when they're not, at least for individual apartments. Confusing, right?
According to the Douglas Elliman report for Manhattan, Brooklyn, and Queens for August by Jonathan Miller, president of appraisal firm Miller Samuel, face rents (meaning the amount you pay disregarding any concessions) in Brooklyn and Queens appear to be higher. 
In Brooklyn, the median rental price was $2,950, up 1.7 percent. And in Queens, the median rental price was $2,995, up 4.8 percent.  So what's going on?
It's important to remember that in Brooklyn, new development rental inventory has increased year over year for the past seven months, Miller says. 
"There's so much product coming in that the mix is shifting on a year-over-year basis," he says. "It's having an impact on rental trends, not on an individual basis."
It's not the mom-and-pop landlords raising your rent, but the new rental tower opening up down the street, which is asking more in rent than similar apartments, causing this price bump.
The influx is also a factor in concessions. Miller found that the share of new rental transactions in Brooklyn where the owner pays or offers rent concessions was 42.1 percent, up from 20.4 percent a year ago. 
So it's not the case that so many landlords who haven't been offering concessions before are offering them now. The jump is because "concessions are a staple of new development," Miller says.
"The numbers are up as the product shifts. The scale is unprecedented," he says.
Over in the Manhattan rental market, there's a shift taking place as well. The report found that the largest decline in rent occurred in the luxury segment or top 10 percent of the market. The median luxury rental price declined 3.8 percent from $8,000 to $7,700 year over year.
"Earlier in the year we saw luxury rents stabilize because we were seeing softness in the luxury sales market," Miller says. "Buyers were hesitant about purchasing and choosing to wait it out. That pattern is not holding now."
Now, Miller says, "The rental market is grinding lower and there's softness at the high end."
Comparing the markets in Manhattan to Brooklyn and other boroughs can be difficult, like comparing apples to avocados, however Miller points out how these differences are playing out in the rental market.
"While developers in the outer boroughs were focused on rentals, Manhattan builders were doing condos," he says. "The rentals that Manhattan developers were doing were luxury, while in the outer boroughs the rentals were upper end of the market."
Developers often say that they need to build luxury apartments in Manhattan because it's the only way they can recoup their expenses in such a pricey market. But now that the luxury market is stalling, expect some interesting times ahead.
Brick Underground articles occasionally include the expertise of, or information about, advertising partners when relevant to the story. We will never promote an advertiser's product without making the relationship clear to our readers.