The Market
NYC geothermal roundup: Where to find energy-efficient rental developments that ditch fossil fuels
Geothermal heat exchange systems are projected to reduce carbon emissions by as much as 60-plus percent
Some projects use solar panels to power the electricity and offset extra energy usage
Likewise, buildings will meet Passive House standards to improve energy efficiency and indoor air quality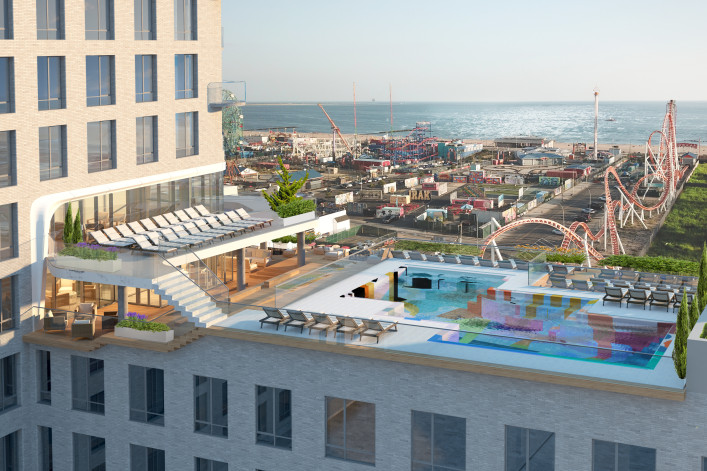 Rendering by Studio V Architecture
A handful of brand-new, large-scale residential developments are implementing geothermal heat exchange systems—a renewable energy source that uses the earth's ambient temperature to heat and cool buildings—to entirely replace fossil fuel alternatives.
These pioneering projects—two in Brooklyn, two in Queens —are jump-starting efforts to meet or exceed Local Law 97's net-zero carbon emission caps and serve as models nationwide.
Why New York City? For starters, the real estate market has always been a goldmine for developers, so that's nothing new. Then there's the chance to be the first—or among the first—to have bragging rights to this cutting-edge green technology. (The city is built on hyperbole, after all. And competition is spurring innovation.) Then there's the sales angle: Sustainability also attracts eco-minded buyers willing to pay to live in an energy efficient building.
Another big draw: All of the following projects received funding from government agencies, specifically NYC Department of Housing Development & Preservation (HPD), which oversees affordable housing, and NYS Energy Research and Development Authority (NYSERDA) under its pilot program to promote community heat pump systems.
"Community thermal networks are an important step in scaling building electrification and helping more residents benefit from clean energy infrastructure that can lead to long-term energy savings," says Donovan Gordon, a director at NYSERDA. 
And get this: All the development is happening on waterfront lots. "These locations are well-suited for geothermal energy, which requires specific subterranean conditions for it to work," says Scott Walsh, development project director at Lendlease, which owns 1 Java St. (described below). 
So whether you're looking to jump on the geothermal bandwagon, are committed to a net-free carbon footprint, or just like the sound of living in a shiny new development with a waterfront address, here's a roundup of projects to keep on your rental radar. 
Overview: Located on a 1.5-acre lot one block from the Coney Island boardwalk, 1515 Surf Ave. is slated to open in 2024 and was hailed as the largest geothermal residential development when it was awarded the NYSERDA grant in 2021, a title that has since been passed to 1 Java St. Still, it was the first project of its kind in NYC's history to begin using geothermal technology—and has led to the wave of development employing the similar systems.
It is being designed by Studio V Architecture and developed by LCOR, which specializes in "ground-up core urban development and adaptive reuse" (per its website). 
"LCOR is committed to the long-term sustainability of the communities they invest in and that includes addressing climate change and taking steps to reduce dependence on fossil fuels," says Anthony Tortora, senior vice president and principal of LCOR. "Coney Island is an ideal location to bring environmentally responsible development to fruition, creating healthy and active living along the waterfront available to families of all income levels."
Units and amenities: The dual-tower property will span 470,000 square feet and have 463 rental units (139 deemed affordable) and 11,000 square feet of ground-floor retail space, with a covered parking deck connecting the towers. Amenities will include an outdoor pool, a roof deck, fitness center, multiple resident lounges and co-working spaces, an indoor basketball court, and a 20,000-square-foot landscaped outdoor space. 
Sustainability impacts: The geothermal system is projected to reduce carbon emissions by over 60 percent. Its coastal proximity also required improvements to ensure flood mitigation and structural resiliency over time.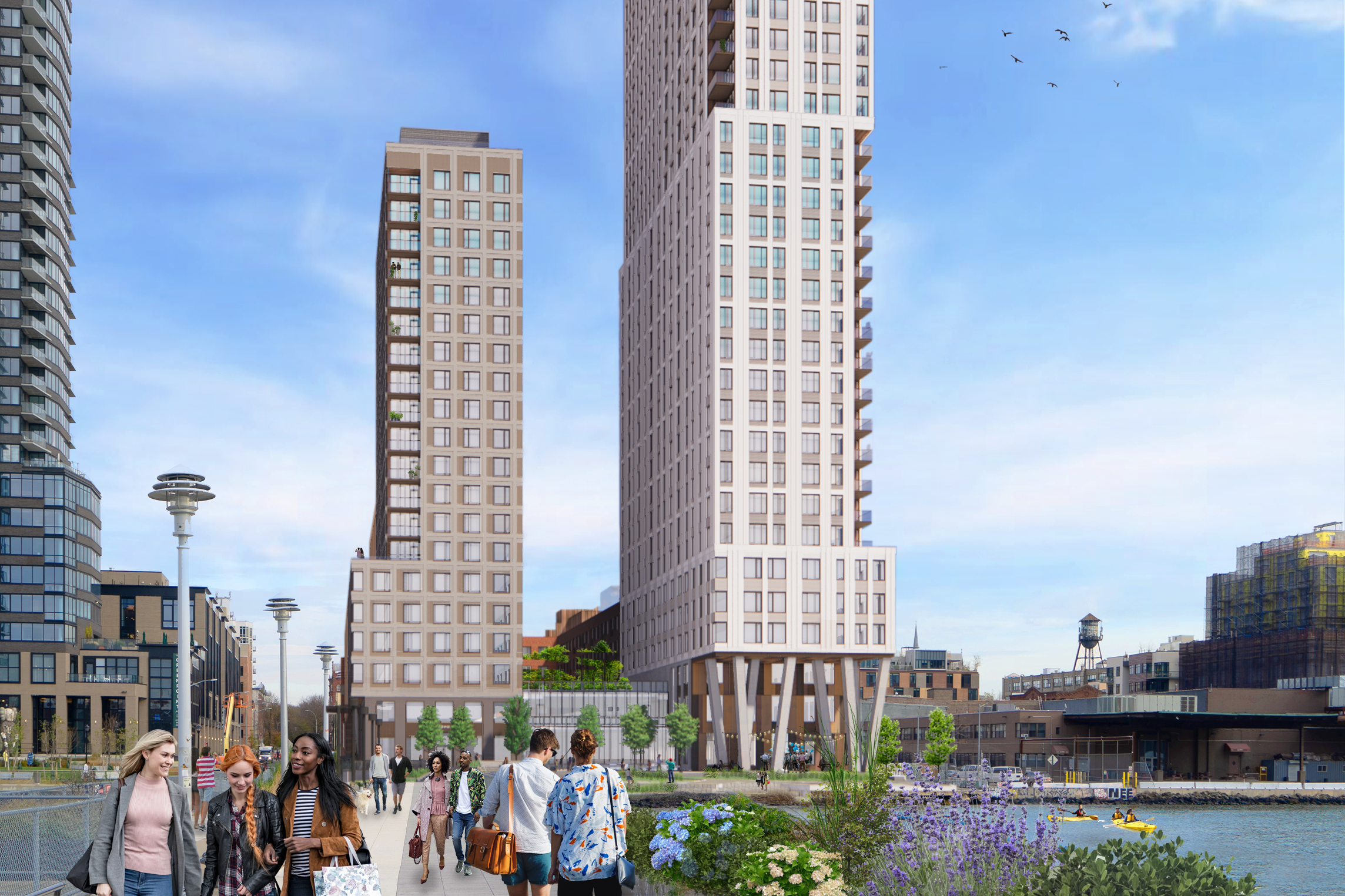 Overview: 1 Java St. takes up a full city block along the Greenpoint-Williamsburg waterfront and is expected to be completed in 2025. Based on square footage, building height, number of units, and number of boreholes, it will be the largest all-electric multifamily geothermal project in New York State. (Note the distinction—Arverne East wins based on acreage.)
The project—owned by Lendlease, a global real estate and investment management group, and designed by full-service architecture firm Marvel—was awarded a $4 million grant from NYSERDA and support by local elected officials and the North Brooklyn Neighbors community planning organization. 
"1 Java St. presents us with the opportunity to establish a pioneering model for geothermal energy—aligning with New York's ambitious climate goals, as well as our global targets of absolute zero carbon by 2040," Walsh says. "Our decision to use geothermal was driven not only by the environmental benefits and cost savings but also enhanced marketability upon completion."
Units and amenities: There will be 834 rental units (278 affordable housing) across five buildings totaling 700,000 square feet, including two 37-story and 20-story towers on the waterfront side and low-rise buildings in the historic district. It will also include 13,000 square feet of retail space and an 18,000-square-foot waterfront esplanade that connects to the India Street Pier and will be served by the East River Ferry. 
Sustainability impacts: The closed-loop, water-source heat-pump system will purportedly reduce annual carbon emissions from heating and cooling by 53 percent compared with typical residential systems. The development will also be fully electric in compliance with Local Law 154 mandates.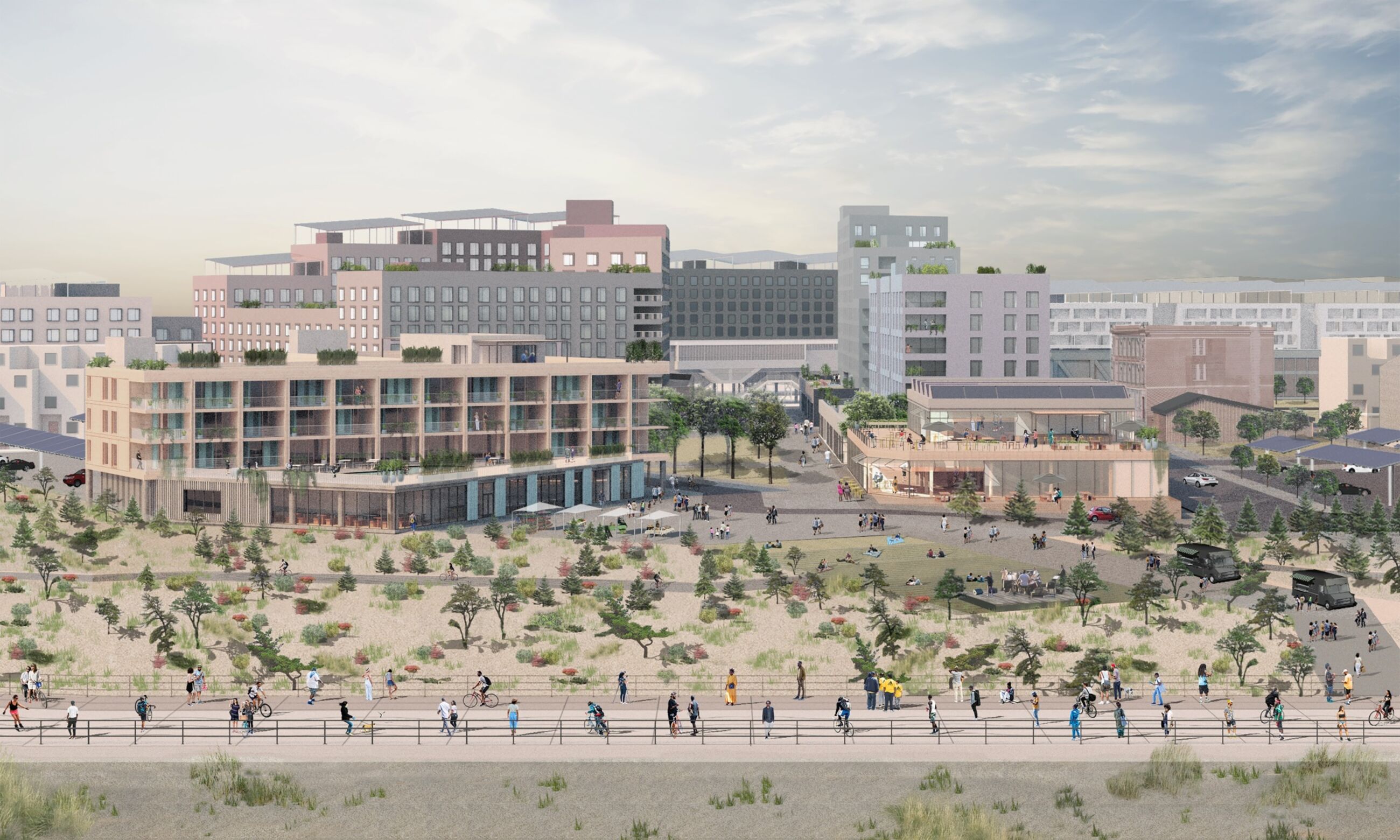 Overview: As the first master-planned net-zero community to commence (in early 2021), Arverne East is also the most ambitious to date in scope and scale—and possibly the last to reach completion given the projected 10-year timeline. The $1 billion-plus development is revitalizing a vacant 116-acre oceanfront site in the Arverne and Edgmere neighborhoods of Far Rockaway in Queens, both hit hard by Hurricane Sandy in 2012. Besides aiming for sustainability with geothermal and solar energy, mission-minded Local Office Landscape & Urban Design is targeting "resiliency" by making necessary infrastructure improvements to minimize flood risks, combat future climate change impacts, and improve the quality of life for community members and the local public.
The development is a public-private partnership led by HPD, NYC Parks and Recreation Department, and the Department of Transportation. Three NY-based real estate firms—L+M Development Partners, the Bluestone Organization, and Triangle Equities—make up the development team, which recently brought on Urbane Development to spearhead the curation of retail and small businesses, with a focus on minority-owned businesses, and promote the growth of new and existing local, small businesses.
Units and amenities: Of the projected 1,650 units, 20 percent are market-rate units and 80 percent will be designated as affordable for mixed-income rental or ownership, including low-rise towers, townhouses, and bungalows. Each unit has a free parking space.
The oceanfront community will have a boardwalk on the south side and include 60 acres of green space, including a 35-acre nature preserve and a nonprofit urban farm. It will also feature a community center, co-working space, and about 180,000 square feet of retail space along a main corridor connecting the 36th A train subway station to the beach, anchored by a Rockaway Brewing Company brewery and restaurant plus a beachfront hotel.
Sustainability impacts: The multi-pronged approach to achieving net-zero status is centered around a campus-wide geothermal loop for heating and cooling. Solar roof gardens, trellises, and canopies (over the parking garage) are expected to produce enough power to offset energy use; Passive House design creates highly insulated, airtight buildings that bring in fresh, filtered air through energy-efficient mechanical systems. 
"Arverne East's location in Edgemere gives us an incredible opportunity to create a net-zero community that prioritizes wealth creation for residents that have experienced decades of environmental discrimination, along with de jure and de facto exclusion from economic opportunities," says James Johnson-Piett, principal and CEO of Urbane. "We look forward to bringing Arverne East to life, and to setting a new standard for resilient and energy-efficient coastal developments that fuel the growth and long-term prosperity of the region's economy."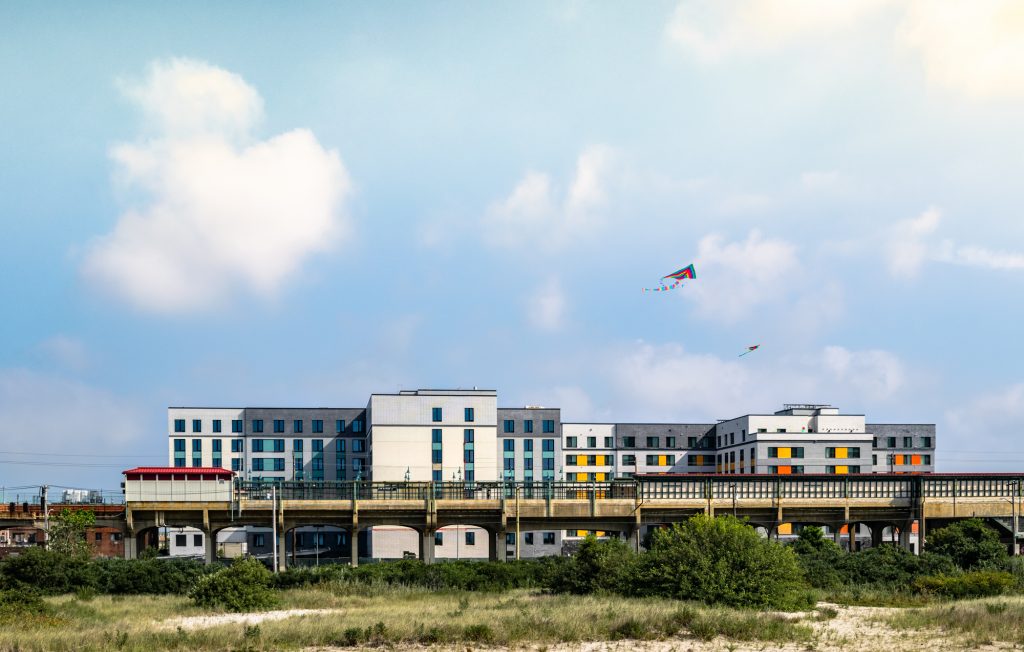 Beach Green Dunes 
Overview: The same development team behind Arverne East launched this two-phase project back in 2015, but it has somehow remained under the radar, though it is also in the Rockaways (Edgemere) and shares many of Arverne's sustainable and resilient features for energy efficiency and flood prevention. It was designed by Curtis + Ginsberg Architects LLP (C+GA). And in January 2023, the developers just closed on a deal to finance Beach Green Dunes III that will be led by Bernheimer Architecture (and include a new transit plaza for the Beach 36th Street-Edgemere A train subway station).
Units and amenities: Beach Green Dunes I and II offer 228 affordable units—101 in seven-story BG I and 127 in eight-story BG II. Both have green spaces, play yards, a fitness room, laundry rooms, and parking spaces. BGD III will have 146 mixed-income apartments (some reserved for low-income seniors), 2,100 square feet of commercial space, and a 1,160-square-foot community center.
Sustainability impacts: The development is designed to Passive House standards for increased air quality and comfort and includes rooftop solar panels, a bioswale garden (to prevent stormwater run-off), and geothermal heat pumps to reduce carbon emissions and flood-proofing to mitigate the severe weather conditions and flooding potential in the Rockaways.
Brick Underground articles occasionally include the expertise of, or information about, advertising partners when relevant to the story. We will never promote an advertiser's product without making the relationship clear to our readers.