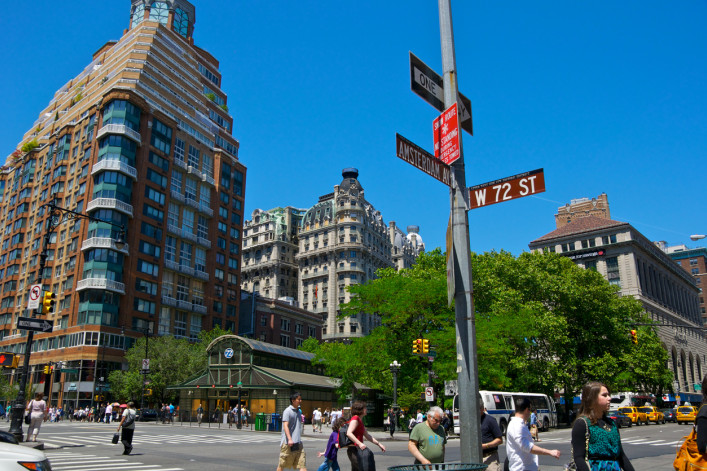 Usually when New Yorkers sell an apartment, they buy something else. But Elizabeth, who works as a video editor and Tony, a television producer, had a different plan. This spring the couple sold their co-op on Amsterdam Avenue and moved to a rental just up the block on Columbus Avenue to gain space for working at home. Here's Elizabeth's story.
In New York City, it's a bit unusual to go from being owners to renters but we've done it before—this isn't our first rodeo. When we met in 2000, Tony had a co-op, a small, dark, one bedroom on the second floor of a building on West 85th Street. It was dark enough to get us included in a New York Times article about living in an apartment with practically no natural light.
We had only two windows in the whole apartment and each faced a shaft at the back of the building. In the photo the Times took of us, we are in the living room in the middle of the day with a candelabra lighting the room up. 
---
[Editor's Note: Brick Underground's Inside Stories features first-person accounts of interesting, real-life New York City real estate experiences. The names in this article are pseudonyms. A previous version of the article ran in August 2021. We are presenting it again here as part of our winter Best of Brick week.]
---
At that time, Tony worked the 4 p.m.-to-midnight shift so he slept during the day and was fine with the dark and the quiet. But when we became a couple, the dark became a problem and the place was just too small. There was only one little closet that wasn't even in the bedroom.
That was the first time we went from being owners to renters. We just couldn't face having to go through the hassle of organizing a sale and a purchase simultaneously. As it turned out, we were amazed at how fast the place sold. That was because of the great work of our broker who has since retired. 
We found the rental we wanted on Amsterdam Avenue in the 90s and lived there happily for five years. We loved that apartment and our neighbors, who were exceptionally friendly, but in 2016 we decided that we'd like something of our own again. We ended up buying a co-op directly across the street from our rental—a big one bedroom with a sunken living room. We paid $820,000.
The apartment looked great but, as it turned out, had lots of flaws. One of the biggest showed up the first night we moved in. That's when we saw a guy standing outside our bedroom window and looking in. He turned out to be one of the workmen at the construction site next door. He was standing on the sidewalk shed that was right up against our building.
We knew the site was there before we moved in, but the agent had said that the work would be done in six months. Because it was a school building, everything was being done at night. When we called the police that first night to report what we thought was a violation, it turned out that it wasn't. The crew had the city's permission to work after hours and on holidays. One 4th of July, when we went downstairs to complain about work being done on a holiday, the foreman came back with: "Do you think I want to be here today?"
And, by the way, the work's still going on!
The apartment itself was beautiful but, after a while, we began to wish that we could move somewhere else. It felt as though the building just wasn't solidly built. The walls were so thin that we could hear our neighbors coughing, sneezing, or snoring. Every footstep from the apartment above us reverberated in our apartment. 
Most of the people who lived in the building weren't friendly, especially when compared to the neighbors we had had across the street. Tony describes the building as "not prewar or post-war, just war."
For all of these reasons, we decided to put the apartment on the market and in February of 2020 we had our first open house, with an asking price of $945,000. Then Covid hit. Boom! We kept the listing up for a while but there were no bites, so we took it down. 
Not long after that, each of our offices closed down and work-at-home became the rule. That's when things got really tricky. It started out with me working days, and Tony working nights. Then, our hours would flip or we would find ourselves working the same hours. Our schedules were constantly changing. 
Tony's "office" was what had been our breakfast nook and I squeezed myself and my screens into a tiny space right outside of where he was sitting. We could see and hear each other. If I had a video call, he'd have to watch what he was wearing if he planned to walk behind me.
When only one of us was working, the other had to be in the bedroom, usually watching movies. We ate our meals at the coffee table. Not having have kids made the arrangement easier for us than it was for a lot of other people we know. Being home 24/7 was an eye-opener.
When we made the decision before Covid to put our apartment up for sale, we both agreed that we should rent not buy. Once Covid hit, it became clear this was indeed our best option. The possibility that one or both of us might lose our jobs seemed very real. My company let 20 people go in June. We realized that if either or both of us were laid off, with a co-op or condo, we'd be stuck with loads of expenses. With a rental we could be flexible, even break the lease if we absolutely had to.
Pro Tip:
Looking for a rental that flexes to fit your life and feels like a real home? Place your search into the capable hands of The Agency, a tech-savvy real estate brokerage that's helped hundreds of Brick Underground readers find their ideal NYC apartments.. Bonus: The agents at The Agency are not only a delight to deal with, they will charge a broker's fee of 10 percent of a year's rent on open listings instead of the usual 12 to 15 percent if you sign up here. 
During the pandemic, when we started looking for a rental, there were so many deals! We looked at some great apartments in downtown Brooklyn. Some nice new buildings had two-bedroom apartments going for $3,800.
Eventually we found a buyer. The sale took forever (six months from contract to closing) and by the time it was done, all of those rental deals were gone. We had hoped to sell our place for $899,000; in the end it went for $860,000.
Then it was May and there were no more rental bargains; we thought we were screwed. But we found a lovely rental in a tower just up the block from our co-op. We submitted an application (it was almost as complex as applying for our co-op) and we were accepted.
Now we have two generous-sized bedrooms on a high floor with a terrace and a beautiful east-facing view. (A pigeon and her unhatched egg claimed the terrace.) There's a gym and a full-time doorman, amenities we never had in our Manhattan apartments. We would never have been able to buy a place this big with so many amenities.
The financials didn't work out quite as well as we had hoped. Our rent of $4,500 just about equals what our monthlies were with the co-op so our plan to save some money pretty much evaporated. But the building staff is wonderful, the neighbors are great, the building is amazingly diverse, and we have plenty of room in our apartment for each of us to have separate work spaces. We're very happy here. 
Will we want to repeat our pattern and buy again? We might, but not here. If we buy, it may be in Costa Rica. We love it there. It would be an investment at first, we would vacation there, and eventually it would be a place for us to retire.
We will never buy an apartment in NYC again and go through that incredibly long and arduous process. Not ever.
Brick Underground articles occasionally include the expertise of, or information about, advertising partners when relevant to the story. We will never promote an advertiser's product without making the relationship clear to our readers.