Inside Stories
The outrageously priced Brooklyn condo that I thank god we didn't end up buying
A look back at an apartment that got away—for lots of good reasons
With all of its activity and people, New York City is a place of chance encounters and opportunities seized. But more often than we'd like to admit, it's a city stocked with the ones that got away, and roads not taken—for better or for worse. And that includes spaces to live, both rentals and sales, to which you just couldn't commit, whatever the reason.
As Brick Underground has written about, New Yorkers don't soon forget the dirt cheap or gorgeous apartments they let slip through their fingers. 
But not all tales are sob stories. I often think about the two-bedroom, two-bath Brooklyn condo my husband and I looked at back in 2016, and weep tears of joy that we were not so scared, desperate, or delusional to spend all of our money on it.
---
[Editor's Note: Brick Underground's Inside Stories features first-person accounts of dramatic, real-life New York City real estate experiences. A previous version of this article ran in June 2019. We are presenting it again in case you missed.]
---
Some context
At the time, we were living in a big, below-market rental in Cobble Hill with our three-year-old daughter. The writing was on the wall; our days there were numbered—our nearly 100-year-old landlord had just passed away, there were hungry developers laying in wait—and we needed to find a new place to live. We'd been saving (and looking off and on) for years, and were hoping to buy. 
On paper, the apartment sounded pretty good. It was a two-bedroom, two-bath penthouse duplex in Greenwood Heights with 1,063 square feet. Plus, there was a 280-square-foot, private roof deck with views of the Manhattan Skyline and Liberty Harbor. (I'd gardened illegally for more than a decade and was ready to go legit.) The condo also had a deeded parking space, bathrooms with jetted soaking tubs, built-in storage, and a vented in-unit washer dryer. Aside from the storage, all of these things were not essential, but certainly nice to have.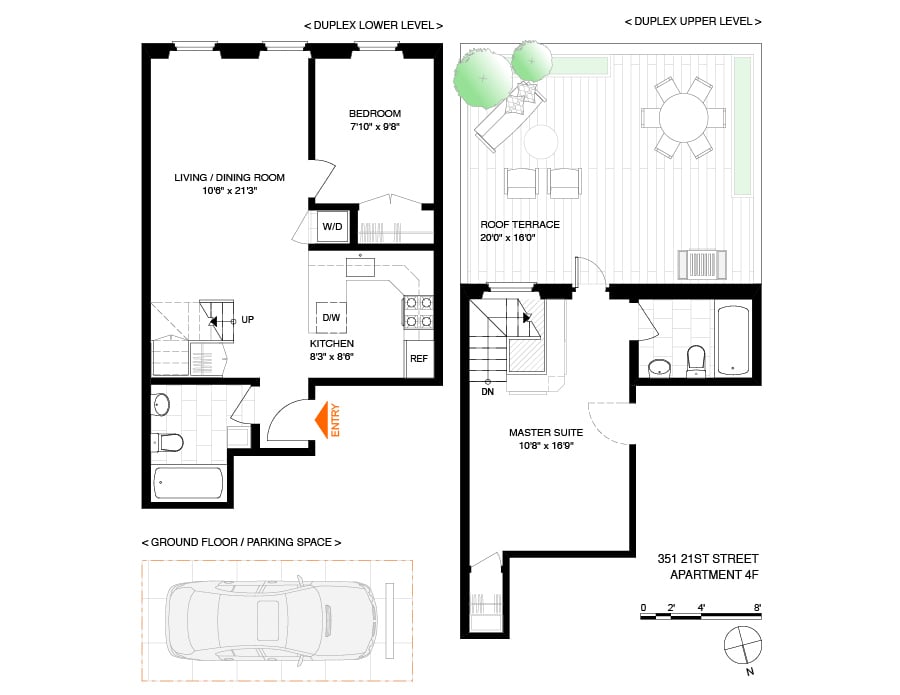 At the time (around March 2016), according to StreetEasy, the median asking price across all types of housing in Greenwood was $1.1 million. 
We'd flirted with the idea of buying a two-family (i.e., a building with an apartment we could rent out to help pay the mortgage) and had seen some very rough places nearby; so rough, that the ultimate price tag would have certainly exceeded that median price. So a turn-key condo seemed like it might be a good idea. This one was priced at $899,000—an insane price, of course, but maybe "worth it"? Was this the best we were going to find?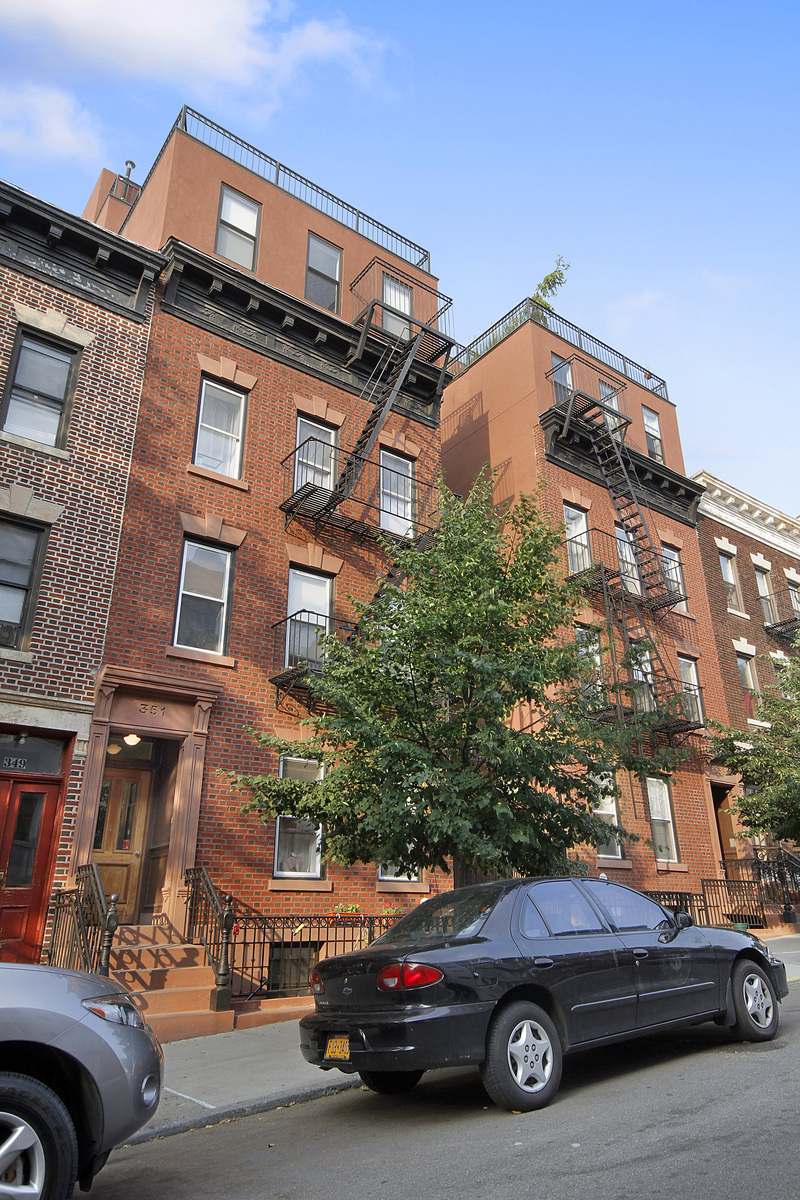 Per the listing, the R train was "conveniently located at 25th Street and Fourth Avenue." On the map, that's about six blocks, which is not bad. On foot, three of those blocks are long, and more importantly, they're uphill. (That's the "heights" part of Greenwood Heights.) It was warm the day we looked at the apartment, and we were hot and tired by the time we reached the building—and discovered it was a fourth-floor walk up. (The thought of carrying groceries up the hill and then climbing the stairs seemed unpleasant.) 
The apartment itself was bright and clean (our place at the time was not), and measured a little over 1,000 square feet. And yet, it felt small. The built-ins touted in the listing—most notably along the stairs to the second level—were cool, but also somehow emphasized how little storage there was in the apartment. 
A bedroom, not the master, was off the living room on the first floor, as was the kitchen.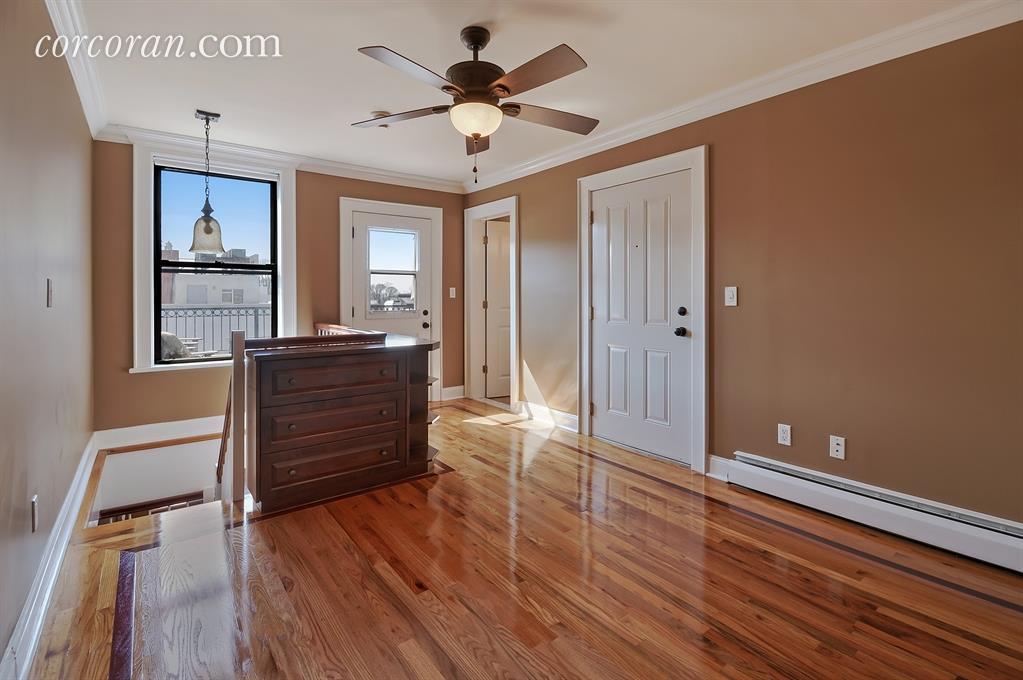 Upstairs, the "master suite" felt more like a loft space; it was big (bigger than the other bedroom) but completely open, with a bathroom behind one door and the crown jewel of the apartment, the roof deck, beyond another. The reality is there was very little "private" space in the apartment. 
The deck was nice, and did offer impressive views, but it took a lot to get there. I now know that I would have found the direct sun stifling and oppressive. 
In the end, we didn't make a serious offer on the place, but we came very close. Compared to many of the other, similarly-priced places we'd seen, it was in nice shape, with the rare features of a roof deck and a parking space. 
Meanwhile, in an alternative universe
In some alternative reality—one in which we panicked, or lied to ourselves by saying, "maybe it could work"—we did buy it, afraid that this would be our last chance to get two bedrooms and some kind of outdoor space in Brooklyn. (Who knew? Maybe prices would just continue to go up.)  
Here's what that would look like: We'd ignore that a mere two pieces of furniture in that living room would make it feel cramped; deny the fact that a walk up the hill in most weather (sunny, rainy, snowy) was be a major bummer, and feel edgy and penned in by that reduced space and odd layout. 
What really happened
In actuality, we ended up in a single-family in Kensington, moving further south into Brooklyn. It was significantly bigger than the condo, two (level) blocks from the train, with three bedrooms—all of which have doors. While we don't have skyline or Lady Liberty views, we do have a small back patio and shaded front porch. Did we pay more than the condo? We did. But not that much more considering how much more we got—which includes favorable conditions for positive mental health.
I became a bit obsessed with the gall that it took to price that apartment at $899,000. Was it really "worth" that? Who thought paying that much money for a fourth-floor walk-up in south Brooklyn was reasonable? The apartment lingered without a buyer for a long time, and I thought the market has spoken. After a few weeks, the price dropped $50,000—two months later, it sold. 
Brick Underground articles occasionally include the expertise of, or information about, advertising partners when relevant to the story. We will never promote an advertiser's product without making the relationship clear to our readers.