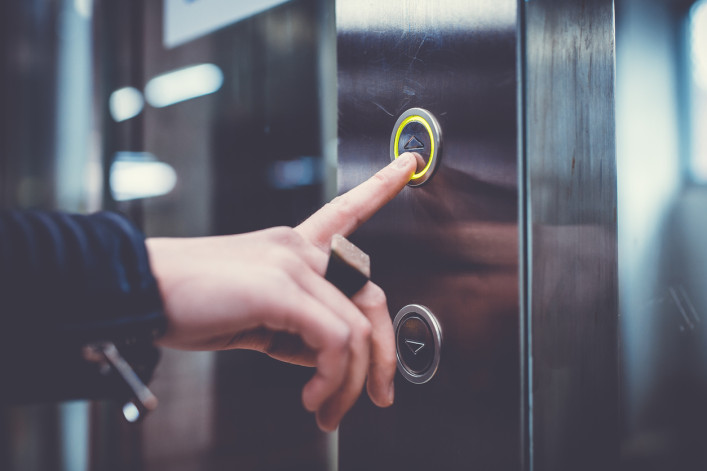 New Yorkers experience a wide variety of living situations in this city. Some are odd, some are uncomfortable, and some are amazing. Some are more common than others, and when we heard about Sally S., a Boerum Hill resident who enjoys the rare perk of a private elevator in her five-floor townhouse, we had to get her story. Turns out, she's been renting a little over three years and shares it with her husband, sister-in-law, and three kids, ages eight months to four years. We had to know: What's it like living with your very own personal elevator, and are there any "down"-sides? Sally filled us in.
What is your building like?
There is a garden unit accessible from street level that is a one-bedroom apartment, which is rented out separately. We live in all the other floors—starting on the parlor level up to the fifth floor, which has roof access. We also have a basement that is below the garden unit. The elevator connects to all of our floors: The basement and then parlor level up to roof.
What was your reaction to the elevator?
We thought it was pretty cool when we saw that it had an elevator! I was eight months pregnant at the time we moved in, so it made all those stairs so much more manageable. [It] also made going down all those stairs with a newborn in hand much safer!
---
Editor's Note: Brick Underground's Inside Stories features first-person accounts of dramatic, real-life New York City real estate experiences. Have a story to share? Drop us an email. We respect all requests for anonymity.
---
How often do you use it?
We use it fairly often. Our basement doesn't connect to the rest of the apartment because of the separate garden unit so we need to use the elevator whenever we want to go down there.  
How fast does it go? 
It doesn't go very fast—probably a normal speed you'd expect for a home elevator.
Does it ever break? 
It has broken down a few times. We've had a few panicky moments when we've gotten to the floor we're going to and the outside door won't open up. You feel a bit trapped inside. It turned out to be an issue with the door lock on [a single] floor so it was just a matter of hitting a different button and going to a different floor. But it gave us a bit of a scare before we figured it out!  
There's a phone in the elevator (which is required) but I always make sure to have my cell phone on me when I'm riding in it. I do think it needs to be inspected but I forget the maintenance schedule. 
What's the best thing about having one? 
When living in a place with a lot of floors it can get pretty exhausting going up and down all the time. It was especially hard later on in my pregnancies and with newborns right after, so it was so nice to have an elevator then.    
We also love using it as extra storage. Depending on the day, you can find a stroller or two in there, kids' scooters, extra groceries, diapers, recycling...you name it!  
The most annoying?
The number Verizon assigned to us for the elevator phone was the old number of a defunct nail salon. The phone in the elevator used to ring all the time with people trying to make manicure appointments...eventually the calls stopped coming in. We still get a random telemarketer or wrong number every now and then.
How do people react to it? 
People usually think it's really cool! It's not noticeable from the outside. From the outside, the door looks like all other closet/bedroom/bathroom doors in our apartment. We've had quite a few guests who were looking for the bathroom end up pulling on the elevator door by accident!
Could you imagine living without it? 
I could definitely live without it. It's a nice to have given the amount of stairs in the apartment but not totally necessary (other than having access to the basement). Also, another drag of it is that it takes up a lot of square footage on each floor, so I sometimes imagine how much more closet space we'd have on each floor without the elevator.
Brick Underground articles occasionally include the expertise of, or information about, advertising partners when relevant to the story. We will never promote an advertiser's product without making the relationship clear to our readers.