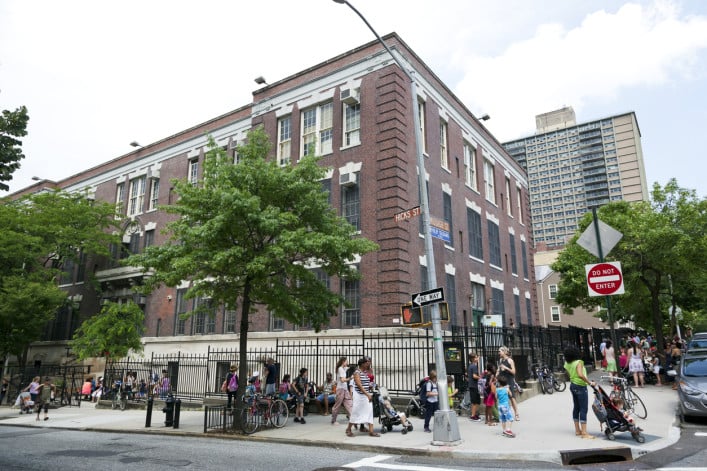 For a lot of apartment search sites, you plug in the area where you want to live and are shown a handful of listings in that area. Boom, you're done. For some savvy New Yorkers, who are already familiar with the neighborhood where they are looking to rent or buy, that works great.

But what if you don't know where you want to buy or rent because you're new to NYC or your needs have changed? 

That's the premise behind Localize.city's new apartment search portal, launched this week, which has a very different feel from StreetEasy—the de facto site many New Yorkers turn to in order to find apartments.

When you search for an apartment on Localize, you have the option of setting parameters such as top schools, parks, quiet streets, low crime, and dog parks. A highly interactive map shows you options that fit your criteria, and once you make a selection, you get a multifaceted report about the address. Want to know if the apartment you are considering gets sun or shade, or if you could expect construction projects in the vicinity, or if trucks use the street, or if the subway causes the building to vibrate? Just scroll through the insights to find out. 

It makes sense that Localize is going big on neighborhood research for apartment seekers. The site, which employs data scientists, engineers, urban planners, and cartographers, launched last year as a real estate information site using artificial intelligence to provide a snapshot of any address in the city. Now that same approach is being applied to the NYC apartment search.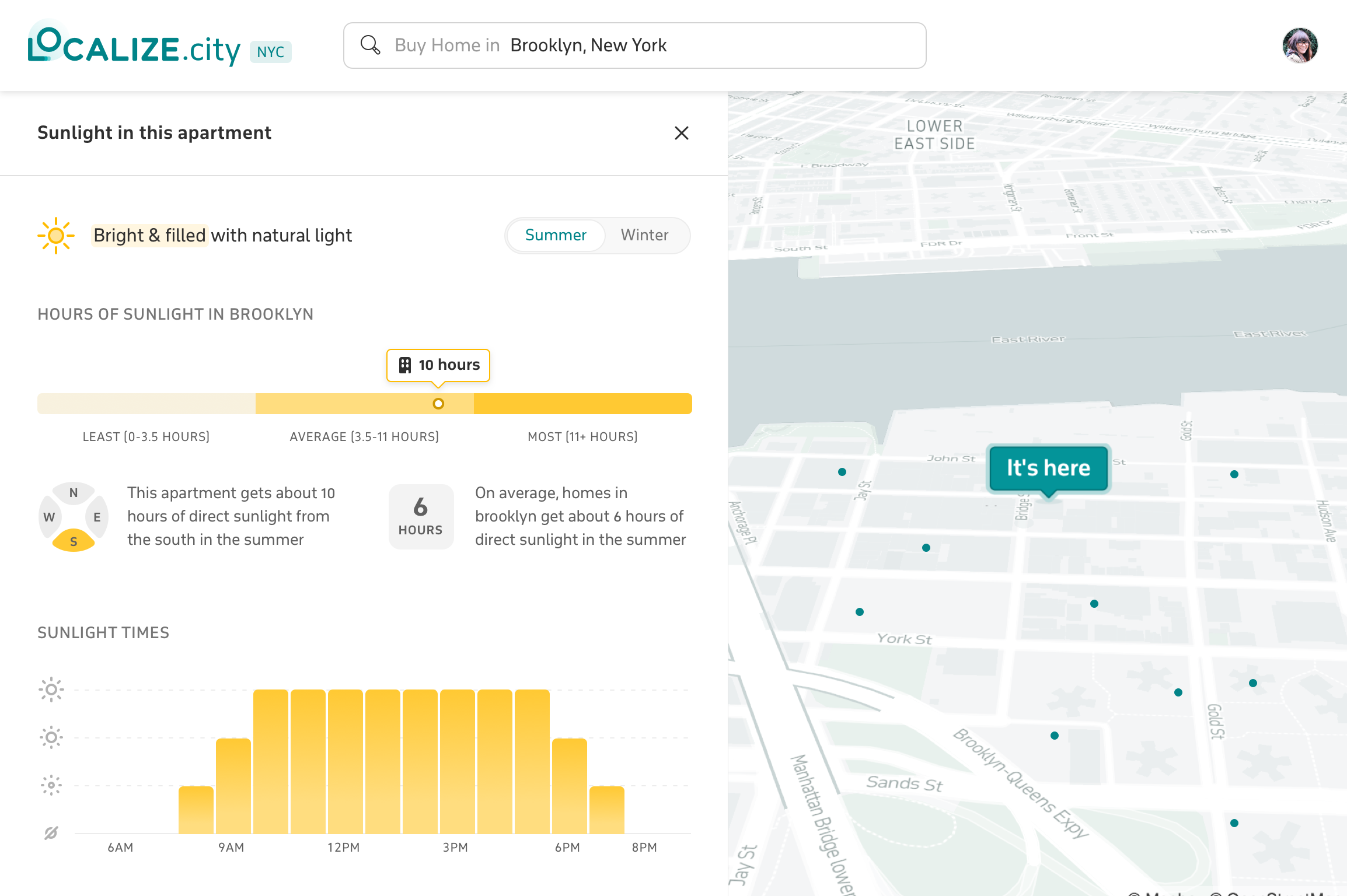 "We saw a big opportunity to reveal research and change the way people search for an apartment," says Steve Kalifowitz, president of
Localize.city.
He described one couple who turned to Localize to find an apartment: They were living in Williamsburg and just had a baby, and had only a vague idea of where to look for a larger apartment in a more family-friendly location. 
"We can tell them what neighborhoods are good for parents, tell them about commutes and other details. We can find places they weren't thinking of," Kalifowitz says. "It doesn't have to start with the neighborhood." 
Localize.city will be rolled out to four more cities in the next few months (Kalifowitz declined to name which ones).
Connecting with brokers
The listings on Localize are coming directly from all of New York City's biggest brokerages, and the majority of the smaller firms throughout the five boroughs, as well as from the Real Estate Board of New York. Kalifowitz estimates that Localize's listings capture about 90-95 percent of what's on the market. Brokers do not have to pay to put up listings.

Transparency is definitely the theme here—there can be a surprising amount of negative information about an address, like blocked views, noise, or even vermin problems—but Kalifowitz says that's all part of educating users and prompting questions you should ask about potential problems with an apartment.
Road testing
I plugged in my own address and found a far more robust amount of information about where I live on Localize compared to StreetEasy.

I was pleased to learn that there's no construction planned in my area for the next 12 months, and that 30 carshare vehicles were introduced to the neighborhood, and that my area has a very low rate of violent crime.

The commute calculator, which times your route via car, bike, car or walking, is handy. I was thrilled to see a note that said the MTA may add rush hour express service to my stop—but it's not clear that this may actually happen, the note concludes. Bummer.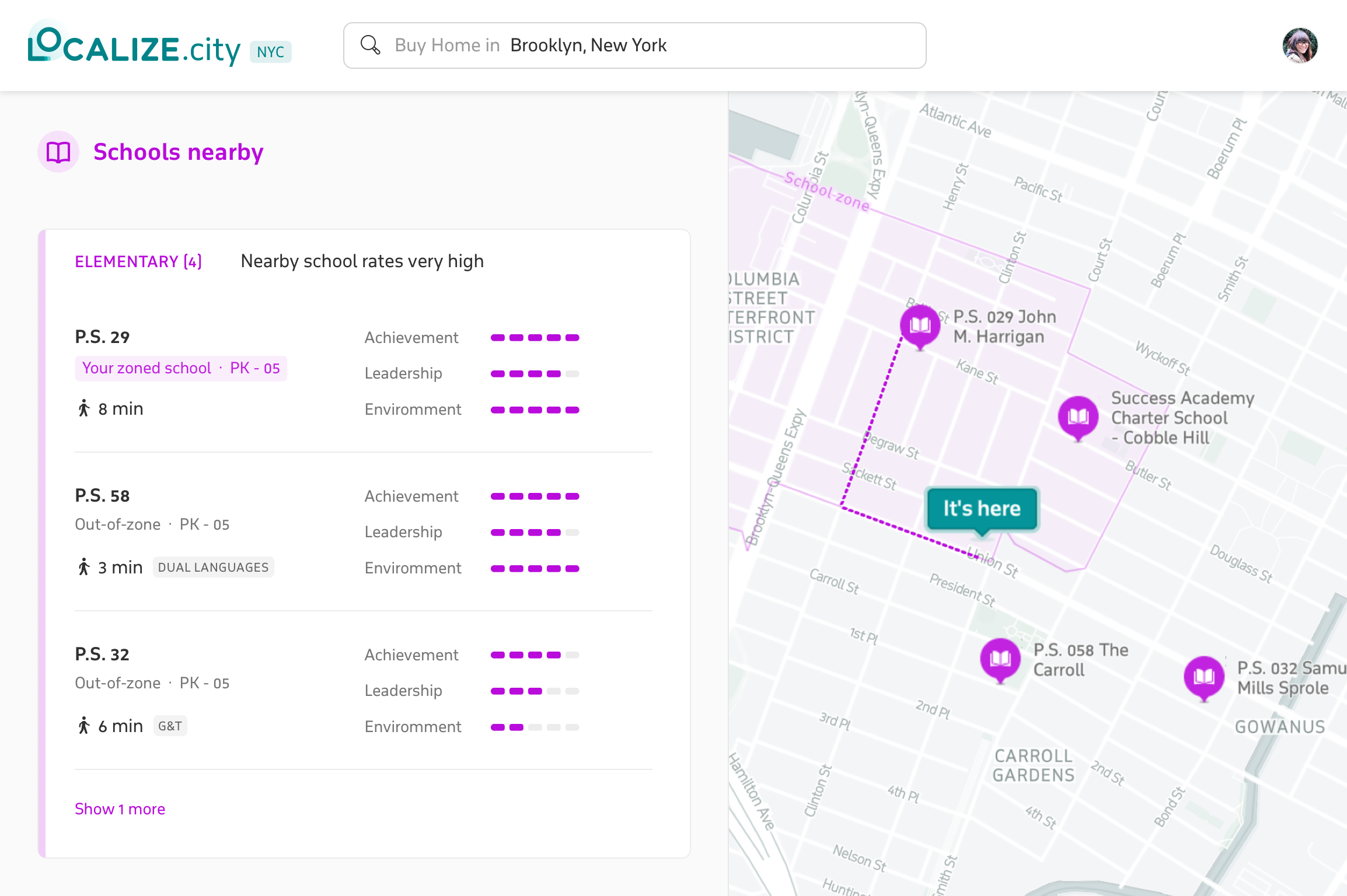 School zoning information for my address is correct, and the lack of accessibility with wheelchairs and strollers is true (and unfortunate).
One advantage of using StreetEasy: It offers more comprehensive building transaction information than Localize. Type in an address on StreetEasy and depending on the size of the building, you can dig into a long list of previous sales (or rentals) at an address. For now, Localize has only a few past sales for an address.
Kalifowitz says the ability to see a more fuller list of past sales (but not rentals) is in the pipeline and will be rolled out shortly. "What we focused on for the launch, was giving people a special understanding of the history, not only of the unit or building, but the area," he says. 
Also coming in the next release is the ability to save your search and receive notifications when listings that meet your search requirements hit the market—currently a StreetEasy function. Localize says it will do things a little differently, however. "In much the same way that you can search for a home on Localize.city without specifying a location or neighborhood, when you save your search on Localize.city, we will be recommending new homes on the market, which meet your lifestyle needs and might be in locations you didn't think to look," Kalifowitz says.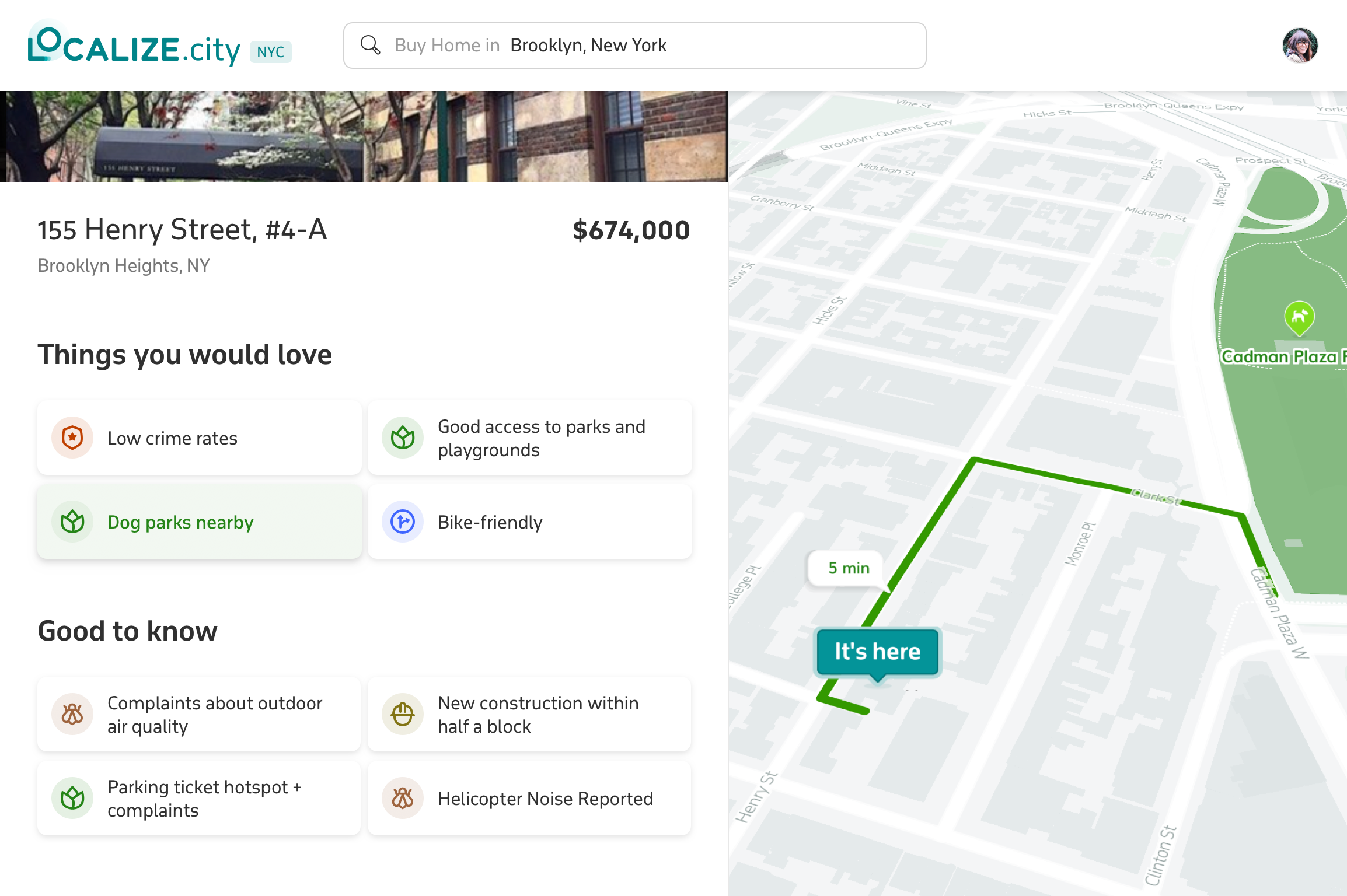 Localize's map is pretty fun to use (that's no wonder—the company's creative director is Mushon Zer Aviv, who led map development at Waze). As you scroll through the insights about the neighborhood—for example subway stations or school locations, the map zooms in and out or repositions itself and small tags pop up to show you locations. It's unlike StreetEasy's map, which is small and only resides on your main search page, so you can't refer to it once you click on a listing.
(But Localize's map is so large it dominates your screen, and that means you end up scrolling through content squeezed to the side. Ideally Localize will give users the ability to resize the map window. The interactive map is not a part of the mobile search.

Nuisances listed for my address seemed a tad bit exaggerated. Localize noted that "every two minutes during rush hours a subway rumbles beneath this building, generating loud noise and potentially causing vibrations." Actually, there's no loud noise inside my apartment, although if you're on the sidewalk you can hear the train rumble below. Occasionally you can hear the squeal of brakes. It's true that the train causes a faint vibration in my apartment but after six years, I don't notice it at all. So every nuisance shouldn't be perceived as a deal breaker.
The takeaway
New Yorkers benefit from having another way to search for apartments with information that's highly specific to a particular address—it's like every building is getting its own news site. But the real value will be in how you use the information. Consider it starting point, a place that helps you formulate the questions you need to ask in your NYC apartment search.
Brick Underground articles occasionally include the expertise of, or information about, advertising partners when relevant to the story. We will never promote an advertiser's product without making the relationship clear to our readers.