Obviously not all New York City apartments can be brand new and in Manhattan. And as anyone who has perused Brooklyn rental listings lately can tell you, $1,000 per bedroom ain't bad.
This $1,995 two bedroom, one bath in Greenwood, a neighborhood that gets its name from its proximity to Greenwood Cemetery, is a block from this week's Townhouse Pick and seems like a deal—especially compared to the more than $2 million the townhouse is listed for.
So is it worth checking out? For more advice we turn to our Take It Or Leave It experts—myself, Constantine Valhouli, founder of real estate research and analytics firm NeighborhoodX, and freelance writer Lambeth Hochwald.
Size: Two bedroom, one bath
Location: 126 29th St., between Fourth Avenue and the Gowanus Expressway
Price: $1,995
Flexible layout: Yes
Subway: D, N, R at 36th Street, R at 25th Street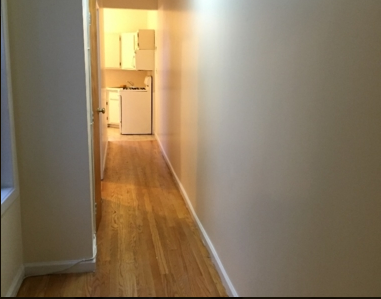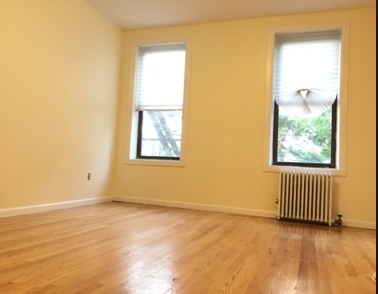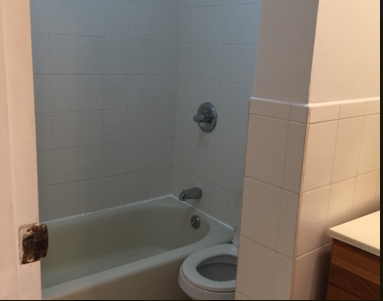 Pros and cons
"Aside from the price, there's nothing that grabs me here. The apartment is just your classic walk-up, with no frills. That bathroom is particularly meh. And while we can only see a tiny peek into the kitchen, the listing's claim that it's eat-in seems like a bit of a stretch. There's only one bathroom, too, but for the price, what do you expect? Greenwood is sandwiched between Park Slope and Sunset Park, so there's easy access to those bustling neighborhoods." —Lucy
"Heat and hot water are included—although this often means that there is a single system serving the entire building, so there is less unit control over temperatures. It likely has two settings: arctic and tropical. It's immediately adjacent to the highway, so noise might be an issue.
"The 'Gorgeous Newly renovated' apartment (the random capitalization makes my eyes hurt) sadly looks like they installed what was being removed from another apartment just blocks north. It looks like low-end Home Depot, 1980s style. " —Constantine
"There's something cozy about this lemon-yellow Greenwood pad and it's certainly accessible [to the subway, close as it is to] the 36th Street stop. At the same time, it feels expensive for a two-bed walkup in a multi-family home, and the shared bathroom makes this a tough sell for anyone but a couple, a small family, or close pals." —Lambeth
Who this apartment would be perfect for
"This is an apartment for a couple of new-to-New-York friends from college. As long as those friends are cool to share a bathroom and don't mind not being in the heart of it all, there's value here." —Lucy
"Someone who is a very heavy sleeper (and really doesn't mind highway noise), who is willing to put up with a meh apartment for $1,000 for their own bedroom. -Constantine
"Someone who appreciates old New York—this home was built in 1924." —Lambeth
The verdict
TAKE IT "I can't say I'm that enthusiastic about this apartment, but for $1,000 a month each, you could do worse." —Lucy
LEAVE IT "What you think you're saving in rent you'll end up spending on Ambien." —Constantine
LEAVE IT "Especially if you commute daily into Manhattan."—Lambeth