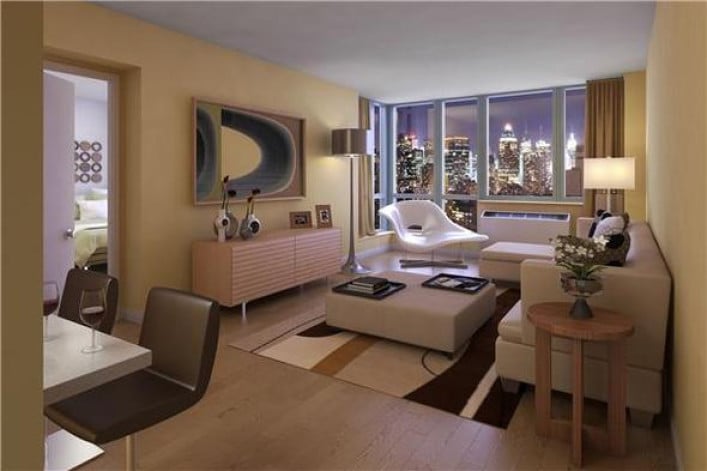 Welcome to the inaugural edition of Take It or Leave It, a new BrickUnderground column in which three experienced renters combine 43 years of renting experience to evaluate a new rental listing each week.  
The Panelists:
Zeb Dropkin, founder of RentHackr, a website that lets you see what apartments cost all around you and when they'll become available. He's lived on the Bowery, in Williamsburg, the East Village and on the Lower East Side.
Lambeth Hochwald, a freelance writer who covers food, family, travel, small business and real estate. For more than two decades, she's been a dedicated NYC renter, living in places on the Upper East Side, the West Village, the Upper West Side, Battery Park City, Cobble Hill and Brooklyn Heights.
BrickUnderground's own senior editor, Lucy Cohen Blatter, who's coming up on her 10th anniversary as a renter in Manhattan. She's rented apartments in the East Village, Harlem, the Upper West Side and the Upper East Side.  
The Apartment:
Size: 2 bedrooms, 2 full bathrooms
Location: Hell's Kitchen in the West 50s between West End Avenue and the West Side Highway
Cost & concessions: $5,450/month, no broker's fee, 1 month free
Flexible Layout: No
Subway:  N, Q, R  at 57th St. and 7th Ave.; A, B, C, D, 1 at 59th St-Columbus Circle; F at 57th St.; B, D, E at 7th Ave.
Pros and Cons:
Zeb: "On the plus side, it's a high-end high service building with modern amenities. It's pet-friendly and kid-friendly, and there's not much you'd have to leave the building for. It's also close to Riverside Park, Columbus Circle, and Central Park. The downside is that it's in Midtown past West End, so it's a couple of avenues before you hit any kind of neighborhood feel. And it's pricey. This place costs $2,725 per bedroom, which by Naked Apartments' own measure is nearly 20% above market." 
Lambeth: "With soaring views and an updated, spotless kitchen, this appears to be an apartment that's in great shape. Love that pets are allowed, that there's no fee and that the management company is offering one month free. However, although the photos make the place look amazing these are likely staged, so I'd want to make sure the views are as advertised."
Lucy: "The apartment looks modern and the appliances are new. It's kind of got a hotel vibe. Also, the building's amenities are pretty awesome. I'd love to spend winter nights checking my email in a lounge with a fireplace! The free month and no broker fee are pretty nice, too. As for the cons, the location is far from transportation and the apartment gives off a cookie-cutter vibe and the bedroom in the photo seems to be on the small side. Also, it's pretty pricey—well above average. No wonder they're waiving the broker fee!"
Who would this apartment be perfect for?
Zeb: "This apartment is great for a family with one child and a car, and who frequently drive out of the city or have to drive for a commute. It's also good for a couple of athletic, well-paid professionals who work in Midtown."
Lambeth: "A jet-setting couple who want a Manhattan crash pad and wouldn't think of living in a building without a nice gym and a Pilates studio."
Lucy: "A couple of well-paid people who work nearby and want a little bit of extra room for guests or an office. Or a family with a baby."
The Verdict(s):
TAKE IT "...if you will use things like the gym and the kids' playroom, and you need a doorman and 2 baths. Bear in mind, though, that this apartment charges the equivalent of an 8% broker's fee every 6 months in above-market rent, so if money matters to you, you may want to keep looking for a better deal."—Zeb
TAKE IT "It's above market (pricewise) but seems like a well-maintained building."—Lambeth
LEAVE IT "...if money is an issue or you're looking for charm." —Lucy
Ready to rent? Check out our How to Rent Guide...and if the apartment you like requires a guarantor that you don't have, see if the landlord accepts Insurent, a guarantor solution from one of BrickUnderground's sponsors.
---
Take It Or Leave It is a weekly column in which a panel of long-time renters weighs in on the pros and cons of an apartment that's currently on the market.
Brick Underground articles occasionally include the expertise of, or information about, advertising partners when relevant to the story. We will never promote an advertiser's product without making the relationship clear to our readers.