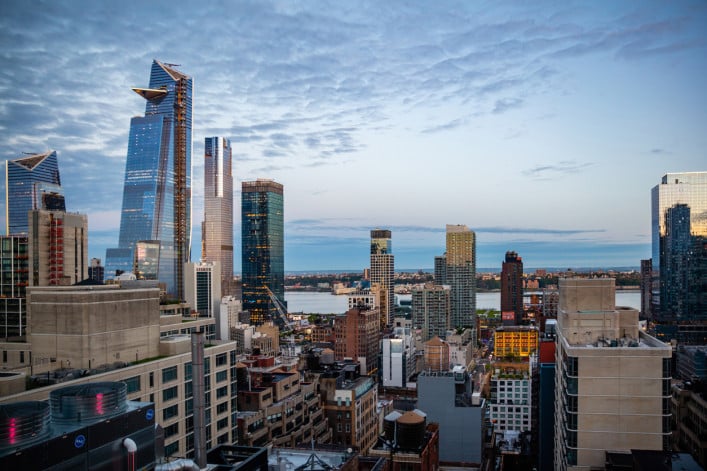 In January, the New York City rental market showed a continuation of trends seen in recent months—nosebleed-high rents and a stingier number of concessions. If you're looking for an apartment now, it's not very encouraging news.
One of the main reasons the market is so tight (meaning competitive) is because of the slowdown in the sales market, particularly at the high end. Buyers are holding off on buying and choosing to rent instead. This, in turn, is empowering landlords to ask for those high rents and offer fewer concessions—typically an owner-paid broker's fee or one to two months free month.
Fortunately, concessions still represent a significant number of new leases according to Douglas Elliman's January rental market report for Manhattan, Brooklyn, and Queens. Of the three boroughs, you're most likely to find an apartment listing with a concession in Queens. New leases with a concession represent 53.9 percent of total leases in there, compared to 40.2 percent in Manhattan and 43.2 in Brooklyn.
That's about the only good news for renters in the report, which recorded higher median rents year over year for all apartment sizes in all three boroughs, in addition to falling concessions.
Faced with higher rents and fewer deals, the numbers show more renters are choosing to stay put. The percentage of new leases dropped for all three boroughs.
"Rents are up sharply in all categories," says Jonathan Miller, president, and CEO of appraisal firm Miller Samuel. Rents with concessions factored in continue to trend up: "The last three months of net effective rent in Manhattan has seen the highest rent growth in four years."
Miller points to the new mansion and transfer taxes as a turning point.
"It took a few months for buyers to consider renting as an alternative," he says. Now that buyers are choosing to rent, for the time being, the end result is "taking an already tight rental market and making it tighter."
In Manhattan, the market share of landlord concessions slipped for the 12th time in 13 months. The median rent rose 4.6 percent to $3,472. Apartment listings were down 6.5 percent.
It was the fifth time in six months that Brooklyn saw the number of new leases decline—indicating that landlords are renewing more leases. The median rent was $2,987, up 5.5 percent.
Queens saw its listings drop by 22.9 percent. Concessions have been above 50 percent of market share for three straight months and the median rents rose by 6.3 percent to $2,993.
Other market reports
Corcoran's January 2020 rental market report for Brooklyn and Manhattan also found rents increased for all apartment sizes compared to the prior year.
"Activity in the city's rental market increased during January, due in part to pent-up demand from the holiday season. Many New Yorkers waited until the new year to search for a home," explained Gary Malin, chief operating officer of The Corcoran Group. "However, tenants remain price-sensitive; so many owners chose to offset higher rents with a move-in incentive."
MNS also released its January 2020 market reports for Manhattan, Brooklyn, Queens, and the Bronx. The firm found that the largest monthly increases were in non-doorman studios in Soho, doorman two bedrooms in Soho, and non-doorman studios in Gramercy.
Brick Underground articles occasionally include the expertise of, or information about, advertising partners when relevant to the story. We will never promote an advertiser's product without making the relationship clear to our readers.