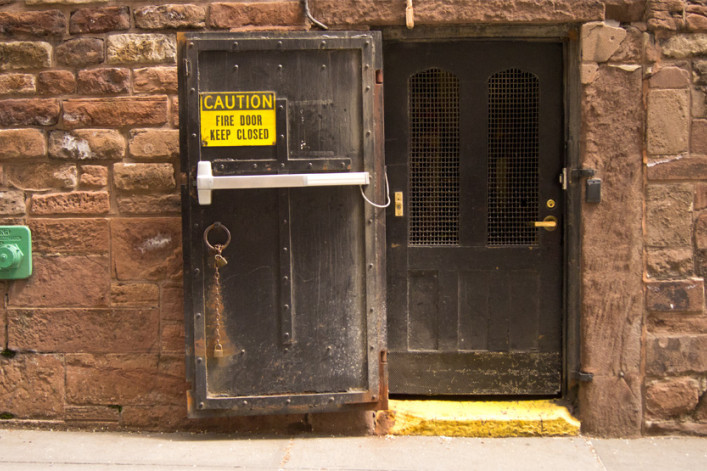 What New York City veterans have that newcomers don't—aside from our slight and ever-present cynicism—is experience in this crazy real estate market. We've seen a lot of things, and in that spirit, we're here to help you learn from our mistakes.
Below, New Yorkers past and present divulge the biggest mistakes they made when they first moved here. Make sure you don't do the same:
Putting too much faith (and money) in our brokers/not bargaining on the broker's fee
"I moved into a teeny-tiny sixth-floor walk-up in the East Village with two roomates, which was way too pricey for what it was. It was a rookie mistake—I believed the broker, who claimed that there were lots of people interested in the apartment and that we'd lose it if we didn't move quickly. That pressure made us sign the lease on a Saturday night. In hindsight, we should have kept looking for a better place." —Lucy (author of this piece, and Brick Underground senior contributing editor)
"The biggest mistake I made on my first NYC rental apartment was, well, a few things: (1) I only gave myself three days, believing that the inventory was just flying off the shelves, so to speak; (2) I believed that the first thing I even semi-liked I had to just go for it immediately because it was as good as it was going to get in New York; and (3) the biggest mistake of all was I was too attached to my realtor's every word and his emotions, not realizing that this is sales and everyone's competing. In retrospect, I feel like I was listening to him more than I was listening to myself and believing that if I didn't decide right now, then the apartment would be gone within the next three hours. And while that can be true, the reality is that, years later when I actually gave myself time, I saw gems simply because I gave myself the time, and I knew what I was looking for. I didn't look at my realtor as a boyfriend I was having to appease in fear of him breaking up with me. (It really did feel like that.)" —Chelsea
"I paid a $5,000 brokers fee instead of just the normal 15 percent for a rent-stabilized $1,200 unit." —Kelly
"Paying an enormous broker's fee [which the broker] made it sound like I had no option, that I would pay that no matter who I went through. I moved quite a few times, and paid broker's fees three times for thousands of dollars." —Karen H.
Not budgeting right and paying way too much
"I was a graduate student living off savings and I agreed to pay a rent I could barely afford. It was the only apartment I liked, only roommates I liked (the roommates had listed a room in their apartment on a website). I didn't want to lose it. And eventually I had no more savings. I was pretty dumb." —Leah
Not thinking carefully what living in the same building as the landlord would be like
"I moved into the basement of a brownstone on West 83rd Street. It was the family home: The parents (65-ish) lived on the first floor, their son lived on the second, and there was a third tenant. My place was just through the workroom. It was fine, I didn't see them much. But my boyfriend did. He lived in Connecticut, but somehow he ran into them every single time. And he once lost his key and buzzed them in the middle of the night. But because it was the family home and the landlord was living there and so hands-on, he was on my case about it. Partially because he thought we were both living there full time (wear and tear, etc.), but also, I thought, he was being a bit judgmental. My takeaway: Don't live in a building where the landlord lives, or at least a small place like that." —Leslie
Failing to check out the details (and the neighbors)
"I didn't check water pressure. Many mornings, water pressure out of my shower was literally a trickle. It could take forever to rinse my hair, let alone clean myself. I  also didn't ask who lived above and below. I should've asked the tenants who had it before me. I realized two weeks in that my upstairs neighbor had a) a temper problem, and b) a deejay problem, meaning he thought he was a deejay and would play (badly) loud music all day Saturday and Sunday every weekend." —John
"Not checking to make sure that I couldn't hear everything coming from the paper-thin wall connecting the apartment next door." —Karen H.
"The one thing we didn't realize until after renting was that all the windows faced the courtyard, which made for a very dark apartment the majority of the time. We didn't notice it at the viewing because it was such a bright sunny day." —Tina
Skipping roommate-vetting
"Signing for a room, which meant my roommates were totally random and I met them after I had already moved in. As a result, one of my roommates is a consistent nuisance with passive-aggressive notes and loud music, which escalated to a refusal to pay his share of utilities, a visit from the cops when I demanded he pay his share, and, ultimately, death threats. Lesson learned: Always try to vet people before moving in with them." —Jonathan
Not going to see the apartment before renting it
"My first mistake was I rented an apartment for a short-term lease without ever viewing it. Its previous occupant was a female celebrity close to my age back then, so I assumed, 'If it's good enough for her, it should work for me!' I paid it via credit card and when I got there, the doormen and staff were so nice but the apartment simply put was not! One window faced a brick wall. The other street view faced the traffic, which was okay for me except some drag queens used to get into fights in the middle of the night now and then, and one time, a girl fighting with another girl over her boyfriend. The kitchen was minuscule. Next door, people were making really stinky food all the time. I could hear them talking while they were. ..This apartment cost a lot of money, and I had no privacy! What the? And the apartment was this dark? I was promised sunlight!" - Nicole
Forgetting to make sure I was off the lease when I moved out
"When I left the lease early and my roommate had a friend move in, I didn't insist that he transfer his name to the lease, or buy me out of my portion of the security deposit. I just figured we'd all work it out when the lease was up. That is, until the lease was up, and when I reached out about wrapping things up/getting my deposit back, I found out they'd extended the lease (in my name! without my signature or permission!). They also tried to refuse to pony up the security. Point being: If you're leaving, get off the lease." —Virginia, Brick Underground's senior editor
Falling for a scam
"I paid $200 to get one of those lists that had non-fee apts! It was a total scam and I disputed it with my credit card company and won." —Bonnie
Taking the first apartment I saw
First placed I looked at I took. Half fridge, loft bed, two hot plate burners for a stove. Best part was neighborhood-right by movie theater west 60s. Worst part was the strange rumblings I heard in the trash room (right across the hall) every night. And not animal variety-they were the very bizarre habits of a night owl neighbor. —Mary
I signed the lease for the very first apartment I saw—a derelict studio on 14th Street with the world's smallest hot water heater. Add the slanted floors, ominously hair-covered industrial carpet, and a micro-fridge, and it was a parent's worst nightmare. That, and my management company was shady AF and never gave me my security deposit back." —Beth
Not demanding more from the landlord
"I did basically nothing that you're supposed to. A friend chose the apartment and I ended up living in a stucco, mice-infested basement. But I had an amazing time because I was 21 and had low-to-no standards of living and was in the East Village. I don't regret my decision, but if I could do it over again, I'd be far more forceful with the landlord, who basically laughed me off when I asked him to do something about the mice problem. I didn't know my rights as a tenant and put up with a horrifying situation for way longer than I should have." —Alanna, Brick Underground contributing writer
Brick Underground articles occasionally include the expertise of, or information about, advertising partners when relevant to the story. We will never promote an advertiser's product without making the relationship clear to our readers.