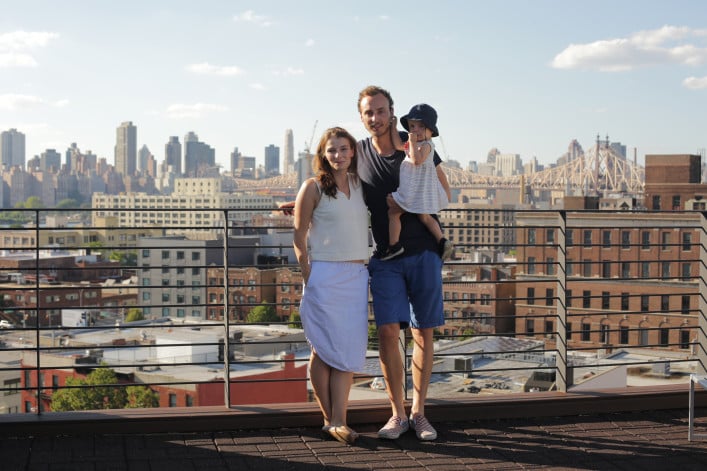 For most New Yorkers, moving is a special kind of physical and psychological hell to be avoided at all costs. Having to do so every single month? Best not to speak of it.
But talking to Christina Horsten and Felix Zeltner—the couple behind a new project, NYC 12 x 12— the idea starts to seem downright doable. As the name of the project implies, their plan is to explore the city by moving into a new furnished sublet (and new neighborhood) every month for the next year, chronicling the process along the way. (And all with a 20-month-old baby, Emma, in tow.) 
"When the rent in our old Park Slope apartment increased and we had to move out, we thought, let's give this crazy idea a shot," Horsten explained on a recent visit to their current sublet, a Chinatown artists' loft found via the Listings Project. (Their first month was spent in a friend's building in Long Island City.) "We thought about all these neighborhoods that we couldn't afford full-time, but would be interested to see what they're like. And then we thought that maybe we could afford a month in them, if we balanced it out with other, cheaper neighborhoods."
While the project hasn't been without its early challenges—the pair are still looking for September digs after an option in Clinton Hill fell through—Zeltner says, "so far it's been more fun than pure stress." They've also had an outpouring of early interest, including an offer to pet-sit in an Upper West Side home for a month, outreach from the Queens tourism board, and, Zeltner says, a particularly strong response from Bronx and Staten Island residents encouraging them to give their respective boroughs a try.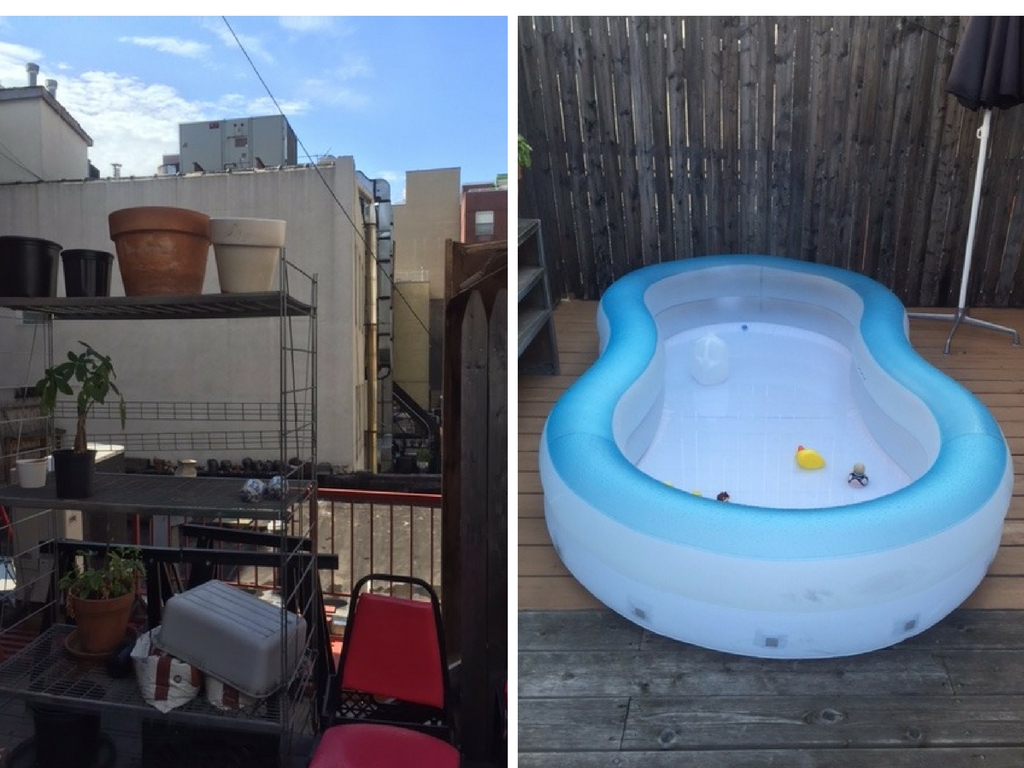 Felix and Christina set up the outdoor deck with a wading pool for their daughter. (Photo credit: Virginia K. Smith)
Still, there are plenty of logistical concerns to keep in mind. Both Zeltner and Horsten, native Germans who have lived in New York for the past four years, have day jobs as journalists in Manhattan offices in Soho and Midtown East, and as such, need to keep the commute in mind. "We have to take into consideration that we both work—it's not a sabbatical," Horsten notes. As their daughter gets older, they're also looking into centrally located daycare options (for now, they've had out-of-town friends stay with them as au pairs).
And to cut down on the schelp, prior to the move, they pared their belongings down (more or less) to two suitcases, giving away much of their furniture and leaving the rest in storage. (And for items that don't fit in the two suitcases, they've been using Gorilla bins, a service that delivers plastic moving bins in lieu of flimsy cardboard boxes.)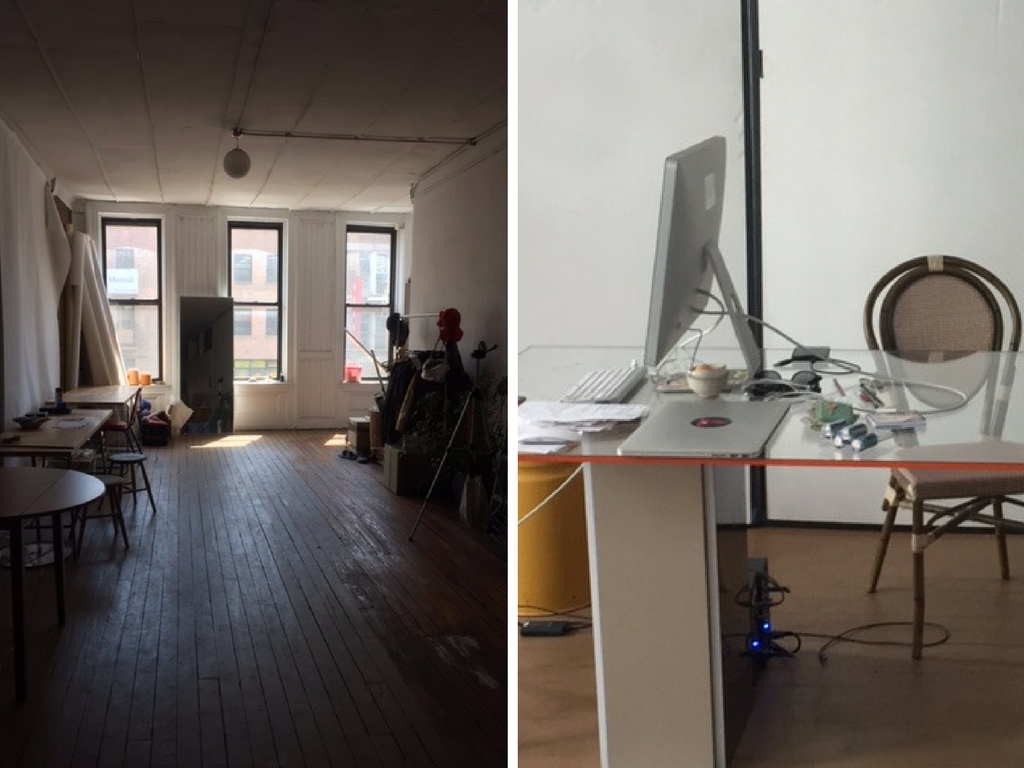 Their current sublet, found on the listings project, belongs to artist and furniture designer Ana Kraš. (Photo credit: VKS)
Thus far, they've primarily found apartments through friends or the Listings Project newsletter, which they've found to have more reliable options for sublets than other sites. As Zeltner notes, it's "Mostly artists, and stuff you probably wouldn't find on Airbnb or Craigslist." 
The goal is to try an apartment in all five boroughs (and they wouldn't mind finishing out the year with a summer month spent in the Rockaways). Horsten says they'd "love to try Staten Island, Sunset Park, Sunnyside—neighborhoods that we might not have thought of before, or that you might not know about if you don't know about New York."
She adds, "We've been living here for four years and still try to be tourists and go everywhere, but it's so different when you're actually waking up somewhere every day, and getting your morning coffee there. I know we're not experts after living in a place for a month, but we're learning so much."
The plan is to expand the project into a newsletter, and eventually a podcast or book (currently they're primarily active on Instagram) and eventually, settle on a new neighborhood for the long term. "Our goal is to find a new place to live," says Zeltner. "But are we going to be totally spoiled?"
Brick Underground articles occasionally include the expertise of, or information about, advertising partners when relevant to the story. We will never promote an advertiser's product without making the relationship clear to our readers.