Escape from New York
Airbnb, HomeAway, Vrbo, OneFineStay, Flipkey: Which short-term rental service is the best for you?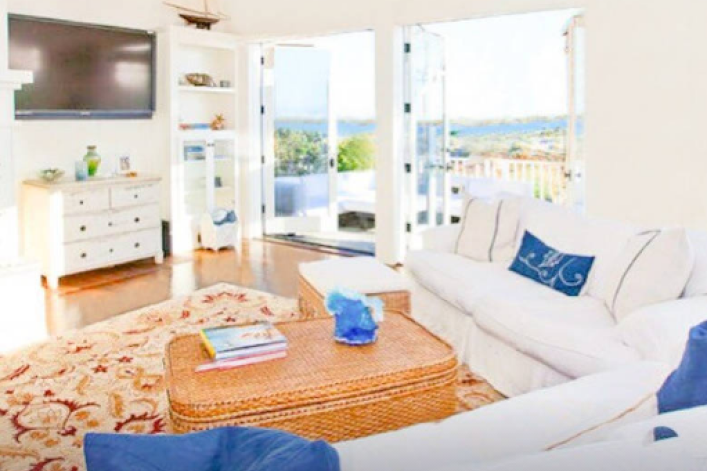 New York authorities may be locked in a battle royale with Airbnb and its ilk, but as anyone who has looked for a vacation rental lately can tell you, that hasn't stopped short-term rental services from doing brisk business. So much so, in fact, that we're spoiled for choices not just when it comes to listings, but to which service to use to fuel your search. 
We break down the differences between the most popular services in the New York area by price, logistics, the types of listing available, and more:
This is probably the most publicized of all the short-term rental services (much to the chagrin of other short-term rental companies), thanks to not-infrequent bouts of bad PR surrounding everything from its (supposedly detrimental) effect on affordable housing to that guy who rented out his place in Chelsea only to come back and find it destroyed by an "overweight orgy." That said, it's also one of the most popular short-term rental services in the world, meaning you'll find many options in a lot of price ranges.
How it works: To rent on Airbnb, you'll need to sign up and make a profile with details like your home city, profession, personal interests, etc., as well as  a photo. Hosts have their own profiles, too, where you can see details like their average response time and the all-important ratings and reviews from previous renters, and they put up listings directly (after being vetted by the site and submitting a valid ID). If you're interested in a place but not sure you want to book, you can simply message the owner and, depending on what settings they've selected, either submit a request to book or select the "instant book" option, which is just what it sounds like. If a host doesn't get back to you in 24 hours, your request has expired (as will the hold on your credit card for booking). As for the payment, that's processed through Airbnb, so you won't be handing over your credit card information to a stranger.
Price range: All over the map.  A search of available rentals in New York-adjacent getaways turned up everything from a $29/night private room in apartment in Philadelphia to a $7,000/week house (with pool) in East Hampton. Keep in mind that you'll also pay a guest booking fee between six and 12 percent, so the additional cost can be sizable depending on the rental.
As a rule, since there are budget-friendly rentals on the site (as well as the option to rent a single room as opposed to an entire property, depending on the listing), Airbnb's demographic skews younger, and hosts can be less experienced than those on other sites. If you're bargain-hunting, this is the place to start.
​This is the other major titan in the short-term rental game, and since its 2004 launch, the company has acquired a number of other vacation rental sites (including VRBO, below). Unlike Airbnb, listings on HomeAway can only be for an entire apartment or home, and often are posted by actual property managers. 
How it works: Like Airbnb, you're encouraged to fill out a profile with some personal details so hosts can have an idea of who they're letting into their homes.​ When scoping out a specific property, you'll see a host's typical response time, ratings and reviews, and even what language they speak, and have the option to message or call them about the property; you can also "request to book" or "book now," depending on which options are available.  There are no additional booking costs for renters, though the payment here is a little tricky: While HomeAway does have its own HomeAway Payments system used by some owners, others require you to pay directly via credit card, check, PayPal, or a wire transfer. (If this is the case, the site recommends getting in touch with the person directly to make sure it's not a scam.)
Price range: Since you're dealing with renting entire properties — and often, people who are renting out a second property as a steady source of income — you're often dealing with a higher price range. The minimum search range on HomeAway is for a week-long rental costing $750, with the maximum going all the way up to $9,000 for a week. That said, most rentals we saw advertised nightly rates of a few hundred dollars, so there's more flexibility than you might think if you're looking to get away for just a weekend.
​Short for Vacation Rental By Owner, VRBO has been around since 1995, but as we noted above, has since been acquired by HomeAway. As such, their user interfaces and policies are nearly identical. (Though we'll note that while other sites simply let you write "New York" in the search bar and then pull up options in various destinations nearby, VRBO forces you to narrow it down to, say, the Catskills or the Hamptons, which is less fun for idle browsing.) As we've written previously, it seems to be the preferred mode of listing for a number of property owners in the Hamptons—something to keep in mind if you're hunting for a Long Island getaway.
How it works: The process is more or less the same as on its parent site, HomeAway (including the option for HomeAway Payment with certain listings), and VRBO makes it particularly easy to filter your search for things like free wifi, properties with the "book now option", etc., along with other, more fun amenities (like a pool). As with HomeAway's listings, there's also a handy calendar view to show you a place's availability, as well as a chart showing seasonal rates.
Price range: Generally a little less than HomeAway. Here, you can opt to search for properties with rates of $700 and under, though what you'll find is still pricier than your average Airbnb. In the Hamptons, at least, very few listings go for below $250 a night, and some of the featured options go all the way up to $16,000 for a week. As with HomeAway, guests aren't charged any kind of additional booking fee.
This one's an option for if you want to stay in a city—it's got listings in NYC, London, Paris, and Los Angeles, but not outlying vacation destinations. Properties are hand-picked by the site, so they're vetted to be well-designed, well-located, and a person's actual residence (so no shady landlords with short-term rental empires here). Owners are away, so you'll have the place to yourself and won't have to share, a la some Airbnb listings.
How it works:  The whole idea behind OneFineStay is to bring something of the concierge experience to the world of short-term rentals—and to guarantee both safety and ease of use. When you arrive at the rental, someone from the site will be there to meet you (and you'll have been pre-vetted for the owners' peace of mind via your passport and credit card payment). You'll also be provided with linens, "boutique toiletries," and a clean apartment. From there on out, there's 24/7 support available, in addition to their extensive neighborhood recommendations and guides. As for the actual bookings, you can either set them up through the site, or over the phone with a rep from OneFineStay.
Price range: All this attentive service — and a stay in a posh NYC apartment — doesn't come cheap. The search for nightly rentals ranges from $140 to "$1,540+" per night, so you'll be paying as much as—if not more than—you would to stay in a city hotel. The majority of listings we saw for a two-person stay ranged from $250 to $500 per night.
​Powered by TripAdvisor, FlipKey is the go to listings service on all its parent company's sites, and has listings all over the world. Though their listings are open to larger scale property managers, the site vets every owner to make sure they're legit. It's worth noting that the layout and user interface are very similar to both HomeAway and VRBO, and if you'd like to search all three at once (along with numerous other vacation rental sites), you can do so via listing aggregation site Tripping, which functions like Kayak or Priceline does with airfares, but in the realm of short-term rentals. 
​How it works: You can search for rentals either through a photo-oriented grid layout, or via a Google Map of listings in your chosen area, if you're more particular about exact location. As with Airbnb, there are some listings that are for entire homes, and some where you'll be taking a room or section of the house while the owner stays in residence. (There are search filters for "private room," "house," "condo," "beach hut," and more, as well as the option to search for places that rent by the day or by the week). You can either book directly or contact an owner first, and FlipKey recommends paying via credit card through its own secure platform to ensure safety.
Price range: There's no minimum price range here, so you'll find an array of options akin to Airbnb's (we even found an $80/night floor of a house available on Fire Island).
Related: 
Hamptons a la carte: how to pull off a short-term rental on the East End
Lessons from an Astoria man who made $18,000 on Airbnb—legally
What you need to know when looking for a summer sublet
Think your Airbnb setup is perfectly legal? Maybe not, and here's why
Brick Underground articles occasionally include the expertise of, or information about, advertising partners when relevant to the story. We will never promote an advertiser's product without making the relationship clear to our readers.