Brick Underground supports our readers with product recommendations specifically curated for New Yorkers. If you buy something through our links, we may earn an affiliate commission.
Architect Benjamin Andres loves two things about this $1,795,000 Sutton Place two bedroom—425 East 58th St., #45B—"really big" bedrooms large enough to accommodate more than just a bed and gorgeous river and city views.
But he thinks the kitchen could be better configured. "It's a bit on the small side with a long hallway in the back," he says. "It doesn't feel like a comfy, cozy kitchen."
In this week's Reno Ready, Andres tells us what he'd do to make this unit feel more homey, including adding a breakfast bar to the kitchen, reworking the closets in the entryway, and putting in a pantry.
An improved foyer with room for storage 
"It's very big, but a bit undefined," Andres says of the foyer. "I'd like to give it a little more structure."
Closets: When you first enter the unit, there's a coat closet to your left. Andres would move that closet opposite the entry door. "It creates a more intimate foyer area and doesn't reveal too much of the apartment yet," he says. This should cost around $5,000.
Pantry: He also thinks there's more than enough dead space in this foyer to add in a pantry behind that new closet. There, you'll be able to store all the stuff that won't fit into the kitchen. This new pantry should cost around $8,000.
Flooring: Andres would have new stone flooring installed in the entryway and the kitchen, thereby connecting the two spaces. This should cost around $15,000.
Paint: "This apartment needs layering and texture, so I'd stay away from white and go with a color instead," he says. He thinks a cool gray could work really well in here. A gallon of Harbor Gray from Benjamin Moore is $80.
Lighting: Since it's a little dark in here, he recommends dropping the ceiling and installing six recessed lights. It should cost around $6,000 to drop the ceiling and about $300 to put in each individual light. "But it'll definitely be worth it since we want this area to be really bright," he says, noting it's the first thing you'll notice when you walk in the door.
A new entryway and a breakfast bar in the kitchen
The kitchen, in Andres view, needs "a complete gut."
He also thinks it makes sense to reconfigure the space to make it more usable. First, he'd close off the entrance between the kitchen and the dining room and move the range to that spot. He'd then widen the countertop on the side where the range had been in order to create a breakfast bar/eat-at counter. Then, he'd add another entrance to the kitchen from the living space to the left of the new breakfast bar. That way, the kitchen can be entered from both the foyer and the living room.
Flooring: He'd install stone flooring in here, too, just like the foyer.
Paint: He'd go with Harbor Gray in here, as well.
Cabinets: He'd install new white cabinets with paneled doors that'll add texture. Custom-made cabinets will cost around $15,000.
Countertops: Andres suggests installing Caesarstone or something equally easy to maintain. These should cost around $8,000.
Appliances: New appliances are in order. Andres is partial to Bertazzoni pieces, so he'd get a new 24-inch stainless steel dishwasher, $1,065 at P.C. Richard & Son, and a new stainless steel 30-inch fridge/freezer, $6,929 at Appliances Connection. For the range, he'd go with a more whimsical choice that will definitely stand out, something bright yellow. This Bertazzoni 30-inch yellow gas range is $4,299 at Goedeker's.
Lighting: He'd drop the ceiling in here, too, and put in four recessed lights, $300 each. He'd also put in under-cabinet lights. These GE Enbrighten 24-inch LED under-cabinet lights are $60 each at The Home Depot.
Sink: Andres would put in a new under-mount stainless steel sink since it'll be "easy to clean and practical." This Kraus Standart single-bowl under-mount sink is $258 at The Home Depot.
Faucet: He'd also get a new faucet—specifically one with chilled and filtered water dispensers. This Grohe Blue filtering electronic single-hole kitchen faucet is $1,959 at Supply.com.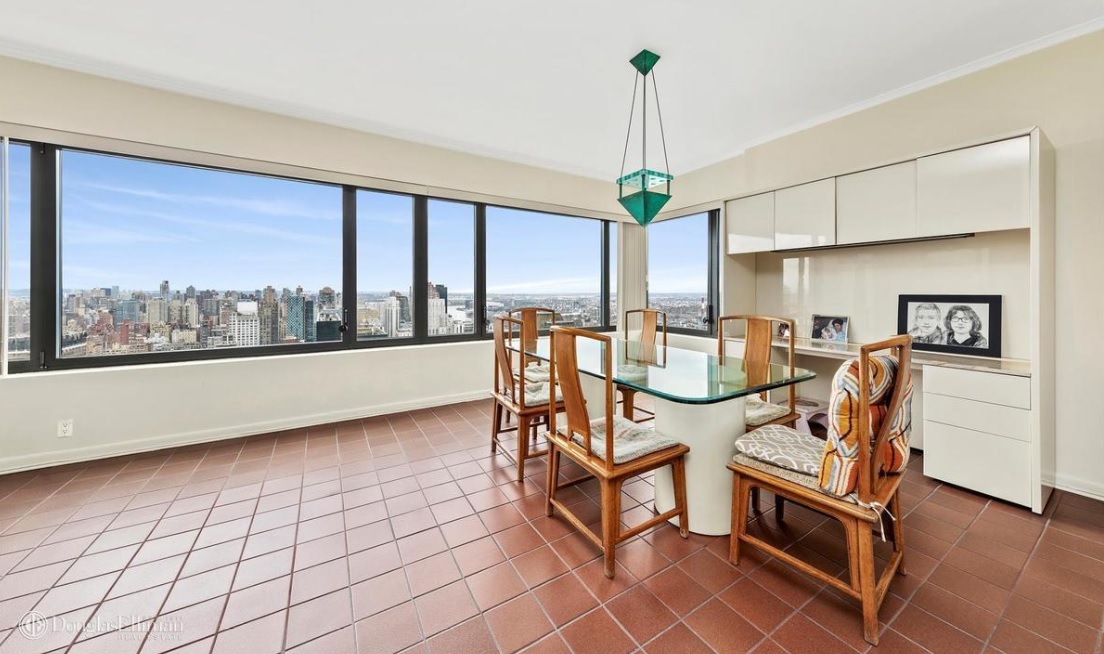 Turning the living/dining area from stark to cozy
Andres loves how large the living/dining area is, but feels that it could be set up better. First, he'd move the dining area from the top right corner to the bottom left—opposite the new breakfast bar.
Then he'd set up a large seating/TV area with a sectional couch and coffee table where the dining table had been. He'd put in a built-in media console across from that—behind the range. This should cost around $5,000.
Finally, he'd set up a secondary seating area right next to that with a smaller couch and some comfy chairs. This separate area should be a perfect space to curl up with a good book.
Flooring: Andres suggests putting in wide-plank hardwood flooring "with a little bit of character," by which he means knots and imperfections because he feels that "the apartment as a whole is very stark and clinical and cold" and the new flooring will add "warmth and texture." The wood flooring for the living/dining area and both bedrooms should cost $20,000.
Paint: He'd go with a light color on the walls—probably an off-white in order to keep things bright and make the walls all but disappear. "It'll also make the view the main thing," he says. A gallon of Marble White from Benjamin Moore is $80.
Lighting: Andres doesn't want to lower the ceiling in here as it might take away from the view, so he recommends working with an assortment of floor and table lamps. Prices for this Tolomeo Mega Floor Lamp start at $1,120 at YLighting.com.
Window treatments: Most people would probably put up shades of some sort, but Andres is different. He recommends leaving the windows bare. "I'd like to leave the view unobstructed," he says.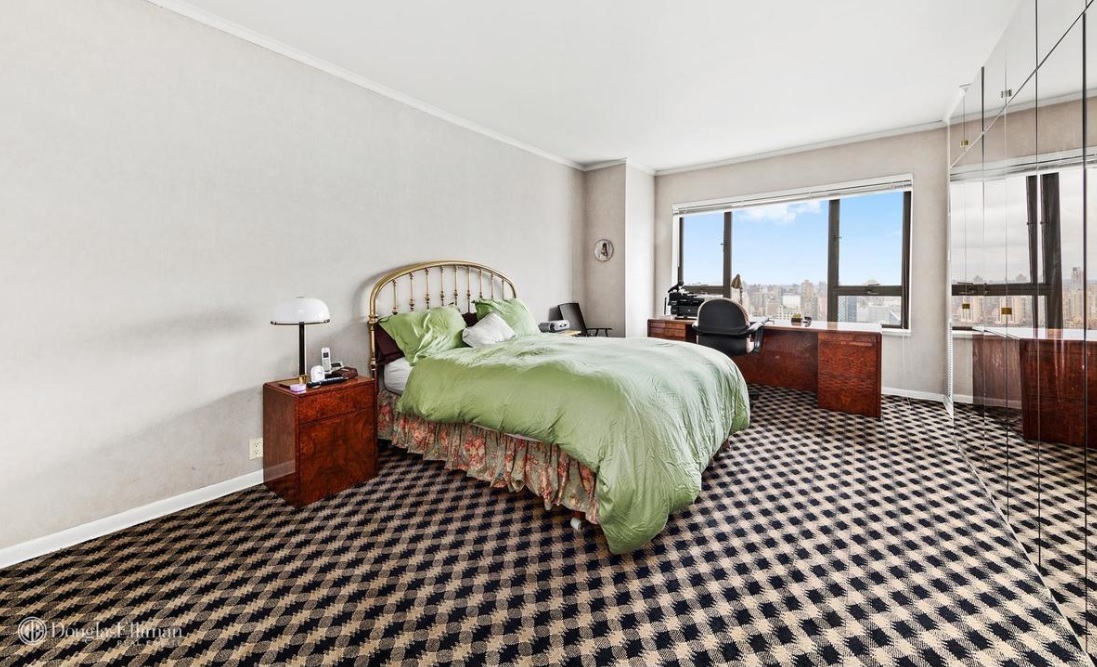 Moving the walls to tweak the master bedroom
Andres thinks that the master could benefit from a few extra feet, so he'd shift the partition between the bedrooms over towards the smaller bedroom and add that space on to the master. After doing so, there'll be enough room in here for a built-in desk, as well as a seating area with a couch.
Floors: Andres would bring the hardwood flooring in here, too, to connect it with the living space.
Paint: "I could go with a darker color in here—like a dark gray or a blue," Andres says. A gallon of Kendall Charcoal from Benjamin Moore is $80.
Built-in desk: Andres would have a built-in desk built directly across from the bed (and have one built in the second bedroom, as well). "That way it'll become more of a hang-out area," he says. The desk will have some extra storage on either side of it for anything that doesn't fit into the room's closets. Built-in desks in both bedrooms will be $15,000.
Window treatments: He'd go with blackout Roman shades to keep the sunlight at bay in the morning. Prices for these Blackout Roman Shades start at $480 at The Shade Store.
Lighting: He wouldn't want to drop the ceiling in here, either, so he'd go with a combination of floor and nightstand lamps, as well as wall sconces. This Numen table lamp is $111 at YLighting.com. Prices for this Nelson Cigar Table Lamp start at $595, also at YLighting.com. This QB LED wall sconce is $216, also at YLighting.com.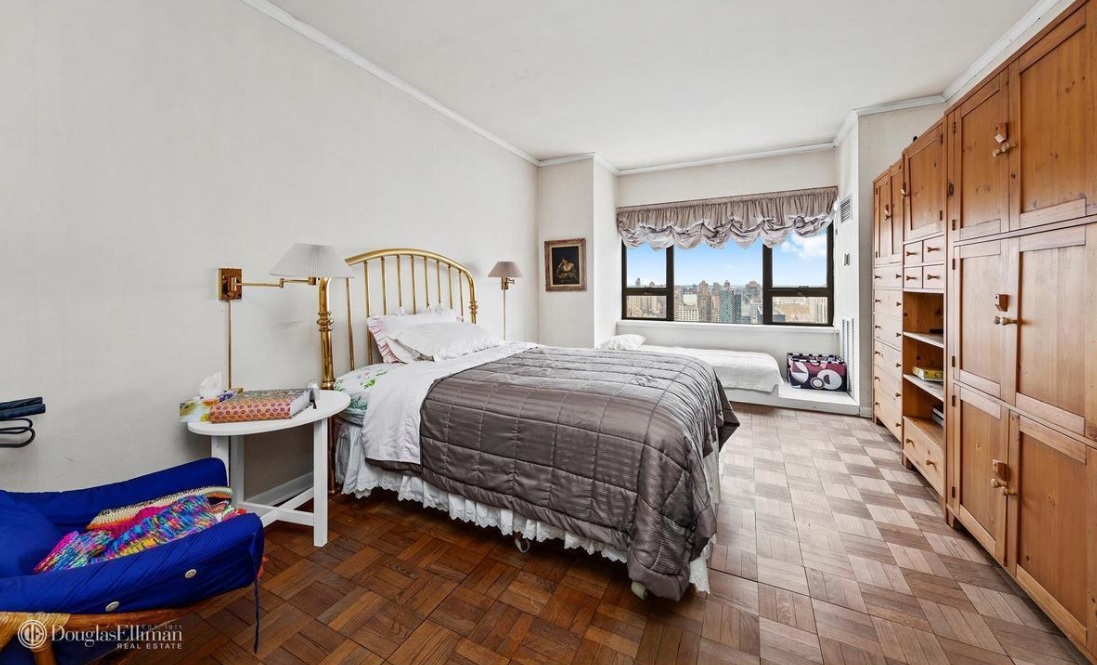 Switching up the second bedroom with a wardrobe and built-in desk
Andres would bring the hardwood flooring into here, too, put in similar blackout shades, and choose another dark paint color for the walls. He'd also choose a variety of lamps, just like in the master bedroom.
Closet: He'd pull out the current closet and install a wardrobe—a piece of millwork with millwork doors. "It'll be more organized—with drawers and shelves," he says. This should cost between $2,500 and $3,000.
Built-in desk: Andres would have another built-in desk built in here—this time by the window.
Bathroom layouts stay the same but fixtures get an overhaul
There aren't any photos of the bathrooms, but Andres assumes they're in bad enough shape that they'll need to be gutted completely. He believes that it should cost around $25,000 to update the master bath, $18,000 to redo the second full bath, and $8,000 to revamp the powder room.
He'd leave the layout the same in all the bathrooms, but get new plumbing fixtures, new flooring, and new lighting in each of them.
He'd also rip out the tub in the master bath (since there's a tub in the other bathroom and you only really need one tub in the apartment), and put in a standing shower instead. "Then there would definitely be enough room for a double vanity," he says.
For flooring, he'd go with ceramic tiles "with a little bit of texture" for all three bathrooms. These should cost around $1,500 per bathroom.
As for the walls, he'd tile all the way up to the ceiling to "create a very intimate situation in each bathroom," he says. This should cost around $2,000 per bathroom.