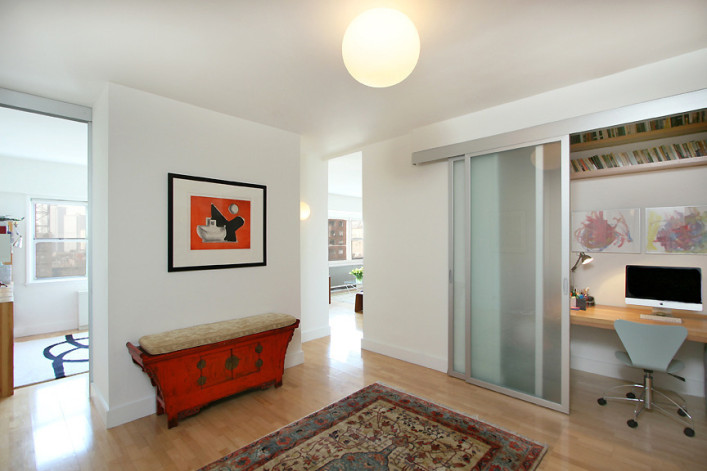 Today marks the re-boot of NYC Renovation Chronicles, a bi-weekly column focused (obviously) on renovation, NYC style. Helmed in the past by an architect, a kitchen and bath designer, and a general contractor, the column's new steward is co-op renovator, real estate porn addict and Harlem resident Mayra David.  She'll focus on what it's like to DIY or HSI (= Hire Someone Instead) in NYC.
I was very young when I was first introduced to it.
I was bored by my own books, and wanted to see what kind of adult stuff my parents kept on the top shelves. Maybe I was supposed to have asked for permission first. But after all, what could they possibly have up there that I would need permission for?
Then I saw it: a sleek, glossy cover featuring a tantalizing image of someone's home--a modern living room, stark and sleek but colorful and warm at the same time. With teal colored window frames.
I pulled Terence Conran's House Book from the shelf and it fell open naturally, to a centerfold of a restored entrance hall of a 19th century house with floor to ceiling oak paneling that had been stripped of paint, bleached and limed. Ever since, I've been hooked on shelter porn. I hoard magazines, I pin on Pinterest, and I consume real estate and design blogs as if they were Kettle Chips.
But as with all porn, the fantasy must be taken with a grain of salt.  Especially if the fantasy involves the renovation of a New York City abode.
If you are a NYC reno neophyte, here are several things to keep in mind during the brainstorming phase:
1. Be realistic--because co-op boards need to approve projects, and some are just not going to happen
Don't kid yourself about not needing board approval for any large project. Getting approval is not a mere formality and, along with the budget, will keep your imagination well in check.
Even with a healthy budget of about 10% of the value of the home (plus a New York City bump of, say, 10%) your dream will be limited by the walls of your condo or co-op and the rules of your building. That means that even if you are so fortunate to receive board approval to expand the wet areas (bath, kitchen) of your apartment, you won't necessarily take the next step...as a smart investor budgets for a remodel while keeping return-on-investment in mind.
2. New York City is not the suburbs
I'm telling you right now: get your head out the suburban clouds and house porn staples like a gigantic walk-in closet (to which zero space is devoted to storing, luggage, the air mattress and toilet paper) or a master bath with a domed ceiling and some kind of living room furniture in it (which I really don't get, by the way).
The harsh reality is that you live in a city that is famous for bathtubs in kitchens and, more recently, the micro apartment.
While we all like to fantasize about perfectly organized pantries, chef's kitchens, or even suburban-life standards like a laundry room or a whole bedroom just for occasional overnight guests, we're probably better served checking out online resources that are geared toward urban living.
Which leads me to....
3. Do your research in the right places--and remain focused
Houzz.com is a great resource for would-be renovators. It offers its users a platform for creating inspiration boards online. They have a vast collection of real-life projects, which users can easily collect into "ideabooks"  to show to contractors, architects, etc., and interpreted tastefully according to your space and budget. 
Similar to how a music playlist works, ideabooks can be created for any renovation or decoration project and they can contain any inspirational photo you find on Houzz.com or the elsewhere on the web. Houzz images can be searched by design category (modern, eclectic, rustic, etc.), any key words, and even just by color.  You'll find successful projects already posted to the site by the homeowners or even the pros who did the work and usually respond quickly to any comments or questions about sourcing.
Houzz is not NYC specific, but you can filter a search by metro area, which will include NYC apartments alongside suburban McMansions.  And generally speaking, I find that ideas are ideas and there's time for editing later--just make sure you do edit later. (And do not get lost in a wild fantasy about rustic log cabins in Colorado.)
I also like Apartment Therapy and NYC-based design*sponge.  Apartment Therapy is great because (duh) apartment dwelling is heavily featured on their site. They offer a wonderfully curated collection of urban-oriented, often space-limited homes. Plus, there's always a source list at the end of any house tour.
Design*Sponge is more of a lifestyle site. It very often caters to the city dweller (no matter where in the world they are, since the site features homes from all over the world). The best parts are the Before & After and the Living In features.
For helpful stories, discussions, and tips on renovating in the city, take a look at BrickUnderground's renovation archive as well as the bulletin-board chatter on StreetEasy.com and Brownstoner.com.
4. Head offline once in awhile too
Scoff if you must, but the Ikea showroom is great at solving small space issues. If you need small kitchen solutions, for example, theirs make great use of wall space. That's especially good if you like that open, industrial look, which I do.
I also suggest you start attending open houses. Open houses are a great place to see NYC-appropriate ideas in life-sized form. Brokers won't really mind, they'd love the traffic (just don't engage them in a pointless conversation while there are real customers there).  
When planning our bathroom remodel, for example, I managed to find a bathroom similar to ours but already done, and to our tastes, too.  Once there, I was told that the bathtub hadn't been in great shape, but rather than replace it, the owners had the tub reglazed. The broker said the reglazing had been done a year ago and that with proper maintenance, the glazing would hold up for a few years. It was a great idea that we implemented in our own renovation.  
---
Related posts:
10 things I learned during my year-long renovation
5 things you may live to regret doing in your own apartment
10 first-time renovation mistakes even New Yorkers make
Want to renovate? Here's how to get the money
Here's why you may be overpaying for your NYC renovation
Brick Underground articles occasionally include the expertise of, or information about, advertising partners when relevant to the story. We will never promote an advertiser's product without making the relationship clear to our readers.