Brick Underground supports our readers with product recommendations specifically curated for New Yorkers. If you buy something through our links, we may earn an affiliate commission.
This $299,000 two-bedroom, one bath co-op in Sunset Park, 414 61st St., #4A, is a real find, according to architect Benjamin Andres. He's particularly fond of its "decent-sized rooms" and the fact that many of those rooms have windows.
That said, the apartment is, quite frankly, a dump. The bathroom's a rusty mess. The living room floors are falling apart. And less-than-appealing shades of mustard and hot pink reign supreme on the walls. "It looks like it hasn't been renovated in decades," Andres says.
He also dislikes the fact that there's only one bathroom, and it's far from the bedrooms. It would be a real pain to have to cross the entire length of the apartment whenever you have to go, especially in the middle of the night.
In this week's Reno Ready, Andres outlines his plans for updating this two bedroom, which include modernizing the bathroom, quieting down the wall colors, and opening up the kitchen.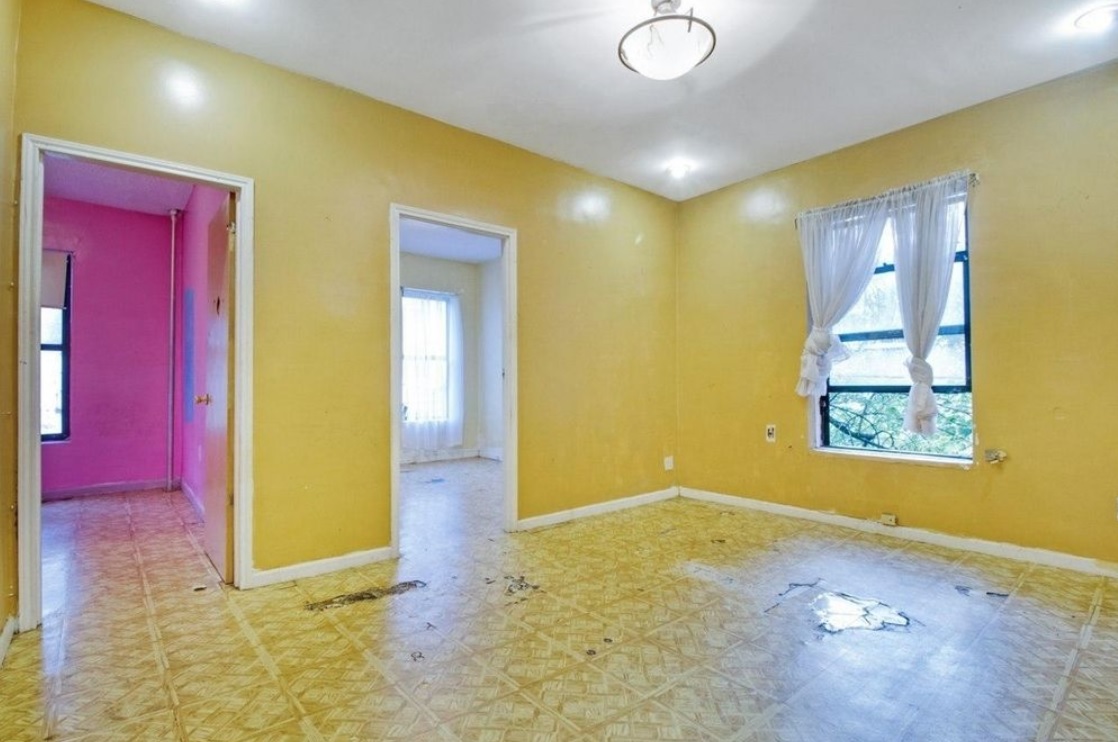 Brighten up the living room 
Floors: Andres would rip out the yellowed flooring picture above, and replace it with an oak strip floor in a muted brown-gray stain, like this one from Siberian Floors. "It has a little bit of character, but it still has a neutral feel," he says. This flooring should cost around $25 per square foot.
Paint: "I use Benjamin Moore's Chantilly Lace in 80 percent of my projects," Andres says, explaining that it's a crisp, clean white that works well in most spaces—including this one. He'd lose the overly shiny satin sheen that's currently on the walls, and go with a less-flashy flat finish, instead. "It's a little more luxurious," he says. A gallon is $75 at BenjaminMoore.com.
Lighting: Due to the low ceilings in here, as well as the fact that those ceilings are most likely concrete, Andres would simply work with what he has, installing newer, more up-to-date flush-mounted lights at existing points of light. Prices for this Boxie Flush-Mount Ceiling Light start at $95 at YLighting.com.
"I'd also consider smart light bulbs with changing color temperatures," like these Philips Hue White Ambiance bulbs, $30 each at meethue.com, he says. "It lets you adjust the color temperature with an app or through a voice command (if you have Alexa or similar devices). Cool color temperatures in the morning will wake you up, while warmer color temps in the evening allow you to relax before bed."
Window Treatments: Andres would put up Roman shades, like these from The Shade Store, in each room in dark-colored linen. He feels these will contrast nicely with the new paint on the walls and the new flooring. The shades should cost around $400 per piece.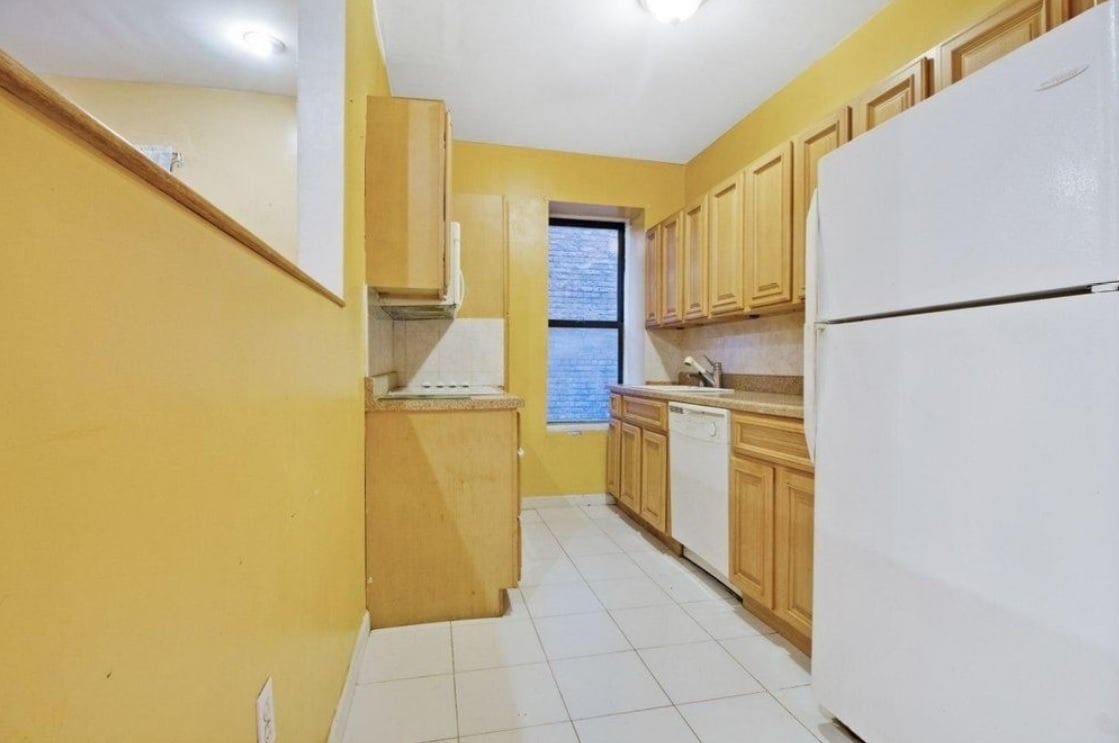 Modernize and open the kitchen 
Floors: Andres would extend the new wood flooring in here, too. "It'll tie the rooms together as one big space," he says.
Wall: He'd prefer a more open-concept living space, so he'd like to knock down the half-wall separating the kitchen from the living room. The only problem? There are probably gas lines hidden in the left-hand part of the wall behind the range. He'd therefore knock down the section on the right and leave the part with the gas lines standing. This demo work should cost around $1,000 or so.
Appliances: He'd get a new induction range and relocate it to the other side of the kitchen, where the rest of the appliances are, so that it isn't standing there on its own like it is at the moment and "you aren't cooking right next to your living room couch," he says. "And anyway, that space [on the other side] is long enough to have the sink, fridge, and cooktop along that wall." This 30-inch stainless steel Bertazzoni induction range is $3,300.
He'd also get a counter-depth fridge instead of a free-standing model. "It will make the kitchen read more as a wall of furniture in the now bigger living room," he says. This 30-inch stainless steel Bertazzoni built-in fridge is $6,600.
Cabinets: He'd replace all the cabinets in here, and extend them all the way up to the ceiling because there's a real need for more storage in this apartment. "Consider a budget-friendly option of IKEA cabinets with custom doors," he says. He'd choose flat doors that are simple and modern. These cabinets should cost around $7,000.
Countertops/Backsplash: "I'd use the same material for the countertops and backsplash to achieve a modern, furniture-like look, and integrate the kitchen into the living space," he says. He suggests going with a man-made product that's durable and easy to maintain like Montblanc from Caesarstone, a white with gray veining that'll blend in nicely with the new décor. It should cost around $65 per square foot.
Lighting: He'd go with a flush-mount in here, too, and enhance that with under-cabinet lights to make it easier to see what you're cooking for dinner. These under-cabinet LED strip lights are $30 for four at Wayfair.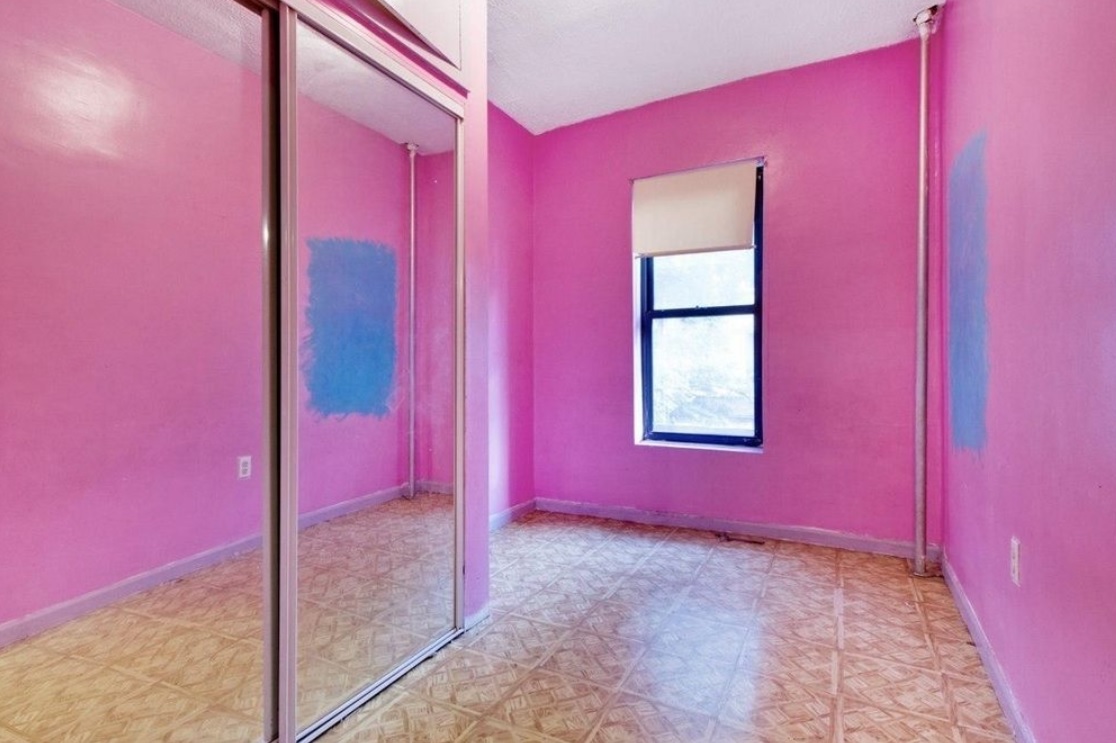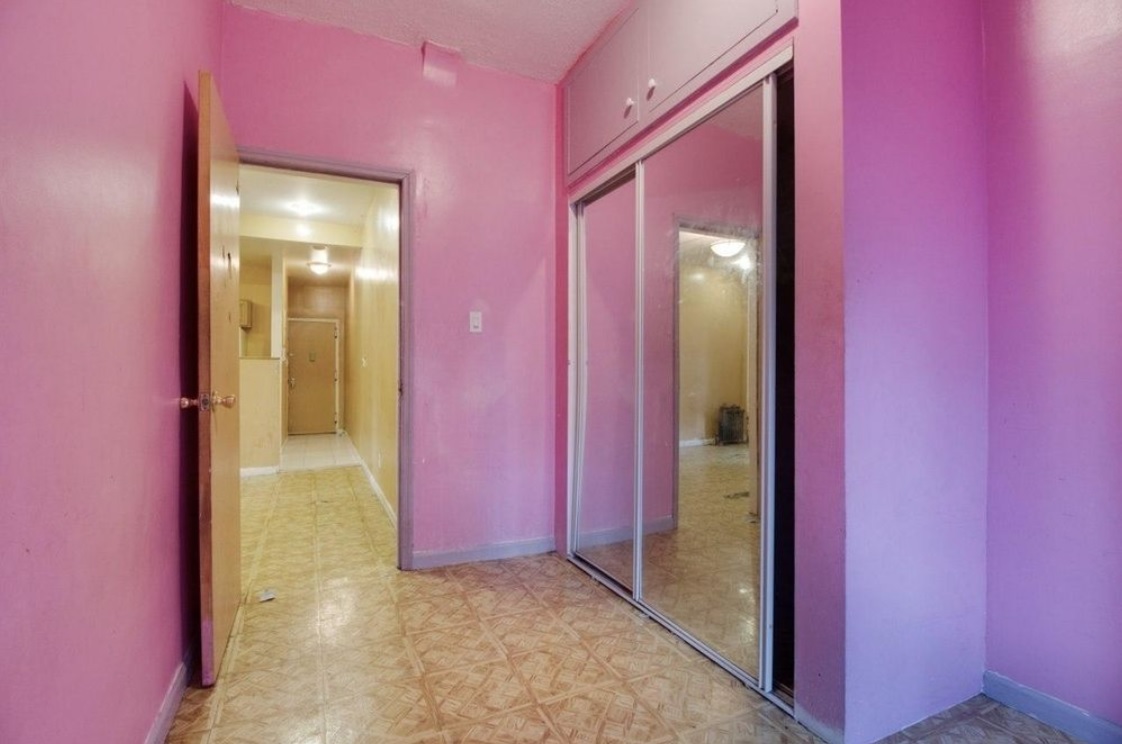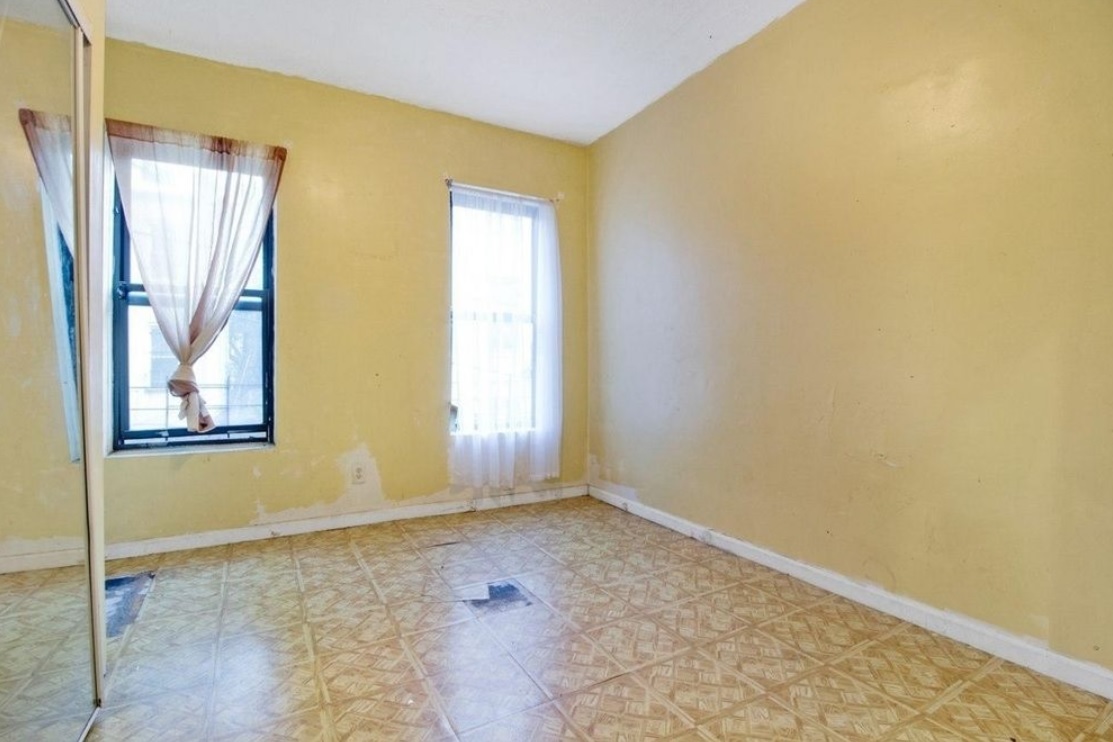 Bedrooms designed for recharging 
Floors: The new wood flooring should extend into both bedrooms, as well, in order to convey a certain continuity.
Bedroom doors: He'd swap out the rickety old wood-look doors for newer, flat-panel doors with an oil-rubbed bronze door handle that'll go well with the new color scheme in here. He recommends a lever that has a nice feel to it. "It's always important to touch the hardware because it's something you'll touch a lot," he advises. You'll want to make sure you like how it feels. Flat doors should be around $300 a piece. These Buster + Punch smoked bronze door handles are around $160 each.
Closet doors: "The time of mirrored closet doors is over," Andres says. He'd replace them with flat, non-mirrored sliding doors that'll blend in nicely with the walls. These should cost about $800 per closet.
Paint: Although he likes a neutral white in the living space, he'd go for something a bit warmer in the bedrooms, like Benjamin Moore's Harbor Gray, a soothing, sleep-inducing hue that he feels will work well with the new white oak floors. He'd paint both bedrooms the same color to tie them together. A gallon is $75 at BenjaminMoore.com.
Lighting: In both bedrooms, Andres would again go with flush-mounts with smart bulbs.  
Window treatments: Here, too, he'd choose Roman shades that'll block out the light and add some much-needed texture.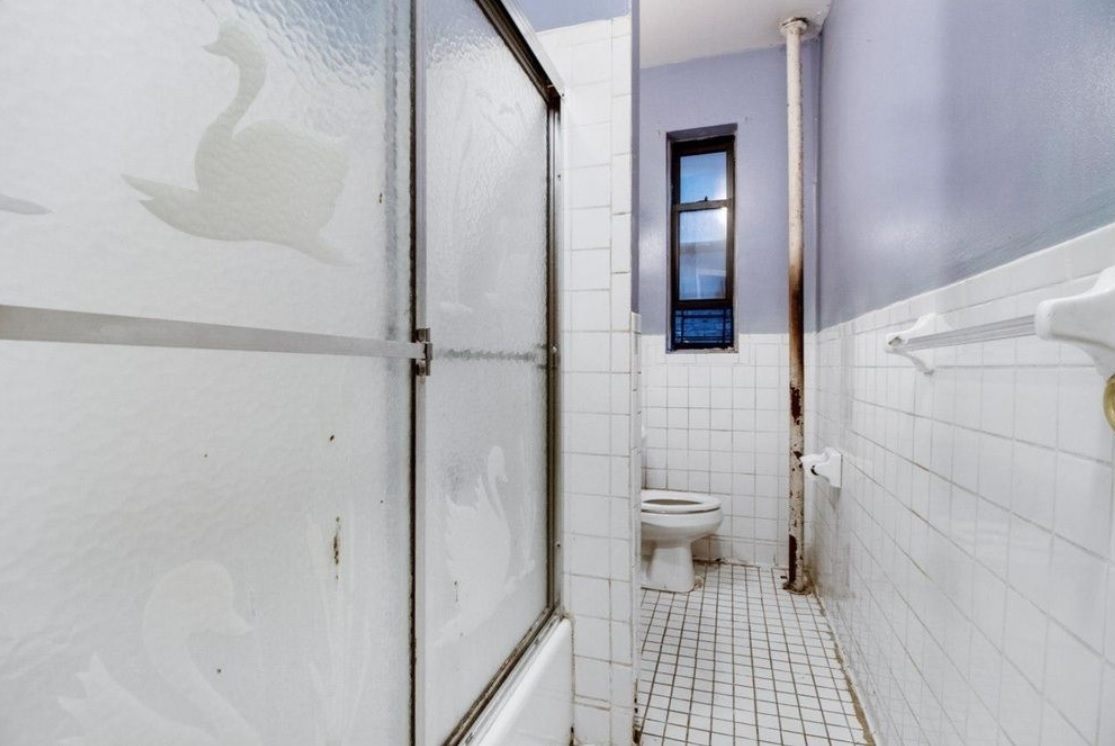 Make the bathroom a destination
"Since it's away from the bedrooms, I'd like to make the bathroom into a destination you can enjoy and spend some time in," Andres says.
If the building allows it, Andres recommends bringing the sink to the front of the bathroom, followed by the toilet, then installing a generous shower in the back of the bathroom.
Shower: "I've seen more and more people ditch their tubs lately," Andres says, explaining that unless you have small children or pets, a tub isn't really necessary. A glass shower enclosure will cost around $1,500.
Toilet: He'd go with a new floor-mounted toilet that'll be easy to clean around. This Duravit is $320 at faucet.com.  
Vanity/sink/faucet: He'd prefer a vanity with some storage below the sink so there'll be room for things like toilet paper, toothpaste, shampoo, and the like. He'd replace the faucet, too. Prices for this Hutton single vanity start at $1,721 at Restoration Hardware. This Grohe Concetto bathroom faucet with swivel spout is $162 at faucet.com.
Floors/walls: Andres suggests going with a concrete-looking tile for both the floor and walls to keep things grounded. His new favorite is Nemo's Norr, which comes in a variety of sizes and formats. "It's porcelain, so it's very easy to maintain, and it has a warm, earthy feel to it," he says. These tiles are about $25 per square foot.
Medicine cabinet: He'd choose a new, more contemporary-looking medicine cabinet, like this Submarine inset medicine cabinet, $543 and up at Restoration Hardware.
Lighting: He'd also add modern metal wall sconces on either side of that medicine cabinet in order to light up the space. These Bastion sconces are $900 each at Allied Maker.