Brick Underground supports our readers with product recommendations specifically curated for New Yorkers. If you buy something through our links, we may earn an affiliate commission.
A decent-sized bedroom can be created at this 510-square-foot Murray Hill studio, 330 Third Ave., #16K, according to the trio of experts we consulted this week: Aaron Bollman, a Manhattan general contractor; Margherita Menino, an architect based in Williamsburg; and her partner, interior designer Adam Carmichael.
"It's a big studio," Menino says. "If you want a real bedroom, you can definitely convert it." 
(Always bear in mind that changing the layout of an apartment requires a few formal steps, including getting a permit from the Department of Buildings, and to get a permit, you need to hire a professional engineer or registered architect to submit plans to the DOB for approval, and use a registered and insured contractor to perform the work.)
Each of these experts also dislikes something about the apartment. For Menino and Carmichael, it's the low ceilings. For Bollman, it's the dearth of closet space. And of course, they all detest the current state of the kitchen and bathroom, both of which could benefit from a complete makeover.
In this week's Reno Ready, they describe how they'd fit that new bedroom in, and outline their ideas for revamping the rest of this co-op into a modern space.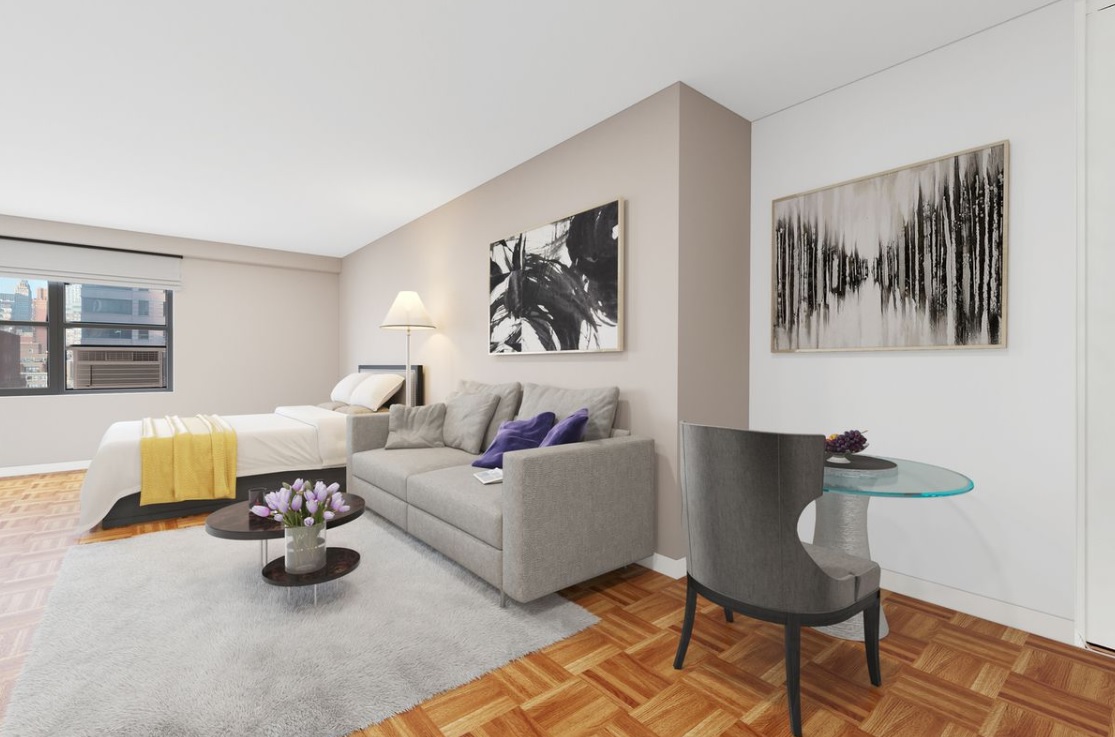 Rip out the parquet flooring in the living space
Floors: While the parquet flooring looks to be in ok shape, our trio hates it, so they'd rip it out and go with wood floors throughout the apartment (including the kitchen) that have a contemporary-looking cerused gray wash (a treatment that hides a lot of imperfections). These new floors should cost about $9 to $12 per square foot.
Lighting: Our pros suggest getting recessed lights on dimmers because the room looks like it can get rather dark. These ultra-thin LED recessed lights will only need about a two-inch ceiling drop—important because the ceilings in here already look a little on the low side. Dropping the ceiling should be a few thousand. Prices for the ultra-thin lights start at $30 at Aspect LED.
Closets/doors: They'd expand the closets near the entryway to add more storage to the apartment. This should cost a few thousand. And since Menino would prefer a "very modern" look for this apartment, she recommends getting full-height frameless doors that'll blend into the walls and create a seamless aesthetic that'll be "flat and neat." New frameless doors for the entire apartment should cost between $1,200 and $1,400.
Add a bedroom: They advise building a wall between the bed and the couch and creating a separate bedroom area in here. But in order to ensure that some light, they would choose a barn door with acid etched (or frosted white) glass that would provide privacy in the bedroom and light in the living room. A black metal matte finish around the door would tie it in with the kitchen appliances (more on that later). A custom barn door should cost around $5,000. If you don't go the custom route, it'll be less, probably around $1,000 or so.
There might even be enough space in this new room to build a bedroom closet where the credenza is at the moment. This should cost a few thousand.
Paint: The trio would go with a warm white on most of the walls in this apartment, but for the wall behind the bed (in the newly created bedroom), which they'd treat as an accent wall, they'd opt for something different—a soft, soothing blue or a Confederate gray. Something calming and conducive to sleep. Or, for folks, who'd prefer something a little more textured, they'd choose a unique wall covering.
If the new occupant would also like an accent wall in the living room, they suggest painting the wall behind the couch with a color that's "mid-tone to light-tone" so as not to overwhelm the small space. Gallons of paint will be $75 each at Benjamin Moore. Prices for the wall coverings will start at around $14 per yard.
Window treatments: "The windows are small, so we'd want to keep them open as much as possible," Bollman says. To keep with the modern theme, they'd put up sleek-looking shades on a recessed motorized track. They'd go with battery powered ones so there's no need for unsightly cords marring the walls. These shades can be purchased for $1,500 for all the windows in the apartment.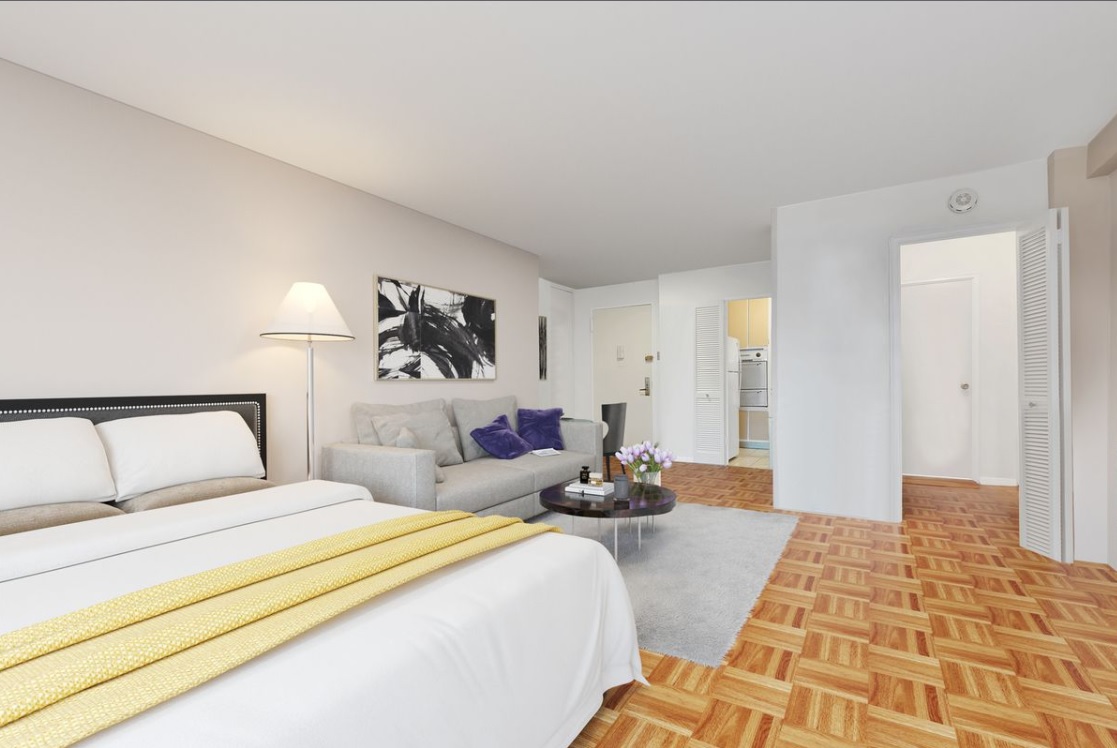 Incorporate the dressing room into the living room
Wall: Since there's now a bedroom in this apartment, the dressing room seems unnecessary. Our experts recommend taking down the doorway and L-shaped wall (as seen on the floor plan) between the dressing area and the living room and simply incorporating that extra space into the now-smaller living room. Costs for this demo work will vary based on contractor.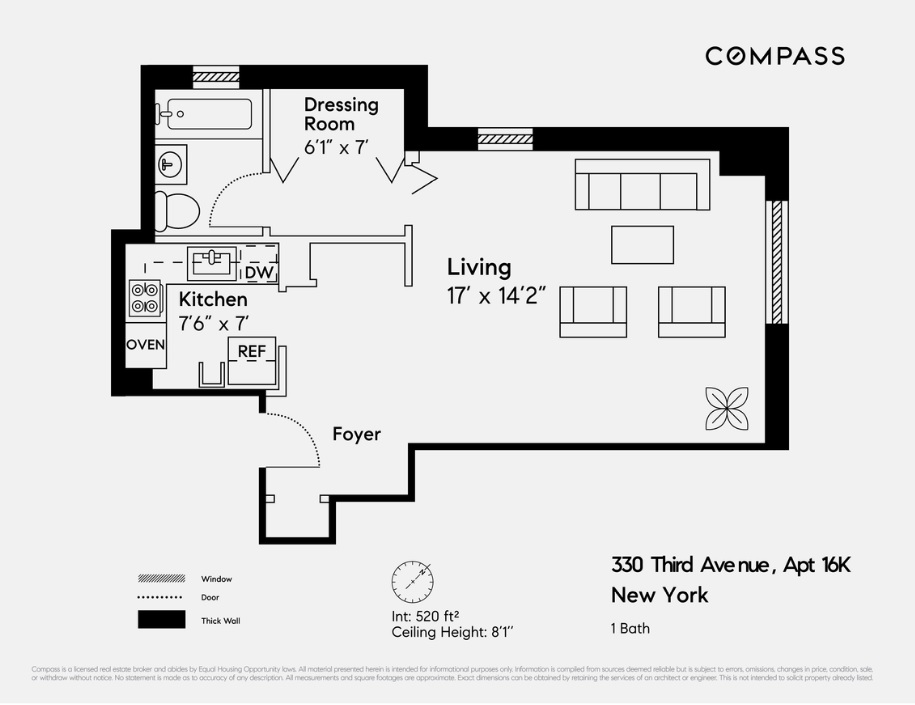 Replace the ancient appliances in the kitchen 
Appliances: These ancient pieces in the kitchen (top) need to be replaced. A new counter-depth fridge won't stick out as much and could move to the other side (near the dishwasher) so as to have all the appliances on one side and make room for an island. The experts also recommend a new oven, cooktop, and dishwasher. They would get them all in matte black for its ultra-modern look. This four-piece kitchen appliances package from LG includes a counter-depth fridge, an electric range, a dishwasher, and an over-the-range microwave for $5,110 at AJMadison.com.
Floors: They'd pull out the tiles and go with the same gray wood flooring in here as in the rest of the apartment.
Cabinets: Bollman feels that the new gray-washed floor would look great with lacquer cabinets—either on both the upper and lower levels of cabinets, or just the lower levels, with wood veneer ones on top. He'd choose a warm gray to play off of the floor.
Clients with lots of cash to spend can go the custom route, which would be in the $20,000 to $30,000 range.
People looking to save a little money can go with IKEA bases and have a company like Reform make custom fronts so they'll still look high-end. These should be significantly cheaper, in the $6,000 to $7,000 range.
Countertops/Backsplash/Island: They would add an island in here aligned with the second wall of the foyer. "It'll create a nice ambiance," Menino says. "You can have dinner there or serve happy hour there."
For folks who have more to spend, they recommend marble for the island, countertops, and backsplash. For more budget-conscious people, they would opt for Corian, a more affordable material that can take a lot of abuse. Marble would be around $80 per square foot, while Corian would be about $35 per square foot. They would also try and integrate the sink into the Corian or marble so it'll look seamless.
Faucet: They'd get a matte black faucet that'll match the new appliances. This Brizo Litze pull-down faucet with square spout and knurled handle is $525 at Kitchen & Bath Authority.
Lighting: Carmichael suggests installing a contemporary-looking pendant above the new island that'll "give it a little punch." This Melt Mini Pendant by Tom Dixon is $645 at Design Within Reach. They would also add some under-cabinet lighting. These LED strip lights are $33 for four at Wayfair.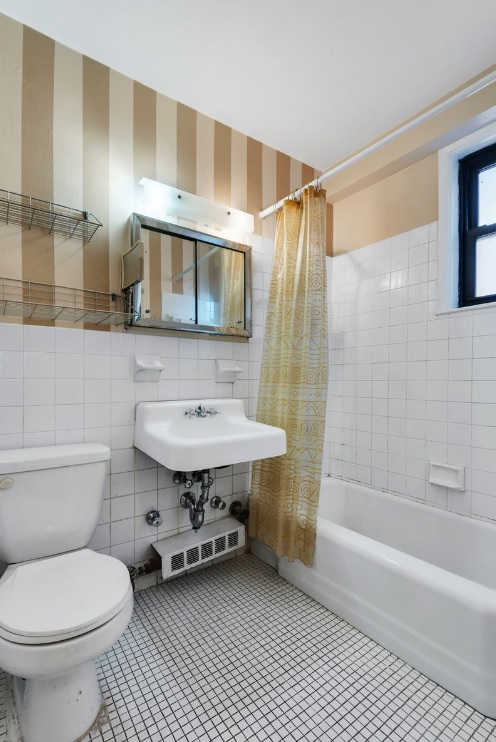 Glam up the bathroom
Bathtub: First thing they'd do is lose the tub and replace it with a sleek-looking shower with a single glass panel door. It would probably cost around $1,000.
Fixtures: They would choose modern-looking copper shower components. These should cost around $1,500.
Toilet: Since the room is so small, they'd choose a wall-mounted commode that won't take up all that much floor space. This wall-hung Duravit is $286 on build.com.
Sink: They'd recommend a wall-hung sink, too. This one is $417 at AllModern.com. They'd add a ledge made of the same Corian as in the kitchen to tie the two rooms together.
Floor/Wall: Menino recommends large-format ceramic tiles that mimic the look of Nero Marquina marble—which is black with white veining—on the floor, as well as in the shower and behind the toilet and sink. These should cost about $20 to $25 per square foot.  
Medicine cabinet: "If you've got the space, I'd go with a recessed medicine cabinet," Bollman says. A custom cabinet should cost $1,500 or so.
Lighting: They suggest the same slim recessed lights in here as in the living room. Prices for the ultra-thin lights start at $30 at Aspect LED.