Brick Underground supports our readers with product recommendations specifically curated for New Yorkers. If you buy something through our links, we may earn an affiliate commission.
Architect Richard Alan Goodstein of Brooklyn's nC2 architecture is a big fan of the old-school, casement windows in this Midtown East two-bedroom co-op, 321 East 43rd St., # 301, even though they're probably really old and energy-inefficient, he says. 
But that's all he really likes about the apartment, which is asking $885,000. He can't stand the closed-off kitchen, and thinks the layout of the apartment is "awkward," especially considering that the bathrooms can only be accessed through the bedrooms or through a closet.
In this week's Reno Ready, Goodstein outlines his plans for updating this unit, including extending the kitchen into the home office area, redoing the floors, and gutting the bathrooms.
Redo the flooring in the living room
Flooring: "The living room floors actually look kind of nice," Goodstein says. But "people today like wider boards," and since he's recommending knocking out a couple of walls in the kitchen, you'll probably have to redo the flooring in the living room (show top), anyway. He'd put in new, wider wood flooring throughout the apartment. This should cost around $10 to $20 per square foot.
Base moldings: The current ones look pretty beat up, so Goodstein would get new ones. These should cost around $2 per linear foot.
Paint: "I like white," Goodstein says. "But I'd leave that up to the client." He thinks that the space is big enough that you can designate one wall—probably the one just inside the entrance, opposite the windows—as a feature wall, and paint it a darker color or even put up some wallpaper. A gallon of Benjamin Moore's Chantilly Lace is $80.
Entryway: There aren't any photos of it, but the floor plans shows a small wall area to the right of the entrance. Goodstein would remove it to create a wide-open entryway and "really make it all into one space." The cost to knock out this wall will be a part of the contractor's overall demo work.
Lighting: "There are no ceiling lights, but maybe that's ok," Goodstein says. "I'd really hate to drop the ceiling in here." He proposes going with an assortment of floor and table lamps. This Equo Gen 3 LED floor lamp is $300 at YLighting.com. Prices for this Tube Top Table Lamp start at $160, also at YLighting.com.
Radiator: Goodstein hates the existing radiator cover, so he'd either get a nicer one or simply get rid of this one and showcase the radiator underneath (if it looks nice enough). A new radiator cover should cost between $500 and $1,500.
Window treatments: He isn't really fond of shades, especially in this living room, as they'll hide the lovely windows. But if the client insists, he recommends going with a shade or drape that'll drop down from above the windows so as to show off as much of the window as possible when the shades are up.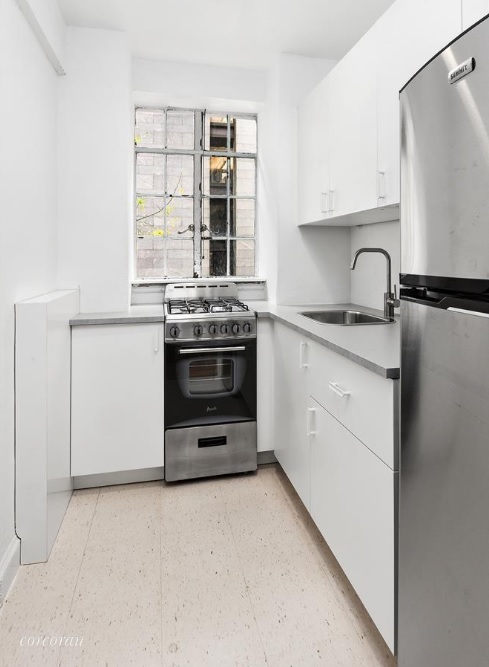 Open up the kitchen
Knock out a wall or two: "The kitchen is miniscule," Goodstein says. "It's not proportional at all to the apartment." He recommends opening it up to the living space by blowing out the wall with the door opening, and possibly moving the sink and fridge to the back wall. Taking out the wall behind the fridge and sink would create space for a breakfast bar. But he worries that that wall might actually be the best one to hang a TV on in the living room. So the decision would depend upon the new owner's priorities. 
Extend it: He'd love to extend the kitchen into the area labeled "home office" on the floor plan, but notes that some buildings won't allow that because of concerns about potential leaks. "We've sometimes been able to argue that we'll keep the wet part of the kitchen in its current location and use the rest for a pantry, countertop, island, or bar," he says. If the co-op building here is ok with that plan, that's exactly what he'd do. He'd add in a pantry, extend the cabinetry into the home office, and install additional prep/countertop space.
Cabinets: "This kitchen is cramped in terms of storage space," so he'd add more cabinets to the newly extended area. If the new owner is limited in terms of budget, he suggests going for IKEA pieces that'll probably cost in the $5,000 range. If there's a bit more budget, he'd go for custom cabinets, which should cost between $15,000 and $20,000. As for color, that all depends upon the client's personal preferences.
Appliances: "That's a 20-inch range in there," he says. "That's the smallest range that you can get. You can't cook a Thanksgiving turkey in that." He'd get a new 30-inch range, and move it to the back wall, as well, so that it isn't right under the window. He'd also try to find space to add in a dishwasher. This Bosch 30-inch slide-in gas range is $2,064 at AJMadison.com. This Fisher & Paykel Active Smart 31-inch counter-depth French-door fridge is $2,749, also at AJMadison.com. This Bosch 18-inch fully-integrated dishwasher is $939, also at AJMadison.com.
Countertops/backsplash: Goodstein would go with quartz or marble in here. "Quartz is more durable and marble requires a bit more maintenance," he says. Whichever the owner goes for, the new countertops in this space should cost around $7,000. He'd also run the countertops up the wall to serve as a backsplash.
Flooring: Since this kitchen will now be open to the living room, Goodstein suggests extending the wood floors here. But he some owners don't want wood floor in a kitchen. If that's the case here, he'd opt for tiles that will be easier to clean. These should cost around $15 to $20 per square foot.
Sink/faucet: Goodstein would choose a "gadget-y" sink that has a built-in strainer, cutting board, and/or drying rack. Prices for these types of sinks tend to start at around $500 and go up depending on what accessories you choose. He'd get a new faucet, too. This Moen Kaden single-handle pull-down sprayer kitchen faucet is $184 at The Home Depot.
Lighting: Goodstein assumes that the ceiling is concrete, so recessed lights aren't a real option. Therefore, he recommends dropping the ceiling two inches so that you can get an electrical box in, and then install LED lights that look like recessed lights, "but don't really need a lot of depth." Dropping the ceiling and installing these lights should cost around $8,000.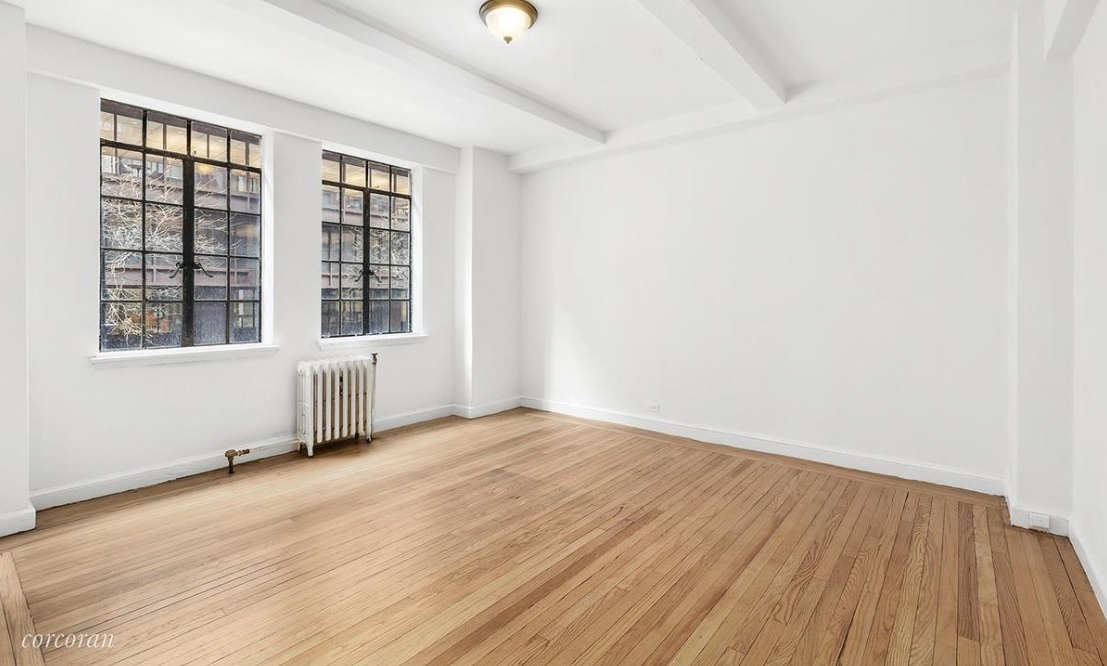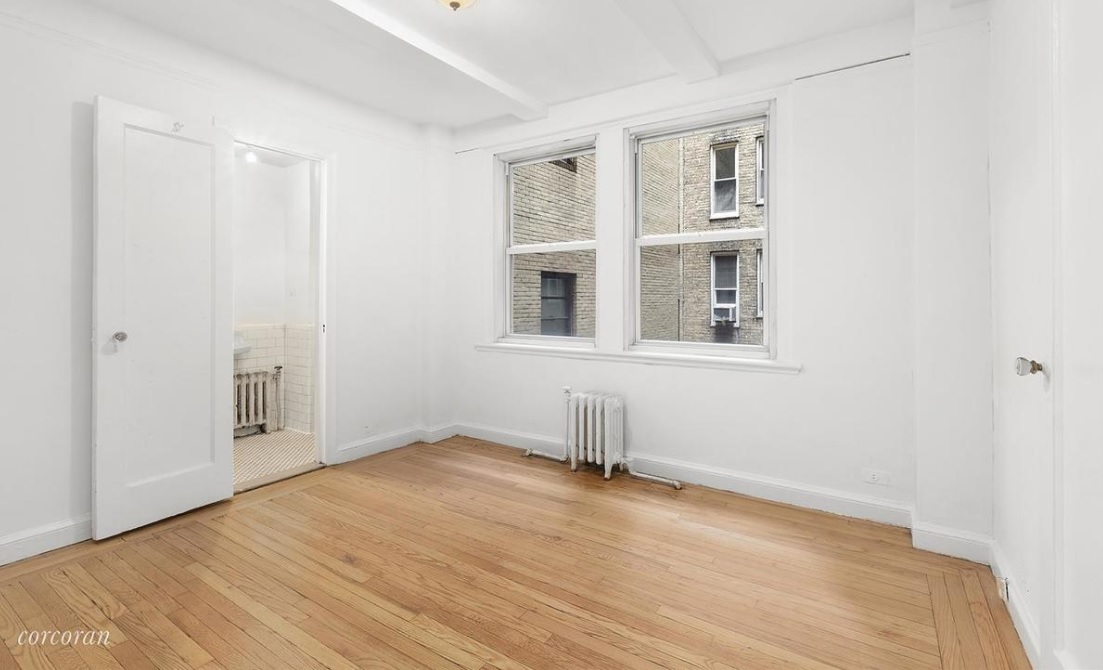 Go a little darker in the bedrooms 
Goodstein would extend the new wood flooring into the bedrooms, as well, and get new baseboards, too.
Paint: "In bedrooms, you can go a little darker, a little softer," he says. But if the new owner doesn't want to go dark for the entire room, Goodstein would paint the majority of the room white, and then paint the wall behind the bed in a darker, more dramatic color.
Radiator: Goodstein hates the look of the radiators in the bedrooms, specifically the piping extending from each side. He advises getting newer, lower, longer radiators in both bedrooms. These should be around $2,000 each.
Lighting: He'd replace the flush-mounts in both bedrooms with either more modern flush-mounts or ceiling fans, if that's what the new owner would prefer. "You don't want anything that's going to hang down too much because the ceilings aren't very high," he says. Prices for this Pi LED flush-mount ceiling light start at $390 at YLighting.com.
Window treatments: He might not be a huge fan of shades, but Goodstein acknowledges that you need some in a bedroom. What you opt for "is the client's call," though, he says. "People have their own opinions as to how to block out light." Prices for these light-filtering roller shades start at $255 at The Shade Store.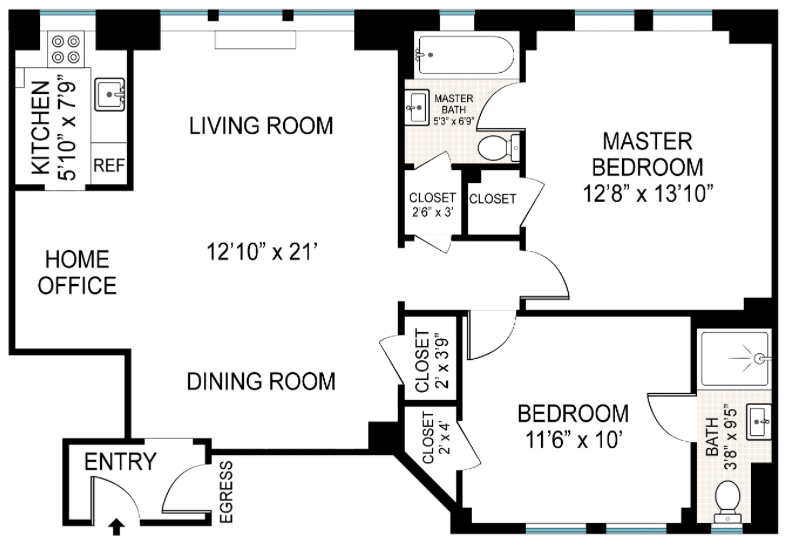 Mystery bathrooms are probably dated
There aren't any pictures of the bathrooms, but you can see a little bit of one in the photo of the second bedroom. "Those are old tiles—from the '20s, '30s, or '40s," he says. "They're beautiful, but they don't hold up."
He assumes that the bathrooms will both need to be gutted completely. This should cost around $20,000 to $25,000 per bathroom.
There's also the fact that the only bathroom that can be accessed by guests is the master bath, which can only be entered through a closet. Goodstein proposes getting rid of that closet in favor of a long hallway in order to make visitors feel less awkward about needing to use the facilities.