Brick Underground supports our readers with product recommendations specifically curated for New Yorkers. If you buy something through our links, we may earn an affiliate commission.
The bedrooms are separated in this Midtown East two-bedroom fixer-upper, 225 East 57th St., #2G, says Niv Ben-Adi, founder and principal of architecture and design studio Atelier036. That's good for privacy. But the co-op, which is listed for $1,025,000, definitely has a few strikes against it.
"It's on a lower floor, so it doesn't get a lot of natural light," Ben-Adi says. Plus, the kitchen is "tucked away" when most buyers today want it to be open to the living space. "That's a major obstacle," he says.
In this week's Reno Ready, Ben-Adi summarizes his plans for renovating this outdated unit, including swapping out the floor lamps for recessed LEDs and adding "as much glass as possible" to the bedroom in order to make it feel like it gets more light than it actually does.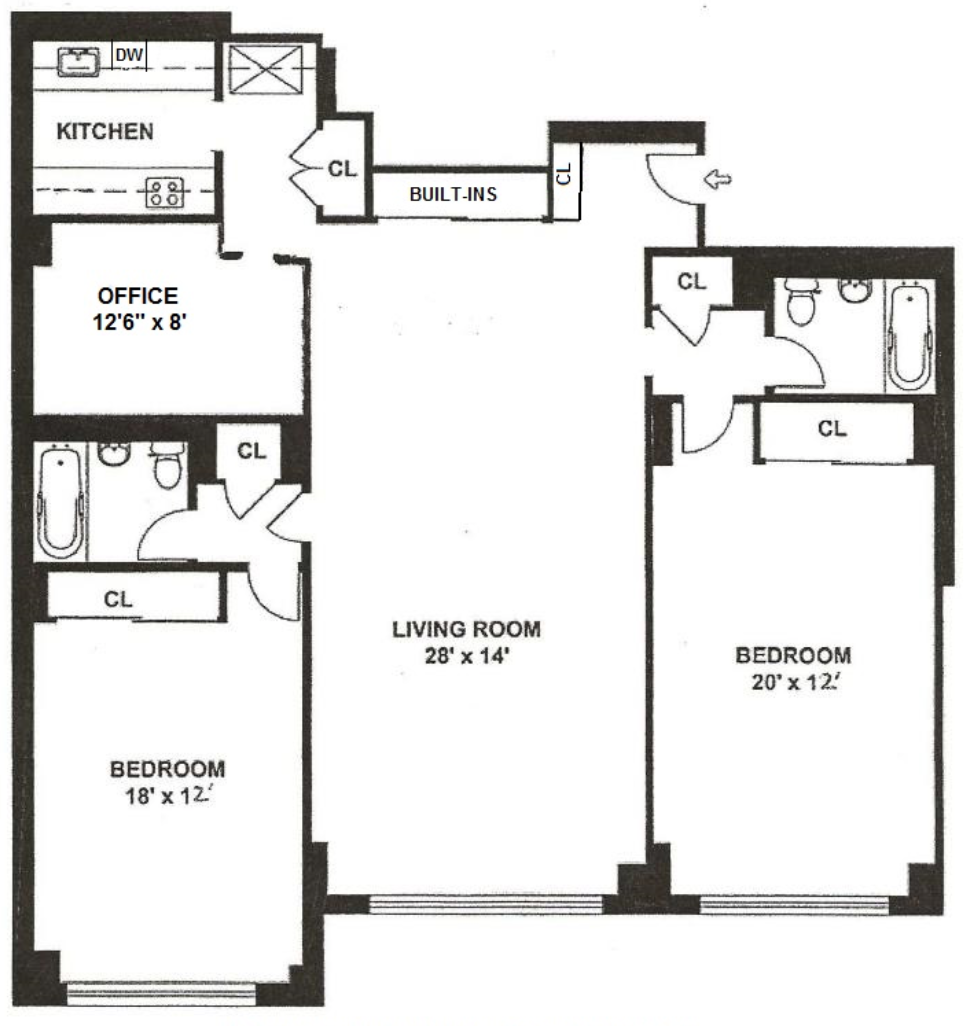 Add LEDs to give light to the living room
Lighting: Instead of the smattering of floor lamps that are in here at the moment, Ben-Adi recommends linear LEDs recessed into the wall that will "flood light onto the ceiling." You won't see the lights themselves, but the ceiling will be illuminated, he says. These should cost around $130 per linear foot.
Floor: He'd replace the ancient flooring with wider wood boards that will "quiet the space" a bit since they'll have fewer joints. "It'll make everything look more relaxed," he says. He'd choose either a bright Scandinavian-type wood or light gray boards. This new flooring should cost around $10 per square foot (before installation).
Moldings: He'd remove all of them—the crown moldings, the door casings, and all of the baseboards—in order to make the room look "as clean as possible," he says.
Walls: Ben-Adi advises leaving the walls white and using brightly colored furniture and artwork to "create color on this blank canvas."
Window treatments: Simple roll-down shades should suffice here, he says. Prices for these light-filtering roller shades start at $255 at The Shade Store.
Radiator cover: He'd have a custom cabinet built around the heater in here, as well as in both bedrooms, which will add shelving and storage space to each of the rooms. These cost around $2,500 each.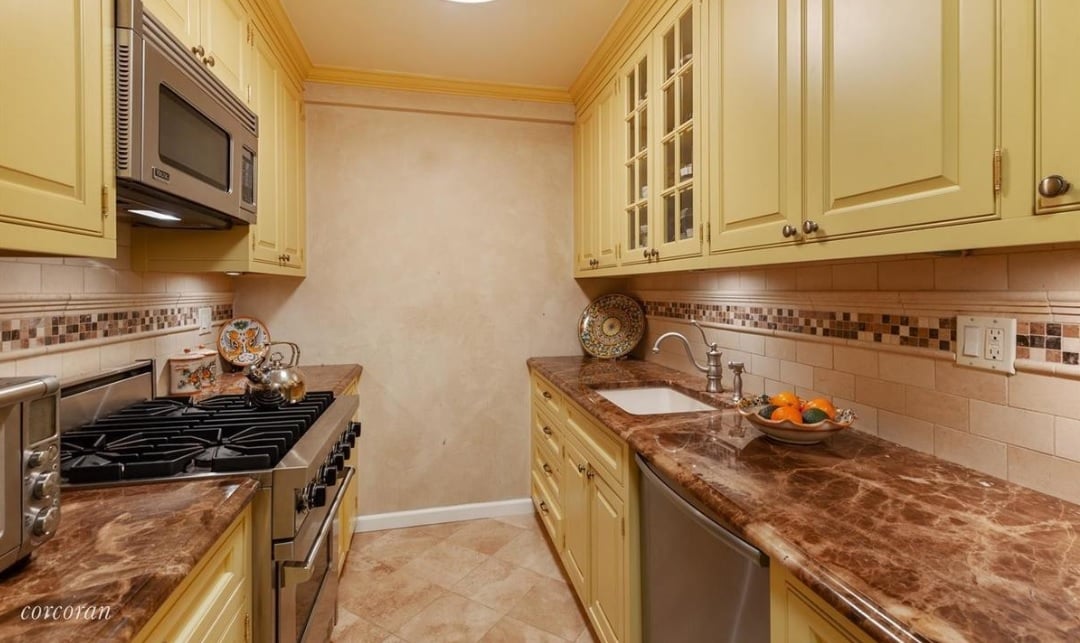 Integrate the kitchen with the living space
The first thing Ben-Adi would do here is put the kitchen where the home office is and the home office where the kitchen is. "I'm trying to integrate the kitchen better with the living space," he says.  
Lighting: Here too, he'd opt for linear LED lights up top. These should cost around $130 per linear foot. He'd also add under-cabinet lights, such as these SlimEdge LED under-cabinet lights, $52 at Lamps Plus.
Cabinets: He thinks that white matte cabinets make the most sense for this room. "They'll keep things simple and clean and bounce the light around," he says. Cabinets from a place like budget-friendly IKEA should cost around $6,000.
Countertops: Ben-Adi thinks that a durable material like Caesarstone would work well, and recommends choosing white countertops with a subtle gray veining or light gray countertops. These will cost around $80 per linear foot. "It's not inexpensive, but it's a good product" he says.
Backsplash: He'd choose glass panels that'll be easy to wipe down after even the messiest of culinary disasters. These cost around $30 per square foot.
Floors: Large-format tiles in a grayish hue would work best here, Ben-Adi says. "It'll minimize the number of joints and echo the countertops," he says. These should cost about $7 to $9 per square foot.
Appliances: He'd lose the "massive stove" and get a smaller, more manageable range with a drop-in cooktop so that the countertops will be continuous. This Frigidaire 30-inch gas cooktop is $693 at AJMadison.com. This Summit 30-inch gas wall oven is $2,195, also at AJMadison.com.
He'd also get rid of the microwave atop the oven and instead install a microwave drawer. "I've been doing a lot of these," he says. "It keeps it out of sight." This Bosch 24-inch built-in microwave drawer is $1,344, also at AJMadison.com.
A new dishwasher will also be in order. This fully-integrated Frigidaire dishwasher is $343, also at AJMadison.com.
Back wall: Ben-Adi would tile the entire back wall—either with large-format glass tiles or large-format ceramic tiles—so that "the kitchen becomes more than just a place to manufacture food," he says. It becomes a place of beauty.
The office is a mystery
There aren't any photos of the office, but Ben-Adi presumes that he'd continue the wood flooring in here, keep the walls white and bright—especially since there aren't any windows in the room, and get rid of any moldings and baseboards to keep the space clean.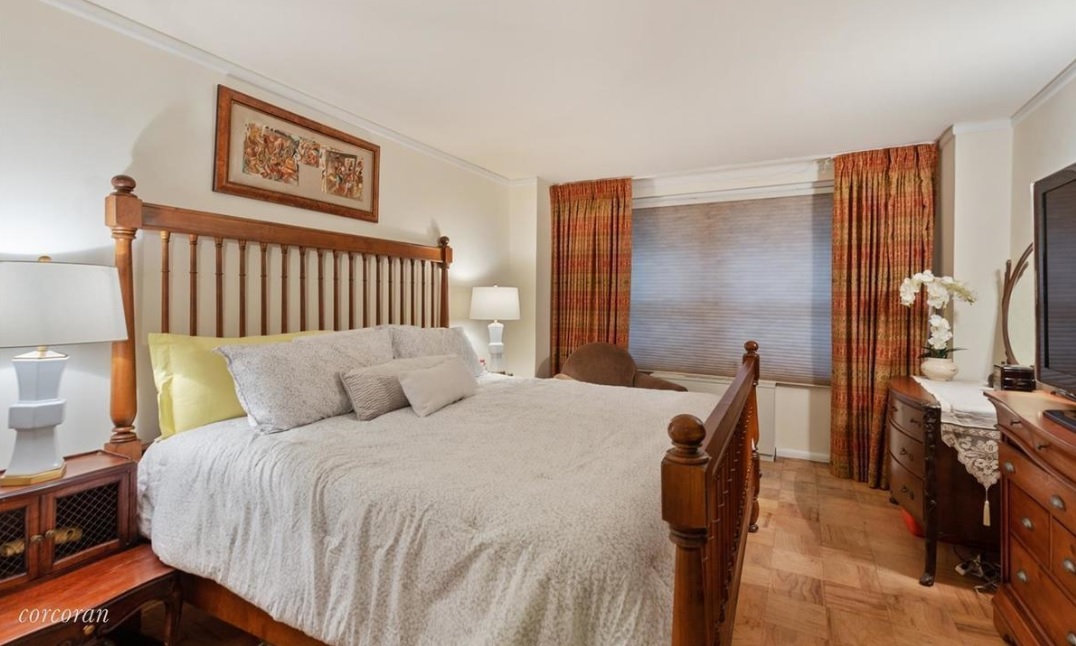 Lose some doors to the master bedroom
Ben-Adi would bring the new wood flooring in here, remove the crown and base moldings, and install a radiator cover—just as he'd do in the living room.
Entrance area: "There are too many doors leading into the master," Ben-Adi says, noting that there's an archway followed by a door. He'd rework that by removing the existing door and archway and placing a new door in the living space just below the closet line. "It'll create a better flow and use of space in the master bedroom and bathroom." Doing this should be a part of the contractor's overall demo price.
Doors: In an effort to "add a lightness of appearance" to both bedrooms, Ben-Adi recommends replacing the plain white bedroom doors with frosted glass doors. "There should be as much glass as possible in here," he says, noting that that'll help make the space feel like it gets better light. Frosted glass doors should cost around $2,500 to $3,000 per door.
Closets: There are large closets in both bedrooms—both of which stand in front of a windowless bathroom. So, in order to "borrow light" for those bathrooms, Ben-Adi suggests putting in narrow clear glass panels over the top of the closets so that some of the light from the bedrooms' windows can make its way into the bathrooms. This glass work should cost around $30 per square foot.
Walls: He'd once again leave the walls white, but would make the wall behind the bed an accent wall and either bring in a pop of color or an interesting texture so that wall really stands out. He suggests trying Venetian plaster here. This finish—made up of plaster blended with marble dust—offers a smooth surface that gives the illusion of texture. This should cost around $18 per square foot.
Lighting: Instead of bedside lamps, which will take up most of the space on top of the nightstand, Ben-Adi advises installing wall-mounted reading lamps. These Zara one-light plug-in swing-arm lamps are $84 each at AllModern.com.
Window treatments: He'd go with simple roller shades here, too. Prices for these room-darkening shades start at $255 at The Shade Store.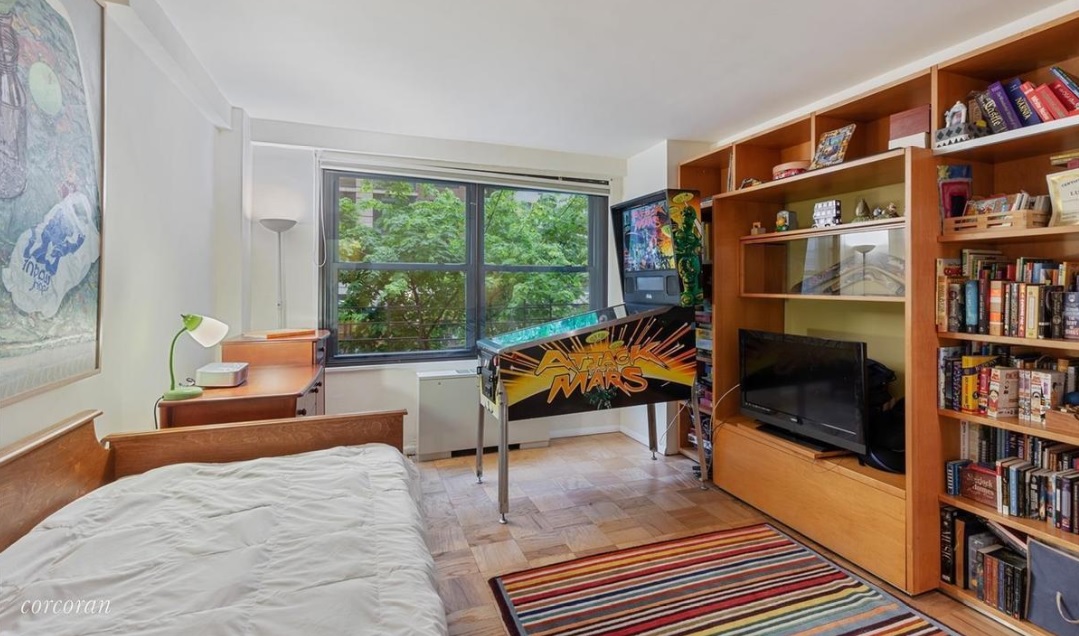 Fixes for the second bedroom
He'd once again carry the wood flooring in here, add in a radiator cover, put up some blackout shades, keep the walls white, and lose all the moldings in favor of a cleaner, more modern look. He'd also add glass panels into the closet.
Lighting: In place of floor lamps, Ben-Adi would go with the same lighting scheme as in the living room—indirect illumination with LED lights recessed into the walls that will illuminate the ceiling. He'd also add a swing-arm reading light by the bed.
Bathrooms likely need work
There aren't any photos of the bathrooms, which could mean that they aren't in great shape, so Ben-Adi recommends gutting both of them. He'd put in new toilets, new light fixtures, new faucets and shower accessories, and light-colored full-height tile. He also advises replacing the bathroom walls where the doors are located with translucent glass walls and doors in an effort to lighten up the spaces. This should cost around $40,000 per bathroom.