Architect Adam Zimmerman of Brooklyn's Zimmerman Workshop sees lots of bright spots in this $749,000 Lenox Hill fixer-upper, 300 East 71st St., #17B. "It's in a great location," he says. "That parquet flooring is probably on a concrete slab, so no floor leveling will need to happen. Plus, it seems like there aren't any buildings directly across from this apartment, so it gets lots of sunlight."
That said, there are still a number of things he can't stand, including the tiny, closed-off kitchen, an annoying number of seemingly random "shafts and columns in the middle of the space," and the odd fact that several of the closet doors open into other doors.
In this week's Reno Ready, Zimmerman describes what he'd do to resolve these issues, and explains how something as simple as reorienting the closets will make more efficient use of the space.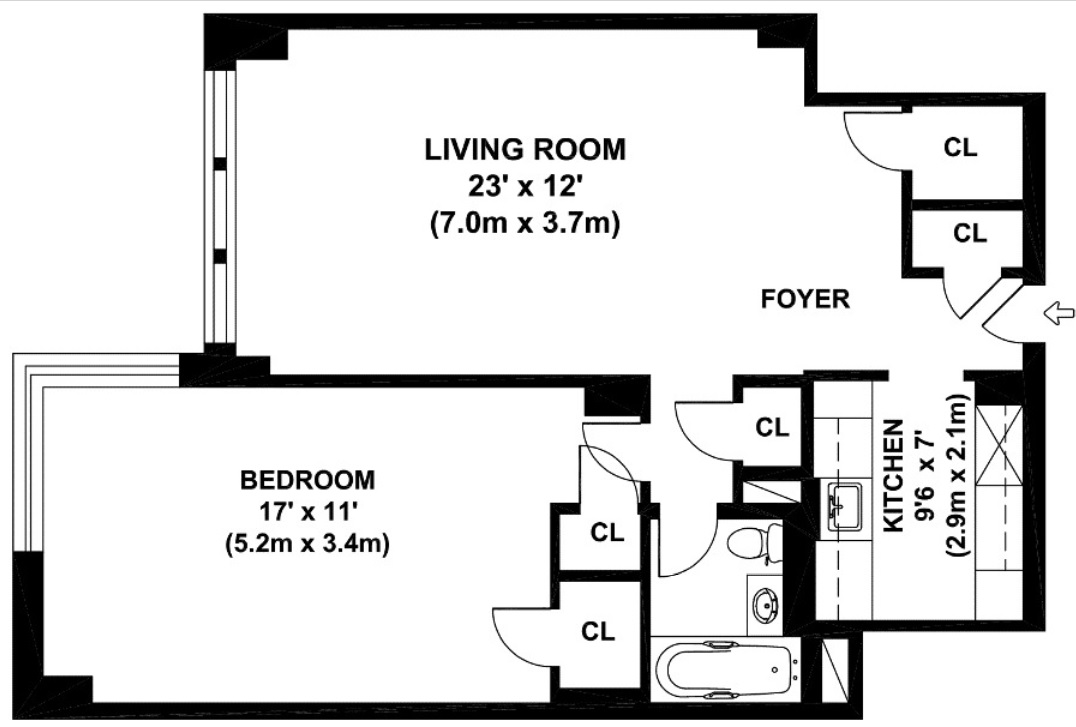 Fix the closet in the living room
Closets: When you first walk into the apartment, the front door opens right into the door of a closet, which backs up into another closet that opens into the living room. Zimmerman would lose this odd set-up. He would get rid of the closet door closest to the front door and instead make a single, longer, skinnier closet that opens into the living room. This will open up the foyer area and make anyone entering the apartment feel more welcome. This closet work should cost between $5,000 and $10,000.
Floors: "That parquet flooring actually looks pretty nice," Zimmerman says. But he's seen similar flooring in other 1960s-era buildings that had asbestos underneath, so he's worried that that might be the case here, too. "You can either floor over it or you can leave it," he says.
If the client opts to keep the flooring, he suggests sanding and staining it a deeper shade to add some character. If the preference is for something new, Zimmerman advises replacing it with 4-inch-wide white oak. "It's a great forever-wood," he says.
New wood flooring for the entire unit should cost about $10 per square foot. Sanding and staining would be about half that.
Paint: Although the white on the walls looks ok at the moment, Zimmerman would have the apartment repainted with Benjamin Moore's Decorator's White. "It's the most pure, crisp white," he says. "It's softer, nicer, and really picks up the shadows well." A gallon will be $75 at BenjaminMoore.com.
Baseboards: The visible wiring on the existing baseboards hurts Zimmerman's eyes, so he'd swap them all out for new ones that'll "clean that all up." New baseboards for the entire apartment should cost a few thousand dollars.
Millwork: In order to conceal the unsightly radiator and air-conditioner, Zimmerman proposes building a 12- to 18-inch-deep piece of millwork under the window that'll "clean up the back area and add some unity to the space," he says. He'd paint it the same white as the walls, but with a semi-gloss sheen that will draw the eye and will be easier to clean. This should cost between $5,000 and $8,000.
Window treatments: Above that radiator cover, he'd install white solar shades that'll keep the light out. Prices for solar shades start at $198 at The Shade Store.
Lighting: Zimmerman assumes the ceiling is concrete, meaning that installing overhead lights would be complicated. He'd go with an assortment of lamps, instead. This Arnsberg Erfurt dimmable floor lamp is $148 at Lighting by Gregory.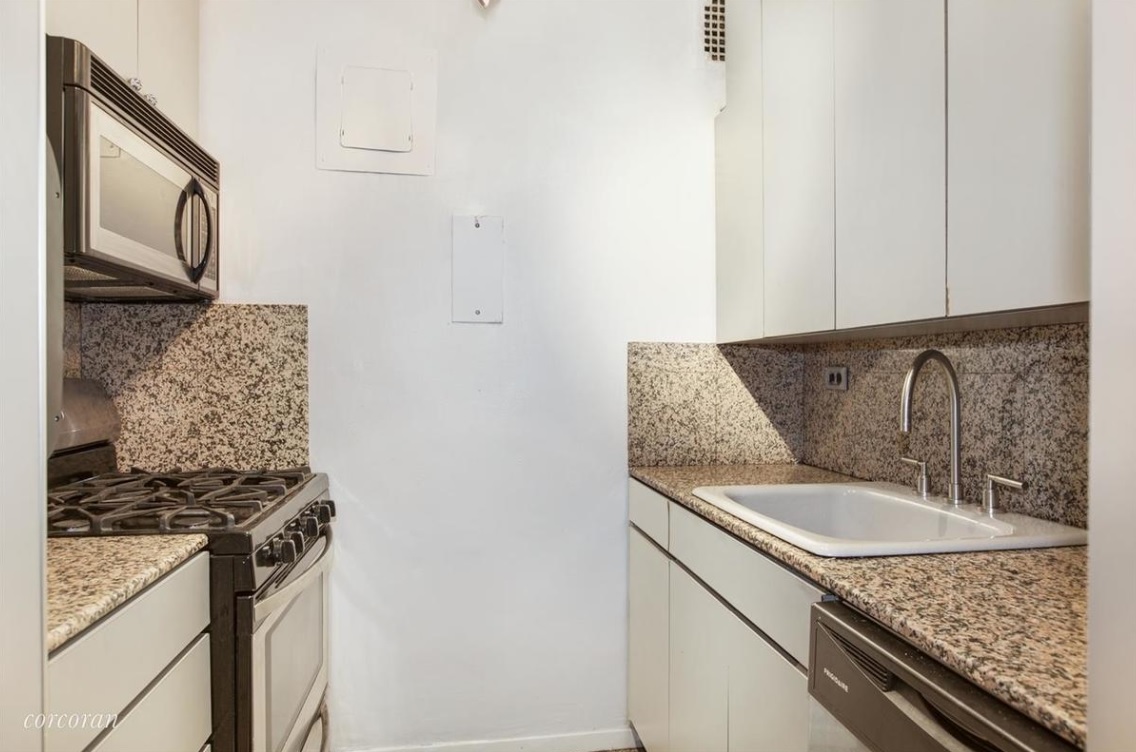 Open up things in the kitchen
Walls: In an effort to open the kitchen up a bit, Zimmerman would tear down the wall just beyond the sink on the left-hand side. He'd love to do the same with the right-hand wall, but there's a column there, so unfortunately, that one's going to have to stay. This demo work should be about $500.
Appliances: "I'd replace these with newer, more efficient pieces," he says. He'd choose stainless as it's a "classic finish." This Bosch 24-inch bottom-freezer refrigerator is $2,334 at AJMadison.com. This Bosch dishwasher is $894, also at AJMadison.com. And this Bosch gas range is $2,064, also at AJMadison.com.
Cabinets: He'd dump the rickety old cabinets in here at the moment and replace them with custom-made painted wood cabinets. "I'd probably introduce some color," he says, but that would depend on the client's tastes. And rather than cutting out part of the cabinets to make room for the vent in the corner, he advises going with some open shelving there. These cabinets/shelves should be around $15,000
Countertops/backsplash/back wall: "In small kitchens, you only want to have like two or three materials," Zimmerman says. He'd therefore recommend mosaic tiles for the backsplash, countertops, and possibly that back feature wall. The tiles should cost around $15 per square foot.
Lighting: He'd install a center fixture up top, as well as under-cabinet lighting that'll make tasks like chopping easier. This George Kovacs flush-mount is $91 at Lighting by Gregory. These brass puck lights are $28, also at Lighting by Gregory.
Sink/Faucet: A new sink and faucet are also in order. This Elkay undermount sink is $695. "It's a good workhorse sink," he says. "Very durable and well made." This Hansgrohe Talis S single-handle pull-down kitchen faucet is $367 at efaucets.com.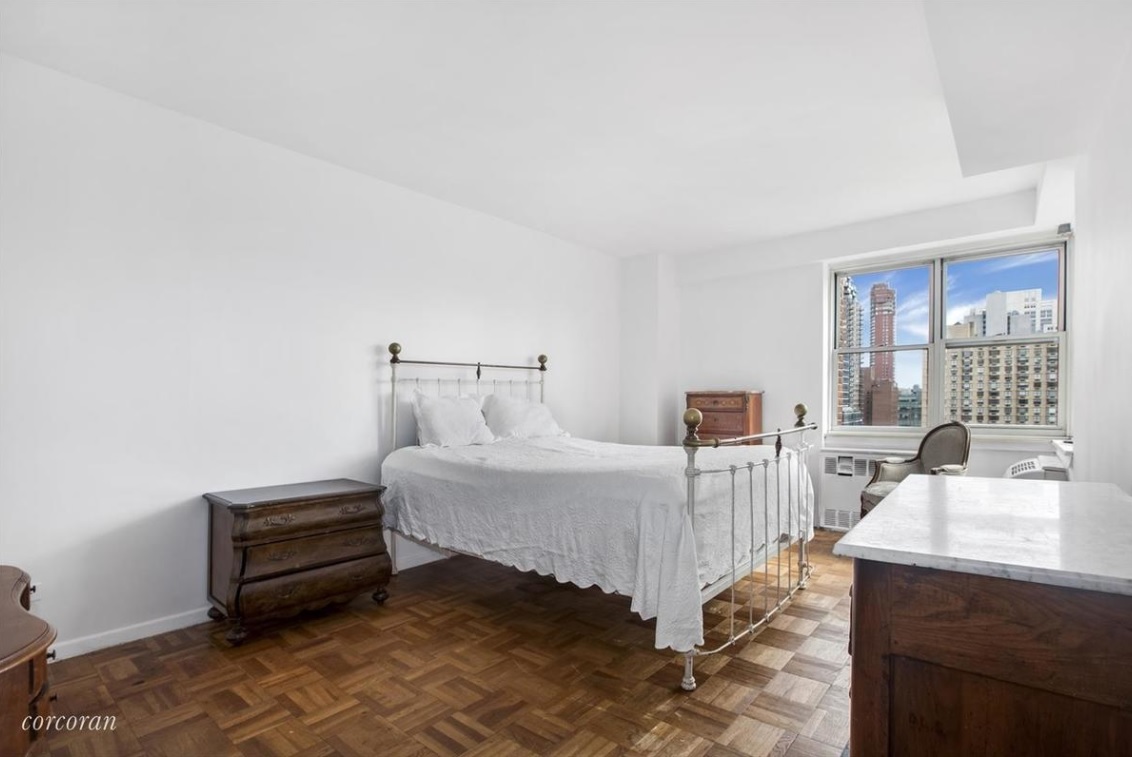 Fix the floors in the bedroom
He'd treat this room similar to the living room, installing (or sanding down) the same flooring, getting new baseboards, painting the walls with Decorator's White, getting the same window shades, and building another piece of millwork beneath the window to hide the radiator.
Bedroom door: The current location of the bedroom door means that the door often bangs into the door to one of the closets inside the bedroom. He'd therefore move the bedroom door to the wall between the living room and bedroom so that it doesn't interfere with the closets at all. This should be a few thousand dollars.
Lighting: He'd opt for a combination of floor lamps and sconces on the wall between the bedroom and the living room. These Modern Shielded LED sconces are $148 at Shades of Light.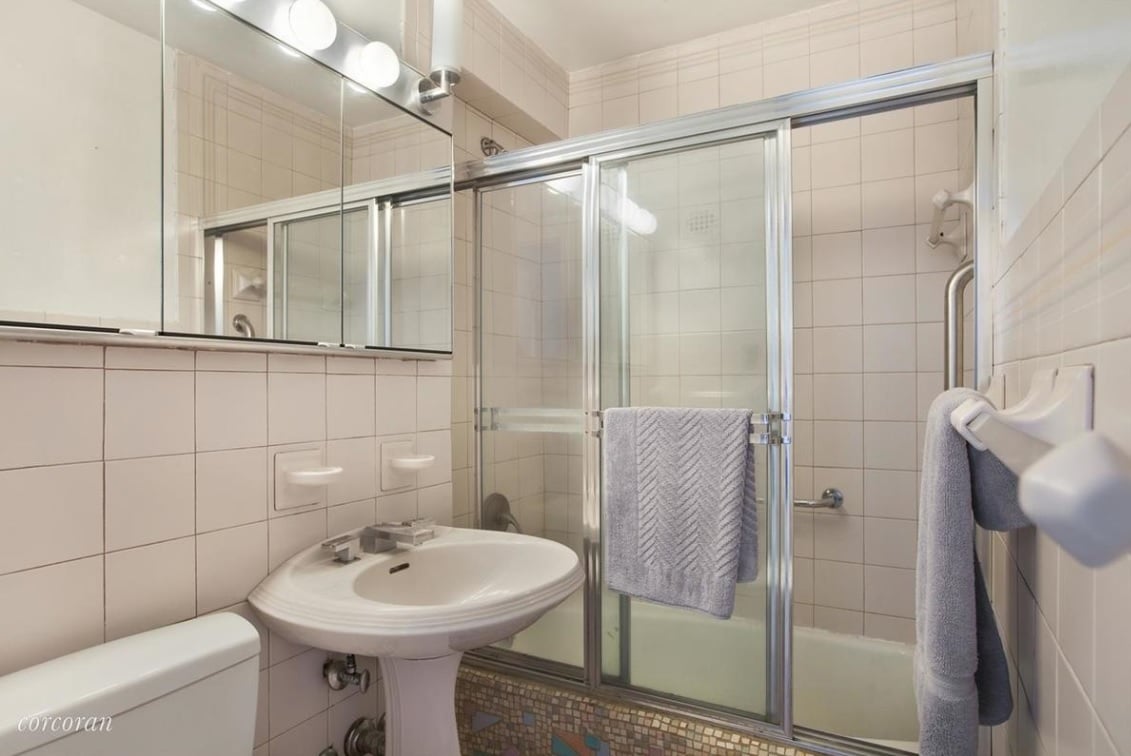 Make the bathroom more efficient
Closet: He'd remove the closet just outside the bathroom in order to make the bathroom larger. "There's a rectangle of space there that can be laid out much more efficiently," he says. He'd install the new door to the newer, larger bathroom to just outside that closet that's about to go, close to the foyer. This should be a few thousand.
Tub: He'd get a new tub if the client wants one. If not he'd replace it with a walk-in shower. This Kohler bathtub is $756 at efaucets.com. This Delta walk-in shower kit is $699 at The Home Depot.
Shower doors: Zimmerman isn't a fan of the shower doors for a number of reasons. They make it hard to give a kid a bath. "And even as an adult, the doors limit your movement," he says. As such, he'd go with a curtain instead. "People turn their noses up at curtains, but they're nice and can add some color and texture to a bathroom." This OliverGal "Behind the Woods" shower curtain is $57 at houzz.com.
Sink: "There's no storage underneath the pedestal sink," so he'd swap it out for a vanity. This Atticus single-sink vanity is $285 at houzz.com.
Toilet: He'd replace it with a Toto Aquia one-piece dual-flush toilet, $559 at The Home Depot. "It's just a good toilet," he says. "It works."
Medicine cabinet: He'd replace the mirrors with a nicer medicine cabinet. But rather than paying through the nose for an expensive piece, he recommends buying a simple one from IKEA and putting your own frame around it. This Storjorm mirror cabinet is $279 at IKEA. 
Tiles:  He'd get rid of all the tiles in the bathroom, and choose patterns that complement each other on the walls and floor. He'd go with a mosaic of some sort of the walls and oversize tiles on the floor. These should be $10 to $15 per square foot.
Lighting: Zimmerman would go the simple route with a linear bar. This Lithonia lighting bar is $66 at build.com.
Brick Underground articles occasionally include the expertise of, or information about, advertising partners when relevant to the story. We will never promote an advertiser's product without making the relationship clear to our readers.