This prewar Hamilton Heights one bedroom, 540 West 146th St., #32, has good bones, and is affordable (more on that in a moment), but suffers from a rather strange layout flaw: An absurdly long and narrow entry foyer. Think bowling alley
On the plus side, "the windows are a good size in each room. The nine-foot ceilings are really nice. And the eight-foot doors are great, too," says architect Rosario S. Mannino.
The asking price is just $235,000 because it's an HDFC co-op, so be sure and note the income restrictions: A single person is capped at $123,255 and a couple is limited to $140,910. Check the listing for income restrictions for larger families.
---
Editor's Note: In Brick Underground's Reno Ready column, an architect looks at a listing for a NYC fixer-upper currently on the market and suggests how to improve it.
---
Still Mannino finds it hard to get past its one major drawback. "It almost seems never-ending," he says of the extensive hallway, explaining that there isn't much you can do with a space that measures 25 feet long and just three feet wide.
There are some other issues as well: An overall ramshackle appearance and the fact that when you enter through the front door and squint down that long foyer, you're looking directly into a bathroom. "It's not the most inviting entrance," he says.
In this week's Reno Ready, Mannino explains how he'd handle that peculiar foyer, makes plans for hiding the washer/dryer in the kitchen, and tells us how the right paint colors will make a real difference in here.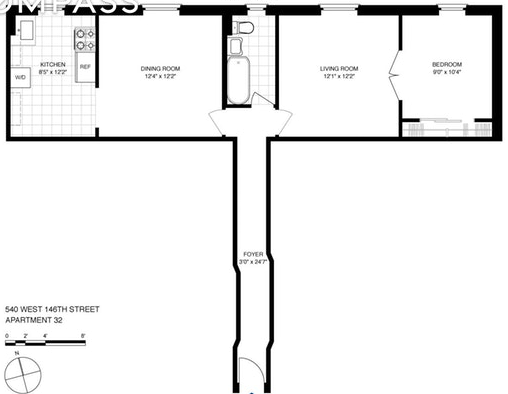 Make the foyer interesting
There aren't any pictures of the foyer, so Mannino devised a strategy from looking at the floor plan.
Trim: In order to break up this looooong hallway, Mannino thinks it would be a good idea to apply some raised rectangular panel molding (or decorative molding that adds depth and texture to a space). This is meant to attract the eye and make you think a little less about how monotonous the skinny foyer otherwise is. This could cost up to $4,000.
Paint: Mannino would opt for a light color that will add some warmth to the area. A gallon of Benjamin Moore's Smokey Taupe is $80.
Floors: Mannino would put new wood floors into the entire unit, but would install them in a herringbone pattern in the foyer to add an especially interesting element to this unique area. This should cost around $20 per square foot.
Create some drama in the living room
There aren't any photos of the living room, either, so Mannino believes it's probably in terrible shape.
Trim: Mannino loves the old-school baseboards and door casings (depicted in other photos of the unit), so he'd hang onto them. "They're really big and elegant," he says. He would, however, strip them down and repaint them in order to make them truly stand out. And to balance the oversized baseboards, he'd put in some oversized crown molding, as well. He'd also add the rectangular panel moldings in here to tie it together with the foyer. This could cost up to $10,000 for the entire apartment.
Floors: Mannino would put in new, wide-panel white oak floors throughout the apartment. "They're a nice light color and will have a luxury feel to them," he says. "These should cost around $10 per square foot.
Lighting: He'd install a new surface-mounted light that'll be a "really nice showpiece." This Coastal Current LED semi-flushmount is $420 at Lumens.
Paint: "It's a bigger room, so I'd like to create some drama in here with a really rich color," Mannino says. He'd go with Benjamin Moore's Knoxville Gray, a grayish-green. "It's a very rich color, but not too dark for a living room." And since he's a fan of the monochromatic look—and feels that it'll make the room feel even larger than it already is—he'd even paint the trim this same color. A gallon is $80.
Window Treatments: Mannino would put in patterned ripple-folded drapes as he feels that they'll match with the more traditional feel of the apartment. Prices for these ripple-folded drapes start at $540 at The Shade Store.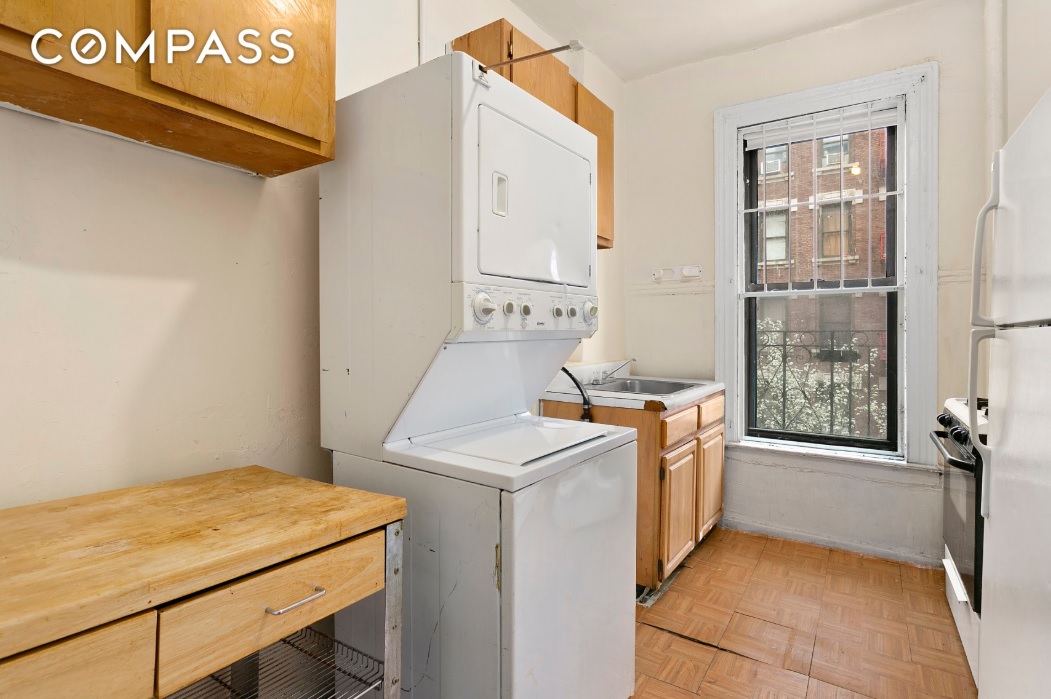 Add wood floors to the kitchen
Floors: Mannino would extend the wood floors in here, as well. He feels that having different flooring in this kitchen would only serve to "compartmentalize it" and make it feel smaller.
Cabinets: The number of cabinets in here is rather sparse at the moment. Plus, they're not in the best condition. As such, Mannino would replace them with full overlay cabinets made of solid wood that he'd paint a rich black.
He'd also add some open shelves to "create some openness" in this kitchen. He believes that these should be made of walnut, as it'll look great with the rich black of the new cabinets.
In addition, he'd build a new cabinet around the washer/dryer in an effort to conceal it since it looks somewhat out of place in a kitchen. "It'll look like a pantry, but it'll actually have the washer/dryer in there," he says.
These cabinets can cost up to $25,000. A gallon of Sherwin-Williams' Iron Ore is $38.
Countertops/backsplash: He'd go with leathered Taj Mahal marble for the countertops and backsplash. "It's a creamy color that will go well with the walnut and Iron Ore and it has a beautiful leathered feel to it," he says. This can cost up to $10,000.
Appliances: Panel-ready appliances are definitely in order in here. "The kitchen is so small and you don't want the appliances to take over the whole kitchen," he says. He thinks you could get a new fridge, range, and possibly even a dishwasher for under $15,000.
Lighting: Mannino would put in a linear track light that he says will be "customizable to the user." He'd also add under-cabinet lights. The track light can probably be found for under $500. These Bazz Lighting puck lights are $27 each at build.com.
Sink: He'd swap out the old sink for a new stainless steel under-mount sink. This Elkay under-mount sink is $281 at build.com.
Faucet: Brass fixtures would play nicely off the walnut accents and black cabinets, Mannino says. This Delta Addison single-handle pull-down spray faucet is $285 at The Home Depot.
New lighting for the dining room
Floors: He'd put new white oak floors in the dining room too (shown top), just as in the living room.
Trim: He'd do the same as in the living room—add in panel and crown molding, and strip and repaint the baseboards.
Lighting: Mannino would put a pendant light over the dining table and add two wall sconces to the non-window wall. This Capiz Scalloped Chandelier is $298 at Serena & Lily. This Tyrone one-light sconce is $73 at AllModern.
Paint: To connect it to the foyer, he'd paint it the same color, Smokey Taupe.
Window treatments: He'd again put up ripple-folded drapes to tie the rooms together.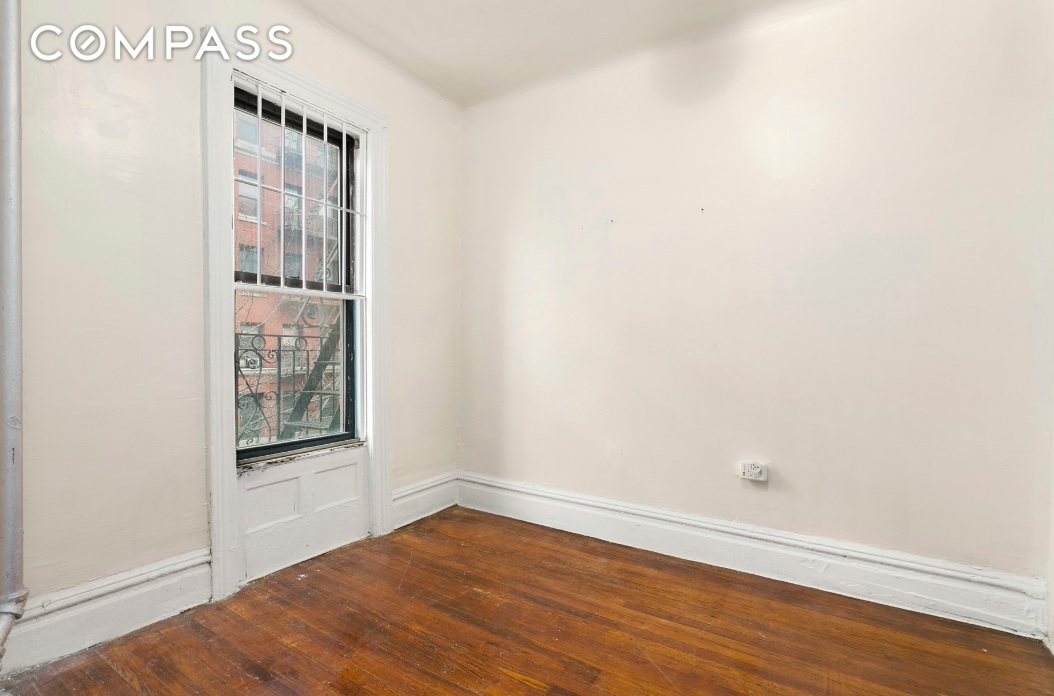 Make the bedroom a place to relax
"I'm going for understated in here," Mannino says. "It should be a place to relax."
Floors: He'd extend the wood floors in here, as well, so as to make the apartment feel more cohesive.
Paint: He'd paint the walls with Benjamin Moore's Salamander, a deep green that he says will be conducive to sleep. A gallon is $80.
Lighting: Mannino thinks that what this room needs is a ceiling fan with a light in the center of it, as well as two wall sconces—one on either side of the bed. This Light Wave ceiling fan is $280 at Lumens. These Hotel 60117 LED Wall Sconces are $160 each, also at Lumens.
Window treatments: He'd put up the same ripple-folded drapes as in the living room, but since it's a bedroom, he'd add blackout shades underneath. These blackout roller shades are $166 at Select Blinds.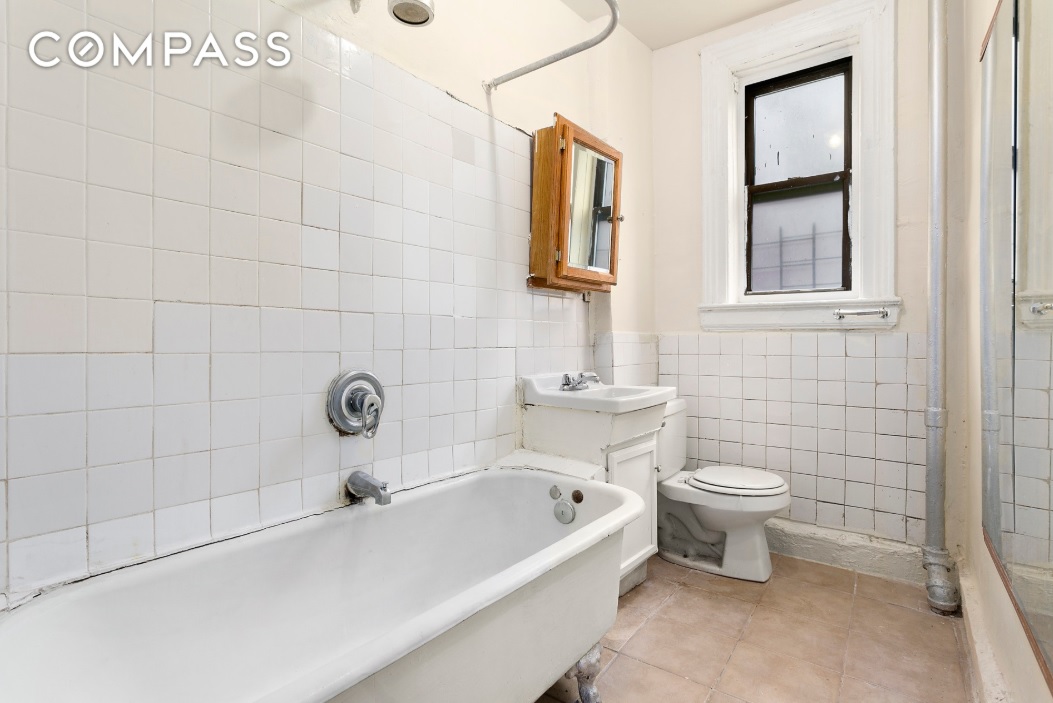 Ditch the tub in the bathroom
Tub: He doesn't think that the free-standing bathtub belongs in this small bathroom. "It must have space to be appreciated," he says. Plus, he doesn't think that a tub is at all necessary in a one-bedroom unit, which will probably only house adults. He'd therefore swap it out for a standing shower. This could cost up to $5,000.
Walls: He'd tile the walls all the way up to the ceiling with large-format porcelain tiles. "I like the oversized look," he says, adding that fewer grout lines means it'll be easier to clean. Prices for tiles will vary based upon what the occupant chooses, but will probably be around $25 a square foot or so.
Floors: He'd choose small white hexagonal Carrara marble tiles. These should also be around $25 a square foot.
Vanity: "You really need some storage in here," Mannino says. He'd therefore put in a 30-inch single vanity that can house all your toiletries. This Goodin vanity is $410 at Wayfair.
Toilet: A new toilet will probably be necessary. He'd go with a one-piece Toto toilet. This one is $354 at build.com.
Medicine cabinet: He thinks a recessed cabinet would look cleaner as it won't project out into the room quite as much. This Home Decorators Collection medicine cabinet is $59 at The Home Depot.
Lighting: Mannino would put in recessed lights—one over the shower and two in the remainder of the space. These should cost around $900. He'd also put up a single wall sconce over the medicine cabinet. This Double Bullet glass wall sconce is $111 at Shades of Light.
Fixtures: He likes the look of black plumbing fixtures. These Delta fixtures are $726 at build.com.
Heat pipe: He'd paint it black so it matches the plumbing fixtures. A gallon of Benjamin Moore's Black is $80.
Brick Underground articles occasionally include the expertise of, or information about, advertising partners when relevant to the story. We will never promote an advertiser's product without making the relationship clear to our readers.