Architect Alan Berman of Archetype Architecture thinks there's a lot to like about this Upper West Side two bedroom, 140 West End Ave., #8H. He's especially fond of its location (close to Lincoln Center) and the fact that you won't really have to change the basic layout of the apartment, which should cut costs down considerably.
That said, there are certain things he'd suggest in order to make this apartment, which is on the market for $1,309,000, more livable.
In this week's Reno Ready, Berman recommends removing some of the walls currently surrounding the closed-off kitchen, gutting that kitchen entirely, and using fun paint colors throughout the apartment in order to inject a little personality into the space.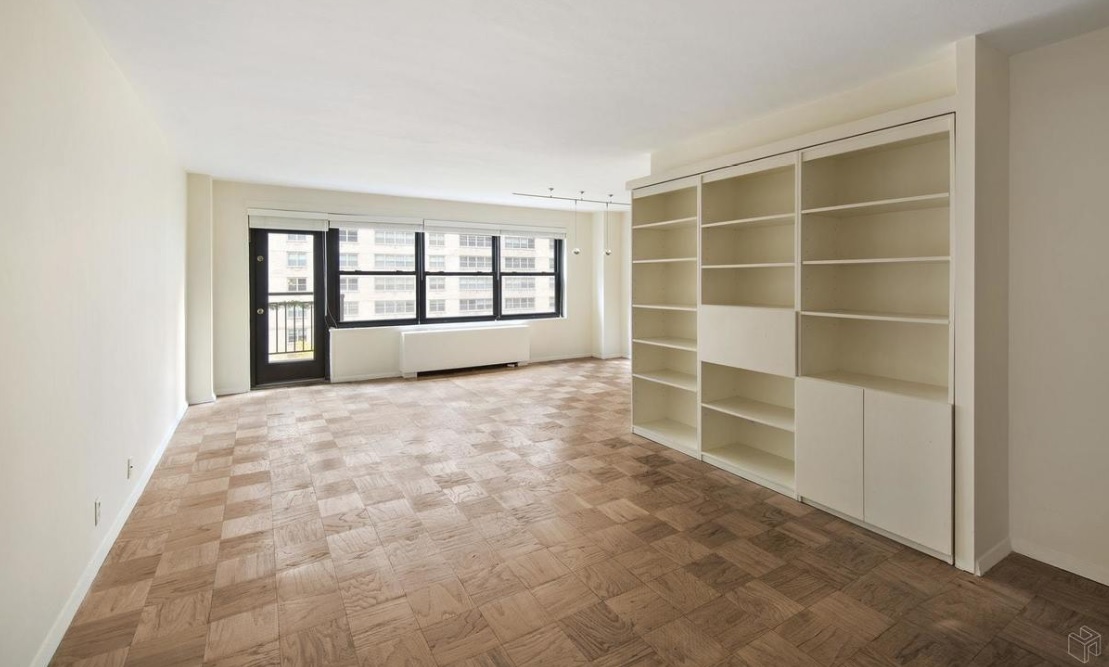 Fix the flooring in the living room/dining room
Floors: The floors have clearly sustained some damage over the years, Berman says, noting a number of instances where they've been patched. If the new occupant is on a strict budget, he'd advise sanding them down and finishing them with a nice "non-yellow" color. If there's some extra money, though, he'd prefer installing new wide-plank wood flooring.
But this might be actually be problematic (and pricey) in this instance. Berman explains that he's seen asbestos underneath the flooring in similar buildings. If that's the case here, you'd have to remove the asbestos after ripping out the flooring—which can potentially add $20,000 to the project.
Instead of this, Berman suggests simply installing the new flooring on top of the old flooring. "As long as you don't disturb [the asbestos], you should be fine," he says. This new floor should also cost around $20,000.
Lighting: Since the ceilings are concrete, you won't be able to install any new overhead lights. Berman would remove the track above the dining room table and instead put up "one beautiful chandelier." Prices for this Hope Suspension chandelier start at $1,395 at Lumens.
In the living room itself, he'd either go with an assortment of table and standing lamps or wall sconces. Prices for this Tolomeo Mega floor lamp start at $945 at Lumens. Prices for this Leaf table lamp start at $209, also at Lumens.
If there's a little more wiggle room in the budget, he'd have a soffit built on the perimeter of the room and run some lights into that soffit. But that would cost between $15,000 and $20,000—a lot more than a few lamps scattered throughout the room.
Paint: "Most people think white for resale," Berman says. "I don't like white." He believes you give a space more character by adding color. "People are going with dark blues and dark reds these days," he says. "If you're not that bold, you can do a pale green or a gray. It'll just give things more pop and color."
A gallon of Dark Royal Blue is $75 at Benjamin Moore. He thinks that painting the entire apartment—including any patching that'll be required—should cost between $12,000 and $15,000.
Window treatments: Berman would put up simple fabric Roman shades to add some texture to the room. He'd prefer to go with a single large shade for the three windows in here and a second shade for the door. Prices for these Bali custom-tailored Roman shades start at $78 at blinds.com.
As for color, he'd recommend something complementary to the paint on the walls. He'd stay away from white, though, as he believes that it would get dirty quickly.
Heater: There are a number of options as to how to deal with the unit. "You can spend $1,500 for a wall-to-wall cover," Berman says. "You could paint it silver to have it stand out." Or you could simply paint it the same color as the walls so as to have it blend in.
Baseboards: The current baseboards, which he believes are about two- or three-inches-long, are "old and cheap," so Berman would replace them with new five-inch baseboards that will look cleaner and more solid.
Doors: The doors throughout the apartment are probably flimsy hollow-core doors. Berman would replace them all with more substantial solid-core doors. These should cost around $500 each.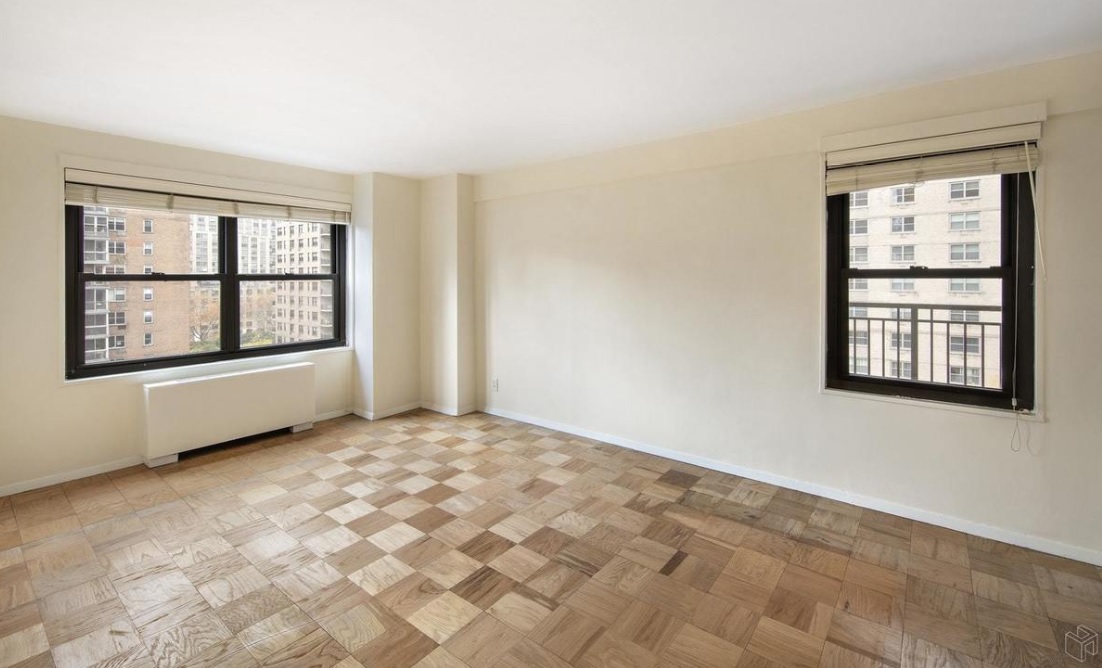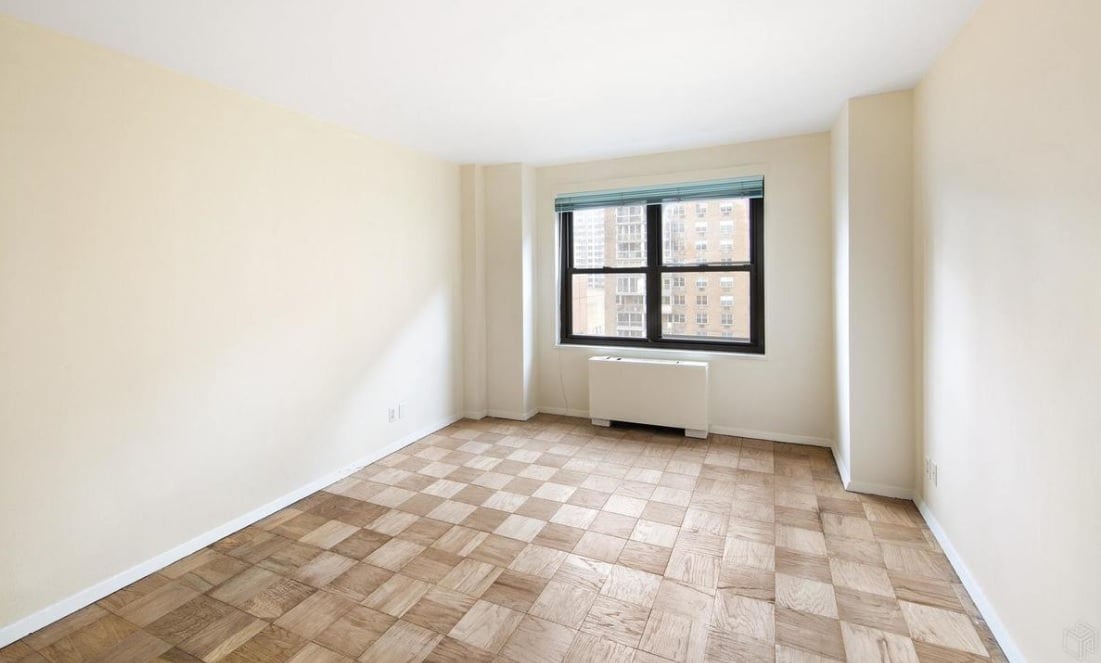 Think about color in the bedrooms
He'd treat the floors the same as in the living room, install new baseboards, and do whatever he did to the radiator there in both of these rooms, too. He'd also put up Roman shades (in a shade that plays off the wall color) to keep things looking consistent.
Floor: He'd add an area rug atop the wood floor in both bedrooms as "it gives a warm feeling" and keeps you from having to put your feet on a cold floor first thing in the morning. This 9x12 Allison Burgundy area rug is $304 at Wayfair.
Paint: If the new resident is up for it, he might go for a color in the bedrooms, too. But that's totally a personal preference, Berman says.
Lighting: Since you can't drill into the concrete ceiling in the bedrooms, he'd opt for a pair of adjustable reading lights on either side of the bed, as well as a couple of floor lamps. This Arc Dome Shade Modern Swing Arm Wall Light is $397 at Shades of Light.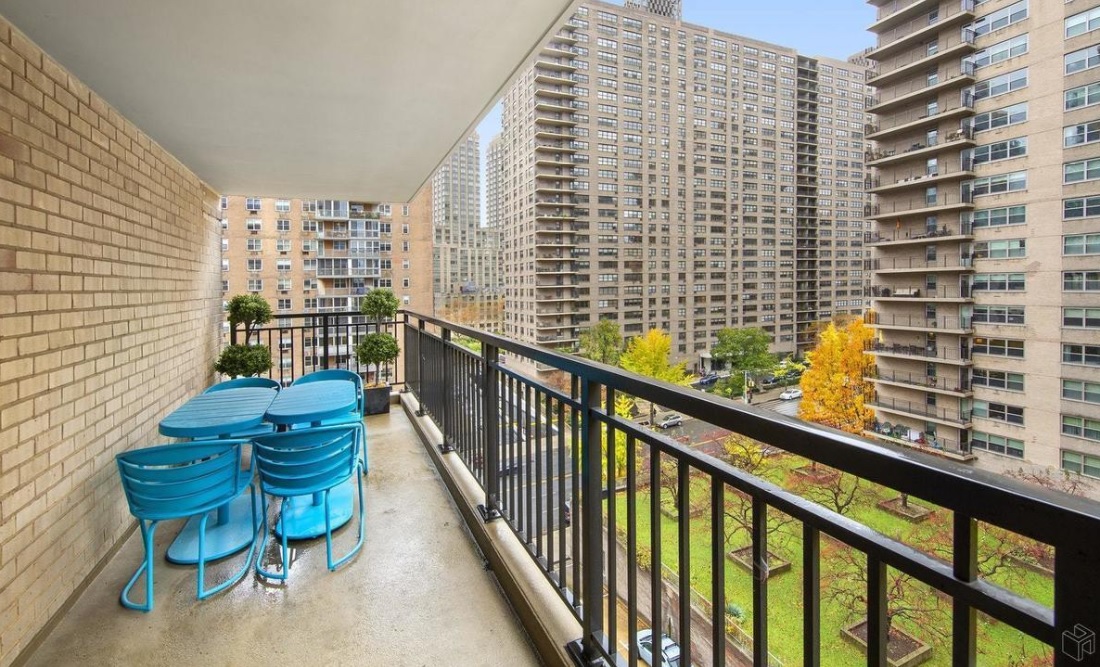 Make the terrace into another living space
"Buildings want them to look uniform so they limit what you can do," Berman says.
Furniture: He'd add in a small table and some chairs so "that it becomes another living space half the year." This set includes a cast aluminum table and two chairs, $99 on Amazon.com.
Plants: Berman would also bring in some greenery to (literally) spruce things up. This Majesty Palm plant comes in a grower pot. It's $35 at The Home Depot.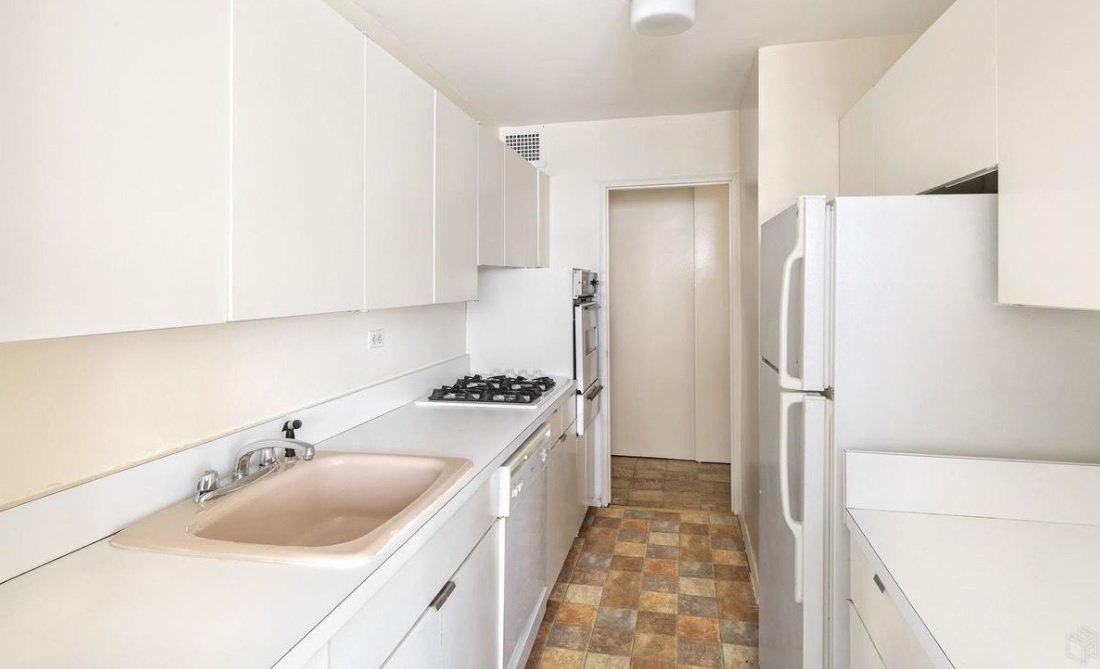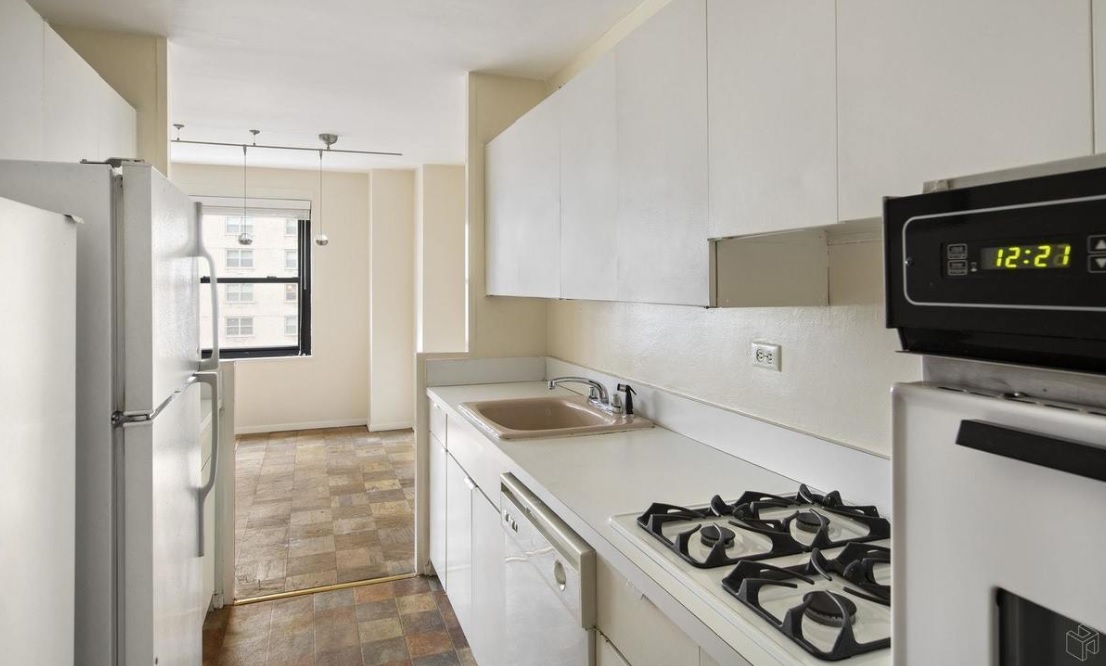 Kitchen needs a complete redo
Berman believes that gutting this kitchen will cost "$75,000 minimum. There's no two ways around it."
Walls: In order to open the kitchen up to the living space, Berman would remove all the walls in here—except for the back wall behind the stove/sink/dishwasher. He'd then relocate the fridge to the other side.
Closet: There's a closet just outside the kitchen when you first walk into the apartment. Berman would take off the doors, remove whatever's inside, and simply extend the kitchen into this space. The extra counter space should be an additional $1,500 to $2,000. And the extra cabinets should be an additional $2,000 or so. "It'll make the kitchen feel 33 percent larger," he says.
Cabinets: He'd choose mid-range cabinets "made of plywood, not pressboard, so they'll last forever," he says. He'd go with paint-grade solid wood for the doors, and extend them all the way up to the ceiling to maximize storage space. There's a vent in the corner on top of the ovens, but Berman thinks that that could easily be covered up by a matching cabinet door with a grille in it so that everything will work properly, but the unsightly vent will be hidden from view.
He'd consider going with aqua cabinets or a mix of blue and white as the two-tone look is very in right now. New cabinets should cost around $30,000 to $35,000.
Countertops: Berman would choose quartz or Caesarstone since they're "resilient, durable, and don't stain." He'd prefer something with a marble look with lots of veining. This should cost $5,000 to $7,000.
Backsplash: A lot of people simply run the countertop material up the wall to serve as the backsplash, but Berman isn't a fan of doing that. "I like to do something separate and have fun with the tile," he says. "Pretend you're wearing a gray suit, but you have a fun tie." He'd opt for a glass or ceramic mosaic. This should cost between $2,000 and $3,000 (plus installation).
Floors: Now that the kitchen is open to the living room, he'd go ahead and extend the wood in here to make it look seamless.
Appliances: "People go crazy and spend $23,000 on a whole Sub-Zero package," he says. "But you can get a perfectly nice package for around $10,000." He'd go for stainless or possibly graphite, which he describes as a "gray stainless" as it's very popular right now. "But will it be out in five years?"
This four-piece Viking appliance package, which include a French-door fridge, a gas range, a dishwasher, and a range hood is $8,787 at AJMadison.com.  
Lighting: Since the ceilings are low, Berman recommends flush-mounted lights that are decorative to "give the space a little flair and pop." He'd add under-cabinet lights, as well. This Luxo flush-mount is $198 at Lumens.
Sink: A new sink and faucet will also be necessary. This Elkay under-mount sink is $446. This Kohler single-handle pull-down spray faucet is $449 at eFaucets.com.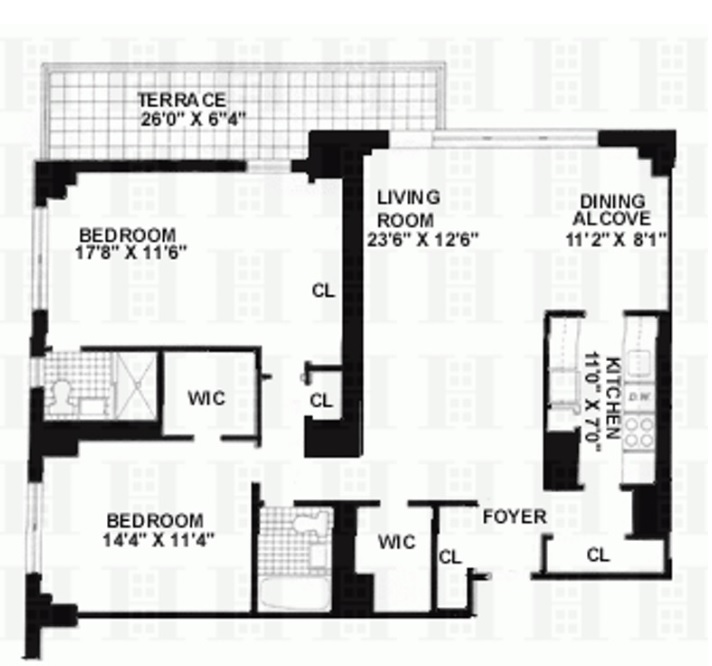 No photos of bathrooms means they probably need work
There aren't any photos of the bathrooms, but Berman thinks it's safe to assume that they haven't been updated in 20 or 30 years. Therefore, he'd gut-renovate both of them.
"Labor for a bathroom in New York City is $20,000 per," he says, meaning you'll spend at least $40,000 just to have the work done. Materials will be $10,000 minimum for each bathroom.
And he suggests spending a little more money on the master bath. "People expect it to be more luxurious," he says.
Toilet: New toilets are in order for each bathroom. This Toto Carlyle II is $695 at Lowe's.
Vanity: He'd order new vanities for each bathroom, as well. This wall-hung piece is $698 at houzz.com.
Tub/Sliding doors: New tubs will be around $700 each. Glass sliding doors will probably be $2,000 or so for each of them.
Medicine cabinet: New medicine cabinets will cost between $400 and $1,000 depending on size and style.
Lighting: Illuminating these spaces will probably cost between $200 and $1,000, he says.
Tile: Porcelain tiles for the walls and floors will be at least $2,000 to $3,000, Berman says.
Brick Underground articles occasionally include the expertise of, or information about, advertising partners when relevant to the story. We will never promote an advertiser's product without making the relationship clear to our readers.