Brick Underground supports our readers with product recommendations specifically curated for New Yorkers. If you buy something through our links, we may earn an affiliate commission.
This Sheepshead Bay one bedroom, 2711 Ave., X, #6D is asking $225,000 and has a lot going for it, according to architect and Feng Shui expert Anjie Cho, including a "workable" floor plan, a private balcony, and decent-looking floors.
Still, there are lots of things that could be improved, such as the prodigiously peach bathroom, which she believes needs to be gutted immediately. "The wallpaper. That vanity. That gray tub. Oh my God," she says.
She also hates the tiny, makeshift sunroom between the living room and terrace—which accounts for the second layer of windows visible behind the original windows—as well as two terrace doors. It takes precious square footage away from the terrace and makes the back wall in the living room look too busy. It's also fairly shabby-looking, she says, noting the exposed wiring and "dingy" doors. "It's the first thing you see when you walk in. It doesn't make a very good impression."
In this week's Reno Ready, Cho describes her plans for an all-new bathroom, how she'd change up the plain-looking kitchen, and why it would actually benefit the new occupant to remove a couple of closets in the apartment.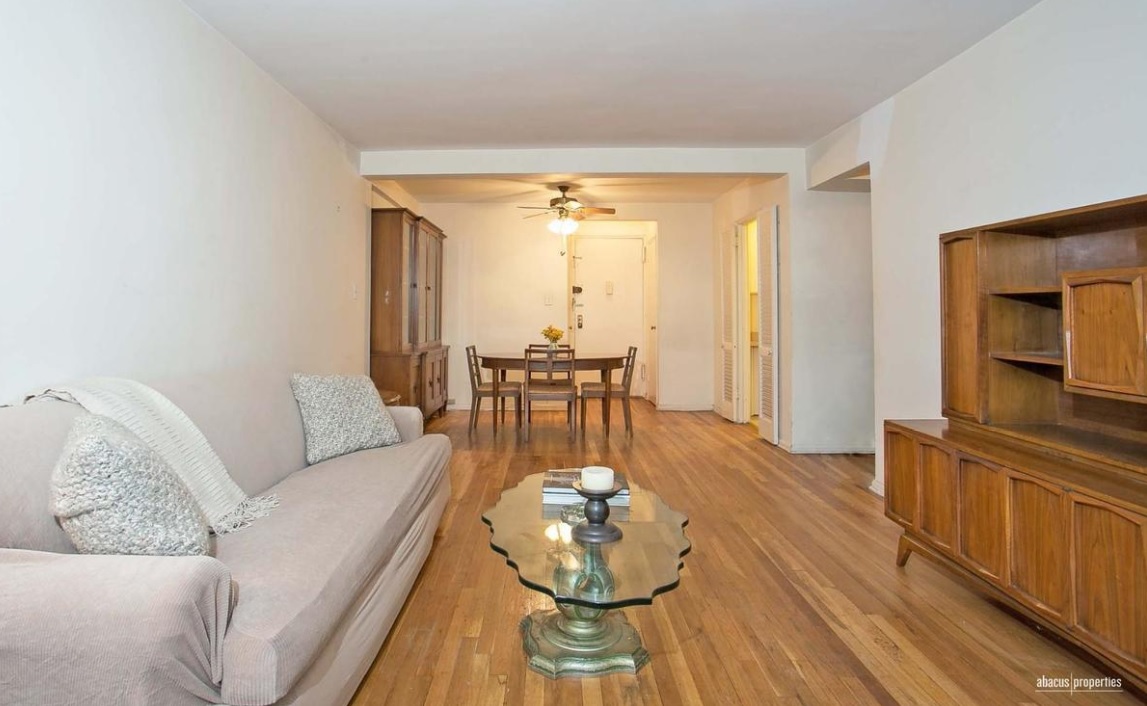 Think crisp and clean in the living room
Paint: "I'd really like to emphasize the view and not distract with color," Cho says, so she'd keep things crisp and clean in here with Benjamin Moore's Simply White, $75 a gallon. Before painting, she'd also tidy up that back wall, which has unsightly exposed wiring. Repainting the entire apartment (including fixing up that wall) should be about $5,000.
Terrace doors: Because of the addition of that weird little sunroom, there are now two layers of doors leading out to the terrace. Cho would get rid of the back one and replace the front one, which she says looks "too suburban or country" for this space, and replace it with a more modern metal-framed door that's been painted white to match the existing window frames. She'd also have the back layer of windows taken out so that the "sunroom" will no longer exist. This should cost about $2,000.
Radiator cover: Cho suggests getting a radiator cover to hide the "unsightly" heating unit and air conditioner. "I'd get white so it blends into the wall and things look more peaceful over there," she says. A custom wood cover with a grille should be around $2,000. Ready-made ones will be significantly less, around $250, but Cho notes that they're often "not as cute."
Floors: The floors actually look like they're in decent condition, so Cho would simply have them refinished throughout the apartment to keep them looking natural. This should cost about $15 per square foot.
Baseboards: Since the baseboards look pretty beat up, Cho would swap them out for new rectangular pieces that'll be easy to clean and will "kind of disappear." These should cost about $5 per linear foot.
Lighting: It looks as though this ceiling is a concrete slab, meaning that you'd first need to drop the ceiling if you wanted to add any overhead lights. Cho doesn't want to lose any ceiling height in here, so she'd advise having an electrician come in and add two more outlets around the room (as it looks like there aren't enough at the moment) so that you can plug in a few floor lamps. Each new outlet should cost about $300.
Window treatments: She isn't a huge fan of window treatments, so she'd get two roller shades to cover both windows and one for the door. Prices for light-filtering roller shades start at $255 at The Shade Store.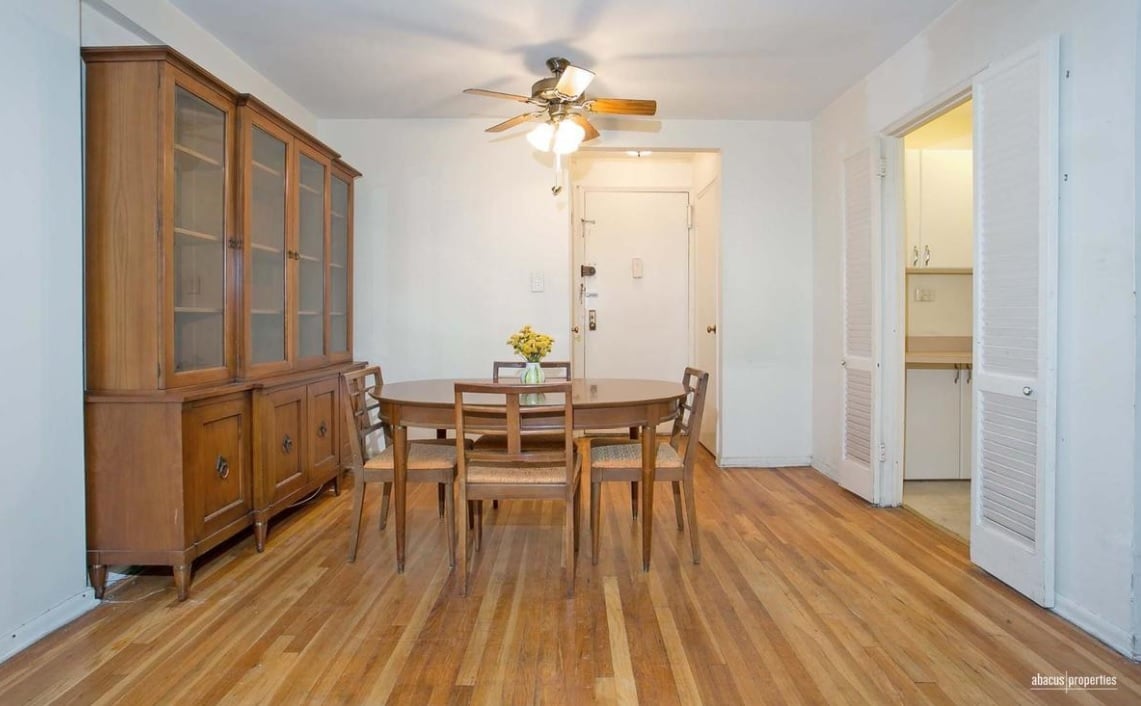 Ditch the fan in the dining area
Since the dining area is essentially an extension of the living room, she'd repaint it with Simply White, refinish the floors, and replace the baseboards in here, too.
Lighting: She doesn't like the old-school fan hovering over the table, explaining that she feels like a fan in a dining room is a "little weird." This tiered drum pendant is $343 at Rejuvenation.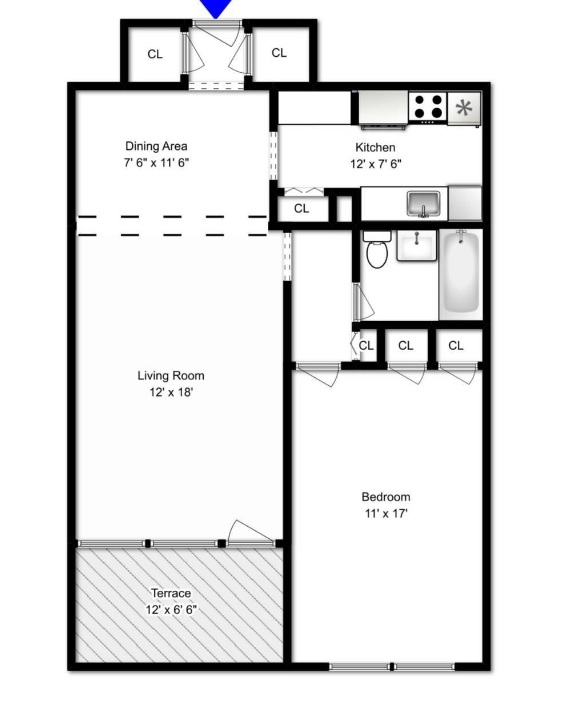 Strip the paint in the entryway
Front door: "It's probably been painted over lots of times," so Cho would have it stripped and repainted white. Or, if the new owner prefers, she'd simply have it stripped and leave it raw.
Closets: There are two closets on either side of the front door, and while conventional wisdom holds that you shouldn't remove storage spaces from small New York City apartments, Cho recommends taking out the one on the left because things are simply "too cramped" when you walk in. You'd then have space to add a bench or an entry table. As for the closet on the right, Cho feels that it's probably deeper than necessary, around 36 inches, when you only really need 24 inches, so she'd lose some of that depth, and add a new door that extends all the way to the ceiling so you can more easily access all that space. This closet work should cost around $15,000.
Lighting: She'd also replace the light on the ceiling with a more contemporary piece. This Cedar & Moss Conifer flush-mount is $279 at Rejuvenation.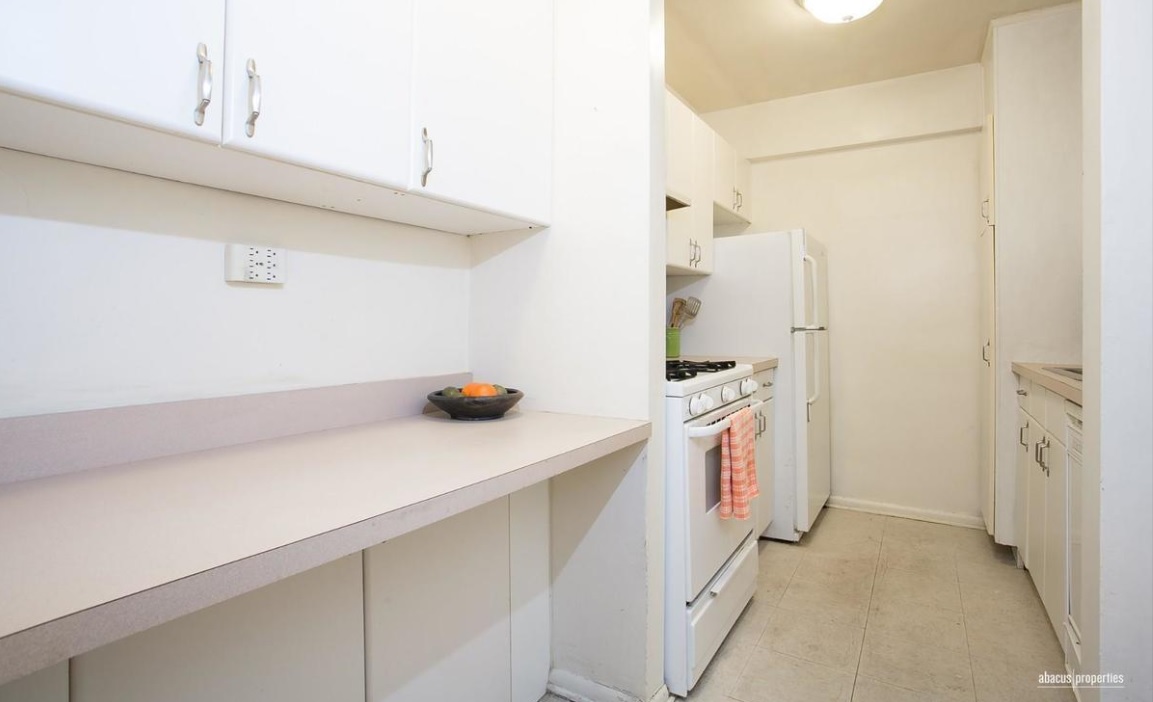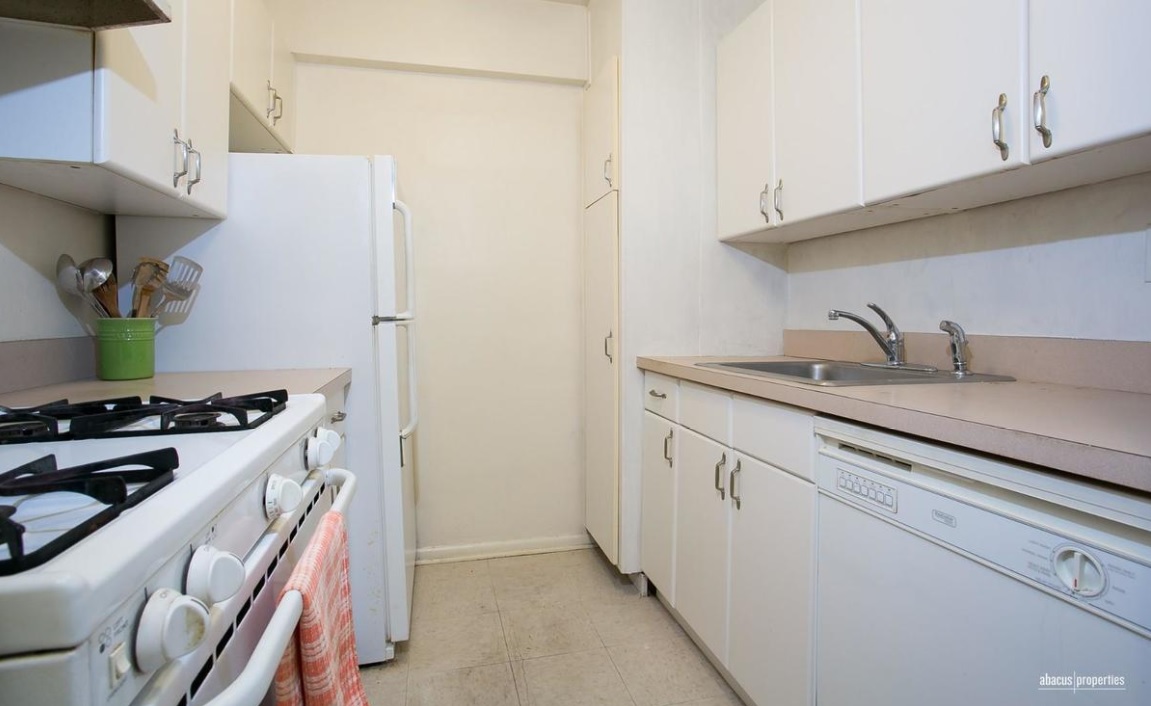 Make the kitchen more functional
Doors: Cho would remove the shutter doors leading to the kitchen "because no one ever uses them and they just sit on the side collecting dust." This should be a negligible expense.
Floors: She'd switch out the scuffed-up tiles for light-gray large-format porcelain tiles. "It's better to use light colors here because there aren't any windows," she says. She also recommends using gray grout "because grout turns gray very quickly anyway." These should cost around $3,000.
Wall: She thinks it's "inconvenient" to have a wall separating the stove from the other side of the kitchen, so she'd remove it.
Cabinets: She'd replace the plain white cabinets with two-toned Shaker-style cabinets—charcoal on the bottom and light gray on top. She'd also add a pantry cabinet across from the fridge. And while it isn't pictured, the floor plans show a closet right when you enter the kitchen. "I'd blow that out and put in cabinets instead because it's more effective for storage." These should cost around $25,000.
Appliances: "That fridge needs to go because everyone hates bending down to get stuff out of a fridge," she says. She'd remove it, as well as the rest of the dated white appliances in this kitchen and replace them with stainless steel pieces that'll look better with the new gray color scheme in here. This counter-depth Samsung French door fridge is $1,249 at AJMadison.com. This Bosch dishwasher is $894, also at AJMadison.com. This Frigidaire free-standing gas range is $893, also at AJMadison.com.
Sink: She'd get a new undermount sink and a new faucet. This Elkay stainless steel sink is $373. This Grohe Minta pull-down high-arc faucet with two-function locking sprayer is $375 at build.com.
Countertops/backsplash: Cho likes to use the same material for the counters and the backsplash so everything looks seamless. Here, she'd go with Caesarstone Calacatta Nuvo, which is white with gray veining. This should cost around $5,000.
Wall: She'd paint the back wall by the fridge with Simply White to keep things bright.
Lighting: Cho recommends dropping the ceiling about four inches and installing five recessed lights. This should cost around $5,000. She'd also add under-cabinet lights. These should be about $1,000.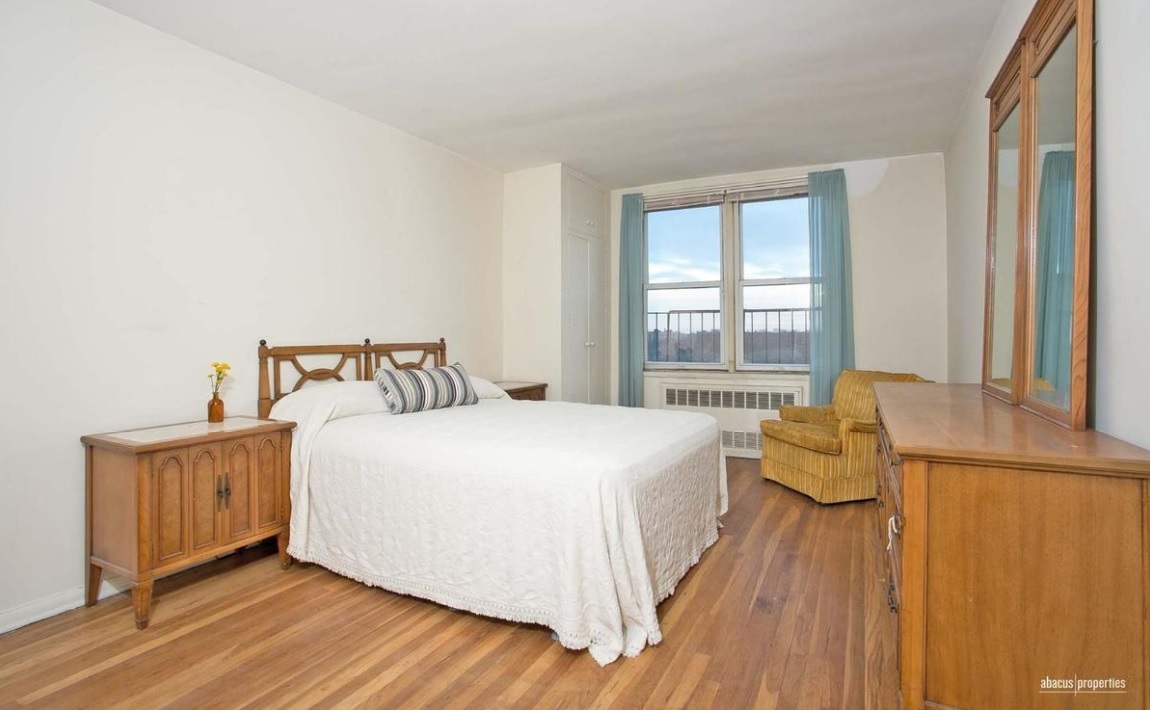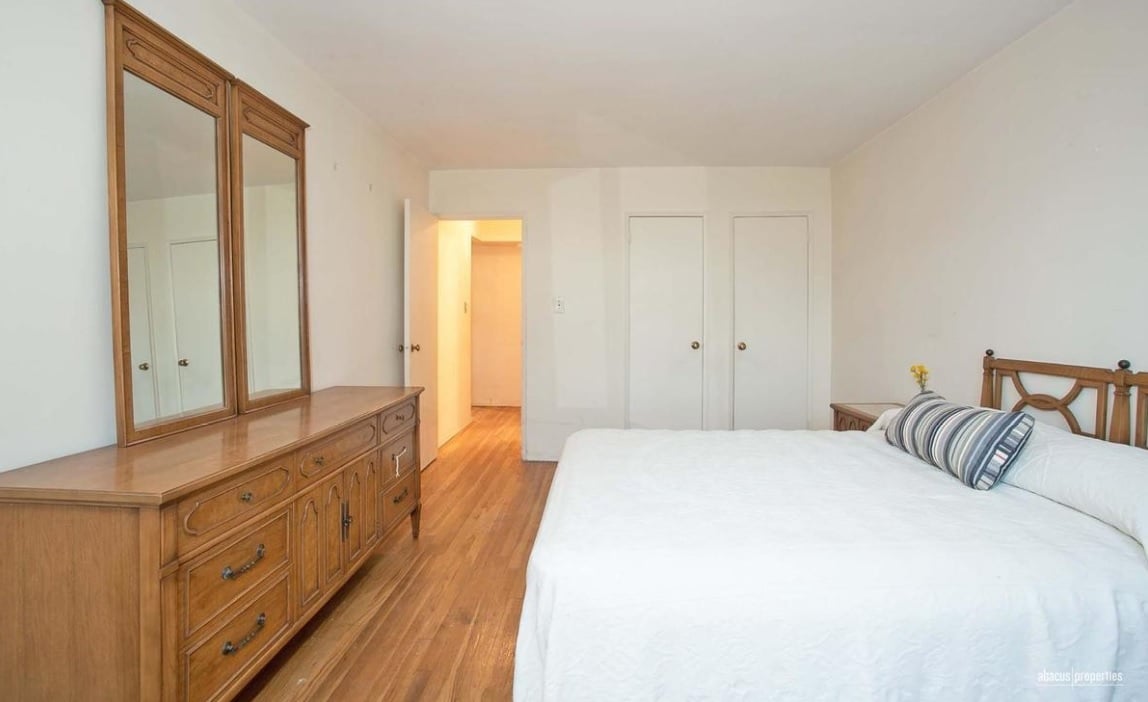 Remove the weird closet in the bedroom
She'd refinish the floors, replace the baseboards, and get a radiator cover in here too.
Window treatments: Cho would take down the drapes and replace them with blackout roller shades. Prices for these blackout shades from The Shade Store start at $255.
Closets: She'd remove the closet by the window, which she believes was added at some point since it isn't on the floor plan. "I don't have a good reason," she says. "It's just weird there." She'd then have enough room to add a seating area or a desk there.
She'd keep both closets on the other side of the room by the door, but would take out the wall between them to make them into one big closet, then replace the doors with ones that extend all the way to the ceiling. She'd also have new interiors done by a company like California Closets.
This closet work should cost around $3,000.
Paint: She'd go with Benjamin Moore's Gray Owl, $75 a gallon. "It's just a nice, calming color for a bedroom," she says. She'd keep the baseboards and ceiling white.
Lighting: She'd add outlets on either side of the bed and then add a single switched outlet across from the bed to add more lamps to the room. This should cost about $1,000.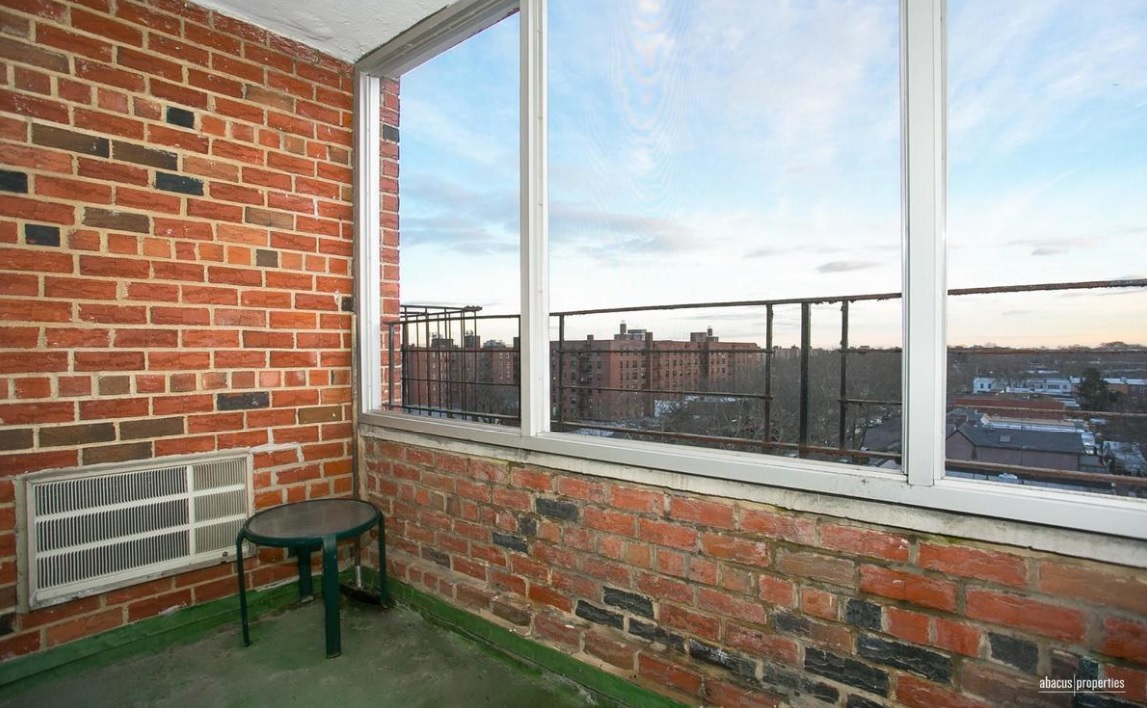 Clean up the terrace
Walls: "This isn't a charming red," Cho says of the exposed brick. As such, she'd put on a little whitewash to soften things a bit.
Floor: She'd repaint the floor with an exterior gray paint, then cover that with wood slats to make things look more fun and outdoorsy. This should cost about $3,000.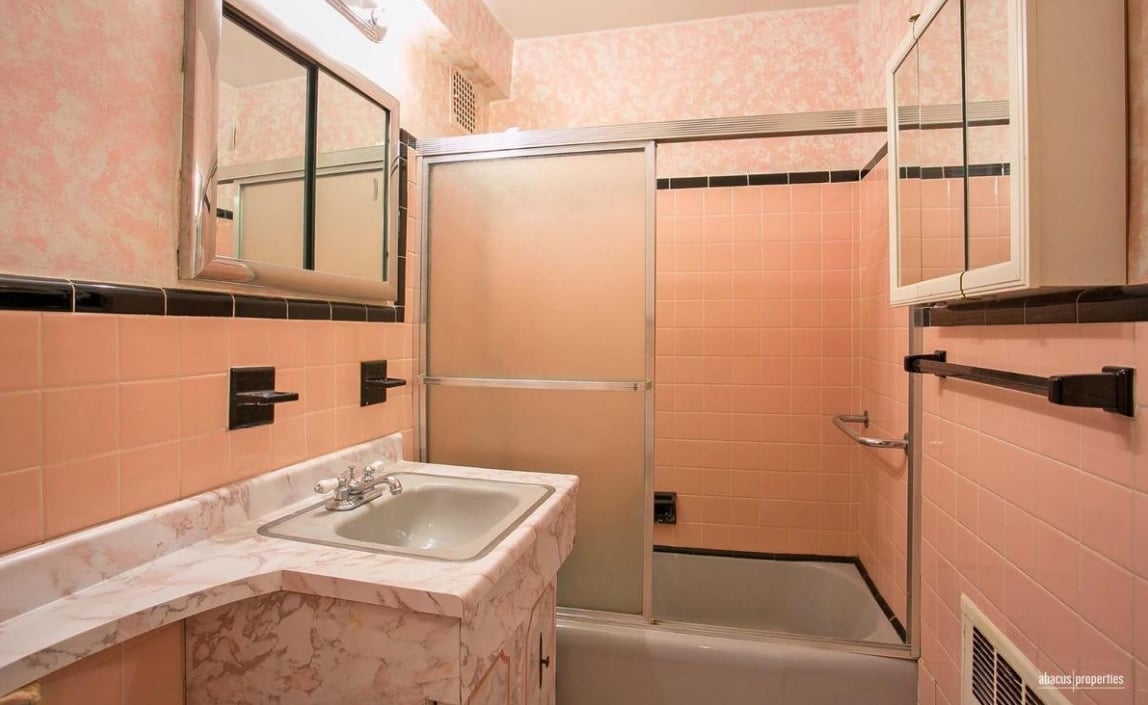 A bathroom that's too peachy, with a weird tub
Bathtub: The gray bathtub is bizarre, so she'd swap it out for a simple white tub. This Kohler bathtub is $756 at build.com.
Shower enclosure: She'd prefer a lower-profile shower enclosure with less visible metal trim. A simple glass one with hinged doors should cost around $2,000.
Tiles: She'd go with dark-gray porcelain tiles on the floor, and light-gray or white tiles in a brick pattern on the walls. She'd choose large-format tiles for both since fewer grout lines means they'll be easier to clean. These should all cost $5 per square foot.
Medicine cabinet: There appear to be two medicine cabinets in this bathroom at the moment—one above the sink and one directly across from it. She'd lose that second one and replace the first one with a recessed medicine cabinet with an outlet inside it. This Robern medicine cabinet is $1,679.
Vanity: She'd get a new black wood vanity, like this Daytona from Empire Industries. This should cost between $1,000 and $2,000, depending on size and number of drawers.
Faucet/showerhead: She'd add a black faucet to match the new vanity, like this one, $952 at Brizo.com. These tub and shower controls are $1,008, also at Brizo.
Toilet: Most folks want a new toilet when they're moving into a new place. This wall-hung Toto is $255 at The Home Depot.
Lighting: She'd get a new light above the vanity, like this Level LED bath light from YLighting. Prices start at $209.