Architect Rosario S. Mannino thinks there's lots to like about this $679,000 Lenox Hill one bedroom, 300 East 71st St., #17B, especially the floors, which look like they might recently have been refinished, and the fact that there's a good number of windows for an apartment of this size.
Still, he'd make a number of updates to the apartment if given the opportunity to do so. In this week's Reno Ready, Mannino runs through his ideas for the co-op, including gutting the bathroom and opening up the "dark, tucked-away" kitchen to the living room since its "inconsistent with today's more open, modern lifestyle."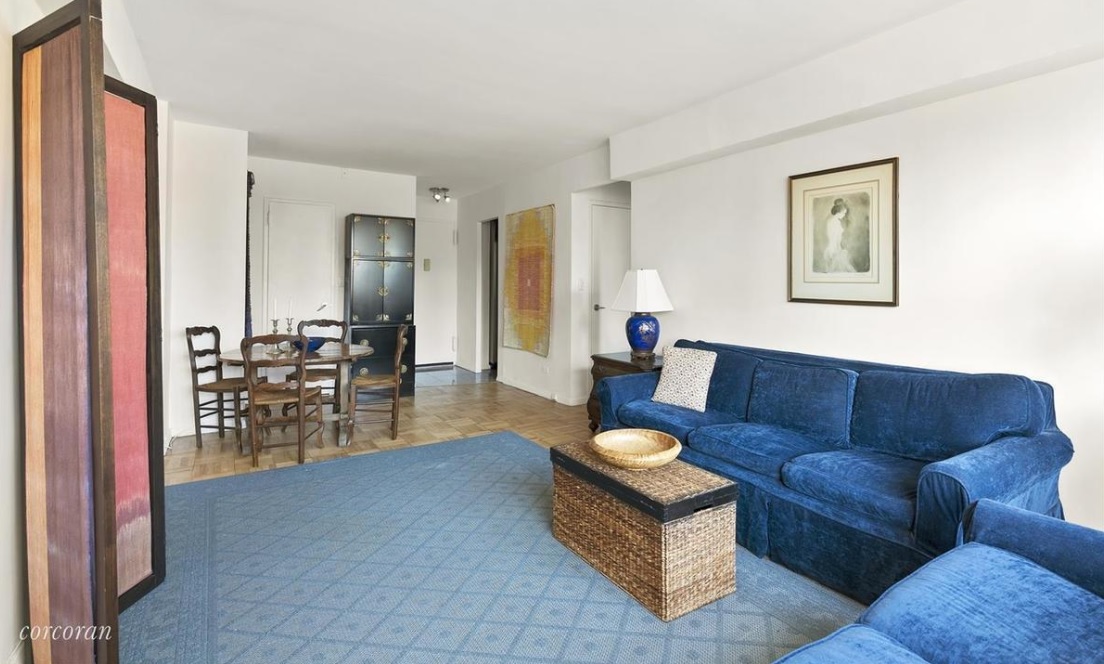 Consolidate the closets in the living room
Closet: The front door opens right into a closet door. Mannino would remove the door and combine that closet space with the closet that's right behind it. He'd then install a double door facing into the living room—away from the front door. This should cost around $2,000.
Trim: Mannino would replace the dated trim with tall, recessed baseboards. "It's a much cleaner look and it'll really modernize the space," he says. New baseboards for the entire apartment should cost about $12,000.
Soffits: There are a number of beams of different lengths and widths up high on the walls around the room, and it makes things look a little disjointed. "I'd square off or simplify the soffits to make things feel more cohesive," he says. It should cost around $5,000 to make a more consistent soffit line in this room.
Lighting: He'd add some rope lighting to the new soffits to create some indirect ambient lighting in the room. LED rope lights and electrical work should cost about $2,000. He also recommends adding small puck lights inside the soffits so that the lights are essentially hidden from view. It should cost about $7,000 to add puck lights to the living room and bedroom.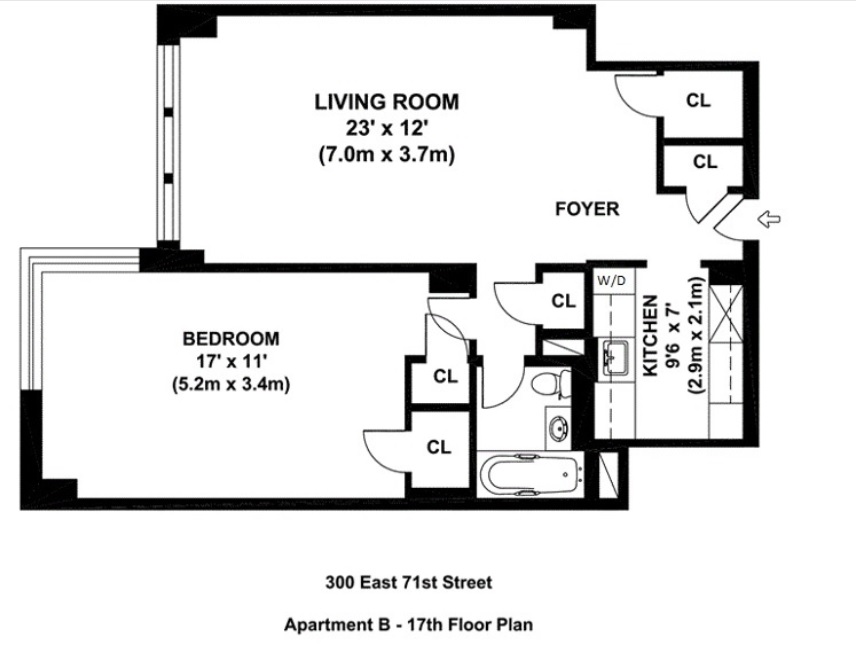 Floors: Mannino thinks the floors are in pretty good shape, but he isn't a fan of the yellowish hue that they've taken on over the years. He'd instead opt for a dark, ebony stain that'd allow the floors to truly shine. It should cost around $7,000 to do this throughout the unit.
Paint: "I'd leave it white—keep it fresh and bright," Mannino says. "I want it to feel inviting." A gallon of Chantilly Lace from Benjamin Moore is $80.
Window treatments: Mannino would add a pocket into the soffit above the window to hide a track system for drapes. This should add about $3,000 to the soffit work. Prices for these ripple fold drapes start at $540 at The Shade Store.
Radiator/air conditioner cover: He'd have a custom cover built to hide the "ugly heater" under the window. "It'd make the wall feel nice, more architectural," he says. He'd paint it the same Chantilly Lace as the rest of the room, but use a high-gloss finish so that it stands out. This should cost about $8,000.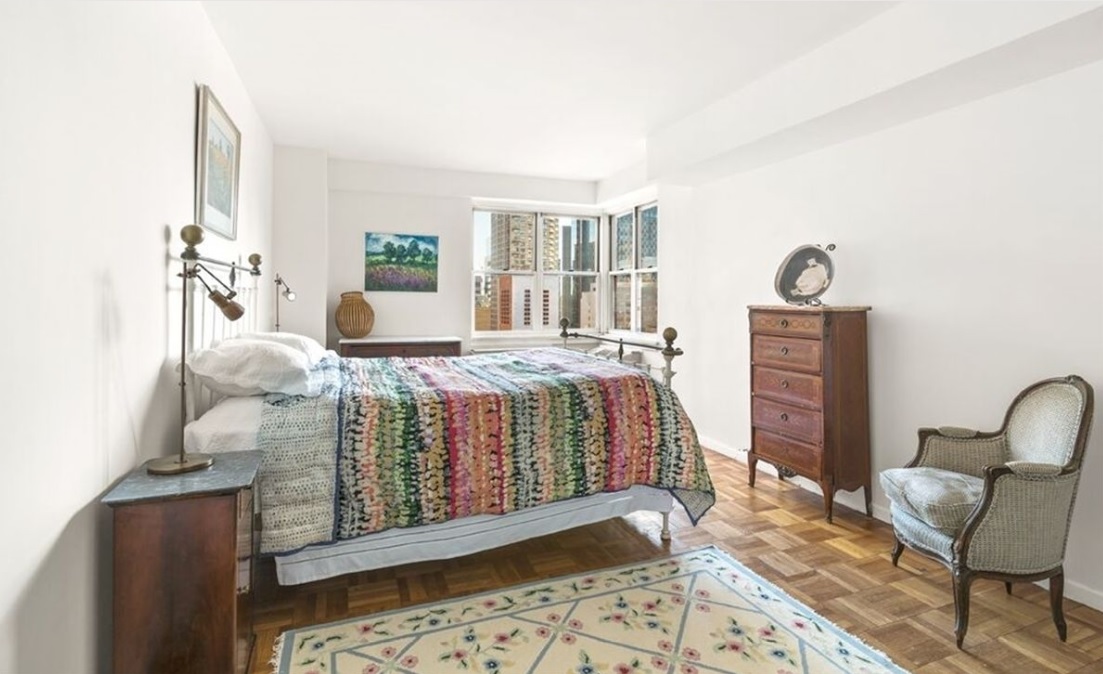 Paint the bedroom darker
He'd replace the baseboards in here, too, stain the floors the same shade of ebony, and add a radiator cover (painted a high-gloss shade of gray to match the walls) so that things feel consistent throughout the apartment. He'd also wrap the soffits all the way around the room for a more symmetrical vibe.
Lighting: Mannino would install small puck lights inside the soffits in here, too. He'd also add a couple of bedside lamps to make reading in bed a little easier. This Mckinley table lamp is $119 on houzz.com.
Paint: "I'd go darker in here—something more intimate and relaxing," he says, such as Benjamin Moore's Kendall Charcoal, a deep gray that'll look good with almost anything.
Window treatments: He'd have a pocket built into the soffit for the window treatments in here, too. But he'd go for blackout roller shades instead of drapes so that the new occupant can more easily block out the sun when he wants to get some shut-eye. Prices for these roller shades from The Shade Store start at $255.
Closets: The bedroom door opens right into a closet door, which he calls "inefficient." So he'd remove that closet door, remove the divider between that closet and the one right behind it, and make one big closet with one big door that faces into the bedroom. This should cost around $2,000.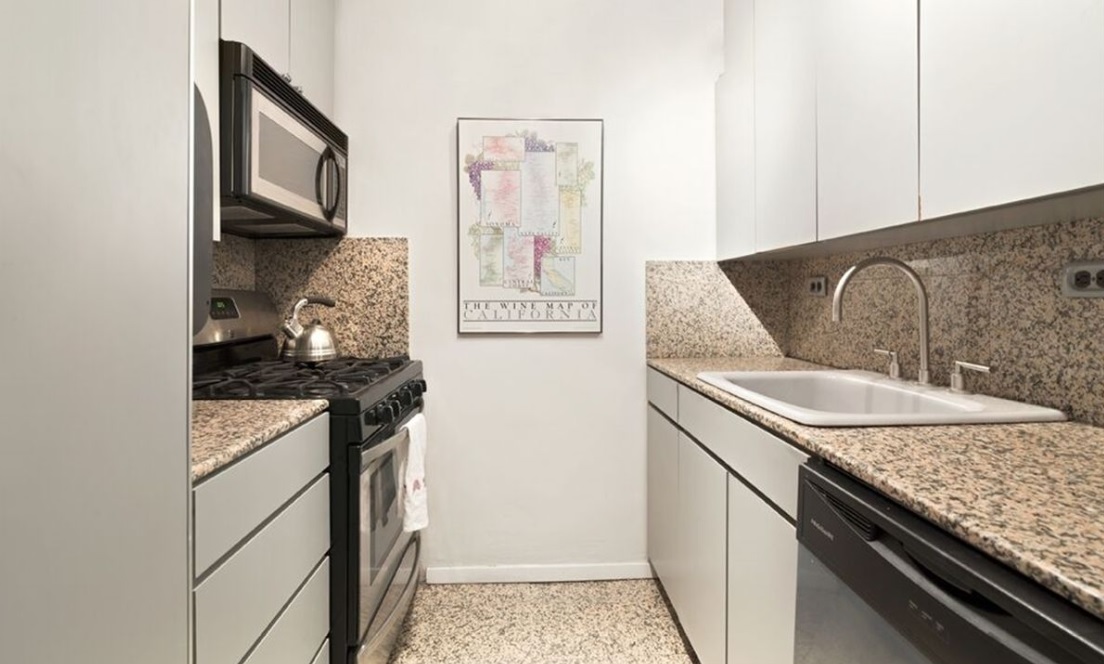 Open up the kitchen
Wall: He'd move the washer/dryer just inside the kitchen to the linen closet right behind it. Once he's moved the laundry machines, he can take out the wall behind them so he can partially open the kitchen up to the living room. Relocating the washer/dryer and opening up the wall should cost around $2,000.
Cabinets: Mannino thinks that modern-looking white, high-gloss lacquer cabinets, like these from SieMatic, would look great in here. He'd have them go all the way up to the ceiling in order to maximize storage space in this small kitchen. These should cost about $12,000.
Countertops/Backsplash: He'd install quartz countertops in Cloudburst Concrete, which has "an industrial look," and will keep things "light and bright." He'd run it up the walls to serve as a backsplash, too. This should cost about $10,000.
Lighting: He'd install small puck lights in the ceiling to light up this kitchen. These should cost about $1,500.
Appliances: He'd get all-new panel-ready appliances to keep the room looking fresh and clean. He'd get a white range so that it better blends with the rest of the appliances/cabinets. This white 30-inch Viking gas range is $5,029 at AJmadison.com. This panel-ready Viking fridge is $9,589 at AJMadison.com. This panel-ready Viking dishwasher is $879, also at AJMadison.com. He'd forego a microwave in favor of a Miele combination steam/speed oven, which he says is "gaining popularity in the luxury market." This Miele is $4,149.
Sink: A new sink is also in order. This Elkay under-mount sink is $446.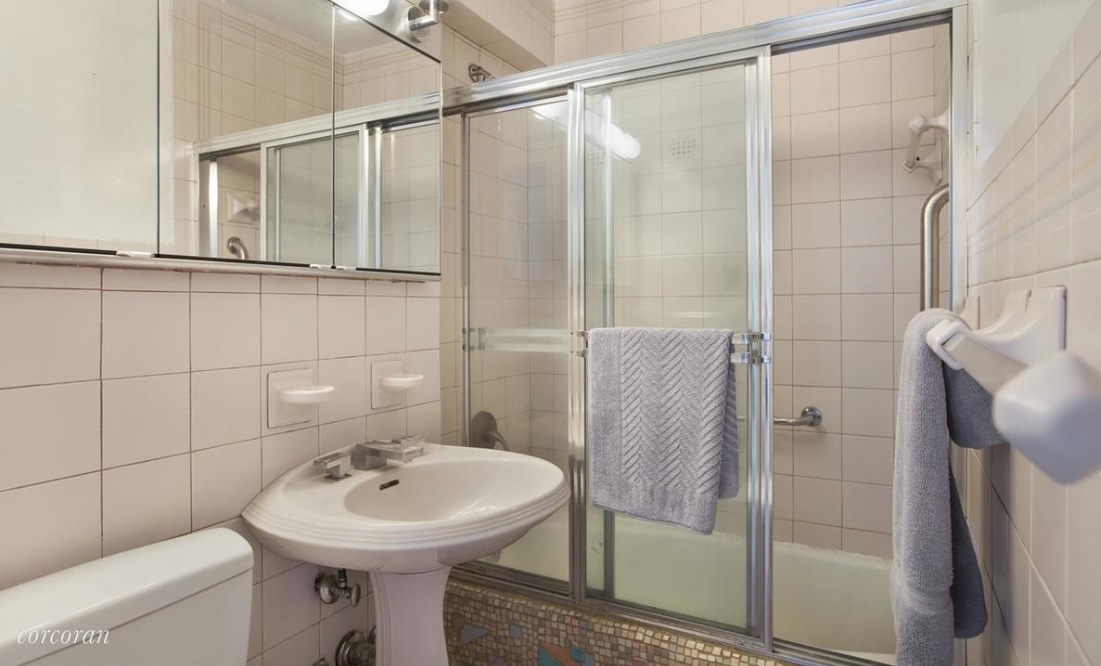 Redo the whole bathroom, except maybe the tub
He'd gut the entire thing, but would keep the tub if it's in decent shape.
Tiles: He'd install solid porcelain slabs of Calacatta Statuario, which is white with gray veining, and looks like marble, on both the walls and floors. "This is such a small bathroom," he says. "There will be fewer grout lines this way." This should cost around $15,000.
Toilet: He'd get a new, modern-looking toilet, like this one-piece Toto toilet in Cotton White, $413 at The Home Depot.
Vanity: Instead of the useless pedestal sink that's here at the moment, he'd opt for a custom floating white lacquer vanity. This should cost around $3,000.
Fixtures: Mannino would replace all the fixtures in the bathroom with newer, sleeker ones, like these from Fantini. These should cost around $3,000.
Shower: He'd replace the glass doors with a single glass barn door. "It looks really sleek," he says. This should cost around $4,000.
Medicine cabinet: He recommends losing the current one and replacing it with a new frameless cabinet with built-in LED lights. This should cost around $600.
Lighting: He'd add a wall sconce above the new medicine cabinet, like this Modern Shielded LED sconce, $161 at Shades of Light. He'd also put in a couple of recessed lights—one above the tub and one above the bathroom area. These should cost about $1,200.
Brick Underground articles occasionally include the expertise of, or information about, advertising partners when relevant to the story. We will never promote an advertiser's product without making the relationship clear to our readers.