Brick Underground supports our readers with product recommendations specifically curated for New Yorkers. If you buy something through our links, we may earn an affiliate commission.
While he likes its affordable $199,999 price tag, architect Greg Epstein of gne Architecture hates everything else about this East Flatbush two bedroom, 10 East 43rd St., #5F, and has a particular antipathy for the kitchen.
"It's tiny," he says. "It's aesthetically disgusting. And it's inadequate." 
In this week's Reno Ready, Epstein summarizes his plans for fixing up the apartment, which includes gutting the kitchen, opening up the boxed-in living room, and potentially converting it into a one bedroom.

Open up the living room
Walls: Epstein would knock down the "two little walls" enclosing the living room (as shown on the floor plan) to make the living room and dining room into one big space. Wall work, including demolition, should cost around $7,500 for the entire apartment.
Paint: He'd keep things simple and neutral by adding a few coats of white. He prefers Chantilly Lace from Benjamin Moore. A gallon is $75.
Floors: He'd pull up the gross old carpeting. "I don't know what's underneath it," he says. "But my guess, after looking at the dining area, is that it's hardwood." Assuming that's correct, he'd then simply refinish it, which should cost around $7 per square foot or so.
Window treatments: He'd lose the gaudy curtains in favor of more modern and "aesthetically nicer" roller shades. Prices for light-filtering roller shades start at $233 at The Shade Store.
Lighting: Epstein thinks the ceilings are concrete, so adding overhead lighting could get complicated. As such, he'd advise going with an assortment of lamps or wall sconces. This Arc Shade one-light floor lamp is $640 at YLighting.
Lose wires: He'd get rid of the "ugly" exposed wiring on the walls. It should cost around $5,000 to channel all the wires in the entire apartment into the walls, and then plaster over them.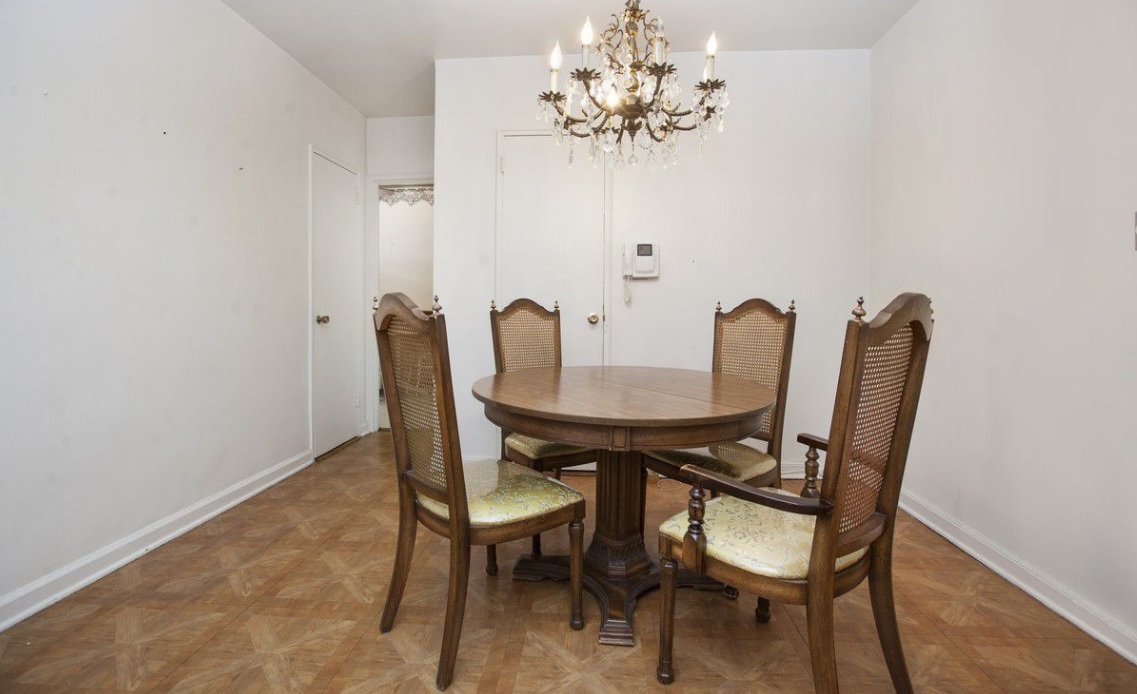 Make an entrance
Wall: He'd add a four-foot-wide wall directly across from the front door (after the closet). "Right now, a lot of this space bleeds into the hallway," Epstein says. "It isn't really defined. This would create a sense of an entrance into the apartment."
Move closet door: Epstein would close up the wall where the closet door is at the moment, and move the opening to the hallway so it isn't visible from the front door. "It ruins the dining room," he says. This should cost around $5,000 or so.
Relocate intercom: The intercom is "smack in the middle" of that back wall, he says, preventing you from putting up any artwork and adding some much-needed character to the space. He'd move it to the hallway at a cost of around $2,500.
Paint: He'd go with Chantilly Lace on the walls in here, too, since the area blends in with the living room.
Lighting: "I'd for sure get rid of that chandelier and get a nicer one," he says. This Flow six-light chandelier is $1,269 at YLighting.
A complete bathroom overhaul
"I'd strip it down and start over," Epstein says of this eyesore of a bathroom.
Make it bigger: If the building allows it, Epstein recommends expanding the cramped bathroom by about a foot and a half. This should cost a few thousand dollars.
Ceiling: He'd rip the flowery wallpaper off the ceiling and paint it white, instead.
Walls: He isn't a fan of the pink tiles on the wall at the moment, so Epstein suggests replacing them with light gray floor-to-ceiling tiles that'll add a contemporary feel to the room. These tiles should cost around $7 per square foot.
Floor: To complement the light-gray walls, he'd opt for dark gray tiles on the floor. These should also cost about $7 per square foot.
Vanity: Once the bathroom is expanded, there'll be room for a bigger vanity that can store a lot more, like this wall-hung one, $499 at The Home Depot.
Shower: He'd swap out the current shower doors for a frameless enclosure. "It just looks nicer," he says. "Less metal." These Dreamline frameless shower doors are $713 at The Home Depot.
Medicine cabinet: Epstein thinks that you won't be able to recess a medicine cabinet in here, so he'd pick a surface-mounted medicine cabinet with a clean look instead. This vintage medicine cabinet is $279 at Pottery Barn.
Toilet: While he's replacing everything else in here, he'd also get a new toilet. This wall-hung Toto is $257 at The Home Depot.
Lighting: He'd choose a simple surface-mounted ceiling light, such as this Vance LED flush-mount from Lumens. Prices start at $295.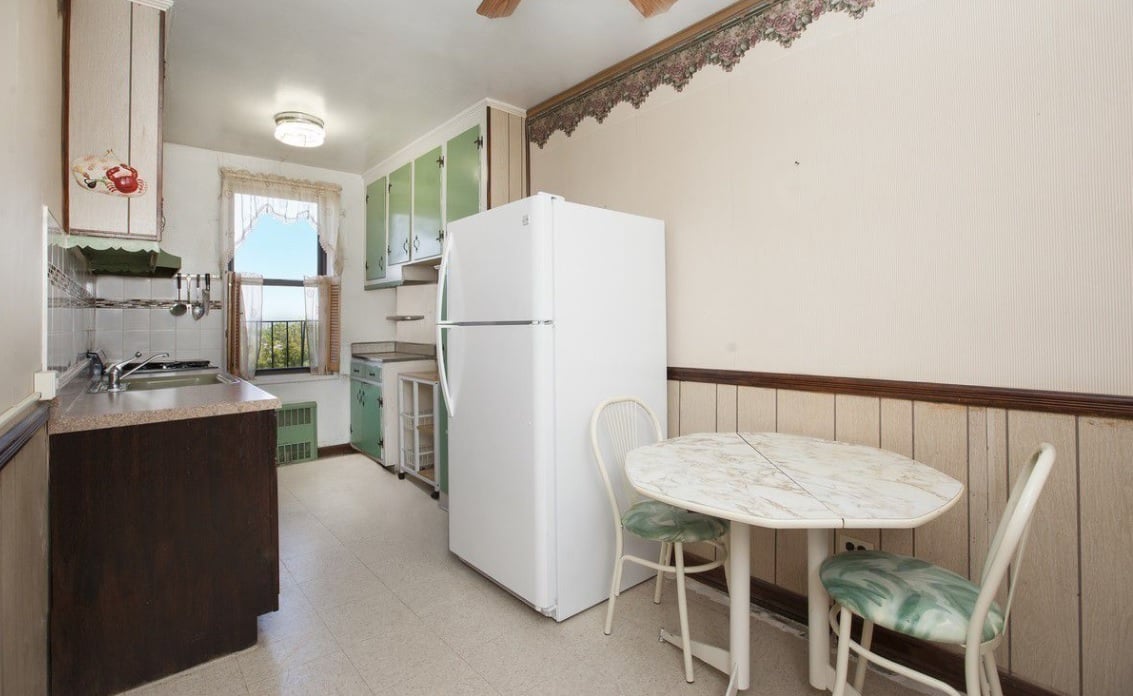 A less-cramped, contemporary cooking space
Doorway: Epstein recommends getting rid of the doorway leading into the kitchen so as to make the space feel more open. This will cost a few thousand dollars.
Floor: He'd rip out the linoleum, and install tile flooring that'll be a breeze to clean. This should cost about $7 per square foot.
Paint: Here, too, he'd rip off the wallpaper and cover the walls with Chantilly Lace.
Cabinets: The existing green cabinets are a horror of epic proportions, Epstein says. He'd therefore replace them with more contemporary-looking ones. "I'd probably make the whole back wall where the fridge is into cabinetry," he says, so that there will tons of storage space in here. This should cost around $25,000.
Move things around: He'd also move the sink and the range to the same side as the fridge so as to "make that whole south wall the kitchen" and make things feel less cramped by having items on both sides.
Countertops: Caesarstone or Corian would be your best bets as they're easy to maintain, he says. They should both be around $100 per square foot.
Appliances: He'd buy all-new appliances to replace the ancient ones and, if budget allows it, would integrate them with the cabinetry. This panel-ready Liebherr 24-inch bottom-freezer refrigerator is $2,809 at AJMadison.com. This Blomberg free-standing gas range is $899, also at AJMadison.com. This panel-ready Bosch dishwasher is $939, also at AJMadison.com.
Sink: A new sink is also in order. This Elkay undermount sink is $373.
Lighting: Epstein would drop the ceiling three inches to install recessed lights up top. "It'll look cleaner and neater," he says. This should cost around $12,000.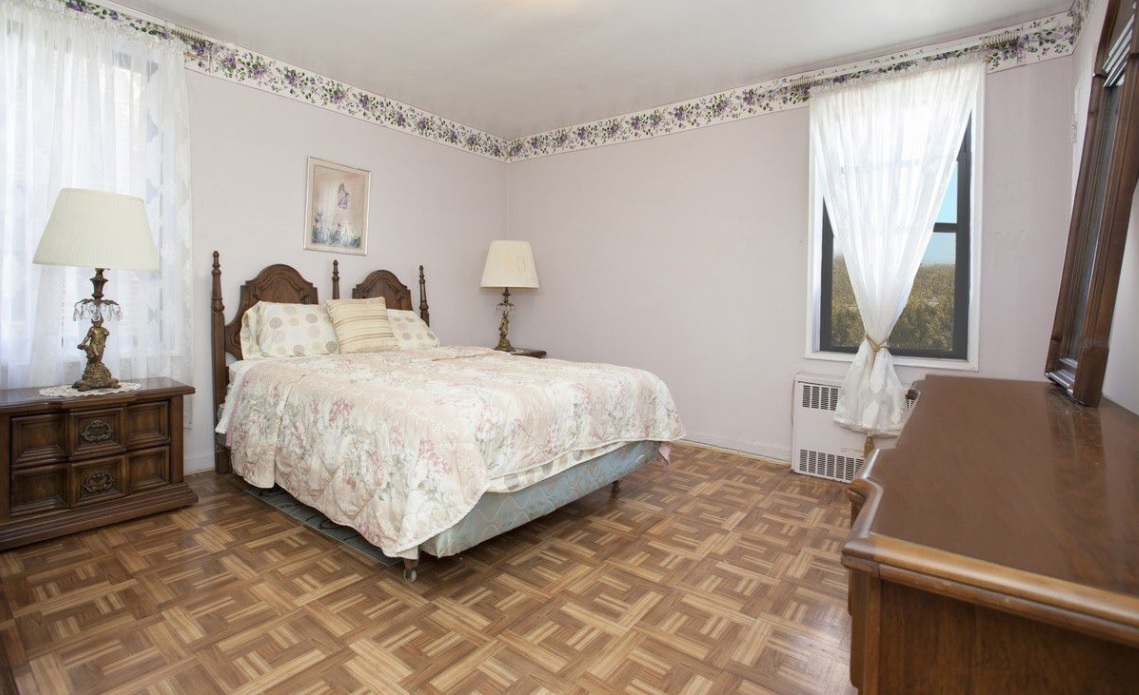 Simple fixes for a more welcoming master bedroom 
Paint: He'd get rid of the wallpaper banner at the top and paint the walls white.
Window treatments: Here, too, he'd lose the curtains and get roller shades.
Floor: Epstein doesn't mind the flooring, but he does recommend putting an area rug by the bed to add a "warmth" to the space. Prices for this Eva Persian-style rug start at $299 at Pottery Barn.
Lighting: He'd change out the light fixture in the ceiling and replace it with a simple flush-mount. This LED ceiling light is $148 at Shades of Light.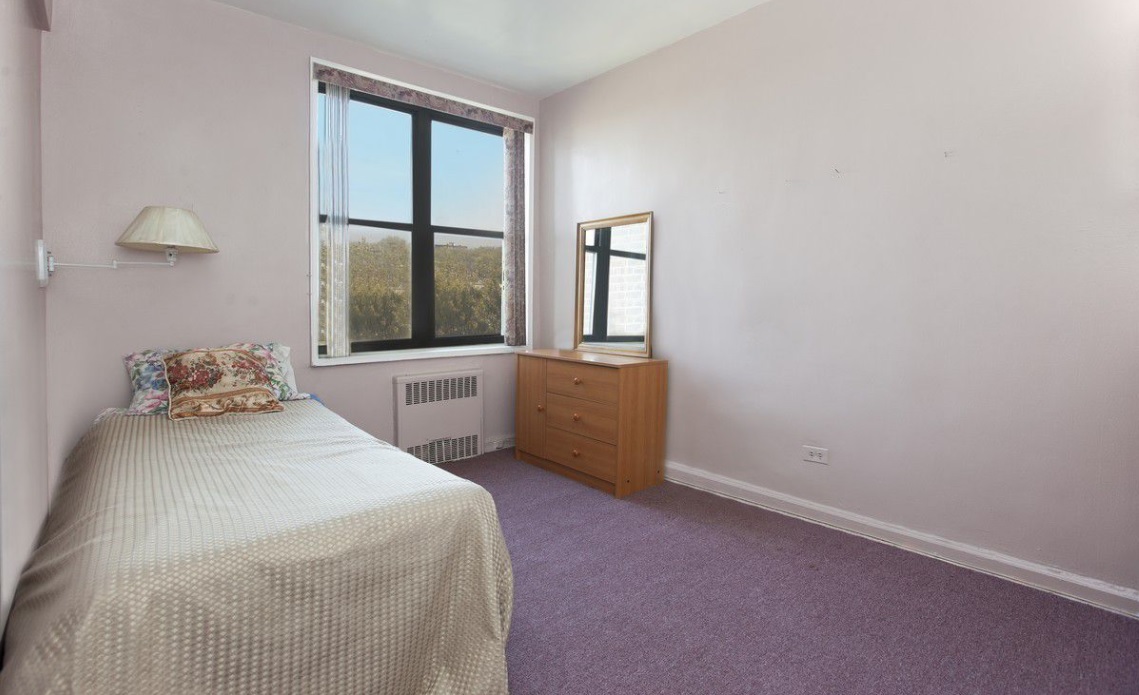 A cozier second bedroom
"It's such a tiny room," Epstein says. "I'd almost consider getting rid of it and just making this into a one-bedroom apartment. It wouldn't cost very much at all. It's just knocking down a wall."
If the new occupant wants to keep the second bedroom, however, he'd suggest a few simple cosmetic changes.
Door: He doesn't like that the doors to both bedrooms are right on top of each other, so he'd rotate the door to this bedroom 90 degrees so that it's closer to the hallway. This will cost a few thousand dollars.
Paint: Epstein again would choose Chantilly Lace to keep things unified throughout the apartment.
Window treatments: He'd opt for roller shades in here, too.
Floor: He recommends replacing this garish purple carpet with cozier carpeting, which he says will be cheaper than installing new hardwood flooring. It should cost around $40 per square yard.
Lighting: Another ceiling light is in order here. Prices for this Cirque flush-mount start at $105 at Lumens.