Brick Underground supports our readers with product recommendations specifically curated for New Yorkers. If you buy something through our links, we may earn an affiliate commission.
The greatest thing this $879,000 Kips Bay one-bedroom at 300 East 33rd Street has going for it is an amenity you can't fake: natural light. "Those big windows are probably the best thing about this place," says architect Anjie Cho, referring to the trio of floor-to-ceiling windows that overlook the condo building's private garden. "It looks like it gets a lot of light."
Yet while it's bright and sun-drenched, the 1960s-era unit is being sold in as-is original condition, which means it could use a ton of work in order to whip it into shape. "The worst thing is probably that kitchen," says Cho. "It's so small. And when you look closer and see that there's a column [that takes up a lot of room], it's even smaller!"
Cho has a lot of ideas as to how to modernize this space. Below, her recommendations:

Living Room
Although the apartment looks pretty decent in the photos, Cho believes that the "as-is" condition mentioned in the listing description means that the pictures have more than likely been digitally staged. "These are totally fake photos, which is bad because you can't tell what exactly has been Photoshopped," she says. "But I guess it's good because it gives [prospective] buyers ideas."
Cho would begin here by focusing on those striking windows. "They're so unique," she says, "but it's hard to tell their condition from the pictures." She suggests having them thoroughly cleansed so that nothing stands in the way of the sunlight streaming in. She'd also have a molding put around them to make the entire area "look cleaner." Said molding should match the walls so that the eye isn't naturally drawn to it, but to the windows themselves. As for window treatments, Cho likes sheer fabric curtains. "That way, you'll still get the light, which is wonderful," she says.
A radiator cover stands below the windows. "It looks like it's in good condition, but it might be Photoshopped," says Cho. If it turns out it's in poor shape, she'd strip and repaint it. "I'd have it match the walls," she says.
And as for the walls themselves, Cho recommends either Benjamin Moore's Simply White (described on the painting site as "crisp") or Benjamin Moore's Super White (which is said to "sparkle"). "I like white here," she says. "It's very reflective so [the white] will make the room look more expansive." She'd choose an eggshell, low-gloss finish "because it has a bit of a sheen, making it easier to clean," she notes. For the ceiling, she'd go with a flat coat of the Super White because it'll "mask any imperfections" and make the ceiling seem taller. Prior to any painting, though, Cho would skim-coat the entire unit. "It'll smooth things out so you won't have bumpy, orange-peel walls," she says.
She'd also add in baseboards throughout the apartment. She thinks that "four-inch or five-inch flat baseboards" that she'd paint white, as well, will do the unit good. "They serve functional purposes," she says. "Things bump into them constantly. Shoes bump into them." They'll keep the walls looking fresher.
Moving down to the floors, Cho says that "they looks really bad to me. They definitely need to be redone and replaced." She'd choose white oak boards that are four or five inches wide because "they're pretty and neutral." She notes that these days "most people seem to like wide-plank, [which are typically 8 to 12 inches wide], but I prefer this," she says.
Cho notes that "in my experience, floors that look like this might have been glued down with asbestos." If an inspection does in fact find that to be true, the buyer has two options: having the asbestos professionally abated or removed, or simply gluing a new floor on top of the old floor.
Finally, she'd turn her attention to the lighting situation. Since it looks to be a concrete slab ceiling that you can't put any new lights into, she'd opt for floor lamps strewn throughout the space.
Prices: Cho thinks that cleaning the windows and adding the molding around them should cost "around $1,000 or so." She thinks sheer curtains should be "about $2,000" at a place like The Shade Store. A gallon of paint for the walls and radiator cover is $69.99. A gallon of white for the ceiling costs $39.99. She thinks skim coating for an apartment this size should cost $5,000 to $10,000. Cho thinks that baseboards for the entire unit should cost around $3,000, while the white oak flooring should be around $20 per square foot. Cho believes the asbestos abatement should cost in the $10,000 range for the entire apartment. This Arco floor lamp is $2,995 at YLighting. For a similar look at a more a more affordable price, this Trion floor lamp is $649 at inmod.com. Labor will, of course, be more. "A renovation on the cheap is around $100 per square foot for labor only," says Cho, noting that an apartment this size should cost "maybe $70,000 to $100,000 and up for more white glove contractors." Materials could be "maybe $20,000 to $50,000 depending on how nice they go."
Kitchen
Cho says she thinks she might try to open the room up to the rest of the apartment because it feels a tad claustrophobic with its current set-up (see Cho's sketch above). But that would depend upon whether or not the building would allow it since many have strict rules that prohibit building anything wet over anything dry due to potential water damage concerns.
But no matter what is ultimately decided when it comes to opening up the kitchen, Cho thinks it will need to be gutted entirely.
She'd tackle the floors first. She has the same asbestos concerns here, so, just like in the living room, she recommends either building a new floor over the old one or abating it. If the tenant does, in fact, decide to open up the kitchen, she'd use the same wood floors in here for a sense of continuity. If not, she'd choose porcelain tiles since they're easy to clean and will lend a sense of sophistication to the room.
Next, she'd attack the cabinets. She'd prefer "a modern cabinet with a slab door rather than a panel door" because of its "contemporary and clean" look. She'd also like for them to go all the way to the ceiling to maximize storage potential. She notes that she's a fan of the two-tone cabinet craze that's growing in popularity, so she'd opt for white or light gray cabinets up top and gray or brown wood ones on the bottom. It's simply a nice, contrasting look.
Afterwards, she'd focus on the counters. She thinks Caesarstone would be good for this room. "A lot of people can't deal with countertop maintenance," she explains. Caesarstone lasts and doesn't require a lot of upkeep. She'd match the backsplash to the countertop to keep things looking even and balanced.
She'd swap out the sink in favor of a stainless steel under-mount sink, which has no rim (since it attaches from under the counter). This will give the tenant a little bit more counter space. And in a room this small, every inch counts. She'd also get a new faucet.
She'd junk the ancient-looking appliances in favor of newer, smaller ones that won't take up nearly as much space in this stifling kitchen. She advises going with a 24-inch stove, an 18-inch dishwasher and a counter-depth fridge that will make the room feel larger than it actually is. She'd probably go with stainless steel as it's what everyone seems to want these days. But she's also open to the possibility of panel-ready pieces, meaning that they'd match the cabinets. "It'd make things look more seamless," she says.
Prices: Cho thinks that taking down the wall to open up the kitchen should cost around $10,000, while white oak flooring should be around $20 per square foot. Prices for cabinets will vary; if you go the IKEA route, they'll probably be in the $5,000 range. Higher-end ones will more likely be $10,000 and up. She thinks the countertops should be in the $5,000 to $8,000 range. This Franke under-mount sink is $1,223.28 at decorplanet.com. This Franke pull-out faucet is $457.20 at Amazon.com. This Whirlpool counter-depth fridge is $2,789.99 at Best Buy. This 24-inch Summit range is $799 at AJ Madison. This 18-inch Bosch dishwasher is $894.10, also at AJ Madison. Per usual, labor will tack on to these costs.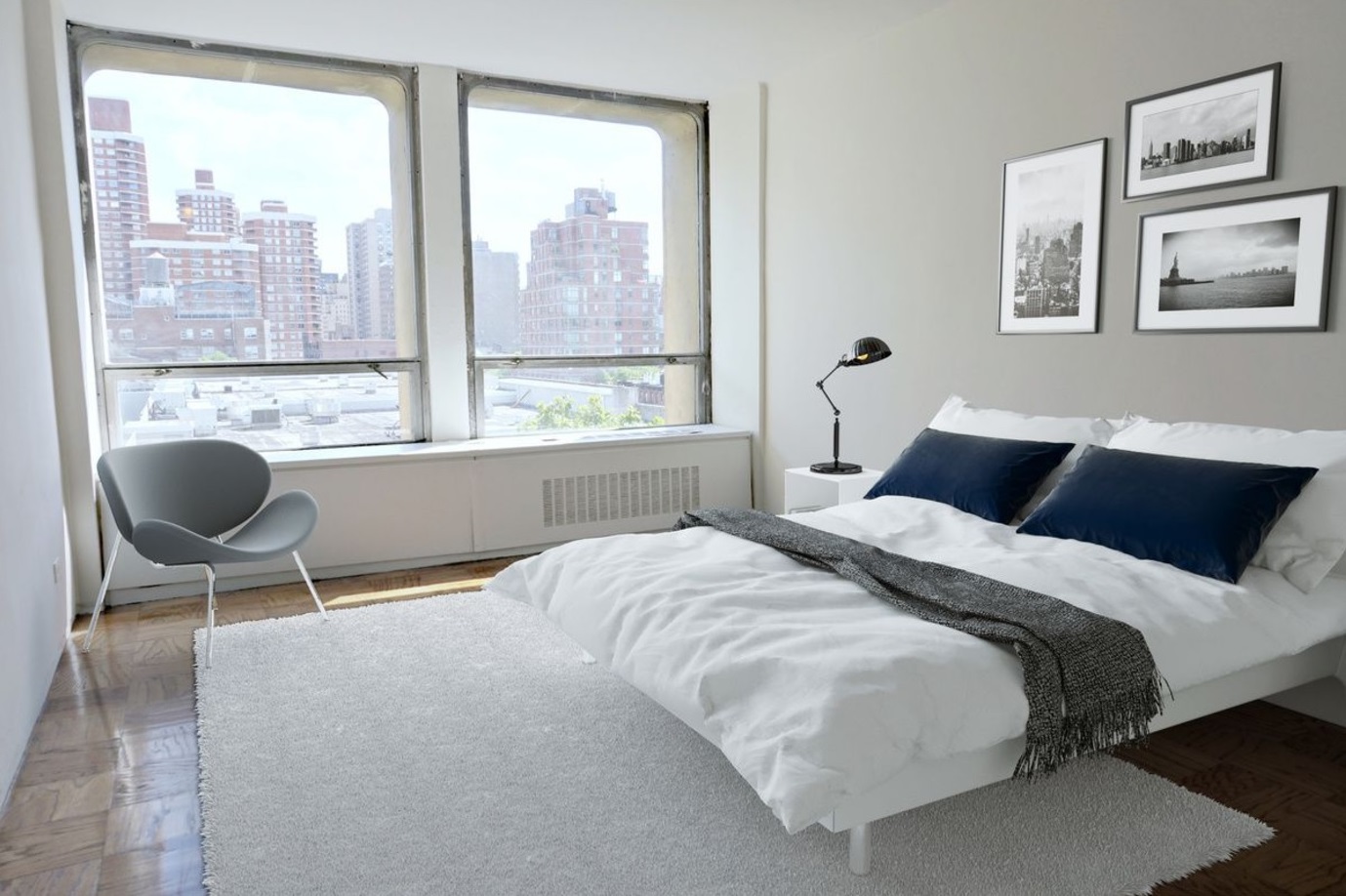 Bedroom
"It's very similar to the living room," says Cho, so she'd do a lot of the same things to it. She'd switch out the floors with the same white oak boards, paint the walls and ceiling the same shades of white, and strip and repaint the radiator cover. 
In addition, she'd once again get new moldings for the windows, as well as put up sheer fabric curtains on the windows, but she'd add a blackout shade under them "so you can sleep well and not be woken up with light," she says. 
 "The closets looks a little awkward," she says. "Probably because of those ugly, floppy bi-fold doors. They look kind of chintzy." She'd recommend taking down the wall between the two closets to make a single big closet with traditional swinging doors that extend all the way to the ceiling to get as much storage space as possible. She'd get closet organizer California Closets to maintain order in the closet's interior. She'd paint the closet the same color as the walls so that they blend in seamlessly.
And since she thinks you can't put any lights into the ceiling here either, she'd suggest floor or bedside lamps, instead.
Prices: As in the living room, the white oak flooring should be around $20 per square foot; a gallon of paint for the walls and radiator cover is $69.99; a gallon of white for the ceiling costs $39.99; the moldings on the windows should cost "around $1,000 or so"; and sheer curtains should be "about $2,000" at a place like The Shade Store. Prices for this blackout cellular shade start at $76.29 at Blinds.com. Fixing up the closet should be around $1,000, and bringing in California Closets should be between $2,000 and $5,000. This FLOS bedside lamp is $1,225. This more affordable table lamp is $179 at West Elm. Labor will be more.
Bathroom
The fact that there aren't any photos of the bathroom leads Cho to believe that it's in a dire state of disrepair. "I'm guessing that you need to redo the entire thing," she says. "That's why they didn't show it."
She'd have porcelain tiles installed in the shower and on the floor. "There are really nice ones that look like Travertine," that'll lend a rich, classy vibe to the space, she says.
She'd also get a new tub, a new vanity, a new recessed medicine cabinet for added storage space and a new toilet (because, she says, most people feel that keeping the old one "is gross").
Prices: Cho thinks that porcelain tiles should cost around $5 per square foot. This tub is $258 at The Home Depot. This Toto toilet is $438.16 at The Home Depot. This Robern medicine cabinet is $1,949. This floating vanity is $1,026.99 at AllModern.com. Labor will add on to these costs.