In case you missed it
Cleaning your windows is a (relatively) inexpensive way to make your apartment look way better fast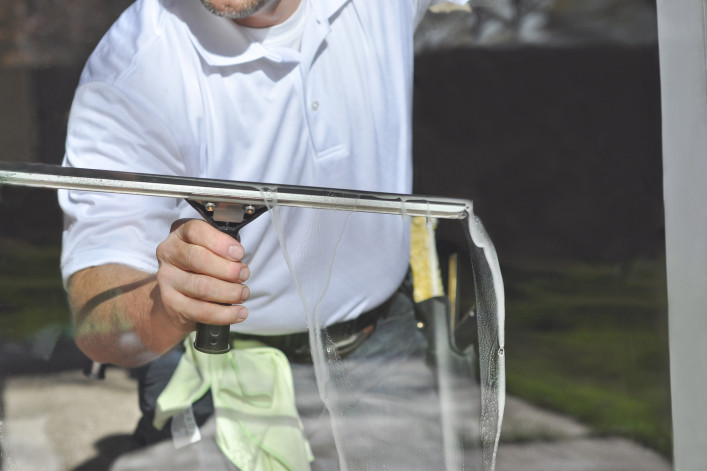 Now that spring has officially sprung, and (hopefully) winter storms are behind us, now's a good time to schedule that window cleaning you've been meaning to do but putting off for ages.
A good window cleaning can do wonders for the look of your apartment (especially during the late spring and summer, when you want to let the sun shine in). But, as we've covered before, if you rent, window cleaning is probably not something landlords are responsible for, nor have to pay for to get done. And unless you have a super-simple window and don't live high up, your landlord may not want you to take on the work on your own, either, and will likely have specific firms to recommend (for insurance purposes).
The first thing to do, then, if you're thinking about getting your windows washed, is to reach out to your super or landlord and ask about protocol. Even if you do the hiring yourself, make sure all window cleaners have insurance. Here's what else you need to know about getting your windows cleaned in your apartment:
What you'll pay
Most companies charge per window. The going rate is about $12 to $30 for regular-sized windows, with the standard somewhere around $15. Price vary largely based on the scope of the job, the size of the windows and the ease in which to clean them.
(As a frame of refence, this writer recently paid $280 to have all 15 windows—both regular-sized and picture-windows—in her two-bedroom apartment cleaned.) And remember to tip: 20 percent should be just fine.
Here are some starting quotes from local cleaners:

Big Apple Window Cleaning: Between $18 and $24 per window.
New York Window Cleaning: Each regular size, single-pane window is $10.
Skyway Window Cleaning: Between $12-$16 per window for a regular cleaning; between $16 and $30 if windows haven't been cleaned in a long time. 
Prime Window Cleaning: Between $15-$18 for regular-sized windows.
Apple Window Cleaning:  Between $15 and $16 per window (including picture windows).
Before the window cleaners arrive
We learned from personal experience that child locks on windows make them harder to clean (big thanks to our building's super-helpful porter for helping to temporarily remove them!). If you have child locks on your windows, make sure to tell the window washers in advance so that they can plan ahead. They''ll usually charge an additional $4 to $10 extra per window for removing child-safety locks. 
After the cleaning
Despite a heavy rainfall the day after cleaning (of course!), a week later, our windows looked as good as new. According to the experts, they usually stay looking fresh and clean for about three months (most of the companies offer discounts if you want to have regularly scheduled cleanings throughout the year).
You can also help keep things clean—and maybe delay the need for a professional cleaning—by maintaining your windows. Fingerprints can be removed by spraying the window with diluted vinegar or club soda. Then, get a squeegee with a soft rubber edge (or a crumpled up newspaper) to wipe the surfaces.
Evenings and cloudy days are the best time for window-washing, according to Reader's Digest, because "quickly dried glass is more susceptible to streaking," so schedule your cleaning accordingly.
Brick Underground articles occasionally include the expertise of, or information about, advertising partners when relevant to the story. We will never promote an advertiser's product without making the relationship clear to our readers.