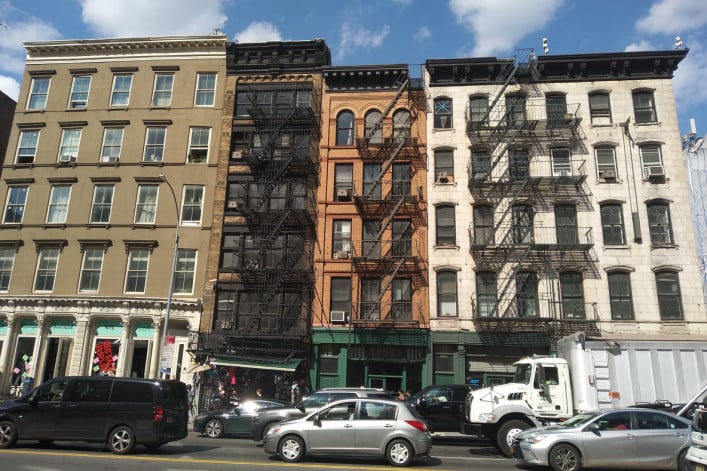 A New York City apartment building is like a box of chocolates: You never really know what you are going to get. That's because until you actually live somewhere, you may never know about some major problems.
And that's why doing as much homework on your building before you sign a lease—and especially before you buy—is so important. (For instance, there are websites where you can check if your building has complaints from residents.)
Take it from me: I wish I had known my Upper East Side building doesn't turn on the air conditioning until June 1st. There are inevitably some sweltering days every May that make my tiny studio unbearable—I head to a nearby hotel on the hottest ones. The AC is shut off again on October 1st, no matter what the temperature, Indian Summer be damned.
Had I known this, I wouldn't have blocked one of my windows with a temporary wall to create a bedroom. I could have put an AC in that window, but now it is too late. Live and learn. And sweat.
Similarly, I wish I had known my previous Hell's Kitchen walk up had a bizarre super. He would not only steal deliveries but also prop the door open with a rock, allowing strangers to wander in at all hours of the night.
We asked New Yorkers what they wished they had known about their buildings before they moved in and there's a lot you can learn from them. Here's what they have to say.
Be wary of weather
"When we lived in a condo building in Brooklyn, no one mentioned that the basement took on water in one corner (near our apartment's storage space, of course) during bad rainstorms. I had to learn the hard way that a cardboard box of clothing sitting on the floor was pretty much the same as throwing clothes out—I lost so many treasured pieces, including a sand-colored leather jacket from the Chelsea Flea Market that I loved." —Jennifer, Park Slope
"I live on a high floor and it sounds windier than it actually is outside. Also, the elevators sometimes don't close properly and take a few minutes when it's really gusty. In the winter, the sound of the wind makes me think it's colder out than it really is." —Nicole, Tribeca
Know your building staff
"I would suggest that people try to meet the super of a building they are interested in. Also ask if they live on the premises. I have lived in my building for 40 years and we have had all kinds of supers. A building's super can make or break a building. Thankfully right now, ours is one of the best." —Sara, Yorkville
"The super situation is VERY important, I moved into my building as a graduate student in 1976 so all I cared about was finding rent I could afford! When heat was an issue, the super said, 'A young woman should never be cold' with a leer. That was the last time I called him! Thankfully the managing agent at the time was good. The building has been sold several times, and the current owner is one of worst! No real super, just folks who deal with trash, for anything else you have to deal with the 'office' via voicemail or e-mail—you never get a real person—and only during business hours. That's horrible because we live here at night and on weekends too! I'm becoming a 311 regular! —Nancy, Lenox Hill
Understand your rights
"I wish I had not signed a lease with a preferential rent concession when I moved in 20 years ago. As of 2019, preferential rents become the actual rent. But my landlord still tells tenants that if they don't accept the preferential rent they don't need to sign the lease. Preferential rent is just a way for a landlord to ignore the rent stabilization guidelines. There's a lot of dirty business in NY real estate! —B.L., Upper East Side
Look out for thieves
"I wish someone told me that there's a huge issue with package theft in the building. My boyfriend and I place a lot of Amazon orders for various things for the apartment and our puppy. We've had countless packages stolen within minutes of being delivered to the lobby. Unfortunately, there isn't anything that Amazon can do about this. If I had known this would be an issue, I would have opted for a different building with some sort of package room, security, or doorman." —Marcel, Jackson Heights
Get a handle on tipping
"I moved into a building with a staff of 42. I wish someone had told me the dos and don'ts of tipping in a building with such a large staff, like when to tip. How much do I tip? What about holiday tipping? Should the amount increase every year?" —Erin, Lincoln Center
Be patient with your neighbors
"I live in a historic prewar in Midtown, and I wish someone had told me that the people would be as eccentric as the building itself! It is an Emery Roth-designed building, and former residents include Al Capone, Ethel Merman, and Doris Day and there are so many charming details. I love my apartment itself. However, allowing myself to show grace for the characters I encounter most days is an ongoing practice." —Emily, Times Square/Theater District
Good appliances are important
"I learned this the hard way: Never overcrowd your fridge. I wish the previous tenant had warned me about this particular refrigerator. Arguably the worst experience I had in my first apartment was coming home after a vacation to my fridge buzzing like a bee and letting off the worst stench. If you overcrowd your freezer, you can block the cold air vents and break the appliance. Turns out this building was notorious for old and unreliable appliances." —Christina, NYC
"I wish I knew how many working elevators there were versus the total number of apartments in the building so I could better determine how long it would take to get in/out of the building. I also wish I knew the decibel level of the AC/heating units before moving in, because sleeping is important to me." —Jane, Upper East Side
Consider your windows
"When we bought our apartment on Sutton Place we wish we had known that the windows wouldn't open and that it was going to be unbearably hot. We ended up replacing the windows, cutting back heating pipes and installing new PTAC units. We still have to run the A/C in the bedroom during the winter. If you're looking at a potential home, make sure to try all the windows, run the dishwasher as well. Ours looked like new but when in use it sounded like a train was going through the apartment." —June, Upper East Side 
"I wish I had looked at the apartment at night before buying it. My apartment faces the back of the building, which means my apartment looks into my neighbors' apartments. During the day it felt bright and I couldn't see into the apartments. At night with the lights on, it's like watching TV. Every floor is another channel. Lol. Because of this I have to keep my blinds closed all the time, especially if I want any privacy. "  —Matt, Astoria
What landmark status really means
"I love my building, but if I had known the ramifications of living in a landmarked building I may have thought twice. There are restrictions on things like windows. It costs a minimum of $10,000 to replace just two and lots of red tape. We also have gargoyles that cost about $150,000 each to replace as they start to crumble. There are about six! Always find out the status of an older building so you know what troubles you may face in years ahead." —Leslie, Upper East Side
Brick Underground articles occasionally include the expertise of, or information about, advertising partners when relevant to the story. We will never promote an advertiser's product without making the relationship clear to our readers.