While we tend to focus our coverage on dry land here at Brick, we're always fascinated to go underwater, often through Underwater New York, a digital journal of writing, art, and music inspired by the New York City waterways.
We recently caught up with Nicole Haroutunian, co-editor of Underwater New York, and Elizabeth Albert, author of Silent Beaches, Untold Stories: New York City's Forgotten Waterfront (which Haroutunian co-edited). One of the most interesting things about the 600-plus miles of coastline in New York, the two say, are how many things have been left behind, creating living history musems. Haroutunian says one thing that continuously interests her (and her readers) is just how many strange things are found underwater in New York.
We spoke to the two about those, and more: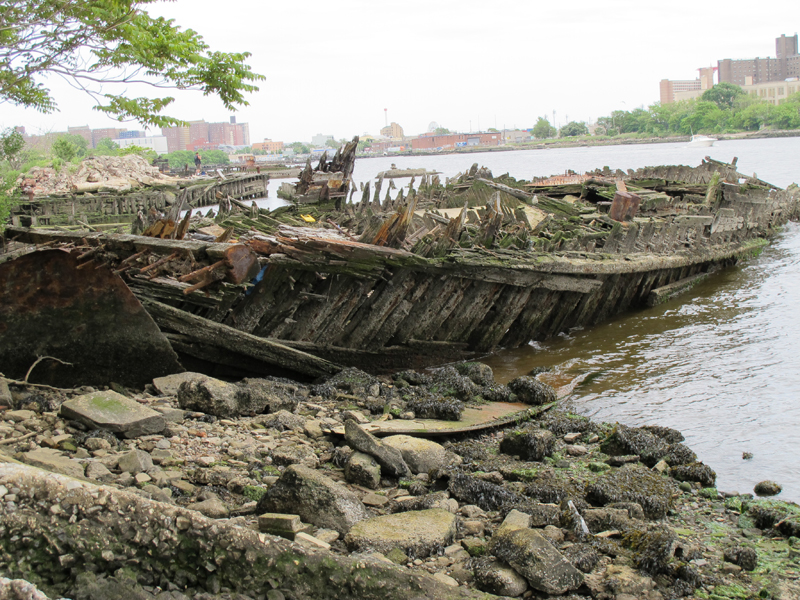 No one knows exactly when the ghost ships began appearing near the mouth of the creek, but local residents remember playing on them in the 1950s when they were still floating, says Albert, who explains that some of them are said to be old whaling ships whose owners did not want to pay to have them properly disposed of. Credit: Elizabeth Albert
What are some of the weirdest things underwater in New York?
Nicole: There's a giraffe skeleton in lower New York Bay that was discovered by the Army Corps of Engineers. We don't quite know how it got there, but the best guess is that it may have been part of a traveling circus and it was being transported by boat, got sick, died, and was buried at sea.
There's also a grand piano in the East River, and an upright formica dinette table in the East River, near 16th Street.
Elizabeth: There's just so much stuff down there.
Nicole: There's actually also a fleet of Good Humor ice cream trucks underwater off the Rockaways that were put to be an artificial reef.
Elizabeth:  That's right, the idea was to get oysters to stick to it. Oysters clean the water and they're important to have down there.  
Nicole: Coney Island Creek has a submarine—a homemade, handmade submarine, and you can still see it sticking out (see main photo above). 
Elizabeth:  Yes, that one was built by Jerry Bianco, a local shipyard worker. He was going to go in it and find the sunken treasure of the SS Andrea Doria off Rhode Island, but there were problems with the launch and the submarine got stock in the mud; it's still there, rotting.
Nicole: Now it's a habitat for lots of wildlife of all kinds.
Why do you think so many strange things lurk in our waters?
Elizabeth: A lot of times when people need to get rid of something and they don't know how to do it, they'll just dump it in the water. And since it's costly to take things out, and sometimes it's tricky to figure out whose jurisdiction it falls under—city or state—things just get left down there. 
A lot of the ships are fishermen ships, which people would just leave. They would burn them to the water line and just leave them. It's expensive to remove these, and there's worry that it would stir up a lot of toxins, too.
In some cases (like in the Gowanus Canal and Newtown Creek), the water itself is so toxic that things don't get taken out of there. Plus, in most cases these are not  wealthy areas, so no one's lobbying to get anything done.
How long before we start building high-end real estate at these spots?
Elizabeth: It's already happening. On the Gowanus Canal, multi-million-dollar apartment buildings are being built. It seems nefarious to me that that got greenlighted before the canal was cleaned up.
So is it true that crossing the Mafia leads to literal sleeping with the fishes?
Elizabeth: Oh yeah, for sure. The bottom of the Gowanus Canal was a big dumping ground, Coney Island Creek too. Really any wateRfront.
Elizabeth, your book focuses on 10 forgotten beaches. What's a standout?
Elizabeth: Dead Horse Bay is a strange and haunting place. It was the site of animal rendering plants, which are basically glue factories. Remember that before the automobile, every car in New York City was a horse. There were so many more animals in New York then, too. So when they died they went to these factories that made use of the remains for glue and fertilizer. This area, which is not far from Coney Island Creek, actually, and is part of Gateway National Park, has a beach that is still littered with animal bones. Later it became landfill, which was capped in 1953, and then it was sort of abandoned. Now the tide has reached the landfill, so you get this combination of pre-1953 garbage and horse bones (see photo below).
These waterfront areas are a key to New York history in terms of economy, history, culture. They give you a window into New York of the past.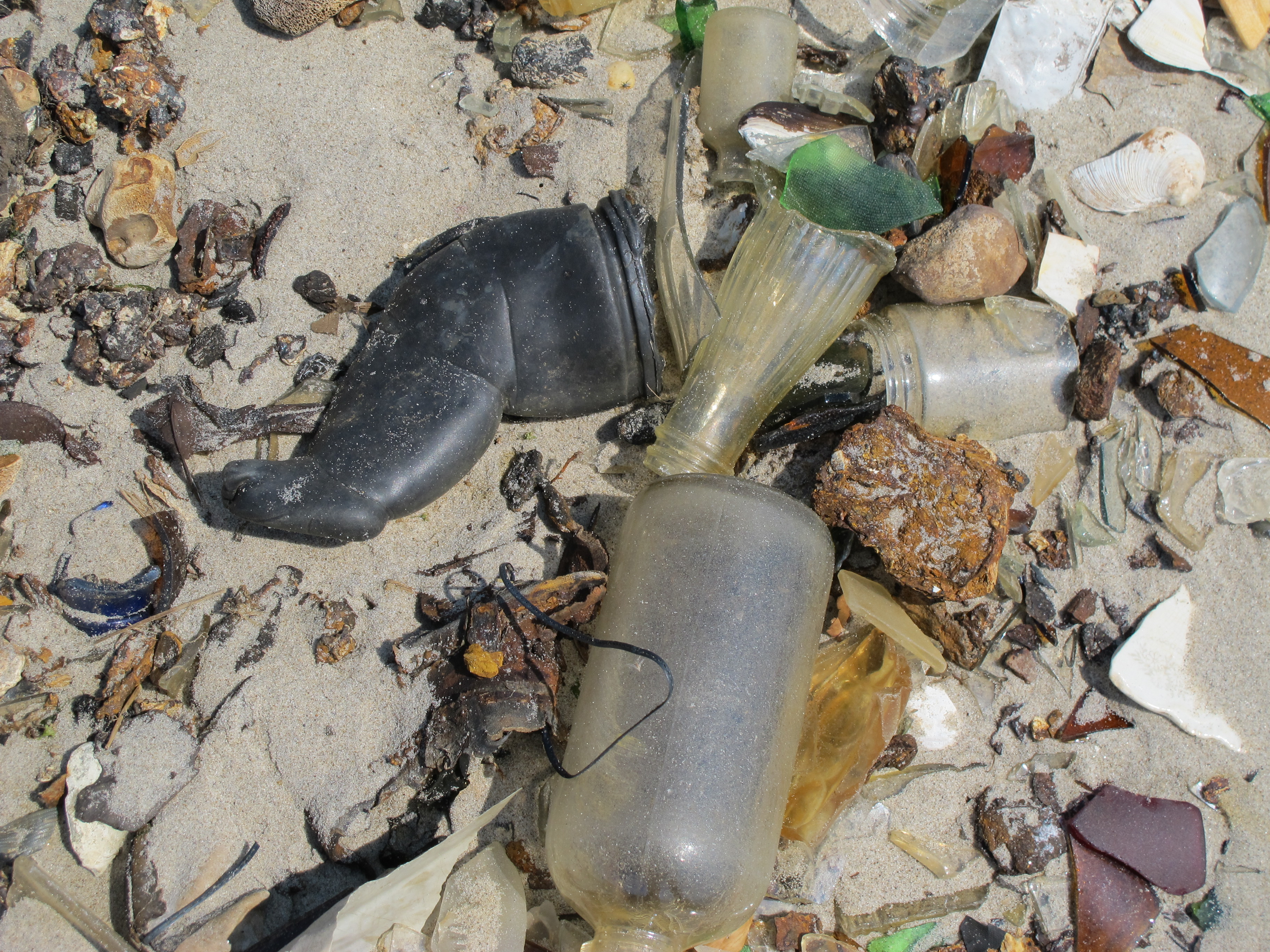 Each time the tide rolls in and recedes it pulls out more and  more stuff: shoes, toys, bottles, bones from the breeched  landfill, says Albert. Credit: Elizabeth Albert
It seems like there's a lot of unused waterfront we can better make the most of.
Elizabeth:  New York City's financial success and growth into a major metropolis is almost entirely due to its strategic relationship to the water. Prior to planes, trains, and automobiles (trucks), all goods came and went by ship.  In the 19th century, the urban waterfront was either used for industry, where goods could easily be loaded onto ships, or for the docking of the thousands of arriving and departing ships. Not only did industries need proximity to the water for transportation, they also could dispose of waste easily by dumping it into the water. With industry and shipping came sailors, bars, prostitutes. The urban waterfront was often a haven for the marginalized elements of society. This is in stark contrast to elegant waterfront estates in Long Island and other areas outside of the city.  
Now that most major shipping has moved to New Jersey, and many industries have closed or moved away, we are left with large swatches of waterfront that sit idle, no longer needed for their former use, but not yet redeveloped or remediated. However, this is changing, as evidenced by such large scale projects as Brooklyn Bridge Park, the East River Esplanade, Hunts Point Park, Governor's Island, and also the high rent developments along the waterfront in Williamsburg, Long Island City, and the Gowanus.... Some of these have been traded for development. There are various ways of looking at it, but for the most part, I think it's wonderful. 
Nicole: Since 2009, the year we started Underwater New York and began to think more about the waterfront, the projects and developments mentioned above (some of which were started before, some of which were started after...), as well as Hurricane Sandy, seem to be a large part of what has brought about the change in dialogue regarding the NYC waterfront. One problem is that we don't expect a lot of funding to come in the next four years. Then there are issues like trying to safeguard the city for the next hurricane, and all the funding for that. We can't predict what's going to happen.
Which specific spaces should we be using that we're not? 
Elizabeth: There are spots along the Bronx River that are not utilized that much. And there are a lot of interesting places in Staten Island. Sandy Ground was one of the first African-American settlements in the country, and it's where oystermen moved from Southern states. That part of Staten Island is toxic, though. 
Nicole: New Dorp Beach is really interesting too. It used to be the site of a children's hospital, and depending on tide, you can see remnants of it. That's next to Cedar Grove, a wider beach that was a vacation spot, and had bungalows. The government took back the bungalows.
Elizabeth: Staten Island is this great unknown. Parts of Staten Island are like being in a small town. It's just this enormous coast line.
 
Brick Underground articles occasionally include the expertise of, or information about, advertising partners when relevant to the story. We will never promote an advertiser's product without making the relationship clear to our readers.