Transitions
From UWS to UES: Exchanging brownstones for high-rises, and embracing life as a family of renters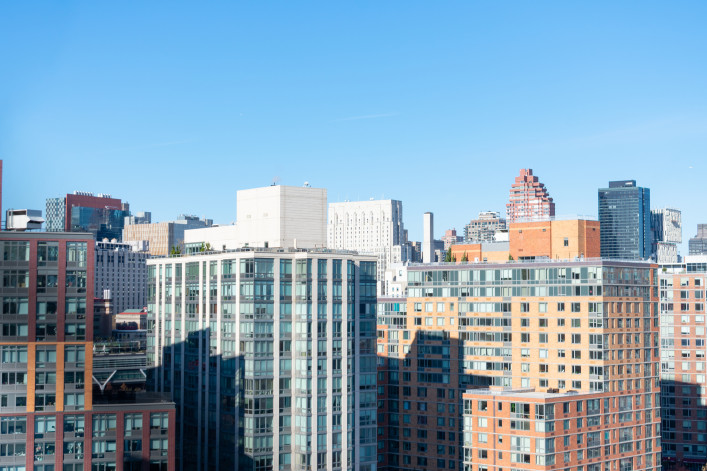 When a new job on Long Island gave Erin Farrell Talbot, a communications specialist, a long commute from her apartment on the Upper West Side, she moved to Yorkville section on the Upper East Side to cut down on travel time. She and her husband started a family and bought an apartment, but ultimately they decided home ownership was not for them. They went back to renting in the neighborhood, where the new Q train and ferry routes connect them to many parts of the city. Here's her story.
In 2002, I lived on West 75th Street between Central Park West and Columbus Avenue on the Upper West Side. When I moved in, I was so excited about the neighborhood "feel" of the cute brownstones, tree-lined streets, and coffee shops. 
The apartment I moved into was a third-floor walkup with a huge living room, 10-foot ceilings, brick walls and a tiny bedroom. I loved the apartment and its proximity to Central Park. As a runner and biker, it was easy to get to the park for a quick run, bike, stroll or even to see a concert in the park during the summer. My boyfriend (now husband) moved in with me and we loved the area. There were lots of restaurants and we spent many nights kicking back a beer or two at Dive 75 bar.
---
[Editor's Note: Brick Underground's series "Transitions" features first-person accounts of what it's like to move from one New York City neighborhood to another. Have a story to share? Drop us an email. We respect all requests for anonymity.]
---
However, after about two years, I accepted a new corporate communications job in Holtsville, New York. It was easier to drive out to Long Island instead of taking the train, but the commute just to get across the city was horrible in the morning. It was usually over 80 minutes if I left before 6:30 a.m. but could be two to three hours if I left after that time. Ultimately we decided to move to the Upper East Side so I could get on the Triboro Bridge and Grand Central Parkway, which substantially cut down on the commute time.
I didn't know much about the Upper East Side. My younger brother lived there on 95th and Third Avenue, so I thought it might make sense to move close to him so he could show us around the new neighborhood. 
We rented a two-bedroom, one-bath apartment on East 88th Street and First Avenue. The apartment was beautiful: It had a private backyard and was on the first floor. We had lots of parties in that backyard, and it gave us the feeling of being in the suburbs, which we liked. The UES was similar to our old neighborhood on the West Side, but we missed being so close to Central Park and there were certainly more high-rises than on the West Side. The area initially just seemed a bit more sterile, anonymous, and less homey than my old UWS brownstone-lined block.
We got married, had our first son, and decided we should buy an apartment in the city to put down roots. Home ownership seemed like the next step along the path of adulthood. We opted to stay on the Upper East Side and bought just a few blocks away on 92nd Street and First Avenue. Our doctors, dentist, favorite coffee shop, and friends were now in this area and we didn't want to leave and start over again. 
However, our co-op quickly became too small when our second son arrived, so we decided once again to move, but to stay in the neighborhood. We needed space and so we moved across the street to a high-rise on the other side the street. At that point we understood the allure of a high rise—they tend to have big walk-in closets, storage and spacious rooms.
We had also sold our apartment and gone back to renting. While initially we equated home ownership with putting down roots, we realized there was really no correlation. In Manhattan, it is not unusual for families to rent and many of our friends and colleagues don't own property here. After getting a taste of it, we found that home ownership, although great in many ways, could be a hassle. I wanted the flexibility and the space that a rental offered. And frankly, it is easier to call the super when to the stove or fridge breaks.
Both of our children have grown up in this close-knit neighborhood. They went to Yorkville Community School, which is four blocks away, and my older son got accepted into East Side Middle School, across the street from our apartment. It is close to Carl Schurz Park on the East River, where we bike and run and sometimes just sit on a bench and stare at the river and the boats. And even though we aren't extremely close to Central Park, we can still use that too.
I eventually started my own communications consultancy, and I can get to my clients all over the city fairly quickly. The Q train has opened up all sorts of easy commutes all over the city and so has the Upper East Side ferry service on East 90th Street. I used the ferry to commute down to Wall Street a few times a week to meet clients at the tip of the island. The Q train allows my family to get to Times Square in 15 minutes—and that is awesome! My eighth grader was able to consider so many high schools this year because the Q train would make his commute easy and fast.
We also have easy access to Randall's Island by riding our bikes over the foot bridge or driving there. We are there most weekends since my oldest son plays baseball and my husband, Paul, runs a non-profit Youth Baseball League called the East River Sharks. 
We have now been in this neighborhood since 2004, in a string of apartments. We know the bagel store, the guy at the deli, the delivery people on the street, the people at the garage that fix our car—who gave us a free tow when we had a flat tire. We know the grocery store employees, the homeless people in the neighborhood, and other families and kids.
I loved our old neighborhood on the UWS and probably would have enjoyed raising our children there as well. I always get nostalgic when I go there and point out where I have my first date with my husband and how we watched the Macy's Day parade from the end of our block. But here on the UES, we watch the marathon from our 25th floor window, and I can see my middle schooler as he walked across the street to school.
I don't see us moving from this neighborhood or this apartment anytime soon. But if we ever did feel the need to downsize, as renters it would be fairly easy to transition to a more appropriate space in the area. We think of it as having all the luxury of a stable familial home, with much less headache. Win-win! 
Brick Underground articles occasionally include the expertise of, or information about, advertising partners when relevant to the story. We will never promote an advertiser's product without making the relationship clear to our readers.