Want to max out the value of your unlimited Metrocard while helping out New Yorkers in need?
If you're not already in the habit, advocacy group Safety Beyond Policing is encouraging anyone with an unlimited card to swipe in another straphanger when you exit the turnstiles today, as a means to decrease fare beating arrests, and help out struggling New Yorkers. As #SwipeItForward writes in their promotional materials, "No one should go to jail for not having $2.75."
Though the NYPD has reportedly cut way down on arrests of so-called "swipe beggars," people can still be ticketed for asking, so if you'd like to participate, be sure to offer a swipe to someone rather than waiting to be asked. Also, don't accept any payment in exchange for a swipe, and be sure not to block the flow of traffic while swiping someone in. More tips below from Swipe It Forward: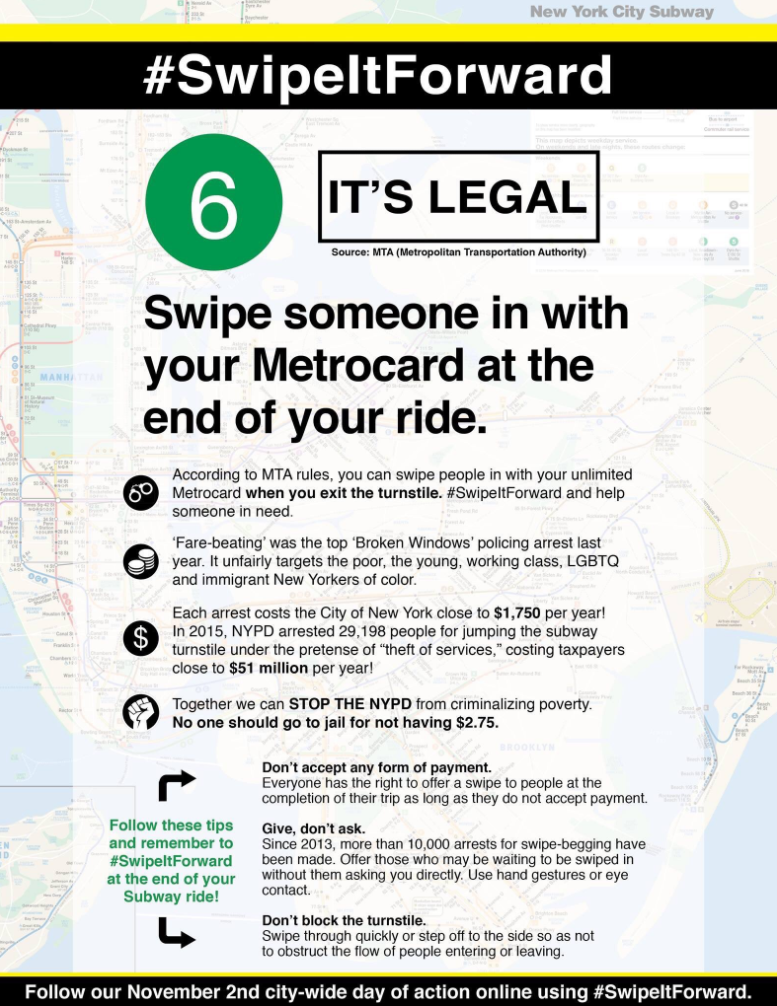 This isn't the first time city activists have encouraged a mass swipe-in—there was a similar demonstration back in August, as DNAinfo reported—and Swipe It Forward comes amid a larger push to offer half-priced Metrocards to New Yorkers living below the poverty level.
For folks wondering below are terms & conditions of unlimited metrocard. Once you u finished w/ your ride, you are free to #SwipeItForward pic.twitter.com/kzwIjA2z3A

— Nick Malinowski (@nwmalinowski) November 1, 2016
"It's still dangerous for folks who need a swipe to ask for one, because they could still be charged," explains Benjamin Ndugga-Kabuye, a research and policy associate with the Black Alliance for Just Immigration. "But one thing that's clear is that free access to the train will do a lot more to create safety than arresting people for not being able to afford a swipe, particularly since this issue affects any number of vulnerable communities such as LGBT youth and the homeless."
Based on consultations Safety Beyond Policing has had with several lawyers, Ndugga-Kabuye tells us, you're within your legal rights to give away a swipe when exiting the train, but would be wise to use discretion. "To the best of our knowledge this is something that is not illegal, but at the same time, the police can arrest people for minimal or no reason."
So if you want to help another New Yorker get a spot on the subway today, swipe with subtlety.