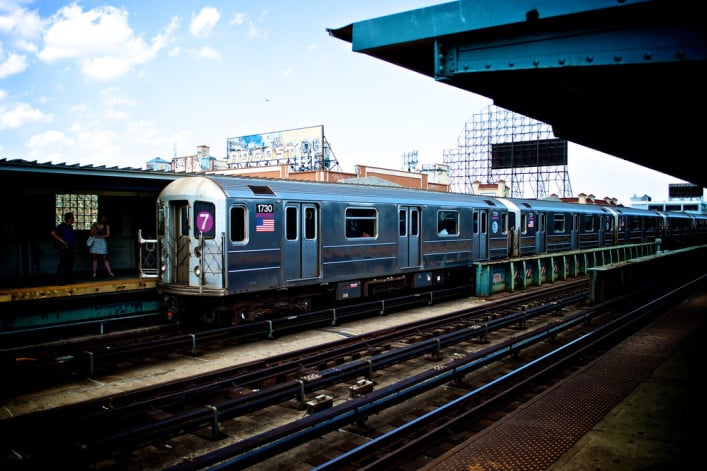 As north Brooklyn collectively scrambles to figure out what they'll do when the L train shuts down, I've personally been bracing myself for my entire world order as a renter to be upended. For years now, my secret to relatively cheap Bushwick rent has been to live near the JMZ train, the above-ground transit line that runs parallel to the L just a little south. But as other renters scatter in search of a train that'll actually take them places, presumably, my neck of the woods will get a new influx of interest, and prices will spike accordingly.
But was the area really that much cheaper to begin with? Not necessarily. According to several experts we spoke with—and data pulled from StreetEasy—a rumbling train nearby doesn't always add up to a big discount. (And my own cheap-ish rents have maybe had more to do with the low-quality apartments than the local transportation.)
"I do not believe that an above-ground subway is a determent or obstacle," says Citi Habitats agent Mike Schulte, who's brokered rentals at The Roosevelt, a Queens apartment building just half a block from the 7 train. "If anything, you can make the counter-argument that [the location] is an asset because of proximity to transportation."
And the numbers bear it out: We asked StreetEasy to look at sales and rental prices (and growth over time) for apartments in four neighborhoods with above-ground train lines, to see if there was an appreciable difference between values right next to the train or a little further away. The results? No noticeable difference or trend emerges, and in Williamsburg and Bushwick, it might actually be a little more expensive to rent an apartment right by the JMZ. (We have a feeling this also has to do with the recent flood of new developments in South Williamsburg).
(Click to enlarge)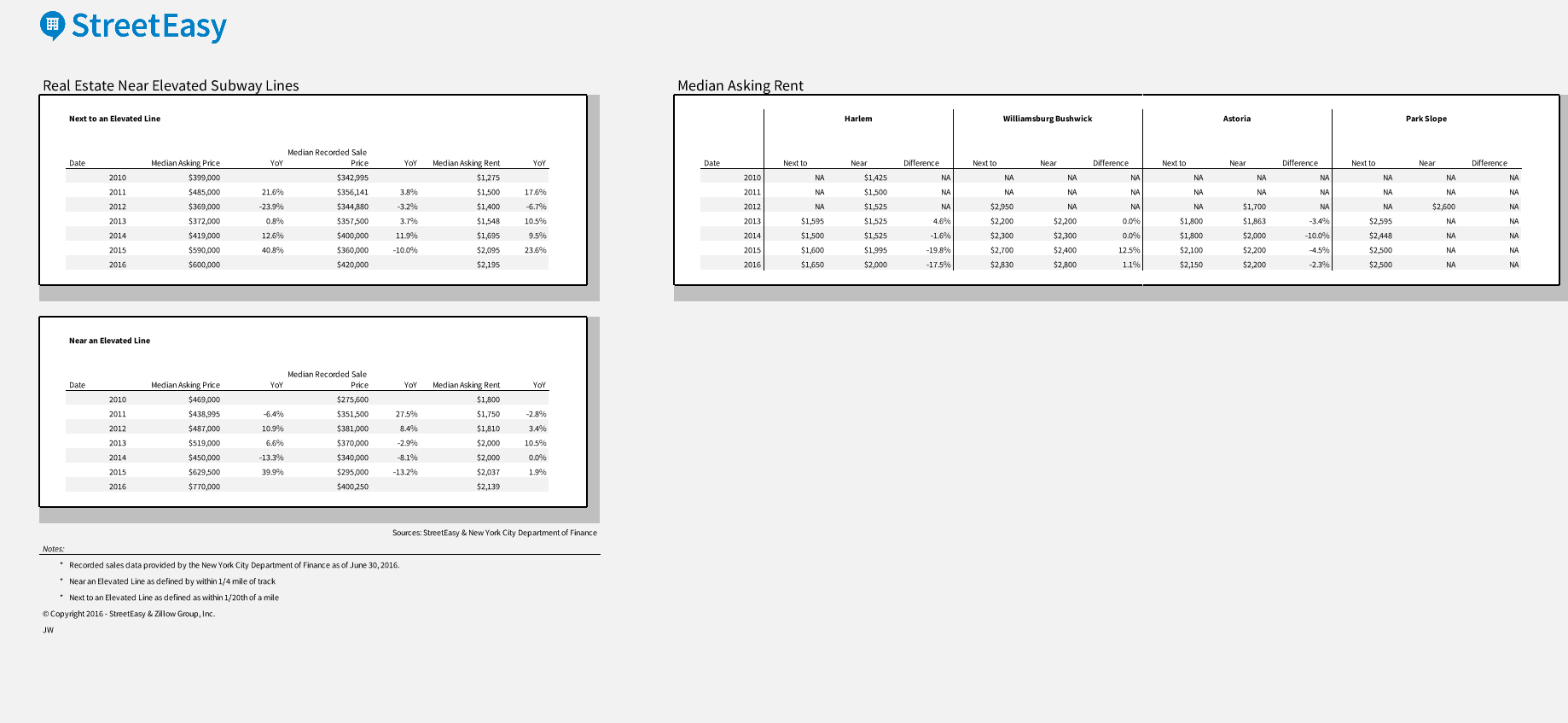 In fact, new developments might be the reason there isn't more of a price spread. The key for property owners, says Schulte, is to go the extra mile to abate the noise, whether that means putting in triple-paned windows (which is typical in rentals), or the more expensive option, soundproofed Citi Windows, which tend to be more common in train-adjacent condos, as the owners are willing to splash out more cash. 
"Just look along the BQE in Williamsburg and Greenpoint, there are buildings where you could practically share a coffee with the people sitting in traffic," concurs Halstead agent Peter Grazioli. "But the buildings are still full. The impact of traffic or a train nearby is much less in new construction because of soundproofing."
But for an older building without those upgrades, Grazioli says you're more likely to see a discount. "If it's an apartment with no special features or soundproofing, and the landlord wants to keep it rented slow and steady, then they'd definitely price it to accommodate the [noise from the train]," he explains.
Ultimately, demand these days is so high that a train outside the window just doesn't constitute a deal breaker the way it might have a few decades in the past. "If you look back at any movie set in New York before the 2000s, they'd have the train running outside the windows as an easily identifiable marker for living in a lousy neighborhood," says Ken Fisher, a former Brooklyn council member, and a land-use attorney at Cozen O'Connor. "It was almost an iconic symbol of either a stressful situation, or a family struggling with poverty. I think the demand of the city has erased that a little bit."
"Does [loud transportation] nearby have an effect on rents and property values? Only to a degree," says Elliman's Doug Bowen, who works in the Wallabout area near the BQE. "But much more so in the past than now. There's such a demand for housing these days that people will look at that as a value play."
Also, Fisher notes, "A lot of people hunting for apartments might not be exposed to the noise long enough while they're looking to really understand they impact until they move in." And even then, if you're, say, a busy single person rather than the parent of a young child, a little extra noise might not be the end of the world.
"It just depends on the person," says Grazioli. "Some people are set back by it, some people think it's charming and have no issue."
And some longtime apartment-hunters might just be glad they've finally found a place to buy and get on that first rung of the proverbial property ladder.
Brick Underground articles occasionally include the expertise of, or information about, advertising partners when relevant to the story. We will never promote an advertiser's product without making the relationship clear to our readers.