Review
In Freeform's spooky new thriller 'The Watchful Eye,' a fancy prewar is not what it seems
It's like 'Only Murders in the Building 2.0' meets '666 Park Avenue' with some supernatural scares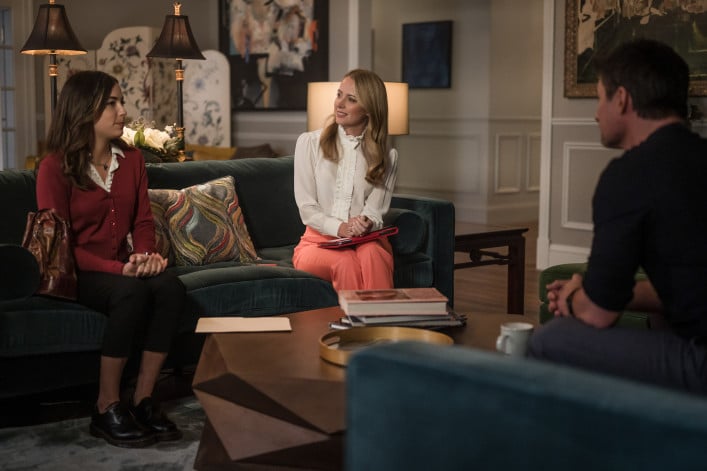 Freeform/Kailey Schwerman
New York City residential real estate often separates the haves and have nots, both in real life and on film. You either are born into wealth—and by extension, a palatial pad with floor-to-ceiling windows—or are stuck on the outside, looking in those windows. Freeform's new thriller, "The Watchful Eye," makes use of that classic divide to spook its viewers.
The hour-long series, created by Julie Durk, is essentially "Only Murders in the Building 2.0" (only less funny) and with a splash of "666 Park Avenue" thrown in for supernatural thrills. Both "Only Murders" and "The Watchful Eye" feature many of the same things: Fancy old NYC buildings, residents dying in mysterious ways—including falling from the building—a search for a pricey gem, annoying neighbors, and less-wealthy outsiders-turned-sleuths. 
---
[Editor's note: When a movie or TV show is set in New York City—and if the people making it are savvy—real estate becomes part of the story itself. In Reel Estate, Brick Underground reality checks the NYC real estate depicted on screen.]
---
"The Watchful Eye" chronicles the hiring and subsequent shenanigans of a live-in nanny, Elena Santos (Mariel Molina), in a tony prewar NYC building called The Greybourne. Elena is hired by a high-end architect, recent widower Matthew Ward (Warren Christie), to look after his young son, Jasper, after his wife tumbles out a window to her death. But it seems some of the mysterious residents in The Greybourne (and perhaps the building itself!) are keeping a watchful eye on her as well.
Old money and 'the help'
The exclusive Manhattan residential building looks like what you would overlooking Central Park; it features a white-gloved doorman and attended elevator, stately lobby, and lots of very elite and snobby residents.
Matthew's sister-in-law, Tory, isn't keen on hiring Elena. She makes it her business to try to sabotage Elena at every turn. "She's one of those meddling Real Housewives types who smoke one cigarette a week," Elena complains, after being asked by Tory to submit to a surprise drug test.
Another nosey neighbor and building matriarch, Mrs. Ivey (Kelly Bishop) even enlists Elena to spy on Matthew for her. To her, Elena is "the help." She makes a point of telling Elena she has lived in the same unit for 40 years.
This fits: Many prewar buildings are home to old-monied residents who have never lived anywhere else. Their homes become sort of museums or time capsules, like the ones in The Greybourne. Original details like marble and stone fireplaces, built-ins and arched doorways make it feel like a place time forgot. One can almost sniff the old NYC building smell that real New Yorkers recognize immediately.
On her first day, Elena is told because she is a hired hand, she must use the freight elevator. As shocking as this may seem, it isn't so unusual in NYC; most stately buildings have service entrances. There are even "poor doors" in some buildings.
Ghosts live rent-free
As a live-in nanny, Elena has her own room; however, it is not located in the Ward's actual apartment. Nannies in the building get single rooms on a separate floor, which look more like prison cells than bedrooms. Or perhaps as Elena quips, "Asylum chic!"
This is not just some Victorian-era quirk: Lots of new luxury developments in NYC include studio apartments that owners purchase as staff apartments.
At least Elena's room has a sliver of a view of Central Park. Never mind that it also seems to house ghosts that live there rent free and intrude without warning, kind of like annoying roommates.
Also over-the-top are the vast catacombs under the building that Elena sneaks inside to snoop. It appears Elena isn't as innocent as she seems. She has infiltrated the building under the guise of being a nanny so she can hunt for some hidden treasure, which she believes is a rare ruby. Instead, she finds a dead body. So clearly this isn't your typical NYC basement.  
However, what is thoroughly realistic is how the residents afford to live there. It turns out that Matthew had married into the family that originally developed The Greybourne (that is their name on the building, in fact). As Matthew reminds Tory, even though she may have lived in her classic sevens her whole life, he deserves to live in his now as well. And while he came from very humble beginnings, when his wife died, he inherited a whopping $8 million, and his son is a Greybourne who will someday assume his place in the family business. All building matters very much concern him. More classic than a seven-room palace is the old-money-versus-new-money-trope.
The way other residents live verges on caricature: One family with three sets of twins has eight nannies that alternate shifts so they don't get burnt out.
Likewise, Tory's teen children seem to lack for nothing. Dressed in the latest designer fashions, they seem to have run of the building and NYC in general, while the nannies are left to sport Shein and pick up after them.
The show is very aware of its "killer" real estate. Emily Fox, the executive producer, says it was trying to depict "the 'real estate gorgeousness' that contrasts [with] the liveliness of the city."
Fox certainly met her goal. Viewers will come for the gorgeous real estate and stay for the ghosts haunting The Greybourne and watching over the residents, some of whom end up dropping like flies.
Brick Underground articles occasionally include the expertise of, or information about, advertising partners when relevant to the story. We will never promote an advertiser's product without making the relationship clear to our readers.