Reel Estate
Hulu's 'Only Murders in the Building' highlights the real mysteries of how some New Yorkers live
Hulu's comedic murder mystery series "Only Murders in the Building" debuted this week starring Steve Martin, Martin Short, and Selena Gomez as three neighbors obsessed with true crime (who isn't these days?) who stumble on a mystery in their own Upper West Side building and set out to solve it. Or at least launch a podcast about it.
"Only Murders" was created by Steve Martin, Dan Fogelman and John Hoffman. Three new episodes dropped with the debut; new ones will follow each week.
The trio are strangers to each other, as only New Yorkers who live in the same building can be. They live in a full-service, prewar luxury co-op building called the Arconia. Martin plays Charles Haden-Savage, an aging actor; Short plays Oliver Putnam, an out-of-work theater director; and Gomez plays Mabel Mora, a millennial.
---
[Editor's note: When a movie or TV show is set in New York City—and if the people making it are savvy—real estate becomes part of the story itself. In Reel Estate, Brick Underground reality checks the NYC real estate depicted on screen].
---
We first see the three in the elevator with another young tenant who is talking loudly into his cell phone while carrying a garbage bag. They all depart and go to their own apartments.
Each apartment interior is very different, signaling their owner's different personalities. Oliver's place is flamboyantly decorated, Charles's place is homey, but updated with modern stainless appliances and Mabel's is notable for its peeling paint, unfinished floors, and general disrepair.
Visually the building and apartments ring completely true to a New Yorker—and the interactions between shareholders are spot on as well. The building has a mix of typical NYC types, each annoying in their own right, yet somehow lovable. Also, they know the floor plan in every line in the building, including the exact layout of the deceased's A-line unit. Very New York.
It makes sense that the vibe in this building feels familiar: The Arconia was inspired by an UWS building called The Belnord, a grand, turn-of-the-century property at 225 86th St. built in 1908 and designed by architects Hiss & Weeks. It features one of the city's largest private courtyards (22,000 square feet), which is seen in the show's trailer and first episode. Fun fact: The courtyard was recently completely restored by Edmund Hollander Landscape Architects.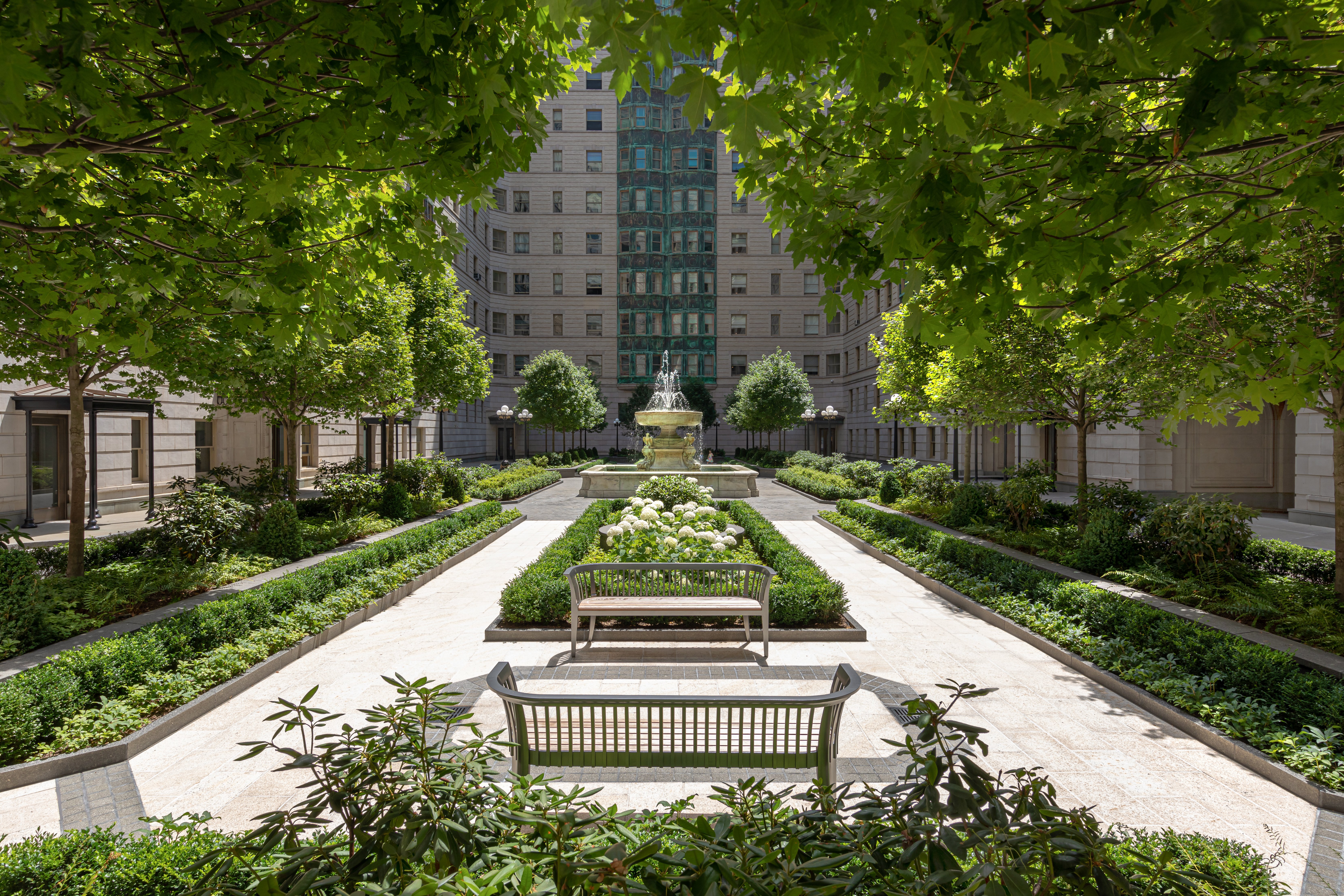 After that brief encounter in the elevator, the trio is brought together again after the police force all the shareholders to vacate during an investigation.
Killing time while they're out of the building at a local diner, the three discover they are all obsessed with the same true crime podcast and the conversation then turns to something even more gripping for New Yorkers everywhere: NYC real estate.
Oliver and Charles tell Mabel they each bought their co-ops 30 years ago when "the Arconia was affordable" and Oliver grills Mabel on how she can afford to live in hers, finding it very suspect that someone so young could live in the building by herself. He suggests her parents must own the place.
"Good God, Mabel, you don't have to answer that...unless you want to, because I'm also curious," Charles interjects.
Mabel remains tight lipped, and the moment is very NYC, where no one is immune to nosy neighbors who want to know exactly how you can afford to live here.
It makes sense they'd be curious. Apartments in a building of that type would range in price from $4 million to $12 million these days.
The show seems aware of this and offers a plausible explanation. We later find out that Mabel's aunt owns the apartment and she can live there only because she promised to renovate it—which she does. Her friends are shocked that anyone would live in an apartment undergoing an upgrade. It's a real nightmare of course, as any New Yorker can tell you.
When the trio returns to the building, they learn there was a death there, a supposed suicide. But the young man who died—the loud talker in the elevator named Tim Cono—didn't seem suicidal at all. Could it be foul play?
Teaming up with your neighbors
Many New Yorkers who live in large buildings don't know their neighbors. One could live there for years and not know the name of someone who resides down the hall. It can take a tragedy to bring people together.
When our doorman died of Covid, I met people in my building I never knew despite living there for seven years. Suddenly we were a team, and during the height of the pandemic we raised over $7,000 for our doorman's widow. So it somehow makes sense that shareholders at the Arconia would band together to figure out what happened.
Following Cono's death, the board calls a meeting of all residents in order to hold a memorial, but here's where things turn morbidly funny. Neighbors speak ill of the dead because they were prohibited from using their fireplaces because of his supposed asthma. One owner mentions that his cat died the same night as the victim; there is more empathy displayed for the feline than for the recently departed.
In a bit that reminds viewers it wasn't so long ago that New Yorkers scanned the obituaries to find a vacant apartment, at the memorial, neighbors fight over who will be able to buy the co-op to combine with their own units.
One neighbor jokingly confessed to the murder saying, "I did it for the square footage and those views!" This sort of irreverent chatter is commonplace between New Yorkers, who are very "direct"—something Martin's character points out in the show's opening.
Even the fact that Sting (played by himself) lives in the fictional building is also not as over-the-top as it would be if a celeb was residing in a nondescript building in Des Moines. New Yorkers are used to seeing celebs living a few feet from them.
Overall, everything real estate-related is very realistic—except for two small things: 
Co-op boards are often the bane of a shareholder's existence, however, when the board president threatens to shut off Oliver's water and electricity because he hasn't paid his maintenance fees in months, it doesn't ring true. In NYC that would never actually happen—it's not how buildings work.
And most shocking of all, when Oliver shouts "No one wants a murder podcast about real estate!" it couldn't be more untrue. Of course we do!
The third episode highlights the fact that we can never truly know our neighbors, even if we can hear them daily through our apartment vents. In a building of thousands, there are countless secrets held within its walls. As disconcerting as that may be "Only Murders in the Building" lets us feel like voyeurs without any guilt or fear.
Brick Underground articles occasionally include the expertise of, or information about, advertising partners when relevant to the story. We will never promote an advertiser's product without making the relationship clear to our readers.