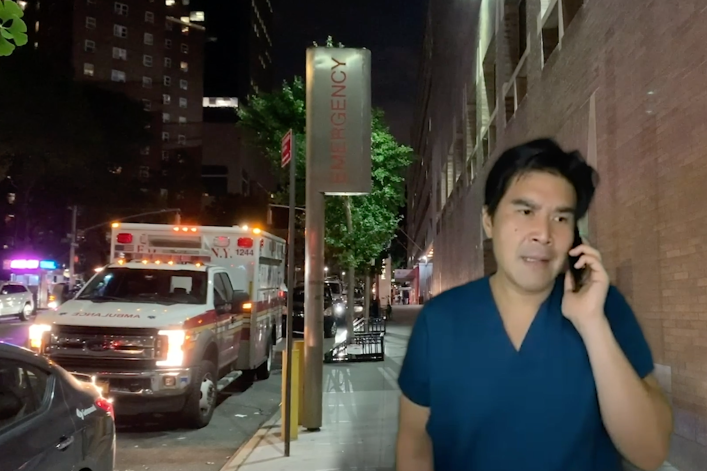 It probably doesn't get any more meta than this: "The Building: Under Lockdown," a new show about New Yorkers stuck in their apartments during a pandemic was created by New Yorkers stuck in their apartments during a pandemic—and made using Zoom. 
So, it's fitting that this series, written by playwright and tv writer Ed Napier and co-directed by Emmy-winning tv producer Jesse Green and actress/filmmaker Jodie Markell, will run on YouTube. The scripted series, which is filmed by the actors themselves in their own homes and features careful use of b-roll and green screens, convincingly depicts residents of an Upper West Side co-op building trying to navigate the surreal "new normal" of the coronavirus outbreak. 
---
[Editor's note: When a movie or TV show is set in New York City—and if the people making it are savvy—real estate becomes part of the story itself. In Reel Estate, Brick Underground reality checks the NYC real estate depicted on screen].
---
The season is divided into "cycles," and the first one has six episodes and depicts the start of the Covid-19 pandemic up until the Black Lives Matter protests. The first episode is called "March 13th, 2020." Videos will be released biweekly. 
But how real is the real estate depicted? Thanks to the format, it's very real.
In the opening scene, a co-op resident—Stephen Cho (Pun Bandhu), a physician who is treating Covid patients—is being banned by the board president, Gladys Pasternak (Kathryn Grody) from his Riverside building out of fear he will spread the virus. This story is ripped from the headlines, a nod to the true-life story of a doctor from New Hampshire who came to NYC to help during the pandemic. 
Vicious building gossip
Everyone in the building has an opinion about building's stance—and shares them. "The Building" perfectly captures what New Yorkers do best in times of stress: Kvetch! Via phone or Zoom, residents gossip about each other viciously. Stephen's wife, Mallory Catalano (Alexandra Napier) wishes the coronavirus upon elderly Gladys, saying that after 22 years as board president position it is "time for her to go" —as in permanently. This sort of mean-spirited humor strikes a chord. Any New Yorker who has lived in a high rise knows that hell can be other people, particularly those in close proximity. 
Other Riverside co-op residents are also spot on: A privileged former finance guy, Charlie Tuttle (Joe Delafield), who now wants to be an Episcopal priest, to the chagrin of his flakey, actress wife, Chloe (Jodie Markell); and a violinist/music teacher, Midge Rivington (Laura Esterman), a self-proclaimed "last true Marxist on the Upper West Side" who's having a fling with Benny Weinstein (Robert Lupone), a sort of know-it-all. 
Producer Anne Hamburger describes the show's characters as "sometimes insufferable and sometimes lovable, comically idiosyncratic and infuriatingly stubborn—but ultimately, they are extraordinarily human." In other words: Average New Yorkers. 
Midge says that she knows everything about her neighbors because she Google-searched everyone in the building. Doesn't everyone? Nosey and prickly neighbors are par for the course in NYC—a quintessential feature of vertical living. To wit: When the doorman is late in alerting Chloe of her Fresh Direct delivery, in between wiping down fruit, she vents about it to Mallory. 
Second-home coronavirus blues
When New Yorkers get together—even remotely—the topic inevitably turns to real estate. It's no different while under lockdown. A character muses about going to a second home in Vermont but heard that the community is now hostile to New Yorkers out of fear they will bring the virus. 
Others in the building who are in the theater industry are devastated when Broadway closes and their livelihood ends abruptly. John O., an actor (Kevin R. Free), laments having to pay his own subtenant to go away when his acting gig in Canada is canceled. 
Here's where the real estate talk gets juicy—and hits home: He explains he has to pay the board $9,000 upfront—a percentage of what he earns by subletting. But now that he had to cancel the agreement, the board president, Gladys, refuses to refund his money. Not shockingly, the board president seems to be everyone's number one nemesis. 
These property owners are also savvy. Real estate is going to take a hit, they say, but the bright side is that mortgage interest rates are so low it is a good time to refinance. 
While the living spaces depicted are largely green-screened images, the show got them exactly right for what those in the highlighted socio-economic class would reside in. 
Those obsessively cooking are doing so in nicely maintained kitchens with high-end stoves and stainless-steel fridges. Prewar built-ins offer ample storage for books and knick-knacks picked up on exotic vacations. Residents try to exercise and squeeze yoga mats into their cramped living rooms. 
Too much like real life?
If listening to couples fighting and whining sounds just a smidge too much like real life, here's a fun drinking game to try while watching: Take a drink every time someone drops the F-bomb. Viewers will be drunk before the credits roll. With episodes ranging from 15-30 minutes, this is quite a feat! Even if you're not drinking, it's probably best to keep youngsters away from the screen or keep the volume low because the obscenities fly constantly. 
"The Building: Under Lockdown" may not be exactly the show to watch if you want an escape. It's no "Joe Exotic." It will do nothing to help one forget about the frustration and isolation. It does, however, chronicle what New Yorkers experienced. In a way, there is a comfort in that. You will feel seen. 
And because it is so much like the real NYC right now, you will laugh (although true comedy is tragedy plus time, so I suspect this will get even funnier when we have more perspective on this very stressful time) and you will cry. For example, Stephen, the physician banned from the building, calls his wife to tell her that he believes medical professionals are in over their heads with the virus he is near tears. When he explains his last patient, a young man with no underlying health issues, will die because his "kidneys just melted," it's hard to remember you are merely watching a show. 
You may even find yourself nodding in agreement when shareholder Midge says she hopes, "there is extra-terrestrial life out there and they are going to invade us and rescue us from the orangutan in the Oval Office." If only.
Brick Underground articles occasionally include the expertise of, or information about, advertising partners when relevant to the story. We will never promote an advertiser's product without making the relationship clear to our readers.