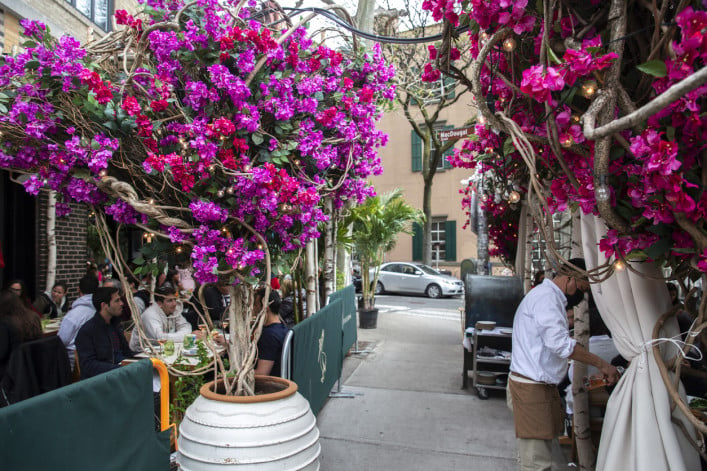 The building behind our co-op wants to put in a restaurant with an enclosed eating area in the backyard. Residents of our building who face the back are concerned about noise, odors, vermin, and light pollution, as well as the impact on property values. What can we do?
All the potential problems you mention can be real concerns, our experts say, but unfortunately, you may find that you are limited in how you can address them. 
"A restaurant is always a concern. Buyers don't love living close by because of the noise and vermin, and it is not great for a building from a quality-of-life perspective," says Deanna Kory, a broker with Corcoran. "It's OK if it's an established place, but the value of a similar apartment without a restaurant could be as much as 15 to 20 percent or more. The lower the floor, and if the windows face the restaurant, the more the apartment value is negatively impacted." 
This is likely to be a source of anxiety for more New Yorkers than ever, given the number of restaurants that opened new outdoor seating areas over the past year in response to pandemic restrictions on indoor dining. And while this change has helped to save a number of businesses—and, perhaps, the sanity of countless locals—there are certain drawbacks. 
"Unfortunately, vermin are often associated with food establishments, and with increasingly less addressed 'outdoor' dining issues, there is a reason for concern," says pest control expert Gil Bloom, president of Standard Pest Management. "While proper restaurants have assorted health codes to adhere to, the outdoor dining concept is unstructured and without guidance."
You may have the opportunity to state your concerns at the hearing for the restaurant's liquor license, a legal requirement for new establishments that will serve alcohol. 
"If the restaurant requires a variance or needs a liquor license to operate as proposed, you could look into attending the city hearing at which the variance or liquor license application is being discussed and state your objections," says Jeffrey Reich, a partner in the law firm of Schwartz Sladkus Reich Greenberg Atlas. "This information and some support may be obtained from the local community board or council person, but if the restaurant may operate 'as of right,' there is little that can be done." 
Note that the State Liquor Authority is now holding all meetings remotely via webcast; according to a spokesperson, members of the public can submit written letters in support or opposition to pending applications. These letters will be reviewed by SLA members before they make a determination on licensing applications. 
If the restaurant is approved, your building can take steps to, at the very least, reduce the risk of pests. "The first step in defending your exterior is sanitation, followed by exterior pest exclusion with rodent-proof door sweeps and screens," he says. 
---
Trouble at home? Get your NYC apartment-dweller questions answered by an expert. Send your questions to [email protected].
For more Ask an Expert questions and answers, click here.
Brick Underground articles occasionally include the expertise of, or information about, advertising partners when relevant to the story. We will never promote an advertiser's product without making the relationship clear to our readers.