Improve
Outdoor dining noise invading your apartment? Here are some low-cost sound-proofing tricks to try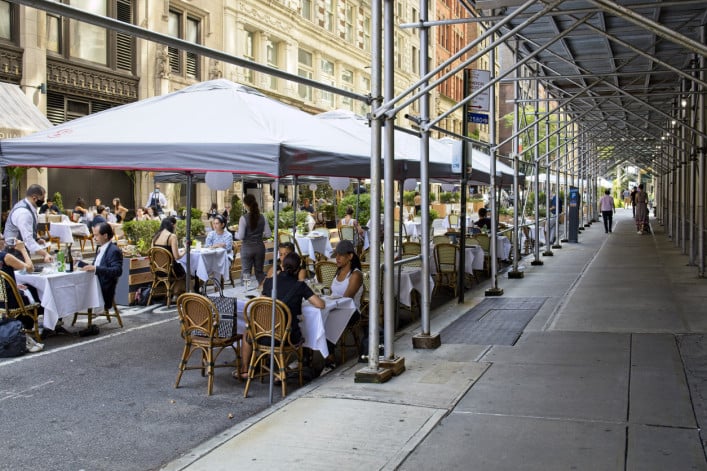 If you don't live next to a restaurant, then you're likely as enamored with New York City's expanded outdoor dining phenomenon as the rest of us. It's lovely to dine outside and people watch while the city is swirling by you. Even if you're not sitting down to a meal, the new seating areas make NYC's streets feel lively and festive.
But if you do happen to live in close proximity to a restaurant offering outdoor dining, then you're likely ticked off by all the noise, especially at night.
You can try making sure the restaurant is following the rules for social distancing and complying with the city's noise code. If it's not, as this article in The New York Times points out, you can request mediation, which the city is providing to resolve disputes between restaurants and their neighbors.
But those are not surefire routes to achieving peace and quiet, or some semblance of it. So, you might want to consider ways to shore up the soundproofing in your apartment. Here are a few tricks to try that are not a big investment (we're not going to suggest you spend major dollars on soundproof windows from Cityproof and CitiQuiet, although those are the gold standard). It doesn't pay to make a big investment right now, considering that the weather is turning colder, and (ominously for the city), restaurants will be less likely to sustain outdoor dining when the weather turns bad. Here's what you can try.
Take out your AC and mind the gaps
If you're the type who leaves your air conditioner in the window all year round, you don't know what you're missing. When you take it out, your apartment will be noticeably quieter. (This is one of my favorite autumn rituals—the hush that descends on my place seems to say, "fall is here.") With the unit in place—your window is not closed, so it can't help seal out some of the noise. You're not running it now anyway, so why not take it out and store it?
And you should check for other gaps around windows and doors. Tighter seals mean less noise, so consider adding a door sweep, which can cost a couple hundred dollars. Filling in cracks in your windows with acoustic caulk is another inexpensive way to boost your soundproofing. A single tube costs $8 on Amazon.
Put up sound-proof curtains
Consider blocking out some of the noise with acoustic curtains—which are often used as room dividers where you can't put up walls. These are thicker than standard curtain fabric and manufactured to absorb sound but are not completely soundproof. Brick Underground looked at several companies that sell these, as well as some options on Amazon. RoomDividersNow, for example, has kits starting at $400.
Soft furnishings are your friend when it comes to absorbing sound, so also consider adding rugs, drapes, and soft furniture to dampen acoustics. IKEA textiles are inexpensive—you can get a thick, room-sized high-pile rug for $200. For curtains, these heavy, room-darkening cotton velvet panels are $60 for a pair.
When you're decorating your walls, go for plush textiles instead of glass-framed prints. One option is felt tiles—and there are a lot of companies to choose from—here are two that offer a broad array of colors: Swell 3D wool felt tiles are $14 per foot at Inhabit. With deep colors and carved texture, these make a bold statement. Felt Right tiles are made from water soda bottles and a single 12-inch square tile is $8.
Invest in noise-canceling headphones
Probably the simplest solution is to cover your ears–with noise-canceling headphones. If you're not already on this bandwagon—now is the time to jump on. There are a bunch of manufacturers angling to beat Bose in this product category, and with competition comes lower prices.
CNET rated the best noise-canceling headphones for 2020 and their picks range from $45 to $500, with 12 choices under $250. The best budget choice for wireless noise canceling are earbuds by Mpow, available on Amazon for $60. Each earbud features two microphones, one to cancel background noise, the other to enhance whatever you are listening to.
Another option is to get a white noise machine. The Wirecutter spend 20 hours of research and testing to come up with this list of the best white noise machines for 2020. The top pick, LectroFan, is now on sale for $32 on Amazon. It has 10 fan sounds and 10 ambient noise variations.
Because if you can't beat the noise, making a little of your own may be the solution.
Brick Underground articles occasionally include the expertise of, or information about, advertising partners when relevant to the story. We will never promote an advertiser's product without making the relationship clear to our readers.