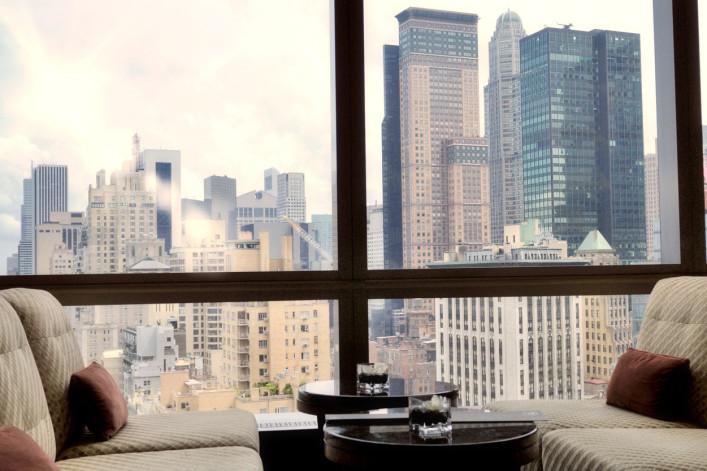 Noise—you can't get away from it in New York City: the extra large fire trucks, the honking cabs, the endless daytime drinkers who yell, and that incessant drilling noise that can penetrate pretty much any wall, window, or pair of ear plugs.
Ideally, our apartments would be our refuge from the din. But given that 311 receives over 100,000 noise complaints per year (see the full stats here, or check them out in map form), it's fair to say that a lot of us have a long way to go when it comes to soundproofing our spaces.
This despite the fact that it may be necessary for our health to do so: Researchers have been examining the effects of noise on city dwellers and early reports of one study underway though Harvard University's T.H. Chin School of Public Health has shown a disturbing connection. "Noise is insidious. It affects you acutely, but also long-term. This is something that people don't really talk about, but something people really suffer from," study author Erica Walker told The Atlantic.
Another study highlights the impact that living near an airport can have on your health, and in 2014, the medical journal, The Lancet, published their research on noise pollution and found that it "can cause a number of ill effects, such as annoyance, increased stress levels, and sleep loss." 
There are, of course, professionals who can come in to mitigate all that racket: Soundproofcow and Audimute, specialist soundproofing companies, provide free room analysis and then offer advice on products engineered for absorption (alleviating mid and high frequency) and isolation (rid low frequencies), plus they ship for free. Door perimeter seals, for instance, start around $170, and an insulator roll to place under a carpet starts at around $55 (for one that measures 2 feet by 25 feet).
But as a rule, full soundproofing doesn't come cheap—as we've written previously, soundproof walls can cost as much as $8,000 each, and soundproof windows tend to start at around $1,000 apiece. Neither is it simple. 
"First, the room or apartment or house needs to have the correct level of acoustic separation [a fancy way of saying 'soundproofing']," says acoustic consultant Dr. Bonnie Schnitta, founder and CEO of SoundSense, an NYC firm that consults on building noise issues and designs and builds solutions. Schnitta, in fact, has a patent on a device that finds acoustic leakage. Her advise is to think of sound in two ways: what is being transmitted through walls, doors or windows and what is making the sound echo once it comes in.
(From personal experience having lived all over lower Manhattan in a series of noisy apartments, this writer's philosophy has been that if New York is too noisy for you, New York isn't for you. But even then, some situations have called for action. There was the eccentric neighbor with a death metal band didn't help (earplugs helped), or the litter of puppies that were left at home all day to fend for themselves (which means they basically moved in with me to eliminate their yelping). Or that time when the neighbors never, ever left home—so their whole life was coming through the walls and I had to deliver yet another welcome basket to remind them that there are actually people living next door. A favorite is, of course, the time a celebrity (I won't name drop) and I both put our heads out of our apartment doors at exactly the same time when we heard noises that sounded like the sky falling coming from our elevators.) 
While often in many cases it's been up to the landlord to mitigate a problem, there are, of course, there are some very good, and effective, steps New Yorkers can take themselves: 
Invest in a great sound system
Though most of us instinctively know this to be true, Sonos recently released a study that confirmed listening to loud music can help make you feel happier and inspire creativity. Sonos has room-tuning software, Trueplay, that measures acoustics in any room. "It analyzes things like size, layout and furnishings, and then fine-tunes your speaker to sound its best," says Seth Arluke, director at Sonos Store NYC. Not only will you be blocking out the sound from outside; it will make sure that things inside the apartment feels extra wonderful. Or if you're wanting to make a little bit of an investment Bose has a custom-home solution where they come to your apartment and can advise you on all things sound related—blocking out outside noise and keeping the good music inside too.
If you truly need to block out noise (construction that has a completion of 2018, for instance) a great sound system for your ears will do, in a pinch—think noise-cancelling headphones, such as the Master and Dynamic wireless version ($400). 
Well-chosen carpets and drapes can work wonders
The carpets and curtains you choose for your apartment are far more than just a matter of decor; carpets soak up sounds coming from downstairs and absorb sound from your own apartment. And since fabric absorbs sound and reduces echoes, the heavier the curtain, the better. (Bed, Bath & Beyond has a wide selection of these). For rugs that absorb the sound Rug Felt Corner has great felt rug pads that will do the trick.
Brad Zizmor of NYC-based architecture and design firm A+I explains: "The golden rule is: the softer the surface, the lesser the sound. We use carpets, drapes, plants, soft furniture, or fabric wall applications to dampen acoustics. The trick is to place them opposite each other. This works in a small New York apartment or a 100,000 square foot office space." 
Mind the gaps
It is helpful to check your windows and doors. If the seals have any gaps it means unnecessary sound is no doubt coming through. Your super can install something to assist you—usually door sweeps and seals will do the trick, available online for a couple hundred dollars.
Use walls strategically 
Because book cases, armoires, and cabinets act as barriers to sound, make sure if you have a shared wall that you're covering it. And on other walls, hanging art helps to break up big, open surfaces that encourage noise intensity. According to Acoustical Surfaces Inc, when your walls are bare, the chances of sound echoing is much greater as it has more room to reverberate.
Make nice with neighbors
It might not be your favorite pastime, but sometimes it's worth starting a dialogue and finding amicable ways to help reduce noise if your neighbors themselves are the source of the problem. If you're doing it for them, they might just do it for you. The best idea is to take a small token of openness (cookies usually do the trick) and to knock on their door with a smile. Asking upstairs neighbors to look into adding rubber runners under their carpets is a cheap and easy solution (and in my experience often even covered by the landlord of the building). In many buildings, having 80 percent of the floor covered by carpets is also a requirement set forth in the lease, and it's possible it's just not been enforced in your building—yet. If your neighbors have a band or a habit of having parties, you may benefit by asking them if you could have a schedule that's agreed upon beforehand—for instance, no music practice after 10 pm. Or if you know ahead of time they'll be slamming the bass until late on a Friday evening, you'll happily be at a night at the museum. 
Brick Underground articles occasionally include the expertise of, or information about, advertising partners when relevant to the story. We will never promote an advertiser's product without making the relationship clear to our readers.