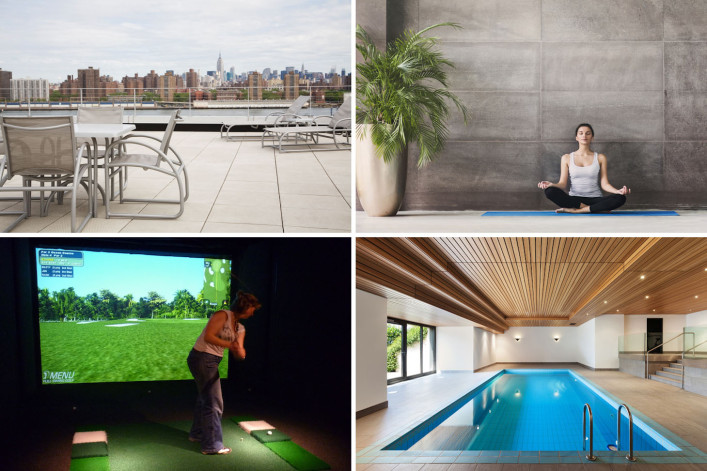 Walk-in closets, a washer and dryer in the apartment, a rooftop pool—these are amenities that tend to get both buyers and renters excited. And brokers too, because amenities help to make their job of selling or renting an apartment that much easier.
But as new buildings vie with one another to attract dwellers, they seem to "one-up" each other in terms of their perks on offer—perks that don't necessarily get used or add much value, but which you end up paying for either in common costs or in increased rent.
Brick Underground recently looked at over-the-top sports amenities going into luxury buildings today, and found a wide range, including an indoor soccer court, rock climbing wall, a boxing studio, golf simulator, and even a skateboard ramp. 
To get a sense of what's really appreciated by residents, we asked brokers what they thought were the most overrated amenities, and here's what they had to say. Some of their answers may surprise you.
Complimentary breakfasts
Some buildings offer a simple lobby breakfast that usually includes bagels and coffee, but "people don't have time to have breakfast, which is most of New York City," says Frances Katzen, a broker with Douglas Elliman.
240 Park Avenue South used to offer this amenity, at a cost of about $75 a day, but phased it out, Katzen says.
Screening rooms
While some people will use a building's screening room for viewing parties (think the Super Bowl or the Academy Awards), most of the time this space goes unused as people today tend to watch movies on their electronic devices.
"Anytime I'm showing one of these lounges, it's empty," says Heath Tucker, an agent with Modern Spaces. "The rooms feel dark, which makes sense for logical reasons, but the sofas have probably never been cleaned, and in general it's not a welcoming space."
Yoga rooms
Like the screening room, brokers say they rarely see yoga rooms in use.
"In the beginning, some people will host a few classes, but as time goes on, they realize to maintain the room and hire a yoga teacher is much more trouble than going to a class at a studio," says Shii Ann Huang, a broker with Compass.
Pet spas/grooming stations
We've seen these added to buildings in recent years, but brokers aren't convinced owners are using them.
"It's unclear how many people are using those yet, but I think New Yorkers are so busy, who's grooming their dog themselves?" Huang asks.
Katzen agrees: "Do people even know how to use it the proper way a groomer does?"
Libraries
"No one uses it. Ever," Huang says. "I go to a development years after they initially launch and go into the library, and it looks exactly the same as in the pictures from when it opened."
Indoor pools
Everything being built in Court Square and Queensboro Plaza is attracting a younger crowd, but indoor pools tend to be popular with families, Tucker says, adding that some people use them to swim laps, but very few.
"Outdoor pools on the other hand are young, sexy, and fun—and they're an amenity that does get used," he says.
Rooftop decks and barbecues
Though outdoor space is often desired, people tend to use it much less than they anticipate when moving into a building that provides it.
Tucker has a barbecue on his rooftop and never uses it because he assumes other people are already there. Yet, when he shows clients rooftop spaces even on beautiful weekends, "no one is there."
"Nobody likes to hear that," Huang says. "Often, only three people use it and they really love it, but everyone else rarely gets up there. Think about the time you spend at home sunbathing or barbecuing, and how hard will it be to carry 12 bottles of rosé up a spiral staircase twice a year?"
Golf simulators
The golf simulator is the one amenity that received unanimous mention.
"Self explanatory," Tucker says.
"Quite possibly the worst amenity I've seen in my career," Huang says. "Instead, I wish someone would put in something fun, like an arcade instead of a children's playroom," she says. "It could have pinball machines and old-school video games. That would be awesome!"
Brick Underground articles occasionally include the expertise of, or information about, advertising partners when relevant to the story. We will never promote an advertiser's product without making the relationship clear to our readers.