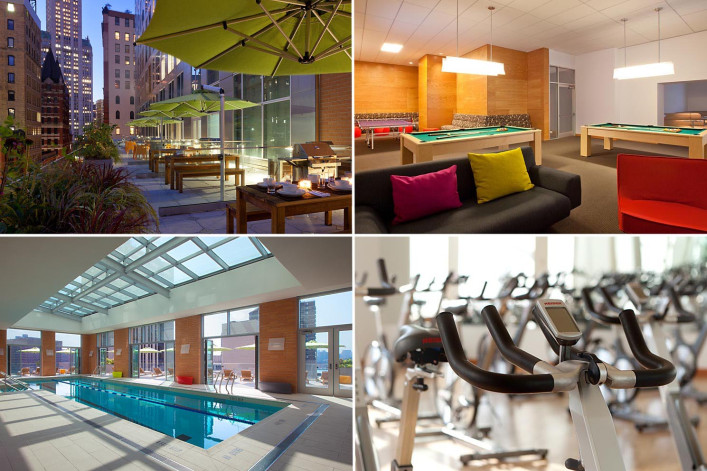 How much are you willing to pay in rent for amenities like a pool, gym and residents' lounge? We asked six New Yorkers whether building perks are worth it, and it turns out the issue is one of principle, and not just budget.
No frills necessary I would prefer a no-frills place anyway, and not just because it would save me money. I don't need to live in a hotel. I don't get that whole lifestyle. I can understand a doorman to take packages and to make you feel safe. But I think it's ridiculous to live in a building and fork out hundreds of dollars in tips on top of what you pay in maintenance. I have friends who live in luxury buildings and they don't know half the people on the staff they are doling out tips to. Do I really need somebody to open my door and call me a cab? I don't need a lobby with lounge furniture and art on the walls. What am I going to hang out in the lobby of my building for? - Shawn, Midtown West
Bring on the luxury I'd love to live in a super luxe, hotel-style building. Why wouldn't you? To have a great piece of real estate in the greatest city in the world and have all the luxuries that come with it: gym in the building, pool, roof deck, spa, 24-hour doorman and super. Isn't that what we're all working toward?  - Gem, Upper West Side
All for the simple life If you think about it, how much do you really use all those extras? It's a status symbol I can't ever see myself shelling out money for. I'd rather have the no-frills place where neighbors rely on each other to take each other's deliveries. Where there's a little roof deck that isn't really anything but a roof and everybody brings their own chair and we have our little herb pots that we water for each other. That's how I live now and I love it! - Deanna, Upper West Side
Pragmatism rules  I'd save my cash for other things, like going out to dinner or vacation. I understand all the services you can get from buildings nowadays are sort of geared toward making people feel like they are getting special treatment, but I'd rather treat myself. Plus, if I ever fall on hard economic times, I don't want to have to worry about paying my maintenance! Or even if it's not that bad, I don't want to worry about having to pay tips to all these staffers! - Dustin, Harlem
The ultimate staycation If I could afford it, I would move into one of these full-on luxury buildings with spas and gyms and game rooms--in a heartbeat! And I have kids! How amazing would it be to have all those amenities at your fingertips! For both the kids, kid's parties, all our out of town guests that come to NYC. That would knock their socks off! Not to mention, with spa facilities, I could go on much needed little mini breaks for myself without leaving the building. - Natasha, Astoria
Save your money...and your soul! Save. Your. Money. Honestly, it's not just the money, but it's insane how some people think living in these luxury buildings is a responsible lifestyle. I don't care if I sound holier-than-though. We should be creating buildings that use less space, less resources. And we should be encouraging our kids, friends and neighbors to interact with people outside our own buildings! Learn to plant in a community garden. I don't want to teach my kids how to tip their building staff. I want them to be part of the community they live in, and not feel like escaping the community and hiding in their luxury pads! - Euna, Harlem
Result: Luxury lovers: 2, Friends of no frills: 4
Verdict: No-frills wins!
Related:
Perk Check Find out which luxury apartment amenities are useful -- and which ones barely get a try
What matters more? Location or amenities?
Amenities: icing on the real estate cake 
The technology concierge...and 6 other amenities we'd like to see
Brick Underground articles occasionally include the expertise of, or information about, advertising partners when relevant to the story. We will never promote an advertiser's product without making the relationship clear to our readers.