Thanks to the still-brewing scandal over the politically-motivated closing of the George Washington Bridge in 2013, Fort Lee has enjoyed a notoriety of sorts in recent years, making it more visible to non-residents, as well as to commuters familiar only with the buildings that line I-95 on the way to Manhattan.
It's a pity, really, since there's so much more to this borough than Chris Christie's political quagmire. Tucked into New Jersey's Bergen County with a population of about 36,700 (per the 2015 Census), and spread out over less than three square miles, Fort Lee is a bustling, diverse mini-metropolis. It boasts a large Korean community, for starters, and has a restaurant-heavy downtown along with new developments infusing its primarily low-slung skyline with modernity.
At the same time, however, all that growth is giving rise to worries about increased traffic (already an issue) and overcrowded schools, per NJ.com. In 2010, its public high school was ranked 81st out of 339 in the state by New Jersey Monthly, with a graduation rate of 96 percent and nearly half of students taking at least one of 21 AP subjects; three of a handful of public elementary schools received a rating of 10 (out of 10) on Zillow.
Unlike Hoboken, Fort Lee isn't a walkable town, per se, except for sections like Main Street. (For this alone, it's not quite as popular compared to Hoboken, Jersey City, and Weehawken.) But it's steeped in history—film history, specifically. "Bridgegate was actually a help to us in the sense that it promoted an awareness of Fort Lee that most of the country never had," says Tom Meyers, borough historian and cultural affairs director for borough of Fort Lee. "During that time, the Los Angeles Times had a front-page article mentioning that Fort Lee was the birthplace of the American film industry. It's a very important history to us."
Fort Lee does, in fact, play a significant role in the history of American movies; according to Meyers, in the early 1900s, the borough was "like a huge backlot," with its cliffs and streets starring in various productions. (Per the Fort Lee Film Commission's website, the term "cliffhanger" was coined from thrilling serials filmed on the cliffs of the Palisades.) By 1917, there were 17 working film studios in Fort Lee, Meyers notes. (Sam Goldwyn actually had his start in Fort Lee, he says, and the Barrymores were here, too.) World War I stopped the momentum, and the industry headed out west. The Fort Lee Film Commission raises money to help restore movies made in the borough, including the oldest surviving American version of Robin Hood (called, appropriately enough, Robin Hood). 
Getting there
There's the GWB, of course, which levies a $15 toll one-way (you'll pay less with an E-Z pass), and NJ Transit buses that carry passengers to either Washington Heights or Midtown. (The fare starts at $3.50 a ride for adults on the 154 bus each way, for instance, though a monthly pass will be much cheaper on the whole.) Fort Lee is about seven miles from the Upper West Side, and the commute, though short in distance, can be excruciatingly slow during rush hours. Technically, there's no ferry stop in Fort Lee, but NY Waterway operates out of neighboring Edgewater and it runs free shuttle buses that pick up throughout the borough. Getting to the other popular Jersey river towns takes just 15 minutes by car, or a little longer by bus. "It's like a little gateway toward a lot of little places," says Sharon Shahinian of Halstead Property, which markets properties along Jersey's gold coast, including Fort Lee. "It's a nice hub."
The real estate lowdown
As of this writing, there are 560 properties on the market listed on Trulia.com, from a $58,900 high-rise one-bedroom that could use a makeover to a $7.488 million nine-bedroom with a tennis court and a pool on a half-acre in the Cliffs, one of the toniest sections of Fort Lee. All this to say you have a wide range of options if you're in the market to purchase. "Fort Lee is diverse in population and diverse in architecture, with homes that are 150 years old and brand-new apartments," says Meyers. 
"There's really a wide spread over there," adds Shahinian. "You can buy a beautiful a three-bedroom, duplex-style at the Winston Towers with direct city views, or a humble studio at one of the older co-op buildings." (For reference purposes, a millon dollars could get you at least 1,500 square feet, says Shahinian; Trulia has the price-per-square-foot price at $515.)
Unlike Manhattan, where co-ops are predominant, there are more condos on the Jersey Gold Coast (which runs from Fort Lee to Bayonne, says Shahinian), though there are plenty of co-ops in Fort Lee proper. Co-op boards do look over financials, but the standards are a little more relaxed than New York buyers are used to in the city. A typical calculation: One week's salary should meet the monthly maintenance fee, which typically run from a few hundred dollars a month to $1,500 to $1,800 a month, depending on the size of the apartment and included amenities. "The market has been so hot, with bidding wars," says Shahinian. Anything under a million goes quickly, she adds, though above that price point, there has been some slowdown.
As for rentals, traditional options are apartments in low-rises, though the new tower called the Modern has pushed price ceilings higher by offering more luxurious options. Monthly rents in Fort Lee range between $850 to $1200 on the low end, says Shahinian, and up to $7500 a month for a three-bedroom in the Modern. "A lot of people who are outpriced of Brooklyn, Manhattan, and even Hoboken are looking in Fort Lee," she says. 
Don't miss...
For a certain subset of outdoorsy New Yorkers, a bike ride across the GWB is a must. (The bike path runs along the Hudson River and is pretty clearly marked, though you'll need to zigzag through a few streets in Washington Heights to get to the bridge to Fort Lee.) The path leads you straight to Palisades Interstate Park, where you can take nature walks and enjoy views of the city across the river. "More land is devoted to parks in Fort Lee than any other area [nearby]," says Meyer. While there, check out the Revolutionary War encampment at the Fort Lee Historic Park near the cliffs. 
Be sure to sample Korean fare at any of the restaurants on Main Street and Lemoine Avenue. (Saveur Magazine's recently published ode to Fort Lee Korean food is a must-read and has plenty of recommendations.) And cinephiles should stop in at the Fort Lee Museum (1589 Parker Avenue; open weekends from noon to 4 pm), which has displays about Fort Lee's film history. It's not a massive exhibit, but is a great start until the Barrymore Film Center, slated to open by early 2018, starts housing its planned film archive and opens its 250-seat cinema. Meyers says they're hoping to break ground late this year. 
Curious about what Fort Lee has to offer, real estate-wise? Here's a sampling: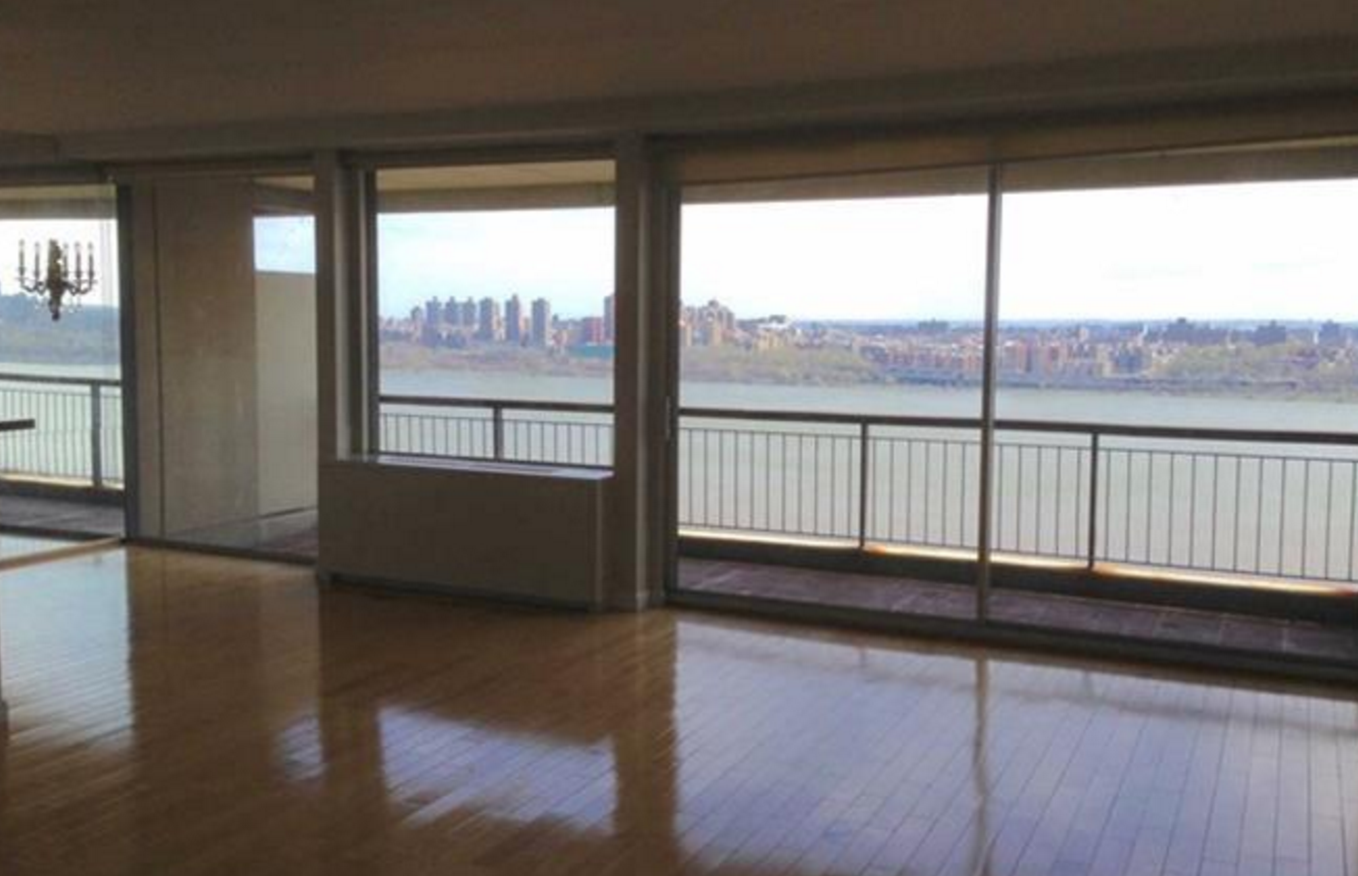 A one-bedroom, one-bath with views of Washington Heights and the rest of Manhattan right across the GWB. It's asking price? A decidedly non-Manhattan-y $163,500.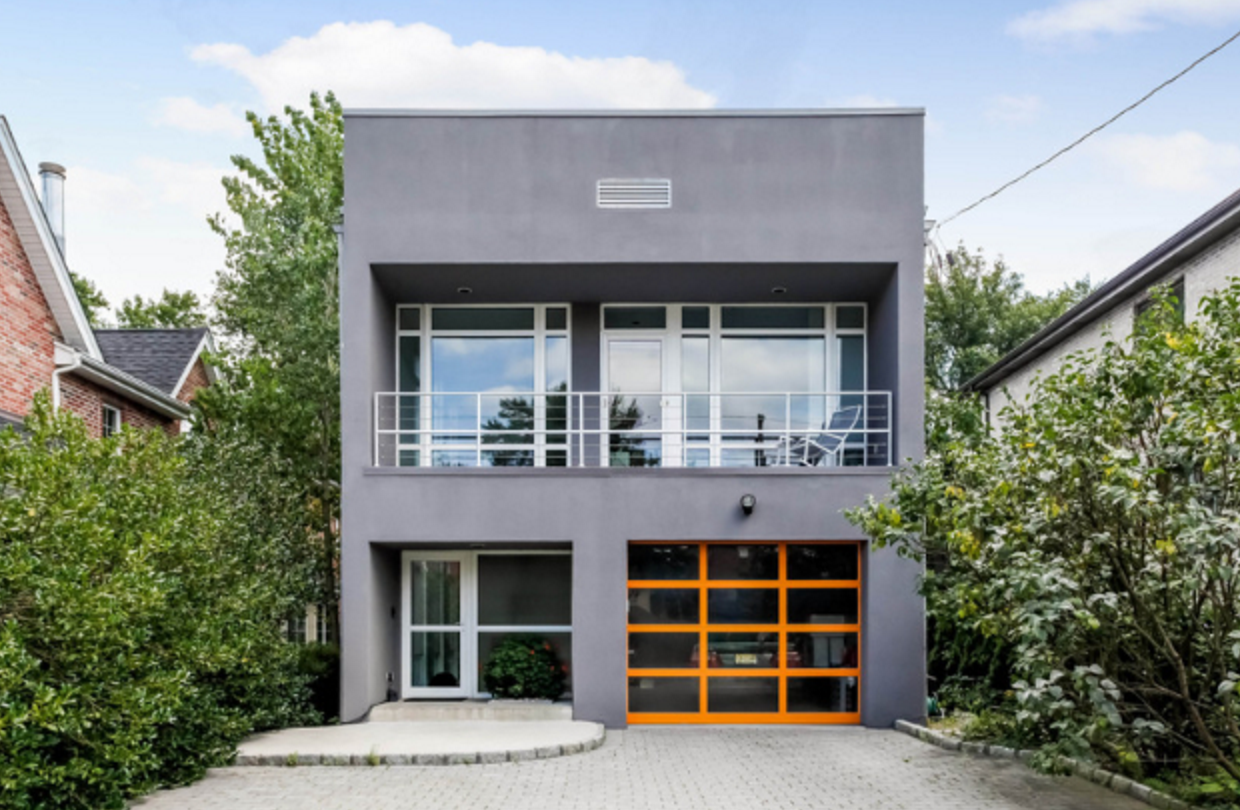 A three-bedroom, three-bath contemporary asking $1.295 million with a gorgeous rock garden just five minutes from the bridge.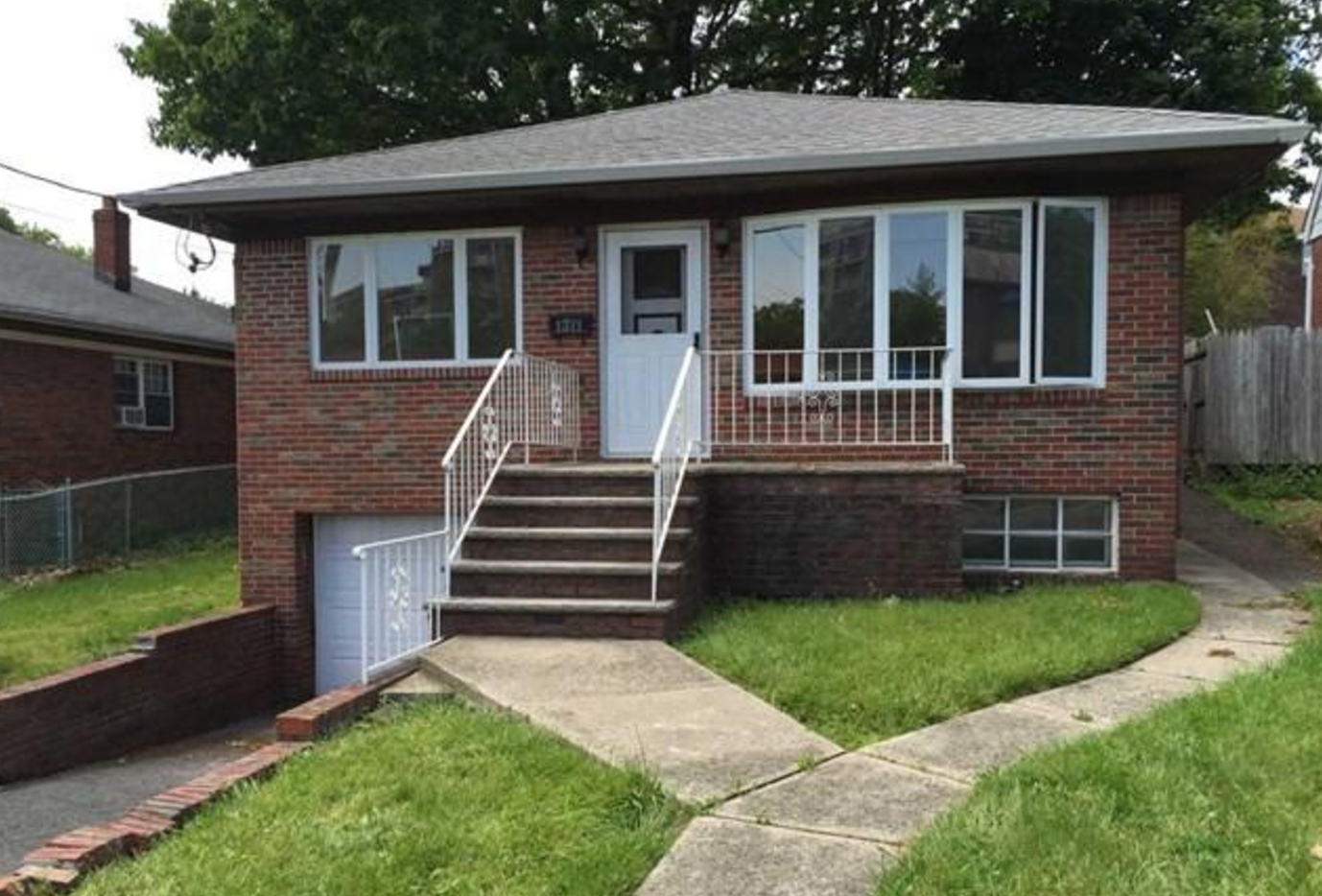 This three-bedroom, one-and-a-half-bath brick house on Palisade Avenue is renting for $2,950/month, and has a finished basement.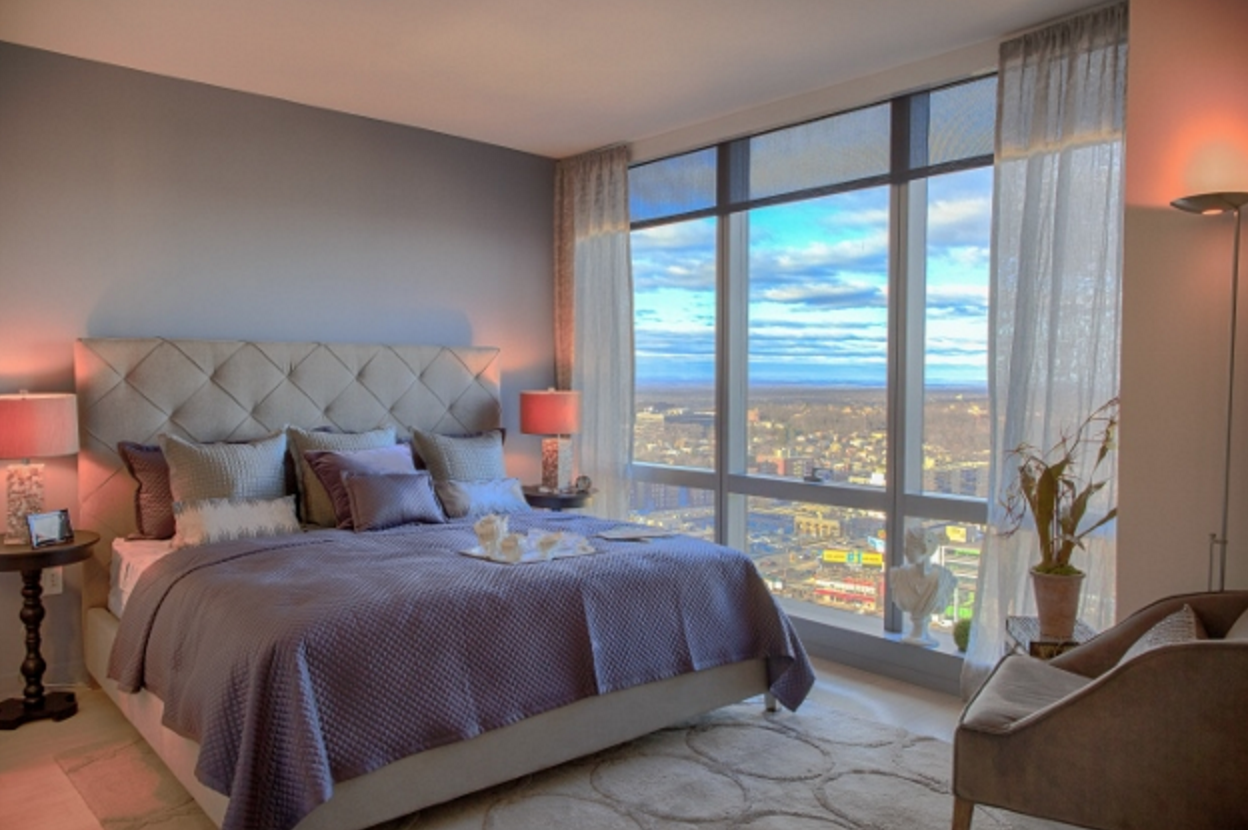 A two-bedroom, two-bath at the newly built luxury high-rise, the Modern, with views of Manhattan. The rent is $3650/month.
Brick Underground articles occasionally include the expertise of, or information about, advertising partners when relevant to the story. We will never promote an advertiser's product without making the relationship clear to our readers.