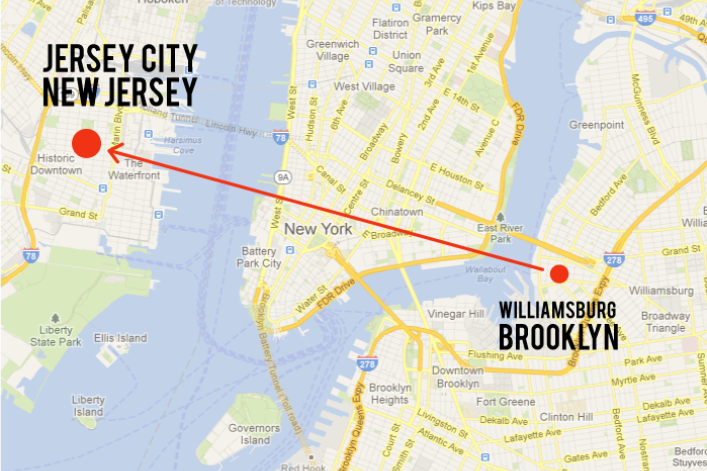 When my boyfriend and I decided to move in together three years ago, we wanted to live in a place that was not in Manhattan and that was convenient to work, close to public transportation, had an acceptable night life and didn't resemble a tenement building – basically the holy grail for two twenty-somethings with very limited incomes.
Despite taunts from our friends about becoming hipsters, we rented a 750-square-foot two-bedroom, one-bath, five-story walkup on the south side of Williamsburg. The price was right at $2,000 a month due to lack of development on the south side, the long walk to the L train and the five flights of stairs.
Sure, the south side was still a little dead, but it wasn't far from bustling north side of town or Manhattan. And as the economy improved, much of the abandoned construction started up again and restaurants, bars and boutiques popped up where there were previously empty storefronts.  
My love for Williamsburg and our apartment only grew as our neighborhood did, which is why it was a surprise to many when we decided to move.  As we approached the three-year mark in Williamsburg, my boyfriend and I got engaged. 
With our now-desirable location came an increase in our rent, so we evaluated our finances and decided that it was time to buy.
While we really wanted to stay in Williamsburg, it wasn't doable on our budget. So, we expanded our search to other neighborhoods and boroughs.
A friend of mine who lives in Jersey City suggested I look there. I had the same visceral reaction that most New Yorkers have when imagining life across the Hudson, but after doing some research and hopping a quick PATH ride from downtown, my fiancé and I realized that Jersey City was full of people just like us in situations just like ours.
We purchased the first condo we saw -- an 1,100-square-foot two bedroom, two bathroom, duplex with tons of outdoor space near the Grove Street area, also known as Historic Downtown Jersey City. The asking price was $415,000 and we paid $410,000.
Our monthly mortgage is only a few hundred dollars more than our previous rental, and the place is over 300 square feet bigger (plus outdoor space). In our elevator building, the only stairs we have to climb are from the first floor of our apartment to our giant master bedroom with an en-suite bathroom.  
Additionally, our building has a large gym, full basketball court and movie theater among other amenities – all too ridiculous to even dream about had we stayed in New York.
Our neighbors are mostly couples and young families. Many of them are New York transplants like ourselves, who were looking for a better quality of life, with proximity to Manhattan.
The area is nestled between the high rises and office buildings on the waterfront and the gentrified area of Paulus Hook. While it has traditionally been known as an arts community, it is now beginning to experience the effects of the gentrification of the surrounding areas. 
When I first moved to Jersey City, I experienced a bit of buyer's remorse. For the first time, I also found myself on the wrong side of a New Jersey joke.  And for someone who never spent any significant amount of time in the state, I think Jersey City is like Superman's Bizarro World. How can a city so close to New York City be so different, i.e. $6 packs of cigarettes, a real mall, and no beer in Duane Reade?
In time, I've learned to focus on what Jersey City has rather than how it's different from New York.Some of my favorite local restaurants include Park and Sixth, which is a great burger joint, Hamilton Inn and Rustique, which is an amazing BYOB place. Some of my favorite bars include Lucky 7 Tavern, which is a dive, LITM, which has great cocktails and food and is also a gallery space, and Pint, which has a lot of craft beers. It is also a gay bar, but it took me more than one visit to figure that out. There are a lot of really nice wine/cocktail type of places, but I'm more of a dive bar type of girl anyhow.
There are more restaurants and shops that seem to opening every week, and there are also ongoing events like farmers markets, a concert series at the Grove Street PATH Plaza and outdoor movies at Van Vorst Park.
Jersey City has a real community feel in a way that the now overdeveloped Williamsburg doesn't anymore.   Because the area is up and coming and still hasn't arrived yet, the vibe is more authentic and local than Hoboken, which immediately conjures images of guys in popped collars and chain stores on Washington Avenue. Admittedly there is still crime, but this isn't the Jersey City of 10 years ago and I never feel unsafe.
Many people around here have cars, but many don't. I don't have a car, and that's not a problem. Almost everything I need is within walking distance. When I want to leave Jersey City, the PATH runs every few minutes during the week and about every 10 minutes on the weekend depending on the time of day.
It takes me 30 minutes to get to work in Herald Square and about 15 minutes to downtown where I like to go out at night. Lately, however, as I've discovered more to do in Jersey City, I can spend a whole weekend without ever getting on the PATH.
Finally, Jersey City is cheap. My first utility bill was so low I thought it was a mistake. It is easy to find an off-special $3 drink or go out to a really nice, inexpensive dinner. The sales tax is also only 3.5 percent.
Seven months after moving in, my buyer's remorse is totally gone and the only regret I have is that I wasn't open to Jersey City sooner.  Now, when I hear a New Jersey joke, I laugh for a different reason. The joke is not on New Jersey.  It's on those foolish enough to pass up on a place like Jersey City because of dated stereotypes and misconceptions.
Related posts:
Gramercy to Williamsburg: Six months in, no looking back
An expat's view of 8 NYC neighborhoods (in 6 months)
A move-by-move neighborhood guide for the people, buy the people
How to find a rent stabilized apartment in NYC
8 best websites for finding a no-fee apartment in NYC
Rejected by a landlord lately? Want to get that apartment faster? Here's your secret weapon (Sponsored)
Brick Underground articles occasionally include the expertise of, or information about, advertising partners when relevant to the story. We will never promote an advertiser's product without making the relationship clear to our readers.