Due Diligence
Architecture critic Justin Davidson on how the city feels 'ancient and temporary at the same time'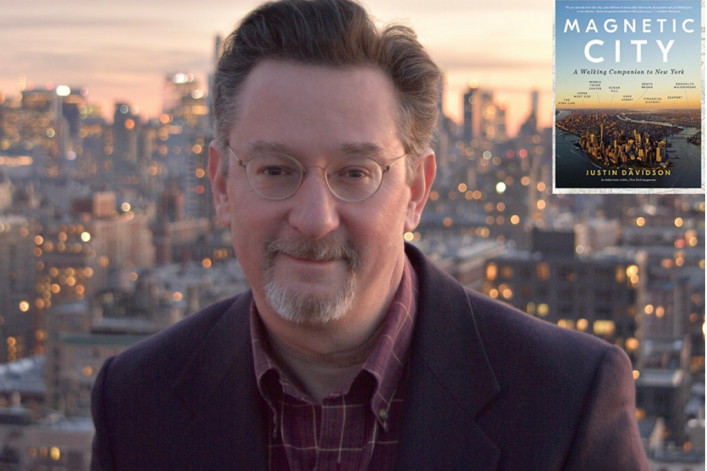 With the publication next month of his new book, Magnetic City: A Walking Companion to New York, Justin Davidson brings readers along on his forays into seven neighborhoods that have seen tectonic change, including the South Bronx, Chelsea, and the Brooklyn waterfront. (You can get a copy and hear Davidson, New York magazine's Pulitzer Prize-winning architecture critic, talk about his book, which includes personal observations, as well as photographs, maps, and interviews with those who helped usher these neighborhoods into a new century, at a pre-launch party hosted by the Museum of the City of New York on April 17.)
We caught up with him to find out more about the Upper West Side (his slice of Manhattan), his favorite spot in the park, and the one advice he'd give a newcomer to the the city.
1. What neighborhood do you live in?
Upper West Side
2. Is this your dream neighborhood or is there someplace else in NYC you'd prefer to settle in?
Every morning when I walk the dog I get to choose between turning right towards Riverside Park or left towards Central Park. So yeah, it's my dream neighborhood.
3. Do you own or rent?
It's complicated.
4. How'd you find it?
That's complicated too, but let's just say no serious crimes were involved.
5. What's the one thing you love the most about it?
Being able to watch the Manhattan skyline change over the course of the day and over the years.
6. If there's one thing you could change about your apartment, what would it be?
I wish the building were better designed and better constructed. I know times were tough in the early 80s, but could the contractors not afford a level?
7. In three words, describe the first apartment you've ever lived in.
Sunless, infested, thrilling.
8. Do you dream of old New York or prefer the 2017 version?
To me the wonder of New York is that you can experience almost all its versions at once: Some of the past gets erased, and I regret every loss, but enough of it endures to make the city feel ancient and temporary at the same time.
9. Tell us about the favorite apartment you've ever had.
I love where I live now. The building is big and diverse enough to feel like a vertical town. But I have a soft spot in my memory for a second floor apartment in Sunnyside, Queens, where I could sit at my writing table and watch the cat on the windowsill watching the squirrels on the tree right outside.
10. And the worst?
That first apartment had a security gate over the window that gave on to the fire escape, so I always felt slightly incarcerated.  
11. Name one NYC service you couldn't live without.
The subway—and the knowledge that if I run out of smoked paprika, it's never more than a two block walk away.  
12. What's your favorite spot in the city?
That's like asking which I like best: Indian food, Beethoven, or Audrey Hepburn. Every spot in the city gets it specialness from everything that surrounds it. But OK, if I really have to pick one, I think it would be the pool on the west side of Central Park, between 100th Street and the Great Hill. There's a magical willow that droops down into the water, in the fall the trees ringing the pond turn preposterous shades of ocher and magenta, and you can always feel the busy hum of the city just beyond.
13. Which would you rather: Brooklyn brownstone or a penthouse in a shiny, new condo?
The condo, not so much because of the shininess but because if the plumbing goes bonkers I'd rather it was someone else's job to take care of it.
14. If you could live elsewhere, where would it be?
I have fantasies of picturesque seclusion, usually involving hiking trails right outside my front door: a cabin in Utah, an Alpine retreat. But the truth is that I'm a city guy. I grew up in Rome, lived for a brief time in Paris and then chose New York because, well … do I really need to explain?
15. Any advice for a recent New York transplant?     
Wear comfortable shoes and put a lot of miles on them.
Brick Underground articles occasionally include the expertise of, or information about, advertising partners when relevant to the story. We will never promote an advertiser's product without making the relationship clear to our readers.