Due Diligence
Habitat Magazine founder Carol Ott on life in Chelsea since the '70s, swapping a loft for a brownstone, and more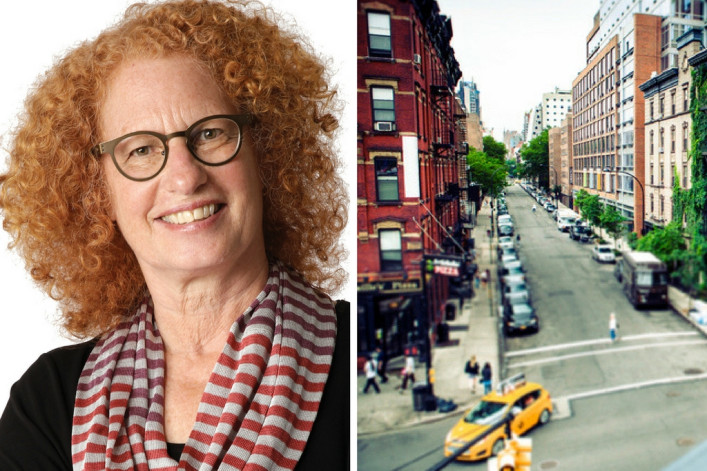 For many New Yorkers, Chelsea in the 1970s and 1980s is merely the stuff of gritty legend, memorialized in movies and old photos but long since paved over by the High Line and the Standard Hotel. But for Habitat Magazine founder, publisher, and editor-in-chief Carol Ott, it's part of the tangible and not-so-distant past; Ott has lived in the neighborhood since 1978, and founded Habitat—a must-read publication for city co-op and condo board members—in 1982.
We caught up with Ott about her decades in the neighborhood, making the transition from loft to brownstone, why she'll never move to Brooklyn, and more:
1. What neighborhood do you live in?
Chelsea
2. Is this your dream neighborhood or is there someplace else in NYC you'd prefer to settle in?
I've never lived in any other neighborhood since moving to New York in 1978. I have lived in two Chelsea locations, so I guess you could say my dream has never changed.
3. Do you own or rent?
I own a brownstone. I owned a loft in a small co-op for about 25 years, but gave that up for the Chelsea countryside.
4. How'd you find it?
The broker who sold my loft showed it to me. It had been on the market for quite a while because the owner was, as they say, "difficult." My broker persevered, and I was able to buy it.
5. What's the one thing you love the most about it?
My courtyard garden. I love the outdoors, and living in a brownstone makes that easy. When we first moved in my kids used to swing in the backyard. How wonderful is that!
6. If there's one thing you could change about your apartment, what would it be?
I'd have a bathroom on the parlor floor, because that's where we spend most of our time.
7. In three words, describe the first apartment you've ever lived in.
Inexpensive. Walk-up. Roaches.
8. Do you dream of old New York or prefer the 2017 version?
A little bit of both. I worry that the New York of small shops and interesting bits is disappearing. If that goes, I don't know what I'd do.
9. Tell us about the favorite apartment you've ever had.
It was a really small two-bedroom rowhouse in the Georgetown section of Washington D.C. It had a working fireplace and was the first "grown-up" space I ever lived in.
10. And the worst?
A garden apartment in Arlington, Virginia. Our neighbor was a hoarder and her electricity was turned off. She kept her milk and juice on our shared landing, and sat there every evening until she went to bed. Our kitchen table was right by the front door, and she talked to us while we were eating.
11. Name one NYC service you couldn't live without.
Public transportation—subway and Citibike. I love the fact that you can get anywhere in the city by public transport.
12. What's your favorite spot in the city?
The Hudson River. I bike there, walk there, and often go there to watch the sunset.
13. Which would you rather: Brooklyn brownstone or a penthouse in a shiny, new condo?
Neither. I could never imagine living in Brooklyn, and I don't think I'd like to live in a brand-new apartment. I guess I'm an old floor person—all my homes have had old floors—who likes living in Manhattan.
14. If you could live elsewhere, where would it be?
Nowhere. I'm Manhattan-bound.
15. Any advice for a recent New York transplant?           
Get out of your apartment and explore, explore, explore. The city is fabulous, and if you're lucky, you'll get to spend your whole life here.
Brick Underground articles occasionally include the expertise of, or information about, advertising partners when relevant to the story. We will never promote an advertiser's product without making the relationship clear to our readers.