In case you missed it
I lived in a Brooklyn Heights garden-floor apartment for nearly 20 years—it's not like living in a basement
Many garden-floor apartments in NYC are only slightly below grade
They can have windows and natural light similar to a first-floor dwelling
Perks may include access to a backyard plus the benefit of no stairs to climb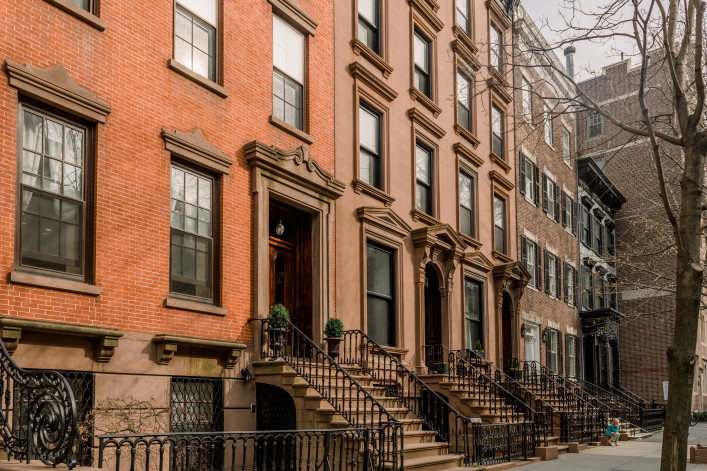 Think living in a garden-floor apartment is like living in a basement? Kevin Fitz, who lived in a Brooklyn Heights garden-floor apartment for nearly 20 years, reached out to Brick Underground to share his experience and describe the perks his family enjoyed, like outdoor space and privacy. Many garden-floor apartments are only slightly below grade, so they have windows and light similar to a first-floor dwelling.
I was working in Brooklyn Heights as a public relations manager for National Grid (then Brooklyn Union Gas) in 1988, when, like most things in New York City, I heard through word of mouth about a floor-through apartment available in a brownstone on the Brooklyn Promenade. 
Back then, the market was pretty bad so the owner was open to renting or selling the apartment. When my wife and I went to see the place on Montague Terrace, not only did it need a lot of work, but it was actually two apartments on the garden floor—a studio and a one bedroom. We were in the position to buy, so we bought both apartments for $466,000 total. 
We started the combination and renovation shortly after. One of the biggest challenges was obtaining all of the permits from the Department of Buildings. The brownstone was a co-op, so that also posed some challenges. For example, as part of the deal, we had to have plans in place and a contractor lined up within two months.
---
[Editor's Note: Brick Underground's Inside Stories features first-person accounts of interesting, real-life New York City real estate experiences. An earlier version of this post was published in October 2021. We are presenting it again in case you missed it.]
---
After we started the process, we learned a previous owner attempted to dig out the basement to make it a duplex. Neighbors told us that they attempted to do this without the permits. They eventually built a two-bedroom, one-bath apartment in half of the basement—but the place flooded every time it rained. Eventually, after a neighbor complained, the owner sealed off the place. Apparently it was done to code, but to this day, I think about how much toxic mold could be down there. Luckily, we never had any issues.
Once everything was lined up, the renovation process went smoothly, but we had to be flexible with a few things along the way. My advice for anyone doing a renovation in the city is to be flexible. The total cost for the combination and renovation was about $200,000.
Ten months later, on April 28th, 1989, we finally moved into our 2,200-square-foot, three-bedroom, two-bath apartment. We added central air and an in-unit laundry, which most New Yorkers dream of. Having a backyard made it easy to hook up the central air and we converted the original kitchen into the laundry room. We also restored an original wood-burning fireplace, and we have many memories sitting by a roaring fire on cold winter nights. These amenities are probably what helped sell it down the line because those are big perks for brownstone co-ops.
Another advantage of living on the garden floor was the backyard, which had a flagstone patio and eventually we added a water feature and sculptures (we brought those with us when we moved down to the Jersey Shore). 
We had three kids, and dogs, so having the outdoor space made living in an apartment easier. I really recommend garden-floor apartments for families because you get the outdoor space. You also don't have to worry about your kids (or dogs) being too loud because nobody lives below you. And it helps that you don't have to schlep a stroller up stairs all of the time.
The only real downside to living on the garden-floor was people tend to buzz the first floor for all deliveries—so we didn't install a buzzer because I didn't want to play the role of doorman. But, of course, that led to people knocking on our windows for our neighbor's deliveries. 
The building itself was charming. There were four other apartments in the building, the people on the third floor also combined apartments. For the most part, it was a quiet, family-oriented building. At one point, there was an apartment that was left as a rental, and some Brooklyn law students moved in. They had a few rowdy parties and there was once a minor leak, but otherwise there were no issues while we lived there. 
We have many fond memories of decorating the front garden with pumpkins for Halloween, and we became known on the block for our Christmas decorations too. At the time, there were a lot of young families in Brooklyn Heights. There was also a sense of community so it was nice to raise a family, although I've heard that's changed since we left.
Brooklyn Bridge Park didn't exist back then, but there was a playground on the promenade that was great when my kids were young. Most of the restaurants we liked are long gone, one of our favorite places was Teresa's, a Polish restaurant around the corner, which closed during the pandemic. The Heights Cafe was another good spot, it's called Giulia now.  
After our family grew, we decided it was time to move to Sea Girt, New Jersey, for a few reasons, like having better public schools for our kids. My wife is from the area so it also made sense to live near family. Another factor was that I'm an avid swimmer, and Brooklyn Heights didn't have any aquatic centers. I used to travel to Asphalt Green on the Upper East Side at 5:30 in the morning to swim. I had a work car but traveling up the FDR, especially after 9/11 and traffic, made it a trek.
When we decided to list the apartment in 2006, we were pleasantly surprised with how easy it was to sell. We actually had a bidding war between two families, and ended up getting a lot more than we originally asked. We were very lucky—the buyers were qualified and the co-op board approval was smooth. It sold for $988,900, which was good for 2006 prices. 
As much as I loved my family's chapter in Brooklyn, we're quite happy on the Jersey Shore now. You can't beat the ocean views from our home—and being able to pull into our three-car garage rather than spending hours looking for street parking is a nice perk. It's a lot easier down here. 
Brick Underground articles occasionally include the expertise of, or information about, advertising partners when relevant to the story. We will never promote an advertiser's product without making the relationship clear to our readers.