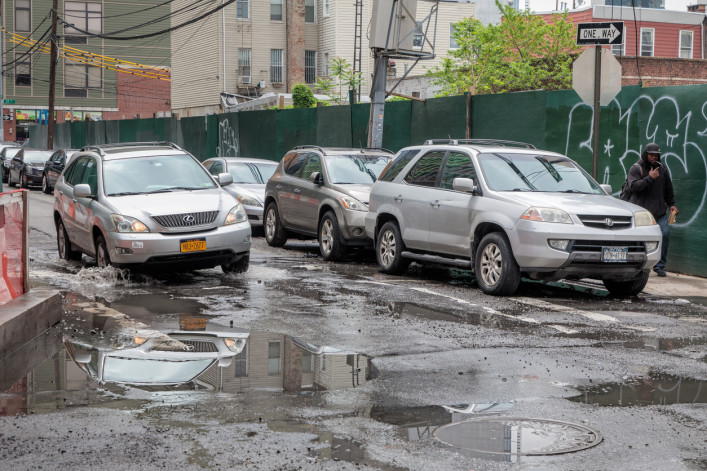 New Yorkers tend to overlook the unpleasant aspects of living here as long as they're not too much in your face. But things like cracked sidewalks and overgrown trees—which can make your block somewhat hazardous to navigate—can be fixed with some effort. You just need to know who is responsible. 
Depending on the problem, it might be the building owner's responsibility. For example, they're required to maintain the sidewalks in front of their building. Other issues, like overgrown trees or potholes, fall on the city to fix.
If you're not sure who is responsible, you can call 311 to find out which city agency to contact.
Be aware that some issues can take a long, sometimes very long time, to resolve. One of our colleagues, along with her neighbors, contacted the city many times about the crumbling facade of an abandoned property on their block. A year went by and then one day city workers showed up and covered the building with scaffolding to protect pedestrians. In other words, it pays to be persistent.
To help, here are six ways you can get help to fix an issue on your block. 
---
[Editor's note: A previous version of this post was published in September 2021. We are presenting it again in case you missed it.]
---
1) Cracked sidewalks 
If the sidewalk in front of your own building is cracked, contact your landlord first. Property owners are responsible for "installing, maintaining and repairing the sidewalks abutting their residential properties," according to the Department of Transportation. 
If your landlord won't fix the issue, or the cracked sidewalk is also in front of another building (including a vacant lot), you can file a complaint with the DOT. There are different forms for buildings with one to three apartments and buildings with four or more, so make sure to use the right form. DOT will inspect the complaint and issue the owner a violation if warranted.
2) Overgrown trees
New York City's Parks Department has a pruning program for street trees, but it's on a neighborhood-by-neighborhood basis according to their site, so if it's not your block's turn they might not get to your tree. If a tree on your block is overgrown, causing it to block the sidewalk, hit buildings, or hang on parked cars, you can request service through the site, or call 311. 
You can also request for trees to be planted, dead trees to be cut down, and branches cut back. There's also the NYC Parks Trees and Sidewalks Program for tree roots that have damaged the sidewalk in front of one- to- three-family buildings. 
3) Potholes in the street
Potholes are more than just unsightly—they can damage your car. If there's a pothole (or a cave-in) on your street, report it to the Department of Transportation. The DOT will repair potholes generally within 15 days. Cave-ins might take longer because DOT has to determine which agency is responsible for making repairs. And, you can also report car damage to the city if it's caused by a pothole. 
4) Burned-out street lights 
There are over 250,000 street lights across New York City, which are managed by the DOT. If there's a street light burned out on your block, or it has another issue, you can submit a request to DOT online. Street lights are maintained by different contractors, so response time varies according to the DOT site. You can also request street lights to be installed, removed, or relocated.
5) Overflowing garbage cans
The Department of Sanitation doesn't usually place garbage cans in residential areas, but if you live near a commercial hub or a subway station, there might be one on your block. If one overflowing, you can file a litter basket complaint online. You can also file complaints if a neighbor is using it to dispose of their household trash or if you want to request a bin to be placed on your block. (Here are six other ways NYC can help you recycle and throw out trash.)
6) Unsafe building facade 
Buildings with six floors or more are required to have their facades inspected regularly by the city's Facade Inspection and Safety Program so you can try to email the program if there's a tall building on your block that appears to have an unsafe building facade. You can also call 311 to report dangerous facade conditions. 
Brick Underground articles occasionally include the expertise of, or information about, advertising partners when relevant to the story. We will never promote an advertiser's product without making the relationship clear to our readers.