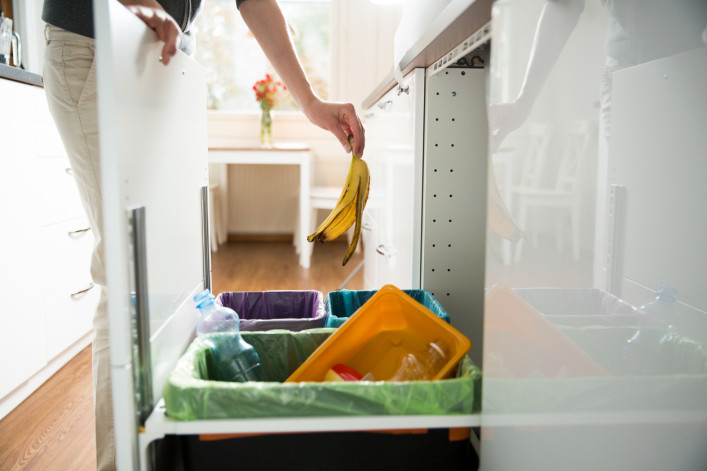 If you've been feeling guilty about throwing your food scraps in the regular trash, there's good news: New York City's curbside compost pick up is resuming this fall—with some changes.
NYC's organics collection program was suspended in April 2020 because of the pandemic. At that point, New Yorkers were told to throw out their food waste with the trash. This felt kind of painful to some of us—like we were personally hurting the planet.
Hopefully, Mother Nature will forgive us when we do better and once again put food scraps, food-soiled paper, and yard waste into the brown bins to be collected and turned into compost and renewable energy.
The program will be available in many but not all parts of the city and New Yorkers who want to participate must sign up. In the map above, orange indicates areas where pick up will be available. If you live in a yellow area, you can sign up to express interest in the program. Multi-unit apartment buildings need to have management approval. Ask your building management or board members to sign your building up.
"It is important for anyone interested to sign up so that we can gauge interest and plan efficient routes. We then plan to expand as quickly as we can based on interest," says Belinda Mager, director of digital media and communications for the NYC Department of Sanitation.
---
[Editor's note: An earlier version of this article ran in July 2018. It has been updated with new information for August 2021.]
---
The service will resume on a rolling basis based on the number of sign ups in each neighborhood, according to DSNY. So the more sign-ups in your area, the sooner collection will come to your neighborhood. If you do not have a brown bin, with a heavy-duty, rodent-proof latch, you can request one as part of your sign up.
Why should you compost food scraps?
"When organic material is sent to landfill, it gives off greenhouse gases as it decomposes; that's bad for the environment," Mager explains. "Additionally, food scraps left in plastic bags on city curbs are an easily accessible and attractive dinner to rats, mice, and other city critters. Putting your food scraps in our hard-sided, locking brown bins eliminates the critters' dinner, and allows that material to be recycled."
Mager says the city's free "compost give back" events, which offers compost made from previously collected organic material, are very successful.
What food scraps can you compost?
The city's collection program takes fruit and veggie scraps, eggshells, and even dirty paper napkins. Here's the full list:
coffee grounds and tea bags
shells (seafood, nut, and egg)
bones
spoiled and expired food
food soiled paper (napkins, towels, uncoated plates, bags, trays, boxes)
What food scraps can you NOT compost?
Things like fat or cooking grease are a no-go. Human and animal waste are off-limits as well.
Trash of any kind including:

diapers and hygienic products
animal waste
wrappers and packaging
foam products

Recyclables including:

metal
glass
rigid plastic
beverage cartons
clean recyclable paper
cardboard
Additional benefits of composting
"If residents are open to giving it a try, they will find the program very easy. Instead of putting your food scraps in a black trash bag, you put them in a kitchen collection container. As you gather the rest of your trash and recycling for collection, you can transfer the contents of their kitchen container to their brown bin," Mager says.
For easy cleanup and collection, residents can line their brown bins with a paper or plastic bag. The plastic bag will be pulled from the organic material at the processing facility, she says.
"Residents who participate are often surprised that there's not much trash left, once the paper, metal, glass, plastic, and organics are removed," Mager says.
Need another incentive to compost? You'll also use fewer garbage bags and the trash you do have won't be as wet, leaky or smelly.
Tips for odor-fee food scrap storage
The city previously distributed small bins for storing scraps in the kitchen, but there are options if you still need to get your own. Any sealable plastic container—an empty tub of yogurt, even a plastic bag—will do. Want to splurge on something nicer to leave on your countertop? Check out this roundup from Treehugger.
One of the best ways to store organics—until you're ready to put them in your brown bin—is in the fridge or the freezer. Freezing your scraps eliminates odors—and gives you a compost popsicle to drop into your bin—super easy!
Another suggestion if you are new to recycling organics: Start with low hanging fruit, both literally and figuratively. Focusing on collecting organics like banana peels and leaves in your yard. It will help you start the habit.
I don't live in a compost collection zone. What can I do?
If you live in one of the participating neighborhoods, the city will collect the scraps. If you don't live in one of those collection areas, there are free drop-off locations all around the city: Big Reuse has 15 sites around the city; GrowNYC takes drop-offs at greenmarket locations in all five boroughs; and the Department of Sanitation has a list here of drop-off locations in every borough as well. Hours and availability vary, so check the information for your specific location before you head over.
Want to compost it yourself?
If you've got a backyard there's no need to put your organic matter out for collection. You can buy your own composting bin and with a little effort, reap the benefit of soil made from your own compost, which comes in handy for container gardens or flower beds. The Department of Sanitation has a very thorough guide on how to use backyard composting bins.
And if you don't have a backyard, you can compost in your apartment, but for that you need, yes, worms. Here are some instructions on how to get started in your apartment.
—Earlier versions of this article contained reporting and writing by Virginia Smith.
Brick Underground articles occasionally include the expertise of, or information about, advertising partners when relevant to the story. We will never promote an advertiser's product without making the relationship clear to our readers.