Products + Services
All the dirt on NYC's compost collection program
You can compost food scraps, leaves and yard waste, and food-soiled paper—including pizza boxes
Pick up is available to all Queens residents and will be available throughout Brooklyn starting October 2nd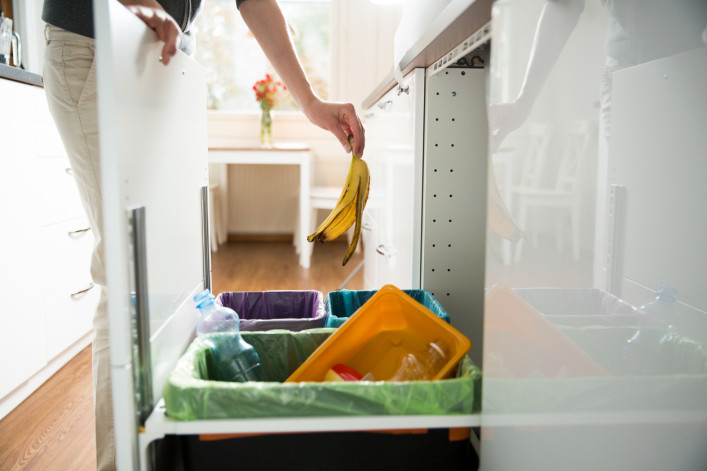 If you have been feeling guilty about throwing your food scraps in the regular trash, there's good news: Not only has New York City's curbside compost pick up returned—but free, year-round, universal curbside pick up is now poised to roll out citywide.
The program is currently available to all Queens residents, and will be available to all Brooklyn residents beginning October 2nd. The Bronx and Staten Island are scheduled to join the program in March of 2024 and Manhattan will be joining later that year in October. 
"This is not only the nation's largest curbside composting program, it is also the easiest," says Belinda Mager, director of communications at NYC's Department of Sanitation. "Just put anything from your kitchen or garden into a separate bin, put it out on your recycling day, and we will pick it up and turn it into compost or clean energy."
And FYI, compost sorting becomes mandatory beginning spring 2025, with fines for non-compliance as follows: For one to eight residential dwelling units: $25 (for a first offense); $50 (second offense); $100 (third offense). For nine or more residential dwelling units: $100 (first offense); $200 (second offense); $400 (third offense). 
Note that separating leaf and yard waste becomes mandatory as the program launches in each borough.
How is this program different from previous ones? 
Unlike previous iterations, there is no signup requirement and no requirement to use a DSNY brown bin. Brown bins will be available to residents who need one, but you can also use your own bin, as long as it has a lid and is under 55 gallons. If you like, you can get a free decal from the city to label your DIY bin.
Why should you compost food scraps?
"When organic material is sent to landfill, it gives off greenhouse gasses as it decomposes; that's bad for the environment," Mager explains. And, as Mayor Eric Adams said in his public announcement of the program in February, "By reducing the food waste that we put into trash bags, our streets will look better, smell better, and best of all, will be dealing a blow to NYC's number one enemy: rats."   
NYC's municipal efforts to divert organic waste through composting date as far back as 1993, when the NYC Compost Project was established by the Department of Sanitation. (The program works with city cultural organizations to educate the public on the process and benefits of keeping organic waste out of landfills.)
In 2013, the Bloomberg administration mandated the Department of Sanitation to establish a small-scale organic waste collection pilot program in neighborhoods and public schools, and by 2015, former Mayor Bill de Blasio expanded the city's composting program to be the largest one in the country. (Its widest reach served 40 percent of the city.) And then of course, the pandemic shut the whole thing down.
What food scraps can you compost?
The city's collection program takes fruit and veggie scraps, eggshells, and even dirty paper napkins. Here's the full list:
coffee grounds and tea bags
shells (seafood, nut, and egg)
bones
spoiled and expired food
food soiled paper (napkins, towels, uncoated plates, bags, trays, boxes)
What food scraps can you NOT compost?
Things like fat or cooking grease are a no-go. Human and animal waste are off-limits as well.
Trash of any kind including:

diapers and hygienic products
animal waste
wrappers and packaging
foam products

Recyclables including:

metal
glass
rigid plastic
beverage cartons
clean recyclable paper
cardboard
Bonus: Fewer garbage bags
In addition to reducing food waste and greenhouse gas emissions, you will probably use fewer garbage bags and the trash you do have won't be as wet, leaky or smelly.
"Residents who participate are often surprised that there's not much trash left, once the paper, metal, glass, plastic, and organics are removed," Mager says.
Tips for odor-free food scrap storage
Even the biggest proponents of composting will likely admit it can be a bit messy. You can use any sealable plastic container to hold your scraps and keep your kitchen pest- and odor-free. For example, an empty tub of yogurt, even a plastic bag—will do. Want to splurge on something nicer to leave on your countertop? Check out this roundup from Treehugger.
One of the best ways to store organics—until you're ready to put them in your brown bin—is in the fridge or the freezer. Freezing your scraps eliminates odors—and gives you a compost popsicle to drop into your bin—super easy!
Another suggestion if you are new to recycling organics: Start with low-hanging fruit, both literally and figuratively. Focusing on collecting organics like banana peels and leaves in your yard. It will help you start the habit.
---
[Editor's note: A previous version of this article ran in August 2021. It has been updated with new information for September 2023.]
---
The deluxe way to store and prep your food scraps
If you like the idea of composting but really hate the less-than-desirable realities of collecting food scraps, you may want to invest in an "accessory" or appliance to help you do so. Here are some products to consider. 
The Vatya Stainless Steel Compost Bin is made in Korea, where food separation has been legally mandated since 2005. Made with stainless steel and handsome walnut handles, the bin has an interior liner and traps food odors without the use of a charcoal filter. It is available in two sizes: two liters ($65) or three liters ($75). 
Lomi is a small countertop appliance that will turn your food scraps into dry, odorless "Lomi Earth," in as few as three hours. (While not technically compost—which is the product of microorganisms breaking down organic matter—Lomi Earth can be added to your organics collection bin, a compost pile, or as an amendment to potting or garden soil. The company recently released Lomi Bloom ($499), a deluxe model that features a faster run time, the ability to track your household's carbon impact, and a self-cleaning feature.
Mill transforms your food scraps into "food grounds," a similar inoffensive, dirt-like material. Mill measures 27 inches tall, compared to Lomi's 12, but has more horsepower; its metal paddles can handle almost anything, including bones, avocado pits, and fruit rinds. If you like you can send the grounds back to the company at no cost to be incorporated as an ingredient in regulated chicken feed. Mill operates on a subscription model that includes return packaging and shipping of food grounds, billed $45 monthly or $396 annually. 
Where to drop off compost if pick up is not yet available
The city is continuing to offer traditional food scrap drop off locations. Big Reuse has 15 sites around the city; GrowNYC takes drop-offs at greenmarket locations in all five boroughs; and the Department of Sanitation has a list here of drop-off locations in every borough as well. Hours and availability vary, so check the information for your specific location before you head over.
The city is also introducing a network of roughly 400 Smart Composting Bins, available 24 hours a day, seven days a week, and you can find them with a free app for iOS or Android phones. And while many of the traditional collection sites do not accept meat and dairy, these Smart Composting Bins do.
Want to compost it yourself?
If you've got a backyard there's no need to put your organic matter out for collection. You can buy your own composting bin and with a little effort and very little space, reap the benefit of soil made from your own compost, which comes in handy for container gardens or flower beds. The Department of Sanitation has a very thorough guide on how to use backyard composting bins.
And if you don't have a backyard, you can compost inside your apartment, but for that you need, yes, worms. Here are some instructions on how to get started in your apartment.
—Earlier versions of this article contained reporting and writing by Jennifer White Karp and Virginia Smith.
Brick Underground articles occasionally include the expertise of, or information about, advertising partners when relevant to the story. We will never promote an advertiser's product without making the relationship clear to our readers.